Controller Chip segment by component anticipated to expand at a higher CAGR than the Software segment during the period of assessment
In terms of revenue, the controller chip segment is projected to be the most attractive segment in the global embedded security for Internet of Things (IoT) market during the forecast period. This segment is also likely to register high Y-o-Y growth rates throughout the forecast period and is anticipated to expand at a CAGR of 14.7% between 2017 and 2027.
The controller chip segment is estimated to be valued at more than US$ 2,300 Mn in 2017, accounting for more than 80% of the global market revenue share. This segment is expected to remain dominant in terms of revenue throughout the forecast period. The segment is projected to create incremental $ opportunity of more than US$ 6,800 Mn between 2017 and 2027.
Growing intensity of cyber-attacks on IoT devices and networks will create a positive impact on the controller chip segment
Due to increasing intensity of cyber-attacks, various associations that promote best practices for implementing IoT solutions have issued guidelines for implementation and adoption of necessary security solutions in order to protect against such attacks. Implementation of embedded controller chipsets is one such guideline promoting the adoption of embedded solutions for IoT.
An increasing use of controller chipsets in order to ensure protection from cyber-attacks is expected to drive revenue growth of the controller chip segment in the global embedded security for Internet of Things (IoT) market. For instance, in December 2016, a non-profit multi-industry association called Smart Card Alliance promoting best practices for smart card applications in the U.S. and Latin America issued guidelines for the adoption of embedded hardware security (controller chipset) solutions involving end devices to include hardware features and functions to ensure that the required security standards are implemented and maintained.
Increasing adoption of IoT globally is resulting in a large number of devices being connected, communicating and exchanging data with each other seamlessly. Devices connected through IoT networks are used in verticals including smart cities, healthcare, industrial automation, retail, agriculture and others. According to U.S. based IoT solutions provider Cisco Systems Inc., around 7% of global mobile data traffic will come from devices connected through the IoT by 2020.
A rising number of IoT enabled connected devices will result in increased demand for security solutions in terms of hardware. Increasing focus on the component aspect of security is the new trend in the global market that is likely to fuel the growth of the controller chip segment.
Security software alone is not sufficient to protect IoT devices against cyber-attacks and malware and needs to be supported by reliable hardware for data processing and safe storage. Vulnerable hardware components are susceptible to unauthorised access and data theft, thereby compromising the security of the overall system, which is why OEMs are turning towards embedded component suppliers who can address these security issues effectively.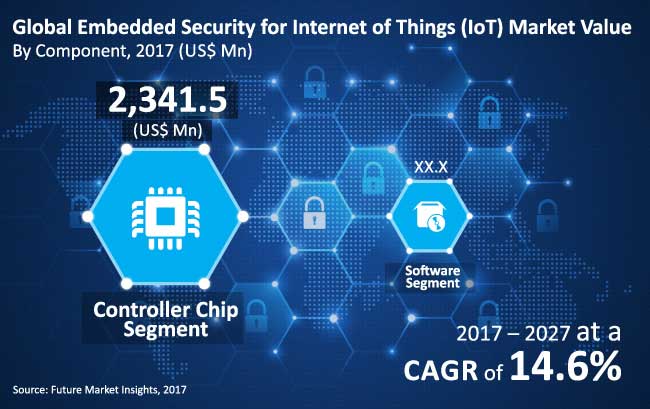 BlackBerry's cloud-based IoT platform addresses security aspects of the Internet of Things
In January 2015, Canadian telecom solutions provider BlackBerry launched a cloud-based IoT platform with device management features enabling data gathering from a range of devices and networks. The platform enables application developers, business partners, and others to collaborate on different aspects of IoT solutions including security. Initially, the platform was targeted at the automotive and shipping sector and in future, it will be extended to other verticals such as energy and healthcare.
Non-adherence to guidelines issued by governing authorities is a major market growth restraint
Although a number of governing authorities have issued guidelines to be followed by IoT device manufacturers so as to protect against cyber-attacks happening on IoT networks and devices, many device manufacturers and users do not strictly adhere to these guidelines nor take any precautionary measures. Non-adherence to security guidelines results in security lapses, which cyber attackers take advantage of, resulting in unauthorised data access and data thefts. This is a major factor hampering revenue growth of the global embedded security for Internet of Things (IoT) market.
Market Segmentation
By Component
By Application
Smart Factory
Smart Grid
Connected Car
Networking Equipment
Computing Devices
By Vertical
Retail
Aerospace and Defence
Healthcare
Gaming
Automotive
Others
By Region
North America
Latin America
Asia Pacific (Excluding Japan)
Japan
Eastern Europe
Western Europe
Middle East & Africa
Need specific information?