Aerospace and Defense - Highest-potential VerticalAerospace and Defense - Highest-potential Vertical
A majority of aerospace and defense executives have employed artificial intelligence (AI) in their business models. AI, including machine learning (ML) and natural language processing (NLP), enables predictive analysis for maintenance and facilitates smart manufacturing with connected solutions that offer real-time data to personnel at the workplace.
This potential impact of AI on the A&D industry is translating into increasing requirement of embedded intelligence. In addition, embedded hypervisors are an integral component in the automotive industry, as myriad applications in industrial automation require real-time control and systematic networking.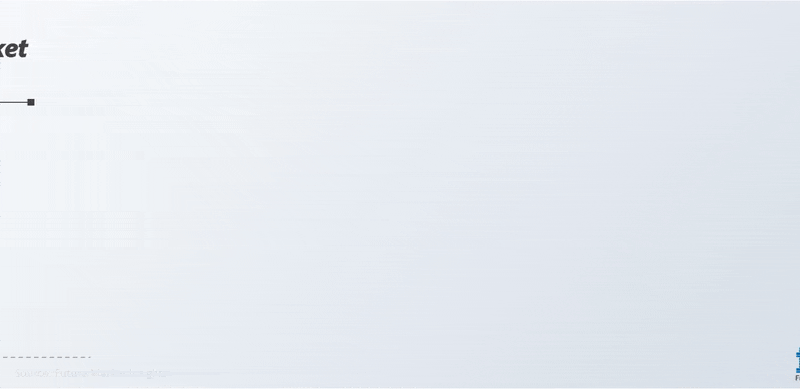 Market in North America to Expand Twice During 2019-2029
North America continues to maintain its supremacy in the global embedded hypervisor market, owing to strong foothold of technology pioneers such as IBM and Microsoft Corporation in the region. Rapid disruption of tech-forward advancements across every industrial pocket, which accents the rising need for cyber security, is keeping market players engaged.
Further, the revenue pool of the embedded hypervisor market in this developed region will inflate 2X over 2019-2029. Players are also turning their sights to Asia Pacific (excluding Japan), wherein, demand would prominently be realized from the automotive sector in order to reduce emissions and improve safety.
Adoption of RTOS to Broaden Growth Prospects
Incumbents, especially in the IT and telecom industry, significantly bank on real-time operating systems (RTOS) to run real-time use cases. RTOS offers low-level, real-time functionality, as well as operate a general-purpose operating system (OS) such as Windows or Linux to help users by forming a virtual machine using an embedded hypervisor. Moreover, RTOS eliminate the need of a second processor on the existing system, thereby reducing operational costs. Rising adoption of RTOS for real-time applications in industries is thus likely to benefit players in embedded hypervisor market.
How Growth will Unfold
Players continue to target software components to secure increased revenue for competing in the embedded hypervisor market landscape. By 2023, embedded hypervisor software worth over US$ 4 Bn would be deployed across various use cases. However, services - professional services and managed services - are poised to witness staggering growth in the near term. Despite the growing popularity of embedded hypervisor services, market players continue to glean bigger margins from software components.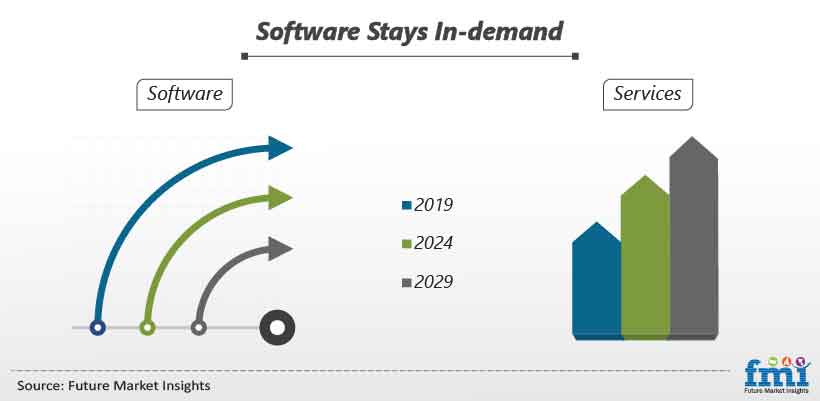 FREQUENTLY ASKED QUESTIONS ABOUT EMBEDDED HYPERVISOR MARKET
How will the growth outlook be for the embedded hypervisor market?
The embedded hypervisor market is projected to grow at a healthy CAGR of nearly 6% during the forecast period of 2019-2029. Rapid Internet penetration, growing consumer electronics industry, and rising adoption of software-driven solutions in every sector are key factors positively influencing the growth of the global embedded hypervisor market.
What are other factors driving the growth of the embedded hypervisor market?
Upsurge in global ICT expenditure and increasing demand for cyber security due to growing popularity of cloud-based services are expected to propel the growth of embedded hypervisor market over the coming years.
Which region will lead the global embedded hypervisor market?
North America holds a leading share in global embedded hypervisor market, attributable to the strong presence of technology pioneers in the region. Further, surging adoption of industrial automation in Asia Pacific excluding Japan (APEJ) is likely to reflect value-capture opportunities for embedded hypervisor market players in the near future.
Who are the prominent players in the embedded hypervisor market?
Leading players in embedded hypervisor market include Mentor Graphics, IBM Corporation, Microsoft Corporation, VMware Inc., Citrix Systems Inc., and Sysgo AG, who hold nearly 65% of total market revenue. These players are strategically focusing on new product innovation, mergers & acquisitions, strategic partnerships, and collaborations to target strong global footprint.
What are the rising trends in the embedded hypervisor market?
Increasing usage of real-time operating systems (RTOS) in the telecommunication and IT industry and rising adoption of virtualization technology in the industrial automation sector are anticipated to have a measurable impact on the embedded hypervisor market over the next decade.
What are the major challenges for the embedded hypervisor market?
High power consumption of embedded hypervisors compared to standalone devices in enterprises, and compliance issues in hypervisor converged systems, are hindering the growth of the embedded hypervisor market.
World's Most Profilic Intelligence Engine
Get Access To The World's Largest Market Research Database. Ngage with a revolutionary intelligence engine that scale and pricing that flexes as per your needs
Sign Up Now
EMBEDDED HYPERVISOR MARKET TAXONOMY
The global embedded hypervisor market is segmented in detail to cover every aspect of the market and present a complete market intelligence approach to the readers.
Component
Software
Services

Professional Services
Managed Services
Type
Bare Metal
Hosted Operating Systems
Technology
Server Virtualization
Desktop Virtualization
Data Centre Virtualization
Enterprise Size
Large Enterprises
Medium Enterprises
Small Enterprises
Vertical
Aerospace and Defense
Automotive
Healthcare
IT & Telecom
Region
North America
Latin America
Western Europe
Eastern Europe
Asia Pacific
Excluding Japan
Japan
Middle East & Africa
Need specific information?