An Incisive, In-depth Analysis on the Engine Flush Market
This study offers a comprehensive, 360 degree analysis on the Engine Flush market, bringing to fore insights that can help stakeholders identify the opportunities as well as challenges. It tracks the global Engine Flush market across key regions, and offers in-depth commentary and accurate quantitative insights. The study also includes incisive competitive landscape analysis, and provides key recommendations to market players on winning imperatives and successful strategies.
Majority of automotive engines, today, are running on conventional fuels such as diesel and gasoline. OEMs are implementing designs that can make engines work in a cleaner manner, however, the amount of dust and other foreign particulates that accumulate inside the engine continue to affect their precision. Advancements in fuel consumption technologies has instrumented the adoption of engine flush lubricant, which are essentially oils that can drain out all the dirt and sludge accumulated in the engine and its components. With increasing pollution levels and considerable upsurge in the adulteration of fuels such as diesel, the demand for engine flush will remain prevalent in the automotive industry of tomorrow. Leading manufacturers of automotive lubricants will continue to divest their business on production of engine flush, and capitalise from the necessary need to engines free of varnish and sludge.
According to Future Market Insights' recent report, the global engine flush market is poised to expand at a value CAGR of 3.6% during the forecast period, 2017-2026. The report assesses that by the end of 2026, around 153,000 thousand litres of engine flush will be sold globally. The report further projects that North America will be at the forefront of global engine flush market expansion. By the end of 2026, North America's engine flush market will touch a US$ 500 Mn valuation and account for over one-fourth of the forecasted global market value.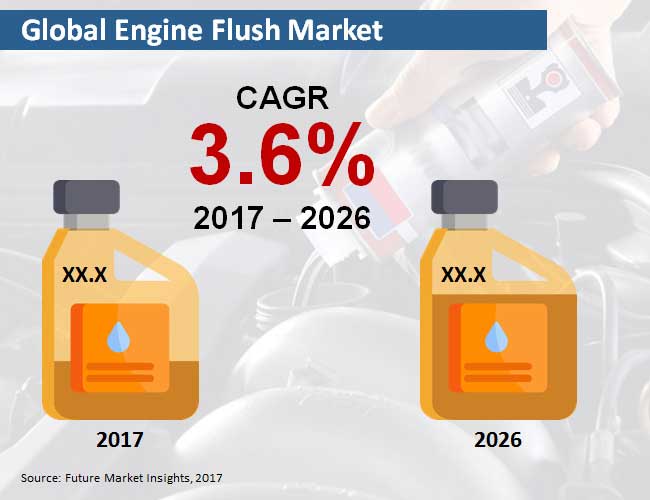 Demand for Semi-synthetic Oils to Gain Traction through 2026
In future, semi-synthetic oils will be among the key engine oils used for flushing out the slurry collected inside engines. With extended lubricant life, semi-synthetic oils will effectively serve as engine flush for regular maintenance of combustion engines. Moreover, improved viscosity indexes of semi-synthetic oils shall elevate their functions to flush out the imbedded sludge from engines. However, low prices of semi-synthetic engine oils will influence manufacturers to extend their production for fully synthetic oils. In 2017, fully-synthetic oils worth over half a billion dollars were sold in the global engine flush market. The report further projects that semi-synthetic oils will register highest value CAGR during the forecast period, and will bring in nearly US$ 900 Mn worth of global revenues by 2026-end.
Marine End-use of Engine Flush to Register Highest Value CAGR during 2017-2026
Automotive industry will continue to represent the predominant end-user industry for engine flush. Petrol and diesel engines will collectively account for the entire consumption of engine flush produced in the world. The report projects that by the end of 2026, nearly 63% of engine flush will be used to service diesel engines across the globe. The report also projects that the automotive end-use of engine flush in the global market will reach an estimated valuation of US$ 1 Bn by the end of 2026. However, the report also observes a growing end-use of engine flush in servicing of industrial equipment. The report has assessed that industrial equipment end-use of engine flush will register a 4.3% CAGR over the forecast period.
Global Engine Flush Competition Landscape
Companies at the forefront of global engine flush production have been profiled in the report. These include, BULLSONE Co. Ltd., BARDAHL Manufacturing Corporation, 3M Company, International Lubricants, Inc., Penrite Oil Company, LIQUI MOLY GmbH, Valvoline Inc., Tec4 Lubricants, LUBRITA EUROPE B.V., Berner Group, AMSOIL INC., and Petra Oil. Several of these companies are expected to face challenges from fluctuating oil prices and transformations in the designs of combustion engines. In addition, lowering production costs and elevating profit margins will also be prioritised by key players in the global engine flush market through 2026.
Future Market Insights' has developed an in-depth analytical report and forecast study on engine flush with a global perspective. The report explores key aspects encompassing the production and usage of engine flush and analyzes their influence in transforming the future of global engine flush market. Objective information in the form of qualitative insights and market size estimations is provided in the report. The study delivers a holistic outlook in assessing the long-term forecast on expansion of the global engine flush market for the period, 2017-2026. Presumptive scenarios developed in the report reflect the latest and most influential industry trends. Companies at the forefront of global engine flush production have been contacted and reviewed to assess the competition in the global engine flush market. This report serves as a credible business document that can provide valuable insights to market player, enabling them to build profound strategies and make informed decisions towards future market direction.
Report Synopsis
The report consists of several chapters that offer comprehensive information on how the engine flush market will expand globally in the foreseeable future. An executive summary abridges the key highlights from the entire research report, and presents them systematically to reveal leading segments, lucrative growth opportunities, and untapped marketplaces. An overview illustrates the convergence of oil businesses and automotive sector, analyzing several macroeconomics that can potentially influence the production of engine flush in the future. The report further analyzes the dynamics of the global engine flush market. In this section, factors that can boost as well as curb the sales of engine flush products have been analyzed.
Accurate market size estimations and well-researched market size forecasting are the key advantages of this report. Revenues from leading engine flush producers have been referred to draw baselines for forecasting the global market's revenue growth. The report has analyzed the global engine flush supply chain and also revealed the prominent raw material sourcing strategies adopted by market players. An intensity map the traces the presence of market players across global geographies is also provided in the report.
Market Taxonomy
For the purpose of all-embracive analysis, the report has segmented the global engine flush market on the basis of engine type, engine oil–type, end-use and region. The global engine flush market taxonomy is summarized below.
| Region | Engine Type | Engine Oil Type | End Use |
| --- | --- | --- | --- |
| | | | |
| | | | |
| | | | |
| | | | |
| | | | |
| | | | |
The report also provides cross-segmental analysis and forecast. The regional analysis further includes country-specific market size forecast & analysis.
Detailed Competition Assessment
A robust research methodology has been employed to assess the global engine flush manufacturing landscape. Industrial specialization methods that instrumented constant dialogues between analysts and key players helped in assessment of changing landscapes in production of engine flush. Data on dynamics of local lubricant marketplaces and globalization trends have been studied to gauge the participation of each market player. Information of market players has been validated to check the penetration of top brands and a range of engine flush products. First-hand information on latest strategic developments of market players has been provided in the report. This report can be availed to assess a detailed competitor analysis for the global engine flush market. Inferences produced in this study are aimed at extending the understanding of market players in measuring the future prospects of engine flush.
Engine Flush Market Reports - Table of Contents
1. Global Economic Outlook
2. Global Engine Flush Market - Executive Summary
15. Secondary and Primary Sources
16. Assumptions and Acronyms
Harish Tiwari
Global Head - Business Development
CASE STUDIES
See how our work makes an impact.
At FMI, we design strategies that are adaptive, impactful, and implementable.