Introduction
High attrition of components remains to be a key concern for OEMs and designers of automotive engines, especially with respect to the wearing out of engine valves. Leading automakers in the world continue to adopt advanced production technologies and improved materials in order to overcome the conventional drawbacks of automotive engine valves and secure their use in the engines of tomorrow.
According to Future Market Insights, the global demand for automotive engine valves will gain steady traction over the next five years. By the end of 2022, over US$ 6.2 billion worth of automotive engine valves are pegged to be sold across the globe.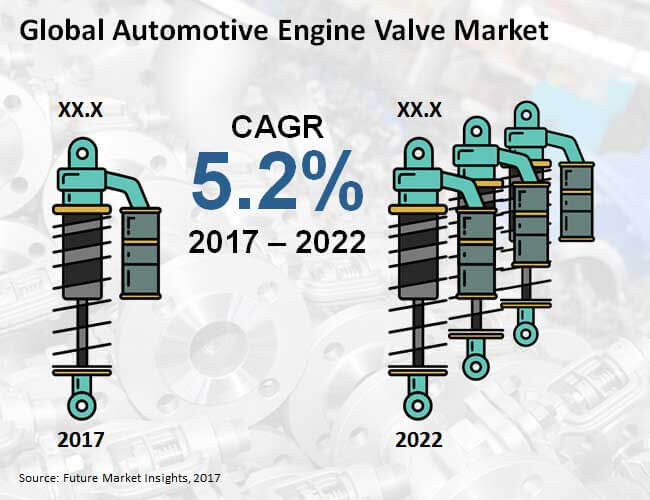 Overheating of hollow valves will factor their declining demand
While the overall demand for automotive engine valves is anticipated to surge at a steady CAGR during the forecast period (i.e. 2017-2022), the report also anticipates a moderate growth in demand for hollow valves. In 2017, hollow valves are poised to procure over one-fourth share of global revenues, albeit, this share is anticipated to dwindle in the subsequent years.
Towards the end of 2022, global sales of hollow valves are likely to register subpar growth at a CAGR of 4.7%. Existing defects in hollow valves will continue to instrument their declining revenue growth in the global automotive engine valve market. Performance tests of heavy-duty diesel and gasoline engines show that hollow valve stems tend to draw more heat than required.
For proper functioning, hollow valves require adequate cooling, the lack of which can overheat them, and eventually cause engine failures. On the other hand, bimetallic and mono-metallic valves will record steady growth in demand throughout the forecast period.
By 2022, engine valves worth US$ 1.5 billion will be used for production of compact passenger cars around the world
In the foreseeable future, the size of automobiles will continue to shrink, paving way for the proliferation of three-cylinder engines. Compact passenger cars will witness a considerable uptick in terms of demand, considering their fuel-efficient performance and low prices. These cars are likely to be equipped with four valve per cylinder engines.
On the basis of vehicles, compact passenger cars are anticipated to reflect fastest revenue growth in the global market through 2022. Mid-sized passenger cars and light commercial vehicles will also witness a steady growth, while the demand for automotive engine valves for premium passenger cars is likely to incur a below-average growth over the forecast period.
Demands for high performance engines will continue to outpace the developments towards new valve materials
With the rise in adoption of alternative fuels, automotive engine valves are expected to witness considerable implications with respect to their design and functioning. Reducing sulphur content in diesel fuels will compel manufacturers to reconsider the materials used for production of automotive engine valves.
Valves made of nickel alloys will witness steady traction, and will net over US$ 1.6 billion in global revenues by the end of 2022. Relatively, the demand for automotive engine valves made from titanium will soar moderately as these valves tend to gall in absence of hard & sharp tooling and adequate cooling.
Global manufacturing overview
Over 80% of revenues procured in the global automotive engine valve market are anticipated to remain concentred in the aftermarket sales. Manufacturers will be focusing towards the automotive engine valve aftermarket by providing more durable offerings at competitive prices.
Companies namely, Mahle Group, Knorr-Bremse AG, Hitachi Ltd., FUJI OOZX Inc., FTE automotive GmbH, Federal-Mogul Holdings Corp, Eaton Corporation Plc., Denso Corporation, Delphi Automotive PLC, and Continental AG have been profiled in the report as key players in the global automotive engine valve market, and are anticipated to remain active in market expansion through 2022.
Market Taxonomy
A concise taxonomy of the global automotive engine valve market has been summarized in the table below:
Region
North America
Latin America
Europe
Japan
APEJ
MEA
Product Type
Mono metallic valves
Bimetallic valves
Hollow valves
Others
Vehicle Type
Compact Passenger Cars
Mid-sized Passenger Cars
Premium Passenger Cars
Luxury Passenger Cars
Light Commercial Vehicles
Heavy Commercial Vehicles
Material Type
Steel
Titanium
Nickel Alloy
Other Materials
Sales Channel
Need specific information?