An Incisive, In-depth Analysis on the Insights Engine Market
This study offers a comprehensive, 360 degree analysis on the Insights Engine market, bringing to fore insights that can help stakeholders identify the opportunities as well as challenges. It tracks the global Insights Engine market across key regions, and offers in-depth commentary and accurate quantitative insights. The study also includes incisive competitive landscape analysis, and provides key recommendations to market players on winning imperatives and successful strategies.
Rapid Adoption in Retail and Consumer Goods Industry Fuelling Insights Engine Market Growth
A large number of retail and consumer goods vendors across the globe have taken to insights engines to gain an accurate and deep understanding of customer tastes and preferences and to predict search queries to improve result relevance. Consumer insights help companies in both industries stay one step ahead of changing dynamics and ensure that their customers are loyal and satisfied ones. Companies are helped along in this endeavour by large and small-scale players in the insights engine market offering their insights engine platforms at competitive prices. The insights engine platform providers are also focusing on improving their training and support facilities. The retail and consumer goods vertical is expected to witness the highest CAGR of 19.7% from 2017 to 2027.
Constantly Evolving Needs of IT and Telecom Vertical Require Insights Engine Platforms
The telecommunications industry has grown by leaps and bounds in the last decade in particular as developed countries strengthen their LTE infrastructure and emerging economies build theirs from scratch. Companies are always seeking out better and more efficient ways to address the rising needs of customers. Insights engine platforms are being tested and implemented in advanced applications, enabling better understanding of consumer buying and usage patterns. Multiple avenues of value addition are opened up by way of insights engine platforms fuelling the growth of the insights engine market. The IT and Telecom vertical is anticipated to have a value of approx. US$ 110 million by 2027 and have a market attractiveness index of 4.5.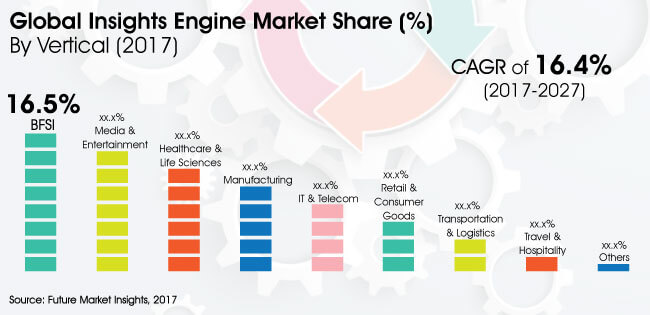 Intelligent Search Solutions Required Across All Industry Verticals
There are limitless opportunities for key stakeholders in the insights engines market because of the importance of digital technologies in the 21st century. BFSI, media & entertainment, and the IT & Telecom industries are shifting towards IoT-based solutions for smart solutions and operations with an objective of boosting revenue. This is accomplished by leveraging the power of AI and machine learning in the fields of marketing, sales support, and customer assistance. TCS estimates that Latin American enterprises alone invest more than US$ 50 million on IoT initiatives. The media & entertainment vertical is the largest in the Latin America insights engine market and is poised to exceed US$ 5 million by the end of the forecast period.
Lengthy Deployment Time a Challenge in the Insights Engine Market
The deployment time of an insights engine platform in an enterprise takes anywhere from three to nine months. This can pose a problem to small and medium-sized enterprises, restraining growth prospects of the global insights engine market. It has been observed that large-scale organizations are taking the lead in installing insights engine platforms to enable websites to provide predictive and contextual recommendations based on individual and site visitor behaviour. For e.g. – In May 2017, Alstom, a French rail transport MNC implemented Sinequa's analytics and cognitive search platform. This should allow its employees to access and search for information from the Alstom Management System to extract contextual insights from across the entire company.
Shoddy Internet Connectivity Still Problematic in Emerging Economies
Internet connectivity has certainly improved in the last decade but is still not at an ideal level, especially in developing countries. A stable Internet connection is a basic requirement without which an insights engine platform cannot function. National governments in APEJ and Latin America have recognized the importance of the Internet and it remains to be seen if they can match their developed counterparts in terms of Internet accessibility and availability in the long run.
Through a fact-based approach, Future Market Insights has skilfully crafted a comprehensive report titled 'Insights Engine Market: Global Industry Analysis (2012-2016) and Opportunity Assessment (2017-2027)'. The primary objective of the research report is to highlight market dynamics that consists of various drivers, restraints, opportunities, and trends that shape the global insights engine market. The dynamics have been actively observed since the year 2012 and the study is delivered in a systematic format that gives the reader several actionable insights to keep pace with an ever-changing market. Furthermore, the report presents an accurate image of the insights engine market by comparing and contrasting the historical analysis with the decade long forecast period.
Holistic angle covers all important aspects
The insights engine market report is based on a 360o approach with major regions examined for all the trends and developments that have an outsized impact on their market. The approach provides a much-needed value addition that can immeasurably assist the report reader to gain relevant acumen pertaining to the global insights engine market as a whole. Revenue pockets can be pinpointed with the help of this report and regions with high-growth potential can be targeted in the insights engine market. The report can be relied upon as it is conducted without any bias and can be considered an authoritative source on the insights engine market.
Insights Engine Market Taxonomy
Vertical

Component

Deployment

Region

IT and Telecom

BFSI

Retail and Consumer Goods

Healthcare & Life Sciences

Manufacturing

Media & Entertainment

Transportation & Logistics

Travel & Hospitality

Others

North America

Latin America

Western Europe

Eastern Europe

APEJ

apan

MEA
Research methodology USP of Future Market Insights
Future Market Insights has a best-in-class research methodology that is used to great effect to glean relevant information of the insights engine market. The two main components of the methodology are primary and secondary research. Secondary research is critical in gaining a thorough understanding of the insights engine market with the market being segmented and companies being analysed. Simultaneously, primary research is carried out to gauge the pulse of the insights engine market. Primary interviews are conducted repeatedly with market observers, industry leaders, and experts after which all the gathered data is verified and cross-validated via secondary research. The multiple verification and validation funnels ensure accuracy to the very highest degree and enable readers to make long-term and short term decisions in the insights engine market.
Competitive dashboard in an easy-to-understand logical format
The report has a dedicated section for the competitive landscape that incumbents as well as new entrants can expect to encounter in the insights engine market. Prominent companies actively involved in the insights engine market have been profiled with an assessment of their product portfolio, financials, market strategies, and recent developments that influence their market position. In addition to this, their expansion plans, geographic presence, and future developments are mentioned. This section can be considered the most important in the insights engine market as a competition SWOT analysis is absolutely vital.
Report summary
This in-depth research study has a winning trifecta of an unbiased statistical analysis, value addition, and expert recommendations that go a long way in consolidating a company's competitive position in the insights engine market. The reader can gain intelligence on key stakeholders and the market segments across geographies. All data points are in a systematic format for maximum convenience and actionable intelligence is provided to the hilt in the insights engine market report.
COVID -19 : Impact Analysis
Request the coronavirus impact analysis across industries and markets
Request Covid -19 Impact
CASE STUDIES
See how our work makes an impact.
At FMI, we design strategies that are adaptive, impactful, and implementable.