Fiber to the Home (FTTH) Market By Download Speed (Less than 50 Mbps, 50 Mbps to 100 Mbps, 101 Mbps to 1 Gbps, More than 1 Gbps), Application (Internet TV, VoIP, Interactive Gaming, VPN on Broadband, Remote Education), End User (Single Family Homes, Multiple Dwelling Units) & Region - Forecast to 2019 - 2029
Fiber to the Home (FTTH) Market - Analysis, Outlook, Growth, Trends, Forecasts
February 2020

REP-GB-11084

279 pages
FIBER TO THE HOME (FTTH) MARKET - KEY RESEARCH FINDINGS
The global fiber to the home (FTTH) market accounted for revenue worth US$ 12 Bn in 2018.
Collectively, the deployment of FTTH in Internet protocol and VoIP will generate revenue of US$ 20 Bn by 2029.

Smart home applications will offer significant growth opportunities for market players.

In terms of speed, demand for 50 Mbps to 100 Mbps will remain prominent, while 101Mbps to 1 Gbps will gain a steady momentum through 2029.
Adoption in multiple dwelling units will continue to play an instrumental role in the market growth, while usage of FTTH in single family homes will surge over the forecast period.
North America and Europe will continue to hold a significant share of the global market value.

APEJ's FTTH market will exhibit an impressive growth rate over the forecast period.
KEY FACTORS INFLUENCING THE FIBER TO THE HOME MARKET GROWTH
FTTH Networks Opening Doors for Mobile Operators
In the current scenario, mobile operators are strategizing to enter the FTTH market. In order to transform from a mobile operator to a full-service operator, they require FTTH network construction. In March 2020, Huawei launched the AirPONsolution as a part of its growth strategy to develop a 10G PON-ready Gigabit FTTH network that isbased on mobile sites.
With the adoption of the AirPON solution, it will greatly improve the efficiency of mobile operators at the time of building fixed networks and reconstructing FMC planning. By providing FTTH services, it increases the bandwidth of low- and medium-speed users connected to WTTx, reduces churn, helps operators improve users' loyalty, and handles the market competition.
Growing Adoption of FTTH in Smart Homes
Individual devices connected to the Internet do not require a huge amount of bandwidth. Whereas, smart home creates a challenge for the operators, as they need to increase their capacity to fulfill the demands of the customers. Owing to this, there is a swift rise in the demand for high-speed Internet from the customers and the trend will continue in the near future.
As more and more companies are launching an improved FTTH network, smart homes are going mainstream in recent times. With its bandwidth needs, the FTTH operators are benefitting from the significant growth.
FTTH Enhancing Healthcare Industry
Reliability and security will play a key role in FTTH for distributing healthcare services. With rising geriatric population, governments are looking for cost-effective ways to use telecom and IT technology such as IoT to monitor and provide assistance to the chronically sick and elderly people. These advancements will influence private companies working with health authorities to create e-health applications to improve efficiency without reducing the quality of patient care.
FIBER TO THE HOME (FTTH) MARKET STRUCTURE ANALYSIS
FTTH is significantly driven by a handful of players with exponential R&D capabilities.
Service providers in the global FTTH market will gain significant profits by focusing on partnerships and joint ventures strategies, especially in developing regions such as APEJ.
Base Year - 2019
Forecast Period - 2019-2029
CAGR over 2019-2029 - 15%
Market value in 2018 - More than US$ 12 Bn
Segments Covered - Download Speed, Application, End-User
Regions Covered - North America, Latin America, Western Europe, Eastern Europe, APEJ, Japan, MEA
Growth Drivers -

Booming AI technology and IoT devices
Growing Online Commercialization
Demand for reduced Internet cost

Key Companies - China Telecom Cooperation, China Mobile Ltd., Verizon Communications Inc., and AT&T Inc.
Application in VoIP and Internet TV to Shape Revenue Pool
As digitalization continues to race ahead, customers are expecting an increasing level of customization in tandem with a cost-effective solution, such as Internet TV and voice over internet protocol (VoIP). These two use cases continue to attract maximum capital allocation of market players.
By 2029, THE deployment of fiber to the home infrastructure in internet TV and VoIP services would translate to around US$ 20 Bn. Moreover, increasing popularity of smart home applications, especially in developed regions, is representing tremendous growth avenue for fiber to the home market players.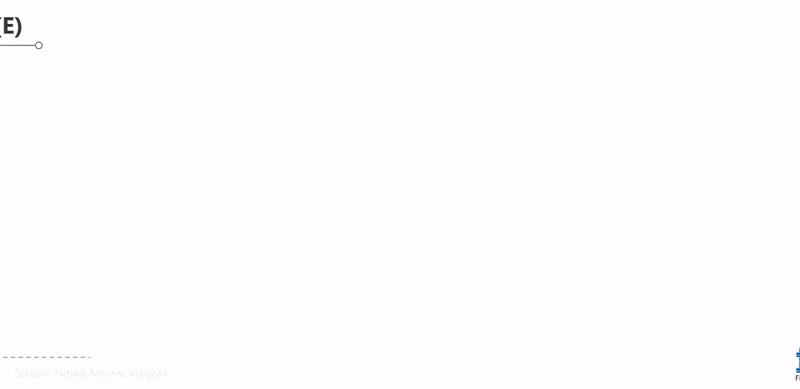 APAC to Lead the Second Wave of FTTH Market Growth
North America and Europe are currently leading the first wave of growth in fiber to the home market, capturing around half of overall value. Strong foothold of digital natives and increasing government initiatives such as the National Broadband Plan to provide cost-efficient high speed fiber for residential use cases are driving these developed regional fiber to the home markets. Asia Pacific (APAC) would lead the second wave of market growth, owing to rapid Internet penetration and tech-enabled transformations in various industries. Fiber to the Home market players are creating a flexible ecosystem of partnerships with local service providers in developing regions, including China, and India, to improve customer reach and retention.
IoT to Bring Possible Shakeout in Future Landscape
With underlying technologies achieving maturity, the Internet of Things (IoT) is becoming commonplace in mainstream industrial applications. Moreover, the uptake of IoT technology across the business landscape has almost doubled in the recent past. While incumbents have been investing their resources in intelligent IoT, small- and medium-size enterprises (SMEs) would be the prime target of IoT maturity. As the worldwide adoption of IoT-enabled devices is projected to surge in the coming years, fiber to the home service providers are likely to extract value with the prominence of IoT technology.
How Growth will Unfold
Strong government support for digitalization is enabling the widespread adoption of fiber to the home infrastructure across various sectors. Multiple dwelling units would be the immediate customers of FTTH services, wherein, the deployment of FTTH systems is estimated to surpass US$ 6 Bn in 2020. Adoption in single family homes and small office home office is also creating value-creation opportunities for FTTH market players; however, this will partially stagnate towards the end of the forecast period.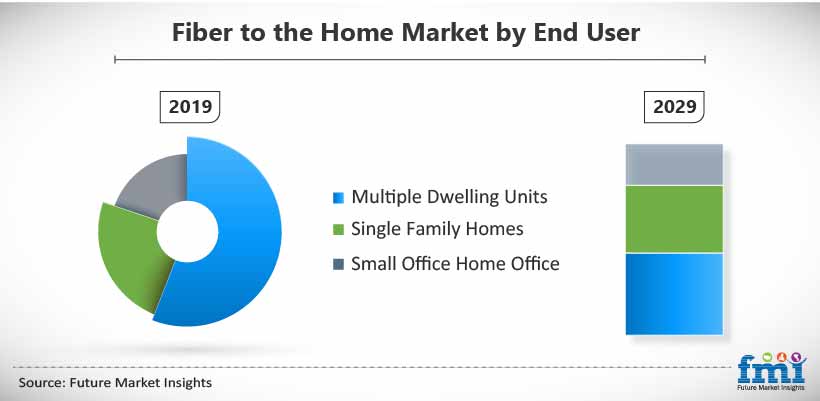 World's Most Profilic Intelligence Engine
Get Access To The World's Largest Market Research Database.
Sign Up Now
FIBER TO THE HOME (FTTH) MARKET TAXONOMY
The global fiber to the home market is segmented in detail to cover every aspect of the market and present complete market intelligence to the reader.
Download Speed
Less than 50 Mbps
50 Mbps to 100 Mbps
101 Mbps to 1 Gbps
More than 1 Gbps
Application
Internet TV
VoIP
Interactive Gaming
VPN on Broadband
Virtual Private LAN Service
Remote Education
Smart Home Application
End User
Single Family Homes
Multiple Dwelling Units
Small Office Home Office
Region
North America
Latin America
Western Europe
Eastern Europe
Asia Pacific
Excluding Japan
Japan
Middle East and Africa
Need specific information?
Our Clients