France Outbound Tourism Market Outlook (2022 to 2032)
France outbound tourism market is estimated at US$ 33.9 Million in 2022 and it is projected to reach US$ 51.6 Million by 2032, at a CAGR of 4.3% from 2022 to 2032. The share of France's outbound tourism market in the global outbound tourism market is 17% - 21%. Growth in the market is attributed to the rising trend of trekking and sightseeing in groups across the globe. As per the study, the expansion of the tourism sector, especially international destinations, will drive the demand in the market.
| | |
| --- | --- |
| Attributes | Details |
| Estimated France Outbound Tourism Market Size 2022 | US$ 33.9 Million |
| Projected Market Size (2032) | US$ 51.6 Million |
| Value CAGR (2022 to 2032) | 4.3% |
| France Outbound Tourism Market Top Players Share in 2021 | 8% - 12% |
Don't pay for what you don't need
Customize your report by selecting specific countries or regions and save 30%!
2017 to 2021 France Outbound Tourism Market Outlook Compared to 2022 to 2032 Forecast
France has witnessed a steep rise in outbound tourism, as per Future Market Insights (FMI). Growth in the market is underpinned by the strong presence of prominent and stunning tourist attractions. Additionally, countries such as Italy, Spain, Germany, and others, enjoy prime prestige in the heart of Western Europe, supported by several appealing cultural landscapes and destinations.
Some of the significant factors fueling tourism activities include long beaches and the presence of the world's largest number of ski slopes. European countries have some protuberant tourist attractions, such as the Alhambra and Generalife Gardens, to state-of-the-art museums, such as SAMMLUNG BOROS, Berlin, and amusement parks, such as the PortAventura in Spain.
Hence, due to these fascinating tourist places in European countries, French people prefer other European countries for outbound tourism activities. Hence, the prominent tourist attractions in Europe are paving the way for France's outbound tourism market.
On the back of these factors, the demand in France's outbound tourism market is expected to reach US$ 33.9 Million by the end of 2022. Sales in the market are projected to expand at 4.3% CAGR between 2022 and 2032, surpassing US$ 51.6 Million by 2032.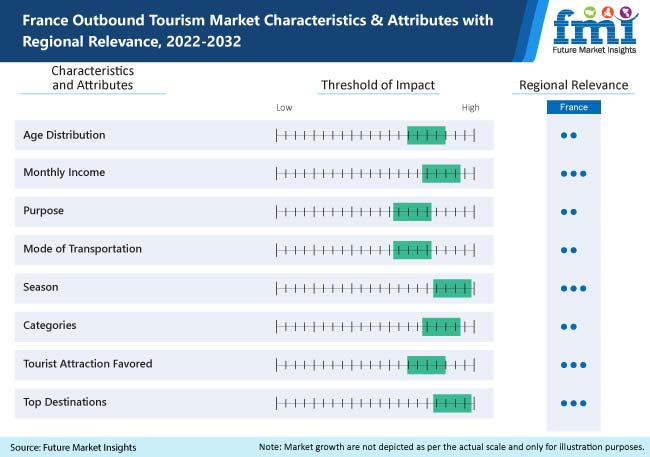 What are the Trends Reshaping the France Outbound Tourism Market?
Favorable Cross-Border Policies to Propel Demand in France's Outbound Tourism Market
A Schengen visa is a short-stay visa that permits a person to stay up to 90 days in the member countries of the Schengen Area for tourism and business purposes. According to this agreement, any visa issued by a Schengen member state is considered valid in all other member states without the need to apply for a separate visa.
In Europe, around 26 countries are a part of this agreement, and based on the purpose and frequency of visits, the Schengen consulate can issue a single, double, or multiple-entry visa. French people typically prefer European countries such as Spain, France, Germany, and the United Kingdom as favorite destinations for holiday or leisure activities.
Thus, the Schengen visa policies are helping to evade the barriers to cross-border tourism and make the documentation process less cumbersome, which, in turn, provides an impetus for the growth of France's outbound tourism.
Increase in Overseas Travel Experience to Push Sales in France's Outbound Tourism Market
France's outbound tourism is diversified to a great extent, as per the study. In France, the preference for high-quality tourism is gradually increasing among the middle- and upper-class population. Among them, the number of free and family travelers has developed rapidly, whereas participation in tour groups is shrinking substantially in France.
With the increase in overseas travel experience, the requirements for individualization and differentiation of France's outbound tourists have gradually increased. French visitors who have experienced more than four outbound travels intend to be independent and semi-independent travelers.
Category-wise Insights
Which is the Peak Season of France's Outbound Tourism Market?
April to June is the Peak Season in France's Outbound Tourism Market
Based on the season, the season between April-June is expected to hold the demand share of 34% due to the easy availability of holidays, fresh, sunny climate, and other reasons.
According to the World Tourism Organization (WTO), an increasing number of French people prefer summer vacations to exotic places. Additionally, a significant number of travelers prefer to visit foreign destinations. Most families in France desire long summer vacations due to the availability of time and holidays.
Compared to Austria, Switzerland, and the United Kingdom, French people are more willing to go out for the summer holidays. Over the last few years, it has been observed that French people prefer foreign destinations such as Portugal, Spain, Italy, and Germany for holidays during the summer season.
Which Purpose Contribute Maximum in the France Outbound Tourism Market?
Vacation is Anticipated to Generate High Demand in the Market
In terms of purpose, the vacation segment is expected to contribute a demand share of 43% in France's outbound tourism market. French tourists are inclined to choose convenient, safe, and stable destinations with a relaxing environment. Traveling abroad is to shift from sightseeing to enjoy a high-quality living environment and services overseas, including climate, air, price, housing, commodities, medical care, and education.
Meanwhile, people from France love to visit seashores or places with beaches for outbound tourism. Outbound tourism has become a major measure of happiness for French urban families and young people.
Which Age Distribution Segment Will Drive the France Outbound Tourism Market?
Demand in France Outbound Tourism Market to be Contributed by Consumers Aged Between 26-35 Years
In terms of age group, travelers between the age group of 26-35 years generate high demand for France's outbound tourism market and hold a major share of 30.2% of the overall France outbound tourism market.
The people from the age group of 26-35 are travel enthusiastic and can afford due to self-earning. Meanwhile, it has been observed that French people prefer leisure holidays, where they can relax and spend time with dear ones. Consumer around the age of 26-35 prefers long holidays, whereas 36-45 people prefer a minimum of 2-3 days for holidays or foreign trips. Hence, both age group segments generate high demand in the market.
Competitive Landscape
Companies operating in the France outbound tourism market are aiming at strategic collaborations and various marketing strategies to expand their business and attract a large customer base. Market-leading companies are focusing on innovation in their services and trying to provide the best service to their travelers.
Get Ready to Travel in France with Attractive Packages from Leading Outbound Tourism Firms: Odalys Vacances, Vacances Heliades, and Travel Lab SAS
Odalys Evasion offers vacation rental accommodations. In addition to houses, villas, and residences with a variety of amenities, including kitchenettes, outdoor swimming pools, activity clubs, internet connections, and laundry services. The company also provides short vacations and holiday packages, especially for European clients.
Odalys Vacances was created and is owned by Odalys Evasion. Eric Duval, a businessman from the United Kingdom, is the owner of the French-based tourist firm. It ranges from hotel rooms to vacation homes. It consists of a collection of 380 houses, a mix of hotels and apartments (apart-hotels), hotels and mobile homes, or outdoor residential complexes near the beach or the mountains, overlooking the city's beauty. Whether for a business trip or a luxurious retreat, this hotel brand will undoubtedly present you with the most amazing, relaxing experience clients have ever had.
France's tourism industry is at an all-time high, with 89.4 million visitors in 2018 and a target of 100 million tourists by 2020. Over 40 million people visited Paris alone in 2018, with 15 million going to EuroDisney, the most popular destination, 7 million going to the Eiffel Tower, and 8 million going to the Louvre. It is not surprising that France receives the most international visitors; in 2016, the travel and tourism sector generated 2.8 billion employments, directly and indirectly, and US$ 198.3 billion for the French economy.
Another key player, Vacances Heliades, is a vacation, travel, and tourism firm headquartered in AIX EN PROVENCE CEDEX 3, France. Vacances Heliades is a tour company. The company offers tour packages and travel arrangements for vacations in Greece, Cyprus, and other Mediterranean locations. Heliades Vacances specializes in cruises, windsurfing, group vacations, and diving excursions. Vacances Heliades caters to clients all around the world.
France's largest industry is tourism. France is the world's most popular tourist destination. It is not only located in the heart of Western Europe, bordering all of the region's larger countries - Italy, Spain, Germany, Belgium, Switzerland, and - across the straits of Dover - the United Kingdom; it also has Europe's second busiest airport - Paris Charles de Gaulle - and dozens more airports with international connections.
France spent US$ 27,758 million in 2020 on outbound travel and tourism. Despite significant recent fluctuations, France's outbound tourism - travel tended to rise from 2001 to 2020, reaching US% 27,758 million in 2020.
Additionally, Travel Lab works as a travel agency under the brand name Kuoni. The company provides family, friends, businesses, and couples with destination tours, cruises, coastal holiday picnics, weekend vacations, and honeymoon packages. Kuoni has a global customer base.
According to statistics on French outbound travel, there were 25 million more overnight visits from France in 2018 than in 2017. This might be because domestic travel is less expensive and easier, and France's diverse draws, from the countryside to the coastlines and gastronomy, encourage French residents to visit new places. Longer foreign excursions have marginally decreased, and while French travelers travel less frequently, they spend more money on every trip.
Get the data you need at a Fraction of the cost
Personalize your report by choosing insights you need
and save 40%!
Scope of Report
Attributes
Details
Estimated Market Size 2022
US$ 33.9 Million
Projected Market Size (2032)
US$ 51.6 Million
Value CAGR (2022 to 2032)
4.3%
Forecast Period
2022 to 2032
Historical Data Available for
2017 to 2021
Market Analysis
US$ Million for Value
Key Countries Covered
France
Key Segments Covered
Age Distribution, Monthly Income, Gender, Purpose, Mode of Transportation, Travel Frequency, Season, Tour Category, Categories, Preference and Behaviors, Tourist Attraction Favored, Length of Stay, and Top Destinations
Key Companies Profiled

Tui France
France Billet
Ticketnet
Odalys Evasion
Global Business Travel France
Travel Lab SAS
Oui.sncf SAS
Fram
Pv-Cp Distribution
Vacances Heliades
Other (on request)

Report Coverage
Market Forecast, Company Share Analysis, Competition Intelligence, Drivers, Restraints, Opportunities and Threats Analysis, Market Dynamics and Challenges, and Strategic Growth Initiatives
France Outbound Tourism Market by Category
By Age Distribution:
Under 18 years
18-25 years
26-35 years
36-45 years
46-55 years
Above 55 years
By Monthly Income:
Less than US$ 2,000
US$ 2,000-3,999
US$ 4,000-7,999
US$ 8,000-11,999
US$ 12,000 & Above
By Gender:
By Purpose:
Vacations
Visiting Family & Friends
Business Trips
Study
Others
By Mode of Transportation:
By Travel Frequency:
Once each year
Several times each year
Once for each 2-3 years
Others
By Season:
January-March
April-June
July-September
October-December
By Tour Category:
Package Travel
Semi-Independent Travel
Group Tour
Independent Travel
By Categories:
Transport
Entertainment & Site Seeing
Travel Intermediaries
Shopping
Retail
Tipping
By Preference and Behaviors:
Value-Seeking Sightseer
Unplugged
Aspirant
Individualist
Backpacker
Shopper
Novice Traveler
Sophisticated Traveler
By Tourist Attraction Favored:
Sea/Beaches
Countryside
In the city
Mountain Tracking, Natural Places
By Length of Stay:
Nil nights
1-3 nights
4-7 nights
8-14 nights
15+ nights
By Top Destinations:
Spain
Italy
United Kingdom
Germany
Frequently Asked Questions
The France outbound tourism market reached a valuation of US$ 32.8 Million in 2021.
The France outbound tourism market grew at 3.2% CAGR between 2017 and 2021.
Growing popularity of destinations, new product lines, rising per capita income of travelers, easy accessibility of booking portals, etc. are the key trends in the market.
Leading players operating in the France outbound tourism market are Tui France, France Billet, Ticketnet, Odalys Evasion, Global Business Travel France, Travel Lab SAS, Oui.sncf SAS, Fram, Pv-Cp Distribution, and Vacances Heliades among others.
Leading players in the France outbound tourism market are estimated to account for approximately 8%-12% of the total market share.