Introduction
Head Mounted Display is a light weight device worn or mounted on users head and has asmall display optic near eye. The display optic projects virtual environment in front of wearer's eye. The Head Mounted Display can reflect projected view or see through view.(Allow real world view along with superimposed computer generated images).
HMD market is segmented into two broad categories namely 'helmet mounted display' and 'eye wear display'. The 'helmet mounted display' is mounted around the complete head and are most applicable for high end aviation, defense and military usage.
On the hand, 'eye wear display' is light weight goggle like device that user can be wear on eye. Eye wear displays are light weight as compared to helmet mounted display.The global eye wear display shows impressive growth in resent few years due to its popularity for being portable, lightweight and compact.
The Global HMD market is estimated to value at US$ 887.1 Mn in 2014 and expected to reach 13167.5 Mn by 2020, reflecting a CAGR of 59.4% during forecast period.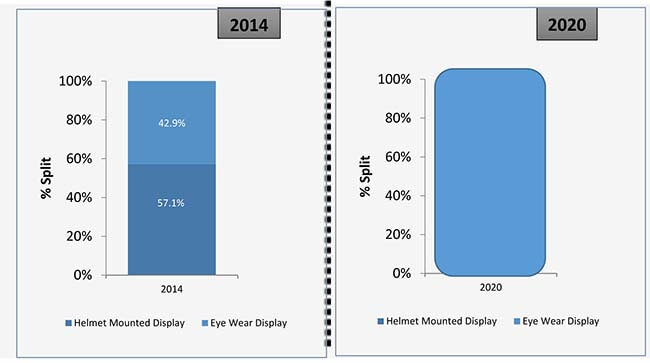 Helmet Mounted Display market was valued US$ 506.5 Mn in 2014 with 57.1% market share. Eye wear display market is expected to grow with a higher growth rate as compared to head mounted display market.
The factors that fuel the penetration of head mounted display in consumer market is result of declining prices of components like microsdisplays in global market. Microdisplay is a basic component which is coupled with display optic system embedded in both helmet mounted displays and eye wear displays for providing enlarged, high quality image in front of wearer's eye. Use of HMDs for virtual augmented reality, Video gaming & entertainment, R&D and Healthcare provides a sound opportunity for the growth of HMD market.
At Present North America is dominating global HMD market in 2014, which is characterized by technological advancements bought by increasing demand for wearable computing devices in this region. The HMD market of Asia Pacific totaled at USD 79.8 million in 2014, and is expected to be the fastest growing market within the forecast period. Increasing demand from consumer market and medical services is flourishing growth for this region.
Video gaming & entertainment market is projected to show the fastest growth within the forecast period from 2015 to 2020. Technological advancements in display like high resolution and 3D video display with superior augmented video capabilities are primarily responsible for the expected increase in demand for these devices.
The defense, aviation and military sectordominated the HMD market in 2014 owing to the increasing adaption of HMD enabled devices for the purpose of simulation, training, security, monitoring and tracking not only be developed countries but also by developing countries like India, China and Brazil.
In terms of type of product, helmet mounted displays dominated the total HMD market in 2014. However, increasing user preference for light weight head-worn display devices will tend to exceed the growth rate of eye wear display market as compared to helmet mounted displays within forecast period.
Keymarket players include Google Cooperation, Sony Corporation, eMagin Corporation, Oculus VR, Kopin Corporation, Thales Visionix, Rockwell Collins, Recon Instruments, Seiko Epson Corporation, and others
Key Segments
by Product
Helmet Mounted Display
Eye Wear Display
by Components
Helmet Mounted Display

Micro-Display
Head Tracker
Camera
Connectivity
Combined Mirror
Control Unit
Helmet

Eye Wear Display
by Application
Defense, Aviation, & Military
Industrial Sector
Augmented and Virtual Reality
Research & Development
Healthcare
Video Gaming and Entertainment
Training & Simulation
Others
Region
North America
Latin America
Europe
East Asia
South Asia Pacific
Middle East & Africa
Need specific information?