Head Mounted Display Market By Product Type (Head Mounted, Eyewear), HMD Type (Discrete HMD, Integrated HMD), Application (Gaming, Media,& Entertainment, Aerospace, and Defense, Healthcare and Medical Devices) & Region - Forecast to 2021 - 2031
Head Mounted Display Market - Analysis, Outlook, Growth, Trends, Forecasts
April 2021

REP-GB-73

366 pages
Head Mounted Display Market - About the Report
[325 Pages Report] The head-mounted display (HMD) market is expected to reach a valuation of US$ 104.53Bn by 2031.Growing need for augmented reality/virtual reality (AR/VR) technologies in the gaming industry is securingthe demand for head-mounted displayand othersolutions.Reduced pricing of micro-displays will bode well for the market. Besides this, the increasing demand for mobile-based AR solutions will pave way for growth in the coming years.
In its new study, ESOMAR-certified market research and consulting firm Future Market Insights (FMI) offers insights about key factors driving demand for head-mounted displayproducts. The report tracks the global sales of head-mounted display productsin 20+ high-growth markets, along with analyzing the impact of COVID-19 on the global adoption of head-mounted display solutions, along with the pre-COVID and post-COVIDmarket growth analysis.
How the Historical & Future Outlook for Head-mounted Display Market Match Up?
Between 2016 and 2020, head-mounted display market has registered the CAGR of 16.1%.Increasing adoption ofAR/VR technologieshas fueled the demand forhead-mounted display market.
Head mounted display plays a critical role in AR/VR technology as it is the connector between user and the set-up.The advent of head mounted displayhas helped in providing bettercomfort and improved ergonomics to users. This has in turn improved theirexperience of VR/AR technology.
Various technology vendors are developing advance head mounted displays to enhance user experience for their AR/VR technology.Owing to these factors, the demand for head mounted displays is likely to increase,enabling the market to expand at a CAGR exceeding 25.9% throughout the 2021-2031 assessment period.
How is Demand from Defense Sector Impacting Head Mounted Displays Sales?
HMDs are used in aerospace and defense for warfare simulations, battlefield visualizations, tactical augmented reality, digital twins, spatial orientation, situational awareness, weapons targeting, digital terrain, and other critical operations.
According to Goldman Sachs, the AR/VR industry is expected to generate US $1.4 billion in revenues exclusively from the military sector by the year 2025.
HMDs are often used in aerospace and defense to create Synthetic Training Environment (STE). STE is AR system enables in creation ofimmersive module for defense training trough. It helps to improve the drills of soldiers like snow-capped mountains and deserts, navigation, deep forests and teamwork.
In-built with AR/VR technology, HMD reduces workload by providing critical information to pilots helping them improve their response time. AR/VR technology provides experiential training in real-time and data-driven solutions for aerospace. The training given using AR/VR technology improves give real-time feedback and improve the efficiency of skills transfer, increased knowledge retention.
The HMDs are moved beyond the video games and also been successfully used for the military purpose as well. Thus increase in demand of HMDs indefense sectoris been one the driving factor of HMD market.
Emergence of 5G PushingHead-mounted Display Sales
To use HMDs integrated with AR/VR technologies, robust systems and high speeds networks are needed. This is imperative for head-mounted displays to work smoothly and provide high level of network performance to users. VR head-mounted displays need a powerful PC or device to run them. The advent of 5G technology is expected to enable better and disruption-free performance of state-of-the-art HMDs.
The 5G technology will push the storage, power consumption, and processing power from the PC and to the cloud. Thus user can experience AR/VR technologies by using Head Mounted Display without any other set-upatanytime from anywhere.
According to a report from Intel, by 2028, AR games are predicted to make up "more than 90 percent of 5G AR revenues," or around $36 billion globally.
5G technology provides higher data transfer rates, high bandwidth and low latency, which ultimately improves user experience for the AR/VR. Thus 5G technology has better capacity in handling of networks than 4G technology and will aid improving user experiences.
What Are the Factors Affecting Head-Mounted Display Market?
The major factor affecting sales of head mounted displays is the higher initial setup cost. For better experienceof HMDs integrated with the latest technologies, it needs high speed network connection with highly configured workstations and PCs. Also, the price of basic-level HMDs ranges from 1,000$ to 1,500$ which is relatively higher than other smartphones accessories.
To better experience the performance,HMDs might require several accessories such as VR gaming headsets and goggles, which consist of high-end motion-control VR headsets that capture and transmit full head and eye movements. Moreover, several other devices are required for enabling the gaming environment which consists of joystick, gamepad, or even gloves for pointing, firing and sending commands.
To experience the AR/VR technology in head mounted displays, setting-up cost to build a complementing environment is initially high.Thus, the high cost of initial setup for enabling AR/VR is considered as one of the major challenge of the market.
Innovations in HMDs in AR/VR Technology Driving Growth
Head-mounted displays are used in many applications such as virtual shopping, navigation, automotive, remote education, and remote assistance & maintenance, among others. AR/VR technology in retail applications is used for visualizing product, showroom enhancement, and in house navigation.
With the help of AR-based virtual fitting solution (Smart Mirror) customers can try a dress, top, or any other piece of clothing on their virtual models displayed in the mirror. In retail, HMDs are often included to improve customer experience with the help of VR based technologies.
Also, during the recent outbreak of COVID-19 pandemic, the education industry has to follow new norms like social distancing. HMDs supporting VR technology are often preferred because they offer three-dimensional view of virtual object,to give better understanding and experience to students at home.
According to the Entertainment Software Association (ESA), consumer spending on the video game industry totaled $30.4 billion in 2016, with $24.5 billion spent on content; $3.7 billion spent on hardware; and $2.2 billion spent on accessories, including VR.
Head mounted displays are important to complement latest technologies. The rising spending on state-of-the-art gaming applications will therefore create opportunities for sales of head mounted displays in the coming years.
Market Share Analysis of Head-Mounted Display Vendors
The head-mounted display market is highly concentrated, whichcan be attributed to the fact that local and emerging providers account for the leading share in the market. The companies that hold market share of 10% to 12% are tier-1 companies and this group includes players like Microsoft Corporation, Google,Samsung and BAE Systems.
The companies with market share of above 7% and below 10% are the promising players. These companies are likely to showcase a quick growth trend and harness the opportunities that the global market has to offer to accommodate business expansion and revenue generation. This group includes Elbit Systems, Huawei Technologies, and HTC Corporation.
Companies that have a relatively lower size with a market share worth less than 7% are strategizing to attract new clientele in foreign markets. The companies in this group are Xiaomi, Avegant Corp., and LG Electronics.
How is Integration of Novel Technologies affecting Head Mounted DisplaysSales?
The new technologies like micro-displaysprovides wide field of view, good-quality projected image, compatibility in head mounted display. HMDs become lightweight, smart, flexible, low latency and easy to access, by introducing micro-display technology in the head mounted displays. HMD manufacturers such as Oculus VR are focusing on minimizing latency issues in HMD products.
Recon jet is a high performance sportswear that shows performance metrics when connected with a smartphone. Sony's wireless Personal 3D viewer, HMZ-T3W, is an example of upgraded OLED Micro-display which has twin OLED screens that support HD displays.
Smart glass is an example of upgraded version of micro-display technology in HMD designs, which made it lightweight, compact and easy to wear. Head-mounted displays are enabled with advanced features such as letting user access the mobile internet browser, voice commands, performance metrics and tracking, augmented reality, virtual surround sound mimic, and many connectivity options to interact with other devices. Thus, the adoption of new technologies like micro-display in the coming year would create huge opportunities in front of HMD manufacturers.
Head Mounted Display Market Country-wise Analysis
What are Key Trends in U.S. Head-Mounted Market?
The U.S. market for head-mounted displays is forecast to exhibit double-digit growth through the forecast period. FMI has projected theU.S. to remain the most lucrative marketin North America.According to studies, the head-mounted display shipment in U.S. is increased by 5% due to rise in gaming industry and increase in U.S. based online and offline gamers.
Moreover,the increasing demand for enriched content from gaming sector and defense applications has been enabling growth in the U.S. head-mounted display market. Also, the increasing demand, specifically from the aerospace and defense applications, healthcare sector,manufacturing and packaging industry has propelled the growth of U.S. head-mounted display market.
What is the Scope for Expansion in the U.K.?
The U.K. has strong international standing as a center for design, engineering and research for HMD products, coupled with its position as the world's leading technology, professional and business services hub. In coming years, the U.K. is expected to see increase in demand for head-mounted display and AR/VR technologies.
Moreover, the government of the U.K. and the head-mounted display tech players are collaborating to develop advance head-mounted display system inAR/VR technologies.The growing demand for AR/VR technologies in gaming, healthcare and manufacturing industryfrom technologycompanies is driving the growth of UK head mounted display market. The U.K. head mounted display market is estimated to reach a valuation of 5,759.6Mn by the end of 2031 by registering a CAGR of 32.7%.
Trends Enabling Sales in China Head Mounted DisplayMarket
China is estimated to record an incremental opportunity worth US$ 13.29Bn during the forecast period.The China government is continuously focusing on development ofHMDs in AR/VR technologies to ensure development of gaming, healthcare and manufacturingindustry.
China government is continuously focusing on investing indevelopment ofnew displaysand AR/VR technologies, which in return, would drive the growth of China head mounted display market.
How Big is the Opportunity in India?
The market is expected to register a high growth in India. It is forecast to expand at a CAGR of 35.9% during the forecast period owing to rise in India's HMD technologies with the government's initiative towards development of AR/VR technologies.
For instance, in February 2021, Indian Ministry of Defence (MoD) has announced that, the army is in the process of procuring 556 augmented reality head-mounted display (ARHMD) systems. Developments in technology will pave the way for increasing sales of head mounted displays in the country.
Head Mounted Display Market Category-wise Insights
Which is the Preferred Type of Head-Mounted Display?
AR/VR technologies create a realistic Image for user via a virtual world along with the sound and other sensation. This gives users experience of physical presence in the environment. The exponential growth of AR/VR gaming technology across the world has encouraged developers to improve the level AR/VR Gaming technology.According to the latest report of Google-KPMG, the online gaming industry in India will reach $1 billion by 2021.
Right from the successful launch of first AR game Pokémon go, AR-VR technology in gaming sector is trending. With this, the head mounted display producers will have attractive opportunities to capitalize on in the country.
Head mounted display used in the VR gaming improves interaction with the virtual world. Advent of new technology in gaming sector to offer better user experience, will drive sales of head mounted displays.
What HMD Product Type Will Exhibit Higher Growth?
By product, eyewearsegment estimated to grow at higher CAGR of 30.2%during the forecast period, owing tohuge adoption of smart glass in several countries of the world opens new possibilities for AR/VR manufacturers.
Smart glassesoften come enabled with advanced features such as letting user access the mobile internet browser, voice commands, performance metrics and tracking, augmented reality, virtual surround sound mimic, and many connectivity options to interact with other devices. These glasses are finding applications in various industries including healthcare, education, manufacturing companies and many more.
Smart glasses are used in the healthcare industry for recording data, streaming video, teleconferences, data transmission, telementoring, video recording, workflow, documentation, patient empowerment, and education.
The first smart glass has been introduced by Google in 2014, which is a hands-free device, used by hands-on workers that removes distractions and helps users to focus on other parallel processes.
Besides this, the market is expected to register increasing sales of slide-on HMD. It is expected to remain highly sought-after among other HMD types available in the market.
Which Application Segment is expected to Dominant the HMD Market?
By application, gaming, media,& entertainment segment is expected to dominate the head mounted display market throughout the forecast period, with the market share of 48.4% in 2020.
In the past few years, the rapid development of new HMDs for gaming provides usage opportunities for the mass market.The HMDs provide the user with a more realistic and completely immersive in-game environment.
HMD provides users with a closer view of the gaming world, and provide user a completely immersive game environment.HMDs also enables head motion tracking during the gameplay. The features makes the game even more realistic, , so the expected hypothesis is that when users are playing PC games with HMD, it will show a higher enjoyment level than the users playing computer games and watching AR/VR enabled movies with traditional setup.
A few remarkable examples of modern HMDsare the Rift developed by Oculus, the smart goggles by Sensics and HMZ-T2 3D viewer by Sony. The upgraded and modern HMDs provides usage opportunities for consumers, and indicates a new era in the digital gaming and entertainment area.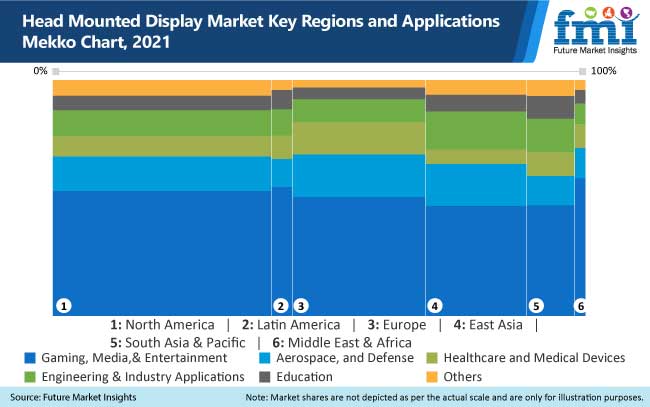 Head Mounted Display Market Competition Landscape
Companies operating in the market rely on various expansion strategies to strengthen their foothold. These strategies include product launches, collaborations with key players, partnerships, acquisitions and strengthening of regional and global distribution networks.
For instance, in March 2021, Microsoft announced Mesh cloud service which enabled developers to build applications in which people can share holograms, speak with one another, make doodles and appear as virtual avatars. The company also worked on Virtual Reality (VR) headsets that immerse people in a computer-generated world but block out the physical through AR headsets (HMD).
In Feb 2020, Google announced that the latest version of Google Glass AR headset are available in the market. Google launched Google Glass Enterprise Edition-2 before 1 year through selected workplace partners. Due to strong demand from developers and businesses Google had made it available for direct purchase.
In February 2021, Elbit Systems have signed Technology Collaboration Agreement (TCA) for helmet mounted display system. Under this agreement, BEL gets the license to manufacture and integrate the Helmet Mounted Display system for Indian Naval and other rotary wing platforms of the Armed Forces.
FMI has profiled the following prominent head-mounted displays providers in its report:
Google
Samsung
BAE Systems
Elbit Systems
Huawei Technologies
HTC Corporation
Sony Corporation
Thales Visionix, Inc.
Avegant Corp.
The aforementioned players
Head-Mounted Display Market Report Scope
Attribute

Details

Forecast Period

2021-2031

Historical Data Available for

2016-2020

Market Analysis

US$ Mn for Value & Units for Volume

Key Regions Covered

North America, Latin America,Europe, East Asia, South Asia & Pacific, and Middle East & Africa

Key Countries Covered

U.S., Canada, Germany, Italy, France, U.K., Spain, GCC and South Africa

Key Segments Covered

Product Type,HMD Type,Applications, and Region

Key Companies Profiled

Microsoft Corporation
Google
Samsung
BAE Systems
Elbit Systems
Huawei Technologies
HTC Corporation
Sony Corporation
LG Electronics
Thales Visionix, Inc.
Xiaomi
Avegant Corp.

Customization & Pricing
World's Most Profilic Intelligence Engine
Get Access To The World's Largest Market Research Database.
Sign Up Now
Key Segments Covered of the Head Mounted Display Market
Product Type
HMD Type
Discrete HMD
Integrated HMD
Slide-on HMD
Application
Gaming, Media,& Entertainment
Aerospace, and Defense
Healthcare and Medical Devices
Engineering & Industry Applications
Education
Others
Region
North America
Latin America
Europe
East Asia
South Asia& Pacific
Middle East & Africa (MEA)
Key Questions Answered in the Report
Who are the leading players in head mounted displaymarket?
Some of the leading players operating in the global head mounted displaylandscape include Microsoft, Google, HTC, Samsung, andamong others.
What are the major factors Influencing the growth ofhead mounted display market?
The major driving factors behind the growth of head mounted display market includes rise in adoption of HMDs in several industrial applications and higher adoption in gaming, healthcare and defense sectors.
What are the major trends impacting market growth?
Growing demand for HMDs in training and Simulations and the Arrival of 5G in coming years are expected to shape the future of the head mounted display market.
Need specific information?
Our Clients