Variable Frequency Drive Market Growth Complemented by the Net-zero Energy Goal
Invigorated by profound emphasis on energy-efficiency and escalating energy prices, global variable frequency drive (VFD) market is set to expand at a robust 6.2% CAGR for the course of projection period (2019-2029). The preponderance of growth drivers such as prevalence of VFD-equipped motor control systems, reduced operational expenditure, conspicuous efficiency are spurring the demand.
Having surpassed a value pool of approximately US$ 21 Bn in 2018, the sales of variable frequency drives will witness further upward growth trajectory through 2029. Amongst various types of drives, servo variable frequency drives continue to be favoured by manufacturers worldwide. However, DC drives are projected to gain widespread adoption throughout the forecast period.
Sustainable Endeavours Continue to Stimulate Demand for Variable Frequency Drives
'Affordable and Clean Energy' is amongst 17 Sustainable Developments Goals (SDGs) set forth by United Nations to be accomplished by the year 2030. Hence, the governments worldwide are compelled to promote the use of energy-efficient equipment for timely realization of their sustainable objectives. Attaining Net-zero energy is amongst their key long-term goals.
Conventional electric drives consume inordinate amount of energy. For instance, in standard pumps, the pressure inside the valves is increased to control the flow. This in turn deteriorates the efficiency of the pumps. Leading innovators integrated conventional pump systems with variable frequency drives. Through this technology, the pump motor can be operated at variable speeds, enabling consumers to achieve the desired flow while reducing energy consumption.
Low Voltage Variant to Sustain Hegemony Through 2029
On account of multitude of applications such as conveyors system, power generation, petrochemicals, pumps, and smart mining, low voltage variant of variable frequency drive is projected to lead the market. Moreover, relatively low price point, facile operation, and compact size is burgeoning the sales of low voltage drives. Hence, low voltage drives contribute substantially to the overall revenue.
The demand for low voltage drives is primarily concentrated in Asia Pacific. Low voltage variable frequency drives are predominantly being used in conveyors, extruders and pumps. On that premise, the regional market is projected to witness significant growth during the forecast period.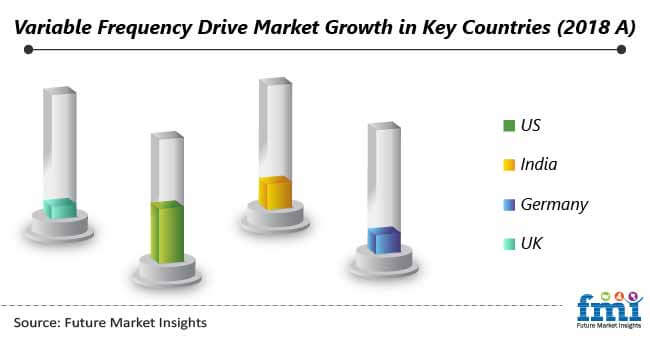 Asia Pacific Continues to Lead Regional Variable Frequency Drive Market
In view of emerging economies, Asia Pacific constitutes 33% revenue share of global VFD market. The regional market will grow at a promising pace owing to widespread utilization of low voltage drives in conveyors and power generation end-use segments. India, China and Japan are amongst major contributors of variable frequency drive market growth.
Moreover, North America will acquire strong global position in variable frequency drive market. The United States in particular will experience double-digit growth through 2029. Amongst developing countries, India will observe prolific growth over the forecast period. The governments in these countries are keen on making massive investments in energy-efficient devices.
Major Players Renew Their Focus on Innovation to Outclass Competitors
Prominent companies in variable frequency drive market include, Honeywell International Inc., Rockwell Automation Inc., GE Energy Power Conversion, Mitsubishi Electric Corporation, Siemens AG, Toshiba International Corporation, and Hitachi Ltd. Major players are making enormous pecuniary investments in developing innovative variable frequency drives.
Compatibility and functionality of VFDs will remain paramount research areas for leading innovators. They aim to achieve technological advancements while maintaining the differential cost.
Variable Frequency Drive Market: Segmentation
The global variable frequency drive market is segmented in detail to cover every aspect of the market and present a complete market intelligence approach to readers.
Drive
Servo Drive
DC Drive
AC Drive
Voltage Range
Medium Voltage Range
Low Voltage Range
End Use
Conveyor
Compressor
HVAC (Heating, ventilation and air conditioning)
Fan
Pump
Application
Region
North America
Latin America
Europe
MEA
Asia Pacific
Need specific information?