Variable Frequency Drive (VFD) Market by Drive Type (AC Drive, DC Drive), Voltage Range (Low Voltage, High Voltage), Application Type (Standard, Regenerative), End-use Application, End-use Industry & Region - Forecast to 2021-2031
Variable Frequency Drives (VFD) Market - Analysis, Outlook, Growth, Trends, Forecasts
January 2021

REP-GB-140

283 pages
About the Report
In recent years, the variable frequency drives market (VFD market) has received significant stimulus, growing on the back of heightened opportunities regarding infrastructure development across emerging regions, spurring demand for heating and ventilation systems. VFD development is presently transitioning towards offering industry specific solutions with the objective of minimizing costs and reducing operational downtime, prompting a slew of innovations on part of manufacturers.
In its new study, ESOMAR-certified market research and consulting firm Future Market Insights (FMI) offers insights about key factors driving demand for variable frequency drives. The report tracks the global sales of variable frequency drives in 20+ high-growth markets, along with analyzing the impact COVID-19 has had on the electronics industry in general, and variable frequency drives in particular.
How will Historical VFD Sales Influence Future Demand?
Cost optimization, reducing total cost of ownership, and energy conservation has always a cornerstone of industry participants. When operating with heavy loads, these parameters need to be considered. Attributed to this, the global VFD market registered volume sales exceeding 32 million units in 2020.
Variable frequency drives have been consistently improving system reliability and performance for the past 40 years. They will continue to impact industrial growth during the assessment period.
Manufacturers are likely to experience widening profit margins across the South Asia & Pacific region, with China emerging at the forefront in the wake of exploding construction and automotive sectors. Besides, Germany and the United States are also expected to yield immense opportunities. Based on these aforementioned trends, the VFD market is poised to grow at a value CAGR exceeding 5% through 2031.
How Capital Projects are Providing Stimulus to Variable Frequency Drive Manufacturers?
Frequent capital investments are primary factors in uplifting economic growth as they aid in urbanization. According to Oxford Economics' Global Infrastructure Outlook, infrastructure investment is likely to reach US$ 94 trillion by 2040, involving per capita annual expenditure worth US$ 3.7 trillion. Out of the total global investment requirements, Asia accounts for 54% of all needs. Hence, manufacturers are expected to increase inroads across the region.
Such burgeoning capital infrastructure projects have heightened energy costs, as power and electricity consumption witness a sharp increase. This has led to the development of equipment designed to reduce such heavy energy consumption, paving the way for enhanced VFD sales across the landscape. Extensive applications are witnessed across the HVAC sector.
In addition, variable frequency drives are also finding applications across oil & gas and mining and irrigation sectors as well. Production, distribution and applications in the former rely heavily on motor-driven pumps and pumping systems, whose speeds VFDs help regulate. Likewise, these also assist in providing high speed and control across excavators and conveyors in the latter.
Industry 4.0 to Usher in Significant Disruptions
Variable frequency drives are being increasingly integrated in Industry 4.0, specifically across critical environments across industrial internet of things (IIot). As factories increasingly embrace automation, variable speed drives equipped with embedded logic as onboard programmable logic controllers are becoming increasingly mainstream.
IIoT benefits accrued from the application of VFDs include enhanced remote access. Technicians can monitor project and equipment conditions from anywhere, with workers receiving alerts more quickly, enabling them to correct anomalies in a timely manner. It also enables predictive maintenance and real-time monitoring.
Owing to these developments, prominent manufacturers are increasing research and development to dole out smart VFDs. An example is of Applied Machine & Motion Control (AMMC) which markets the Yaskawa Microdrive collections J1000 and V1000 respectively. Such developments are expected to pivot the VFD market growth forward.
Manufacturing Revival Key to Variable Frequency Drives Demand
As the world emerges from the COVID-19 pandemic crisis, countries are highly optimistic about a possible resurgence of manufacturing industries. In spite of the looming threat of a perceived second infection wave, industrial growth prospects are likely to remain unhindered, with reliance on industry 4.0 becoming extensive since the previous year.
Opportunities are likely to appear exceptionally strong across the Asian continent, with regions such as ASEAN, Japan and India expected to bounce back much faster compared to other regions. Data from the International Monetary Fund reveals that growth has expanded since Q4 2020, thus paving way for enhanced VFD market vendors' penetration.
Installation Complexities Key Deterrent to Variable Frequency Drive Sales
While variable frequency devices yield substantial returns on investments, payback period varies based on motor-type and applications. For instance, in heavy duty applications, regular VFD maintenance is imperative which requires separate troubleshooting programs, leading to significantly elevated costs. Hence, end-users tend to opt for inexpensive alternatives, restraining growth prospects.
Furthermore, although the International Energy Conservation Code of 2015 has affirmed and documented motor efficiency requirements, specific provisions concerning variable frequency drives have not been elaborated upon. This has left a grey area in terms of the most suitable VFD design.
Moreover, installation of a VFD system calls for additional installations such as EMI filters, RF filters and line or load reactors. Also, size considerations of a VFD demands a larger area than the motor starter it is expected to replace, compelling manufacturing units to expend on larger electrical enclosures.
Country-wise Insights
What Big is the US Variable Frequency Drives Market?
The United States is poised to remain highly lucrative, capturing over three-quarters of the global market share throughout 2021. Presence of key OEMs is an important growth catalyst for the region's market. Besides, high potential for electronics manufacturing such as wafers, chips and power modules is widening growth prospects.
Additionally, the market is also driven by extensive applications across the oil & gas segment. ABB is a prominent player in this regard. ABB medium voltage drives have been designed to ensure longevity in the harshest environments across the chemical, oil and gas applications. Its portfolio includes the ACS 1000 (315 kW-5 MW), ACS 2000 (250-1,600 kW) and ACS 5000 (2-32 MW) among others.
As per Future Market Insights' projections, nearly a quarter of the revenue generated across the United States market is likely to be from the oil & gas segment. As of 2019, it extracted a record high 4.46 billion barrels of crude oil while natural gas production amounted to 34 trillion cubic feet. A volume CAGR of over 6% is projected for the U.S market.
Germany's EV Category Promises Opportunities to VFD Manufacturers
The German variable frequency drives market is likely to expand at annual rate exceeding 7% through 2021, attributed to heightened HVAC systems applications across the automotive segment. Globally, Germany is a leading automotive market, generating an output of nearly 6 million vehicles in 2017.
Owing to such high figures, demand for ancillary industries such as automotive spare parts, aftermarket services, HVAC systems and other dependent end-use verticals have multiplied over time. Key HVAC manufacturers in the German landscape include Kelvion Holding GmbH, MB Dustcontrol B.V, Shauenburg Rurhkunststoff GmbH and Beha-Amprobole to name a few.
More recently, the electric vehicles segment has emerged as a potential revenue pool for VFD manufacturers as these are anticipated to generate high demand for ventilation and air conditioning systems. These systems are increasingly demanding extensive usage of frequency drivers to facilitate smooth vehicle operations.
China's Declining VFD Export Can be Beset by Rising Domestic Consumption
According to FMI, the Chinese market is likely to emerge as the most promising VFD landscape, yielding over half of the revenue across the Asian market across 2021. Growth is largely underpinned by prolific advancements across the infrastructure development and automotive industries.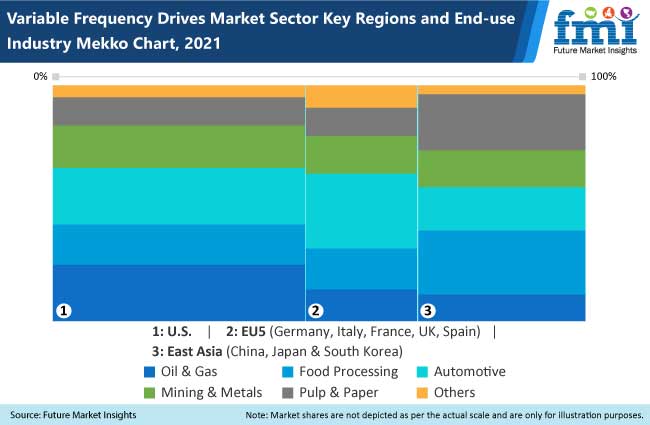 According to the China Association of Automobile Manufacturers, car sales spiked by over 6% annual growth rate to nearly 3 million units by 2020-end. Sales of new energy vehicles such as battery-powered electric, plug-in hybrid Electric Vehicles and hydrogen fuel-cell vehicles also surged by a whopping 11% compared to 2019. Hence, VFD manufacturers have been experiencing credible investment opportunities.
Likewise, the infrastructure development segment is anticipated to offer a wide berth for variable frequency drives penetration, owing to the increasing number of urbanization projects being undertaken to accommodate the rapidly exploding population. This is eventually leading to rising investments in the power, electricity and ventilation systems respectively.
Category-wise Insights
What's the Market Share of AC Variable Frequency Drives?
The AC drives segment will continue accounting for more than half of the global share among products through the forecast period. According to FMI, the segment is expected to hold a little above 60% of the market, in terms of product type, by the end of 2031. This is due to its product characteristics that make them compatible for all types of AC induction motors.
Low Voltage VFDs to Retain Popularity
By voltage range, low-voltage variable frequency drives are expected to retain their lucrativeness, acquiring 10 BPS and generating a revenue share exceeding three-fifths across the forecast period. Demand for efficient and less power consumption is anticipated to drive the segment's growth.
However, medium voltage VFDs are expected remain preferred, owing to growing power requirements by key end-use industries. It is projected to create an incremental $ opportunity worth US$ 6.7 Bn across 2031, capturing nearly two-fifths of the market share.
How are Regenerative VFDs Proving Beneficial?
VFDs paired with line regenerative units have been extensively used for escalator applications. In addition, they are also used as dynamic braking resistors to mitigate regenerative energy. Based on such end-uses, prospects for regenerative VFDs is burgeoning, registering a year-on-year expansion worth 6% by 2021-end.
At the same time, the popularity of standard VFDs is not expected to diminish, generating an incremental opportunity worth over US$ 11 Bn, expanding at a value CAGR worth approximately 5% throughout the forecast period.
New Frontiers Open-Up in Food Processing for Variable Frequency Drive Manufacturers?
By end-use industry, the food processing sector is emerging as a sunshine area, expected to be valued at US$ 5.4 Bn by 2021-end. The industry is emerging as a primary application area as growing demand for clean label products is prompting food providers to enhance their processing techniques.
Incorporating VFDs into the food processing stages have proven to reduce energy consumption by 20 to 30%. Using them across pumps, conveyors, compressors, mixers and other equipment not only helps save energy but also attain precision by controlling motor speed.
Competitive Landscape
The variable frequency drives market is highly competitive, dominated by global as well as regional players offering cost-competitive products. While Tier-1 players comprise nearly half of the global market share, over three-fifth of the revenue is yielded by tier-2 players.
Large supplier base and strong B2B networks define the robustness of the market with strong partnerships throughout the value chain. Suppliers of variable frequency drives adopt acquisition and regional expansion strategies to establish a firm foothold. Brand consciousness and aggressive marketing makes it challenging for new entrants in the variable frequency drives market.
Some of the leading companies operating in the market are:
ABB Ltd
Siemens AG
Danfoss A/S
Rockwell Automation
GE Energy Power Conversion
Toshiba International Corporation
Schneider Electric
Mitsubishi Electric Corporation
Honeywell International Inc.
Emerson Industrial Automation
Fuji Electric Co. Ltd
Johnson Controls Inc.,
Eaton PLC
Hitachi Ltd
*The list is not exhaustive, and only for representational purposes. Full competitive intelligence with SWOT analysis available in the report.
Scope of the Report
Attribute

Details

Forecast Period

2021-2031

Historical Data Available for

2016-2020

Market Analysis

USD Million for value and Units for Volume

Key Regions Covered

North America, Latin America, Europe, East Asia, South Asia, Oceania Middle East & Africa

Key Countries Covered

US, Canada, Germany, U.K., France, Italy, Spain, Poland, Russia, China, Japan, South Korea, India, Thailand, Malaysia, Vietnam, Indonesia, Australia, New Zealand, GCC Countries, Turkey, Northern Africa, South Africa

Key Segments Covered

Drive Type, Voltage Range, Application Type, End-use Application, End-use Industry and Region

Key Companies Profiled

ABB Ltd
Siemens AG
Danfoss A/S
Rockwell Automation
Toshiba International Corp.
Mitsubishi Electric Corp
Schneider Electric

Report Coverage

Market Forecast, brand share analysis, competition intelligence, DROT analysis, Market Dynamics and Challenges, Strategic Growth Initiatives

Customization & Pricing
World's Most Profilic Intelligence Engine
Get Access To The World's Largest Market Research Database.
Sign Up Now
Variable frequency drives Market : Segmentation
Drive Type
Voltage Range
Application Type
End-use Application
Pumps
Fan
Compressor
Conveyor
HVAC
Others
End-use Industry
Oil & Gas
Food processing
Automotive
Mining & Metals
Pulp & Paper
Others
Region
North America
Latin America
Europe
East Asia
South Asia
Middle East and Africa (MEA)
Key Questions Answered in the Report
Q1. Which is the most lucrative market for variable frequency drives?
US currently leads the global market for variable frequency drives. Sales in US will be over 22% of total demand throughout the forecast period.
Q2. Which is the top-selling variable frequency drive?
The AC Drive is highly sought-after in every market. The demand for AC Drives is expected to remain high in the near future, especially due to its proliferated usage across different industries for AC induction motors.
Q3. Which is the key application of variable frequency drives?
Variable frequency drives are widely used in pump and fan applications. Their usage in HVAC applications is rising day-by-day
Q4. Who are some of the leading variable frequency drives manufacturers?
Some of the leading companies manufacturing variable frequency drives are ABB Ltd, Siemens AG, Rockwell Automation, Danfoss A/S and Toshiba International Corp.
Q5. Which VFD type is driving sales of variable frequency drives?
The medium voltage drives are driving sales of variable frequency drives because they are comparatively economical than low-voltage drives and seek application in wide areas for standalone or system applications.
Need specific information?
Our Clients