Automotive Variable Oil Pump Market Value to Increase 1.3X Through 2030
The worldwide automotive industry is bracing itself for substantial shifts, with tightening emission standards likely to provide the industry a makeover. The same thing goes for the automotive variable oil pump market, which is steering away from conventional energy sources. Manufacturers are rolling out novel technologies, backed by R&D, to develop automotive variable oil pumps that comply with emission norms. As the emphasis on clean air continues to gain ground, the global automotive variable oil pump market will progress steadily through 2030.
Key Factors Shaping Automotive Variable Oil Pump Market
Rising Demand for Advanced Pumps for Mid-size Cars
Increasing spending power of the ever-growing middle class, especially in developing countries such as India and China, is influencing automotive manufacturers to focus on the mid-size and compact car segment. Premium features such as power steering, easy gear shift, anti-lock braking systems, and cabin comfort systems are no longer limited to executive, premium, and luxury cars.
With increasing competition among automakers and changing consumer lifestyle, most high-end features are being introduced in small cars on a greater scale. These enhancements are being well received by consumers, and are further prompting automakers to increase the scale of their implementing.
Sales of compact or mid-size cars account for 55% to 65% share of global car sales. Thus, this segment offers lucrative opportunities for the deployment of automotive variable oil pumps that are custom made for specific cars or manufacturers.
Implementation of Emission Norms Encouraging Development of Advanced Products
Growing number of automobiles along with increasing population has forced authorities to roll out emission standards that are more stringent. Continuous implementation of regulations by governments has forced manufacturers to come up advanced product development to meet mandatory emission standards.
For instance, the Indian government has mandated the shift to BS6 norms by April 2020, which is likely to increase the number of new vehicles on the road, and is expected to create opportunities for the automotive variable oil pump market in the coming years.
Increase in Automotive Manufacturing and Vehicle Parc Boosting Sales of Automotive Variable Oil Pumps
Sales of automotive variable oil pumps is directly connected to automotive production and vehicle parc. Despite uncertain economic conditions in the global market over the past years, on an average, the global automotive industry has observed reasonable growth. Automotive manufacturing is projected to increase at a decent CAGR of 2–2.5% over the forecast period.
Automotive vehicle manufacturing is expected to be prominent in developing countries as compared to developed countries. This can be attributed to stable economic condition that is increasing urbanization in these regions. Over the forecast period, the automotive vehicle fleet on road is also likely to increase at a decent pace, thereby offering marginal opportunities for the growth of the automotive variable oil pump market.
APEJ to Remain Dominant throughout Forecast Period
In terms of value, the automotive variable oil pump market in APEJ led the global market in 2019. The market in China is projected to offer the most lucrative opportunities for revenue generation over the forecast period (2020 to 2030).
Automotive Variable Oil Pump Market Structure Analysis
Acquisition and collaboration of niche players is one of the key strategies being followed by leading automotive variable oil pump manufacturers in the market.
Continental AG, KSPG AG, Denso Corporation, and Robert Bosch GmbH are the prominent and most experienced players in the global automotive variable oil pump market.
High market concentration ratio suggests that, there is intense ongoing competition in the global automotive variable oil pump market. Thus, market competitors are deploying cost-effective solutions and services in order to maintain or enhance their market shares.
Manufacturers Rely on Gasoline and Diesel Fuels
Player in the automotive variable oil pump market prefer gasoline for power transmission, as it is cheap and requires lesser service intervals. However, volatility in crude oil prices is impeding the usage of gasoline in automotive variable oil pumps. Consequently, manufacturers are banking on diesel, given its enhanced service life and reliability. Although diesel is relatively expensive versus conventional gasoline, its excellent fuel efficiency outweighs the cost constraint. Furthermore, as the automotive industry moves forward with sustainability at the center, manufacturers of automotive variable oil pumps are turning to hybrid fuels to align with changing industry trends.
APAC Market to Witness Quantum Lead
Influenced by the presence of manufacturing hubs in the automotive industry – China and Japan – automotive variable oil pump market players continue to place their bets on Asia Pacific (APAC). Moreover, the electric vehicle (EV) industry in these countries has been experiencing staggering growth in the recent past, owing to the introduction of strict emission standards. In a similar fashion, recent government regulations such as Bharat Stage (BS6) emission norms are steeply boosting vehicle electrification in India. However, amidst the coronavirus pandemic, automobile sales in APAC are likely to slide in the near term.
Customization - Key Differentiating Strategy
The automotive variable oil pump market is fairly competitive. Shifting market dynamics and rising competition is compelling manufacturers to focus on the customization of pumps. The automotive industry is transforming automobile designs in order to satiate ever-changing customer preferences. Automotive variable oil pump manufacturers are offering customized or requirement-specific pumps such as brushless fuel pumps, low vibration pumps, and compact pumps for automakers. Players that move aggressively and create comprehensive strategies to integrate customization in their business operations will be well placed to secure long-term supply contracts with automakers.
OEMs capture greater revenue share
Aftermarkets to showcase noteworthy CAGR
Gasoline fuel stays in-demand
High adoption in passenger cars
Application in LCVs to remain stable
How Growth will Unfold
Significant rise in private vehicle ownership is providing momentum to the sales of passenger vehicles across the world. As such, market players must target this vehicle category, which will represent a multibillion-dollar opportunity towards the end of the projection period. FMI finds that, the adoption of automotive variable oil pumps in heavy commercial vehicles (HCVs) and light commercial vehicles (LCVs) is expected to hasten in the near term. Nevertheless, passenger vehicles will generate over 70% total return to shareholders, compared to around 25% from HCVs and LCVs, collectively.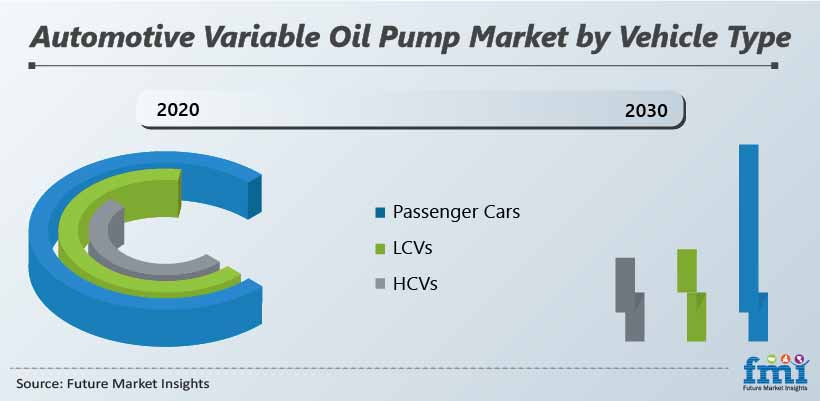 * This data is only a representation. Actual data may vary and will be available in report.
Click Here To Know How The Growth Will Unfold
Custom Market Research Services
FMI offers custom market research services that help clients to get information on their business scenario required where syndicated solutions are not enough.
Overview
Future Market Insights published its recent market research report on the global automotive variable oil pump market, which comprises global industry analysis of 2015-2019 and opportunity assessment for 2020-2030. It includes a comprehensive assessment of relevant and related market dynamics. After conducting a complete analysis on the historical as well as current growth prospective of the automotive variable oil pump market, growth predictions of the market are obtained with maximum accuracy.
Automotive Variable Oil Pump Market Taxonomy
The global automotive variable oil pump market is segmented in detail to cover every aspect of the market and present a complete market intelligence approach to the readers.
Region
North America
Latin America
Western Europe
Eastern Europe
Japan
APEJ
Middle East & Africa
How the research was conducted?
Primary Research
Chief Executive Officer
Vice President
Sales Head
Product Manager
Marketing Head
Deputy Manager -Marketing & Communications
Marketing Manager
Sales Manager
Distributors
Customer Service Representative
Current market dynamics and challenges
End-use industry segment split and authenticity
Yesteryear trends
Market characteristics
Competition structure and market structure
Strategic growth initiatives
Market segment splits and authenticity
Near-term and long-term market growth prospects
Opinions on market projections and validity of assumptions
Secondary Research
World Bank
IEA
ACMA
OICA
ACEA
Primary Interview Splits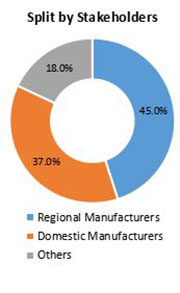 To Learn More About our Comprehensive Perspective on Automotive Variable Oil Pump Market,
Get in touch
COVID -19 : Impact Analysis
Request the coronavirus impact analysis across industries and markets
Request Covid -19 Impact
CASE STUDIES
See how our work makes an impact.
At FMI, we design strategies that are adaptive, impactful, and implementable.