Hearing implant Market Snapshot
The hearing implant market will exhibit a robust 7.31% year over year growth in 2021. Owing to increasing demand for hearing implants among children across the globe, the market valuation is expected to surpass US$ 1,218.5 Mn by the end of 2021.
FMI has identified that the hearing implant market is dominated by Cochlear Ltd, MED-EL, and AB-A Sonova Brand as they are accountable for 9 out of 10 sales in the global market. Presence of leading medical instrument manufacturers in North America has fueled the market growth in the region.
Due to increasing demand in U.S. and Canada, North America hearing implant market will hold around 39.3% of global market share by the end of 2031.
Key Points Covered In Hearing implant Market Study
Market estimates and forecast 2021 – 2031
Key drivers and restrains impacting market growth
Segment-wise, Country-wise, and Region-wise Analysis
Competitive Mapping and Benchmarking
Brand share and Market Share Analysis
Key Product Innovations and Regulatory Climate
COVID-19 Impact On Hearing Implant Market and How to Navigate
Recommendation on Key Winning Strategies
2016 – 2020 Hearing implant Market Outlook In Comparison to 2021 – 2031 Forecasts
FMI has reported that surge in cases of hearing disability among children and geriatric population has led to increasing demand for hearing implants and other aids in the last five years. As per the report, hearing implant market grew at 5.1% CAGR from 2016 to 2020.
Early diagnosis and intervention of hearing implants in younger population below the age of 18 years is anticipated to create opportunities for market growth in upcoming years. The World Health Organization has predicted that around 700 million people will experience disabling hearing loss by 2050.
Rapid technological advancement in hearing implants and introduction of government approved cochlear implant, bone-anchored device and middle-ear implant will boost the market growth.
On 24th June 2021, Oticon Medical announced that the company's "Neuro Cochlear Implant System" has received premarket approval from U.S. Food and Drug Administration (FDA). The new implant system is designed with the purpose to treat bilateral severe-to-profound sensorineural hearing loss in 18 years or older patients and patients with limited hearing ability.
In July 2020, U.S. Food and Drug Administration (FDA) granted approval to Cochlear Limited's three new products in its array of hearing technology solutions. The approval was provided to CochlearTM Nucleus® Kanso® 2 Sound Processor, Nucleus® 7 Sound Processor for Nucleus 22 Implant recipients, and Custom Sound® Pro fitting software. The products are capable of providing access to bluetooth and smartphone connectivity will enhance the hearing performance.
Adoption of hybrid hearing implants equipped with wireless connectivity will propel the demand for hearing implants especially in children throughout the forecast period.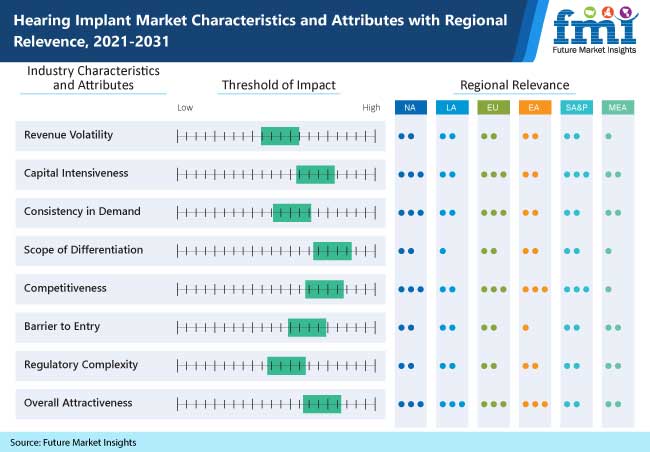 Launch of Advance Technologies Holds Key to Growth
Hearing implants are prosthetic devices used to treat hearing loss and deafness. Hearing loss has become one of the major disabilities. Hearing loss is of two types, namely sensineural and conductive hearing loss.
There are four types of hearing implants to treat hearing loss, namely the cochlear implant, middle ear implant, bone conduction implant and auditory brainstem implant, which have been included in the report.
Hearing implants are used by the patients in the cases when the hearing aids don't work. The implants are fitted by surgical procedures. The hearing implants are small complex devices that provide a sense of sound to the patients suffering from profound hearing loss.
The hearing implants consist of two parts, an external portion and the implant which is surgically placed under the skin. The microphones from the external portion capture the sound.
The sound processor selects the useful sound by the microphone, which is further converted into electric impulses.
Electrodes collect the impulses and send them to different regions of the auditory nerve. The implant provides a representation of the sound and helps the patient to understand the speech.
The use of hearing implants requires both surgical procedures with post-implantation therapies. Moreover, favorable reimbursements for the surgery have increased the adoption of hearing implants.
Some of the insurance providers offer 100% insurance, while some offer 50% which varies depending upon the regions and regulations. Besides, growing geriatric population in the developed regions is expected to create opportunities for the growth of the hearing implant market.
The market for hearing implants is expected to grow with the upcoming technologies and launch of innovative gadgets, which will decrease the prevalence rate and help the patients in speech recognition.
Hearing Implants Market: Value Forecast
The global hearing implants market was valued at US$ 1218.6 Mn in 2021 and is expected to expand at a CAGR of 7.7% over the forecast period (2021–2031).
Hearing Implants Demand Rising Due to Increasing Cases of Hearing Loss
The growth of the global hearing implants market is mainly driven by growing prevalence of hearing loss and constant efforts by the researchers and scientists to enhance the hearing outcomes for the patients.
Furthermore, early implantation in children is also expected to drive the growth of the hearing implants market. Besides, there are only three major manufacturers of hearing implants, which is expected to create growth opportunities for the new players planning to invest in the hearing implants market.
Moreover, the cochlear implants segment is expected to increase by US$ 1,746.5 Mn in 2031 due to higher availability and affordability of the products with favorable reimbursements.
North America to Remain Dominant
The global hearing implant market has been segmented on the basis of regions into North America, Latin America, Western Europe, Eastern Europe, Asia Pacific excluding China and Japan (APECJ), Japan and Middle East & Africa (MEA).
In terms of revenue, North America is projected to be the dominant regional market for hearing implant throughout the forecast period as manufacturers in the region are developing products that have the potential to treat profound hearing loss, by collaborating with other companies and by developing sound processors with double microphones, which will help the patients to listen better without disturbances and noise.
APECJ, Japan and China are expected to witness significant growth during the forecast period as numerous research and development activities are been carried out by the manufactures to improve the hearing quality of the hearing implants.
The U.S. is expected to be the dominant market in North America due to a large patient pool (both pediatrics and adults above the age of 65 years) suffering from various diseases.
Germany and the U.K. with a high adoption rate of hearing implants is estimated to have 48% share in the global market over the forecast period. The U.S., Japan, Germany, the U.K. and China contribute a major share in the global hearing implants market.
Competitive Landscape
Examples of some of the key players operating in the global hearing implants market are Cochlear Ltd., MED-EL, William Demant Holding A/S, Advanced Bionics AG, Nurotron Biotechnology Co. Ltd., Ototronix , Envoy Medical Corporation and Medtronic.
A large number of players operating in the hearing implants market are focused on entering into collaborations and partnerships with other companies in order to enhance their market presence as well as technologies globally.
Moreover, this also enables the companies to increase product visibility across different regions.
This list is indicative - full details about prominent hearing implant manufacturers is available upon request
Hearing implant Market – Report Scope
Attribute

Details

Forecast Period

2021 – 2031

Historical Data Available for

2018 – 2028

Market Analysis

US$ Mn for Value & Units for Volume

Key Regions Covered

North America, Latin America, Western Europe, Eastern Europe, Asia Pacific excluding China and Japan, China, Japan, and Middle East and Africa

Key Countries Covered

U.S., Canada, Brazil, Mexico, Argentina, Rest of Latin America, EU-5, BENELUX (Belgium, Netherlands, Luxembourg), NORDIC (Denmark, Finland, Iceland, Norway, Sweden), Rest of Western Europe, Poland, Russia, Rest of Eastern Europe, China, India, Japan, GCC Countries, South Africa, Israel, Turkey, Iran, Rest of Middle East & Africa, Australia, New Zealand, South Korea, the Philippines, Malaysia, and Thailand

Key Segments Covered

Product type, End User, and Region

Key Companies Profiled

Cochlear Ltd.
MED-EL
William Demant Holding A/S
Advanced Bionics AG
Nurotron Biotechnology Co. Ltd.
Ototronix
Envoy Medical Corporation
Medtronic.

Report Coverage

Market Overview, Market Background, Market Forecast, Segmental Analysis, Regional Profiling and Competition Analysis

Customization & Pricing

Available upon Request
Key Questions Answered in the Report
How much is the hearing implant market worth?

The market valuation of hearing implant experienced a year-o-year growth of 7.31% from 2020 to 2021. The hearing implant market valuation is forecast to exceed around US$ 1218.6 in 2021.

At what rate did the hearing implant market expand in the last five years?

Between 2016 and 2020, the hearing implant sales accelerated at a 5.1% CAGR. The market's valuation stood at US$ 1135.5 Mn in 2020.

What will be the demand outlook/ sales forecast of hearing implant market?

Increasing technological advancement in the field of hearing care solution, the sales of hearing implant kit will increase by around 2 times, reaching a market valuation of US$ 2536.8 Mn by the end of 2031.

Which countries are key producers of hearing implant?

Australia, Austria, and Switzerland are the leading manufacturers for hearing implant owing to easy availability of skilled professionals, establishment of modern manufacturing facilities in these countries.

What is the North America hearing implant market outlook?

Demand registered in North America will continue rising, backed increasing sales in the U.S. and Canada, the North America market will account for 39.7% of global demand of hearing implant kits.

Which are the key exporters of hearing implant?

Cochlear Ltd, MED-EL, and AB-A Sonova Brand are the key exporters operating in the hearing implant market.

What is the cumulative share of top three companies in hearing implant market?

Top three players account for 90% of the hearing implant market. They are responsible for 9 out of 10 sales of hearing implants across the world.

At what percentage hearing implant is going to register growth in Europe?

Hearing implant sales will increase at 6.7% CAGR in Europe, backed by rising demand in the U.K., Germany, and other countries owing to rise in geriatric population.

Which are the top five countries driving hearing implant market demand?

Leading countries driving demand in the hearing implant market are U.S., China, Japan, Germany, and U.K.

What is the key market statistics in Japan and China for hearing implant market?

Japan is predicted to hold around 6.4% of global hearing implant market share by the end of 2031, while China will increase its market share from 5% to 5.8% from 2021 to 2031.
Key Segments Covered in Hearing implant Market Study:
By Product Type:
Cochlear Implants
Middle Ear Implants
Bone conduction Implants
Auditory brainstem implant
By End User:
Hospitals
ENT clinics
Ambulatory Surgical Centres
By Region:
North America
Latin America
Western Europe
Eastern Europe
Asia Pacific excluding China and Japan (APECJ)
Japan
China
Middle East & Africa (MEA)
Need specific information?