High Flow Nasal Cannula Market Outlook & Key Findings
High flow nasal cannula market is likely to grow at over 12.1% in 2020
Rise in chronic respiratory obstructive diseases a key growth driver
North America and Europe account for more than 50% of high flow nasal cannula market with status quo likely to persist in the forecast period
Use of high flow nasal cannula in treatment of pneumocephalus and infant bronchitis likely to create opportunities
New Product Launches backed by Research to be Key Growth Drivers
The high flow nasal cannula market players launching new, improved products to gain a competitive edge.
Manufacturers are also focusing on gaining direct feedback from healthcare providers and patients to make improvements.
For instance – Fisher & Paykel Healthcare Corporation Ltd. regularly gets in touch with Also, the company diverts 9-10% of the total revenue to R&D every year.
The new products launched include:
Teleflex came up with the Hudson RCI Comfort Flo Plus Cannula that focuses on providing a new level of patient comfort wherein upper airway dead space can be flushed
ResMed's AcuCare HFNC (High Flow Nasal Cannula) has been engineered for speedy success in HFOT (High Flow Oxygen Therapy).
Fisher & Paykel Healthcare Limited, in May 2019, launched Optiflow 3S nasal cannula revolving around proprietary technology. Optiflow nasal high flow therapy is administered through this technology.
In Jan 2019, ResMed launched "Mobi", a portable oxygen concentrator all over the US to cater to patients suffering from COPD (Chronic Obstructive Pulmonary Disease).
The influx of novel products is bound to raise the value of high flow nasal cannula market in the forecast period.
Covid-19 to Foster the High Flow Nasal Cannula Market
The outbreak of Covid-19 has compelled the market players to come up with advancements with respect to high flow nasal cannula.
Moreover, CDC has recognized high flow nasal cannula oxygenation therapy as a standard and recommended in the U.S. guidelines for Covid-19 patient treatment management.
This has further resulted in an extensive research being conducted by research institutes to complement the market players. Medical facilities are also seen adopting these cannulas to treat Covid-19-infected patients.
For instance –
In Jun 2020, Groote Schuur Hospital announced that it would be focusing on "high flow nasal cannula oxygenation (HFNCO) as one of the most effective methods in treating Covid-19-infected patients
Vapotherm, in Jun 2020, announced scaling up its capital equipment production capabilities of "Precision Flow Systems" to meet its increasing demand in the wake of Covid-19. The company's intention is expanding the production 20 times pre-Covid-19 levels. This is likely to generate 350 manufacturing jobs in the US.
The Stanbic Bank Foundation, in partnership with Centum, Base Titanium, Gulf Energy, Africa Practice, and Valar Frontier, donated 192 high flow nasal cannulas to the government of Kenya recently. This move will certainly help in catalyzing mass-testing in Kenya and increase the demand for high flow nasal cannula with success in operation of these cannulas.
In May 2020, Vapotherm inked an agreement worth $9.9 million with the US Department of Defense for supplying high flow nasal cannula units to the US 51 Department of Defense hospitals.
Acute Respiratory Failures to Bolster the Market
Acute respiratory distress syndrome (ARDS) along with ALI (Acute Lung Injury) in the US account for 150,000 cases annually in the US. These are major causes of mortality and morbidity in adults and pediatric population.
What's of more concern is the fact that this syndrome goes unrecognized, and remains untreated in a significant percentage of population.
In such situations, an effective tool is needed to prevent the syndrome from reaching an advanced stage. High flow nasal oxygen therapy helps herein.
High flow oxygen therapy allows smooth delivery of humidified, heated oxygen, that too, at flow rate till 60 L/min. Medical science states that high flow nasal cannulas help in reduction of hypoxemia after extubation and also at the time of intubation.
These trends are expected to drive the high flow nasal cannula market in the forecast period.
High Flow Nasal Cannula Sales Analysis through Hospitals, Ambulatory Care Centers, Homecare Setting and More
Demand for high flow nasal cannulas from ambulatory surgical centres and homecare settings has witnessed an increase. This could be attributed to ASCs offering a shorter and affordable stay with faster recovery.
Sales through online channels are also growing steadily, and since the beginning of the current pandemic, a spike in e-commerce sales has been observed. Although share of FMCG products is higher, healthcare products and B2B sales are also picking up as end-users look for contactless delivers and minimum exposure.
High Flow Nasal Cannula Market: Region-wise Analysis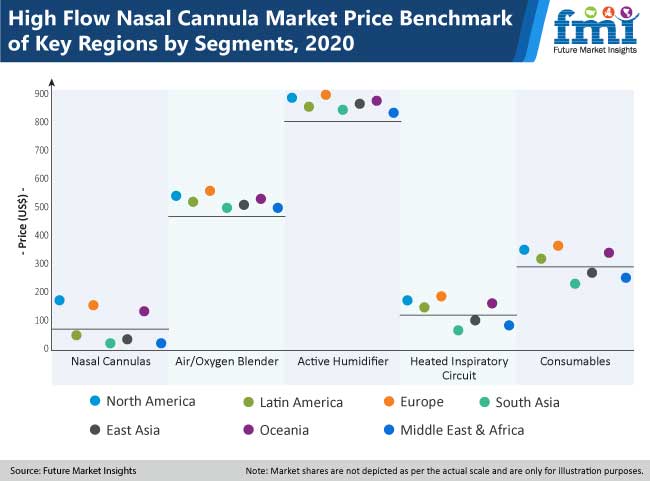 The market is shifting from reusable nasal cannula to single-use cannula. This practice is bound to catalyze the high flow nasal cannula market in the upcoming period.
It has been reported that the ones who are treated with reusable nasal cannulas are at a greater risk of cross-contamination. This has driven the use of single-use high flow nasal cannula in the countries like the UK, Japan, Germany. This trend has caught up especially after close to 2 million of the US population being diagnosed with nosocomial infections.
The US high flow nasal cannula market is expected to witness a CAGR of over 10.5% in 2020. Europe is the second largest market for high flow nasal cannulas globally.
Asia-Pacific is expected to pick up pace with increase in awareness regarding the effectiveness offered by high flow nasal cannula in the countries like India and China. As of now, Japan leads the market with products from Teijin Pharma.
Leading Players in High Flow Nasal Cannula Market
The high flow nasal cannula market comes across as a fragmented one owing to numerous players present at the local, regional, and global level.
All of them are focusing on development of high-quality cannulas and supplying them to clinics, hospitals, ASCs, and home care settings. Oxygen tube manufacturers are competing based on price, brand, and features.
For instance –
Hamilton Medical, with an objective of minimizing risks of hyperoxia caused due to improper administration of oxygen, offers display of every relevant monitoring parameter to enable high flow oxygen therapy like SpO2 (optional), flow rates, oxygen concentration, humidifier temperature.
Flexicare Medical facilitates optimized mucociliary clearance and precise delivery on the part of FiO2.
Need 2 more examples here
Some of the key players in the high flow nasal cannula market are:
Americas
CR BARD Inc.
Vapotherm Inc.
Teleflex Incorporated
ResMed Corporation
Smiths Medical
Salter Labs
Europe
TNI Medical AG
Hamilton Medical AG
Flexicare Medical Limited
Asia Pacific
Teijin Pharma Limited
MEK-ICS Co., Ltd.
*The list is not exhaustive, and only for representational purposes. Full competitive intelligence with SWOT analysis available in the report
High Flow Nasal Cannula Market: The Way Forward
The long-term outlook on the high flow nasal cannula market remains optimistic; with FMI projecting CAGR of over 12.1% in the forecast period. Although Covid-19 has resulted in short-term exponential demand, chronic respiratory conditions are bound to drive the market in the long run.
High flow nasal cannula market players need to customize their solutions for pediatric as well as geriatric population apart from the adults. Collaborative approach at the local level will help in devising these customized solutions as every region will have its own population in the three above-mentioned categories.
High Flow Nasal Cannula Market Segmentation
Component
Air/Oxygen Blender
Active Humidifier
Nasal Cannulas
Heated Inspiratory Circuit
Consumables
Medical Application
Acute Respiratory Failure
Chronic Obstructive Pulmonary Disease (COPD)
Bronchiectasis
Carbon Monoxide Toxicity
Sleep Apnea
Acute Heart Failure
Others
End User
Hospitals
Specialty Clinics
Long-term Care Centers
Ambulatory Care Centers
Homecare Setting
Region
North America
Latin America
Europe
South Asia
East Asia
Oceania
Middle East and Africa (MEA)
Need specific information?