Introduction
In terms of value, the global hydrostatic transmission market is estimated to reach US$ 5.8 Bn by this year end, and will reportedly approach US$ 10.3 Bn by 2028 end, as depicted in a new report released by Future Market Insights. The market is likely to witness a CAGR of 5.9% over the forecast period, representing a promising scenario through the next decade.
Western Europe is expected to be the largest market for hydrostatic transmission, accounting for nearly 27% of the global market share through 2028. Growth of Western European market for hydrostatic transmission is attributed to strong presence of multiple OEMs, involved in manufacturing of material handling equipment.
Demand for hydrostatic transmission sways with the performance of construction equipment, agricultural equipment, and mining equipment in the forthcoming years.
Precise power transmission demanded by off road equipment cannot be sufficed by usual mechanical transmission system, which has been a key factor responsible for increasing preference for hydrostatic transmission equipped with fluid coupling. Additionally, the flexibility shown by hydrostatic transmission enables it to become an attractive prospect for various end uses.
Industries such agriculture, construction, mining rely on heavy duty machinery for a wide range of applications. These applications require precise movement and high torque at low speed, which are met through the implementation of hydrostatic transmission within the equipment.
Logistics & transport applications to surpass construction & mining, in terms of end uses
Among all the end users, the global hydrostatic transmission market is foreseen to witness maximum traction in the agriculture industry in form of agricultural machinery sales, followed by the logistics and transport sector. Although construction and mining currently accounts for a considerable market value share of over 20%, it will reportedly experience a slight decline against applications in the thriving logistics and transport industry. Other end users include turf equipment and airport ground support equipment.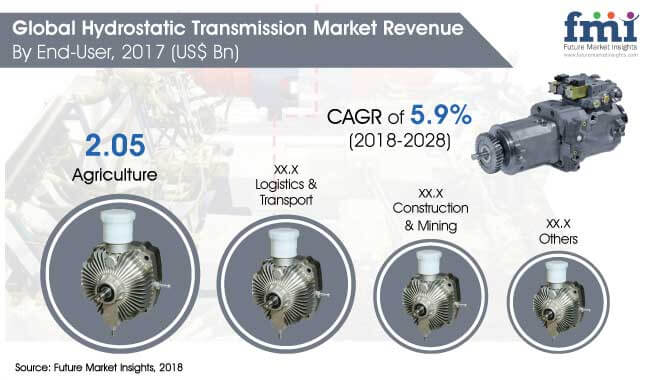 Growth of mining and other industries leads to higher production of respective off road equipment, further leading to higher demand for hydrostatic transmission. The application of hydrostatic equipment is also prevalent in material handling equipment such as forklift, which is expected to further augment the growth of market in the forecast period.
Although the fundamental principle of hydrostatic transmission makes it advantageous over conventional transmission, it is likely that the market will face limitations to rapid growth, owing to the factors such as slippage of wheels, higher replacement cost, and low efficiency.
On the basis of capacity, heavy duty segment is expected to hold nearly half of the market value share albeit low volume share due to high price point. The report however projects relatively lower growth rate for this segment through 2028. Conversely, the medium duty segment is anticipated to grow at a higher rate over the forecast period.
On the basis of operation, the market is anticipated to be dominated by VDP-CDM (variable displacement pump-constant displacement motor) segment by a large margin, attributed to flexibility and higher number of end uses.
Market segmentation
The market segmentation offered in the report study is mentioned below:
By Capacity
Light Duty
Medium Duty
Heavy Duty
By Operation Type
By End User
Agriculture
Construction & Mining
Logistics & Transport
Others
By Region
North America
Latin America
Western Europe
Eastern Europe
South East Asia & Pacific
Middle East & Africa
Japan
China
India
Need specific information?