Industrial Valve Actuators Market
Market Insights on Industrial Valve Actuators covering sales outlook, demand forecast & up-to-date key trends
Industrial Valve Actuators Market: Global Industry Analysis 2013 - 2017 and Opportunity Assessment; 2018 - 2028
Industrial Valve Actuators Market Overview
In the 1920s, pneumatic actuators were utilized for valve control across various end-use industries. However, development of advanced process plants along with high pressure requirements and new innovations, such as gas-over-oil actuators, were developed.
A valve needs a means by which it can be operated (e.g. actuated or cycled). Various options are available to achieve this, which includes gears, levers, actuators and hand wheels. Valve actuators serve various functions across end-use industries, including process control, safety, automatic switching, etc.
Though the demand for energy is expected to stay high in the long term, the demand will be quite unstable in the short term. The oil and gas industry is facing various challenges in the overall value chain, i.e. from production to logistics and distribution.
In the recent past, there has been a significant drop in oil barrel prices, manufacturers in the industry need optimization and improvement of processes to increase efficiency while adhering to the strict safety standards attached to the danger of the products handled. Small and smart technological improvements and working methods will lead to good results.
Significant Investments in the Oil & Gas Projects, Assisting the Demand for Valve Actuators
Growing investments across the value chain of the oil & gas industry is one of the prominent factors likely to support the demand for valve actuators over the near future. For instance, in March 2017, Exxon Mobil Corporation announced that it will invest around US$ 20.0 Bn through 2022 to expand its oil refining plants on the U.S. Gulf Coast.
Moreover, rising production and exploration of new oil & gas fields and augmented investments in refineries and pipelines in the Middle East & Africa and Asia Pacific and Americas region is anticipated to contribute significantly towards the growth of global industrial valve actuators market.
Advancements in the Operations and Solutions
Emergence of technological advancements have enabled the development of industrial valve actuators with remote control features. There has been continuous rise in the adoption of industrial valve actuators across various industries owing to the developments in communication systems, IIoT and sensors.
Within an oil & gas industry, valve actuators with remote controlling operations are mostly utilized for deep-well and subsea applications. Further, cost of ownership in end-use industries can be reduced with the help of actuators that are available with in-built sensors.
Key Developments
In March 2018, IMI Precision Engineering announced that the company will showcase their latest range of IMI Norgen electric actuators
In June 2015, Rotork launched the 3rd generation IQT intelligent part-turn electric valve actuators
In May 2015, Rotork launched a new range of compact hydraulic and pneumatic valve actuators, primarily designed to perform in constrained space applications
Talk to Analyst
Find your sweet spots for generating winning opportunities in this market.
Talk to Analyst
Global Industrial Valve Actuators Market: Regional outlook
The global Industrial Valve Actuators market is segmented into the following regions – North America, Latin America, Western Europe, Eastern Europe, South East Asia-Pacific, China, Japan, India and the Middle East and Africa. Middle East and Africa dominates the market and is expected to follow the same trend in near future owing to surging demand from end-use industries, such as oil and gas. MEA, followed by China, is anticipated to grow at a significant rate in the market in near future. North America and Europe together are expected to account for a small share in the market over the next decade. Japan in the global industrial valve market is anticipated to grow at a comparatively slow rate.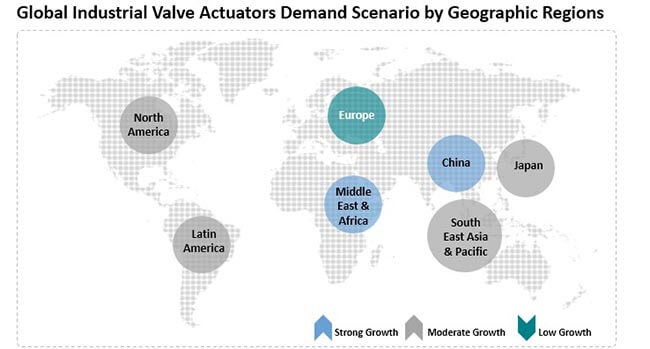 Download Report Brochure
Global Industrial Valve Actuators Market: Key Players
Some of the key players identified across the value chain of the global Industrial Valve Actuators market include General Electric, Schlumberger Limited, Emerson Electric Co., Assured Automation, Honeywell International Inc., Rotork, Flowserve Corporation, Johnson Controls International plc, Schneider Electric, The Danfoss Group, Curtiss-Wright and others.
The global industrial valve actuators market is found to be one of the most fragmented markets as a large number of global as well as regional players are involved in the manufacturing of actuators.
Become a MarketNgage Insider
An unified Market Research Subscription Platform, built for today's disparate research needs.
Opportunities for Market Participants
Production of shale gas in the United States will continue to expand in near future, which, in turn, will lead to increased demand for industrial valve actuators. The aforementioned reasons are anticipated to provide growth opportunities for the manufacturers in near future.
Brief Approach to Research
FMI will follow a modelling-based approach and triangulation methodology to estimate the data covered in this report. A detailed market understanding and assessment of the nature, product type and end uses of the product segments covered in the study is followed by a demand-side analysis to estimate the sales of target product segments, which is then cross-referenced with a supply-side assessment of value generated over a pre-defined period. The statistics and data is collected at a regional level and consolidated and synthesized at a global level to estimate the overall market size.
Key Data Points Covered in the Report
Some of the key data points covered in our report include:
An overview of the market, including background and evolution
Macroeconomic factors affecting the market and its potential
Market dynamics, such as drivers, challenges and trends
Detailed value chain analysis of the market
Cost structure of the products and segments covered in the market
In-depth pricing analysis, by key product segments, regions and by market participants
Analysis of supply and demand, such as top producing and consuming geographies, imports/exports and overall trade scenario in the global market
Analysis of the global market structure, including a tier-wise categorization of key market participants
Competitive landscape of the market, including detailed profiles of top players in the market
The research report presents a comprehensive assessment of the market and contains thoughtful insights, facts, historical data, and statistically supported and industry-validated market data. It also contains projections using a suitable set of assumptions and methodologies. The research report provides analysis and information according to market segments such as geographies, application, and industry.
The report covers exhaust analysis on
Market Segments
Market Dynamics
Market Size
Supply & Demand
Current Trends/Issues/Challenges
Competition & Companies involved
Technology
Value Chain
Regional analysis includes
North America (U.S., Canada)
Latin America (Mexico. Brazil)
Western Europe (Germany, Italy, France, U.K, Spain)
Eastern Europe (Poland, Russia)
Asia Pacific (China, India, ASEAN, Australia & New Zealand)
Japan
Middle East and Africa (GCC Countries, S. Africa, Northern Africa)
The report is a compilation of first-hand information, qualitative and quantitative assessment by industry analysts, inputs from industry experts and industry participants across the value chain. The report provides in-depth analysis of parent market trends, macro-economic indicators and governing factors along with market attractiveness as per segments. The report also maps the qualitative impact of various market factors on market segments and geographies.
Global Industrial Valve Actuators Market: Segmentation
The global Industrial Valve Actuators market can be segmented on the basis of product type and end-use industry.
On the basis of product type, the global industrial valve actuators market can be segmented as follows:
Electric Actuators
Pneumatic Actuators
Mechanical Actuators
Hydraulic Actuators
On the basis of end-use industry, the global industrial valve actuators market can be segmented as follows:
Water and Wastewater
Oil and Gas
Power Generation
Food & Beverages
Chemical
Marine
Others
Table of Content
NA
List of Tables
NA
Talk to Analyst
Find your sweet spots for generating winning opportunities in this market.
Talk to Analyst
List of Charts
NA