Industrial Robot Controllers - At the Helm of 'Super-Intelligent' Robots
Robotics plays an integral part in transforming the ways industries used to work conventionally, with 'flexible and responsive' being the byword for today's 'state-of-the-art' robots. The penetration of robotics has reached new heights in the recent past and caused major upheavals on account of its high precision-enabled operations. Robot controllers - the functional core - have remained, and will continue to be indispensable for ensuring smooth and faultless operations of industrial robots.
Industrial robot controllers function and oversee industrial robots deployed in various automation processes to perform a specific set of manufacturing activities, some of them being welding, assembling, and lifting. Industrial robot controllers have a significant contribution in ensuring optimal functionality of robots, which, in turn, acts a key productivity determiner for the industrial ecosystems to make inferences from. Some of the key functions performed by industrial robot controllers include performing risk analysis, setting up machine controls, maintaining robotic equipment, and adjusting the manufacturing equipment.
Industrial Robot Controller Market - Key Research Findings
The global industrial robot controller market size in 2019 is expected to be ~US$ 690 Mn.
The industrial robot controller market is estimated to grow at a CAGR of ~9% over the forecast period of 2019-2029.
In the industrial robot controller market, the collaborative robot type is estimated to gain significant traction.

Factory automation has taken the next step with the emergence of collaborative robots as tedious & dangerous jobs are being taken over by collaborative robots, coupled with enhanced quality of work through robot-human collaboration. Thus, the collaborative robot segment is projected to witness healthy growth over the forecast period in the global industrial robot controller market.

Six axis industrial robots are the most procured robots in end-use industries for welding, painting, handling, and other applications owing to its great technical attributes such as better repeatability, better orientation, and precision.
In terms of value share, East Asia is predicted to be prominent by holding about half of the volume and value share of the global industrial robot controller
In terms of the growth rate, South Asia & Pacific (SAP) is estimated to foresee high growth in the global market.
Emerging market players in the industrial robot controller market are enhancing their product offerings by investing in research and development activities.
Italy, India, and China are expected to be the emerging countries in the global industrial robot controller market.

Prime driver, backing up the increasing adoption of industrial robots, is the growing need for the automation in automotive and electronic industries. China is estimated to take the lead in industrial robot controller owing to the surge in automation, partially due to the 'Made in China' 2025 scheme. This scheme aims to position the country as the powerhouse of manufacturing in the world.
Factors Shaping the Global Industrial Robot Controller Market
Manufacturing Industries Setting the Momentum
Innovation has made industrial robots more sensitive, collaborative, and smaller, in turn, increasing the adoption of robots in end-use industries. The plunging cost of robots & their components is estimated to attribute the increasing adoption of industrial robot controllers. The growth pattern of manufacturing industries such as automotive and electronics is expected to show better potential than others.
Inclination of SMEs to Factory Automation
SMEs (Small & Medium Enterprises) have a notable stake in the manufacturing industry, especially in emerging countries and in the current scenario. SMEs are leveraging automation advancements to excel in their respective fields, which in turn, is predicted to boost the demand for industrial robot controllers in the upcoming years. With increasing volume sales, the price of industrial robot controller is expected to decrease, thus, creating more opportunities for SMEs to procure industrial robot controllers to automate their factories.
Synergy of IoRT, AI, and Robotics
Internet of Robotic Things (IoRT), the convergence of control, IoT platform, and AI, are taking industrial robot controllers and industrial robots to another level. Thus, integration of machine learning, Artificial Intelligence (AI), and robotics will provide opportunities for the industrial robot controller market. Industrial robot controllers are collaborating with IoT platform-based companies to enter into this trend of IoRT. For instance, FANUC signed an agreement with Rockwell Automation & Cisco, to develop FANUC Intelligent Edge Link and Drive (FIELD), which uses machine learning and sensors to control collaborative robots.
Industrial Robot Controller Market Structure Analysis
The global industrial robot controller market is an organized market where tier-1 players holds over half of the global industrial robot controller market share.
Most of the manufacturers in the industrial robot controller market are strategically focusing in Asia Pacific. Key market players in the industrial robot controller market such as KUKA AG, Yaskawa Electric Corporation, ABB, YAMAHA Robots, and FANUC CORPORATION, are focusing on expanding their product lineup by integrating flexible and easy programing in industrial robot controllers.
Tier-1 players are strengthening their positions in the industrial robot comptrollers market by offering technologically developed products.
Stäubli International AG, Mitsubishi Electric Corporation, OMRON Corporation, DENSO Wave Incorporated, SEPRO Group, WAGO, Pilz GmbH & Co. KG, Motion Controls Robotics Inc., NexCOM Inc., Wynright Corporation, KUKA AG, Yaskawa Electric Corporation, ABB, YAMAHA Robots, FANUC CORPORATION, and Toshiba Machine Co. Ltd., are some of the market participants in the global industrial robot controller
Penetration of Robots in Automotive - The Most Powerful Growth Influencer
The penetration of robotics in automobile manufacturing, though was a bit slow at its initial stages, is now on an upward spiral. Over the past few decades, auto giants have pioneered the use of industrial robots with the sole objective of carrying out complex tasks in relatively shorter timespans. Apart from this, automakers have started to embrace a whole new world of possibilities with robots - for tasks that go beyond painting and welding - that includes exoskeletons, drones, collaborative robots, and various other advanced technologies.
This unprecedented adoption of industrial robots in automation is a key factor responsible for the build-up of robot controllers market. As collaborative robots (cobots) have carved their own unique spaces in automobile manufacturing and have proved to be no less than a 'fundamental game changer' that is simplifying processes and enabling outcomes. This, in turn, is likely to bring in newer opportunities for the vendors operating in industrial robot controllers market to venture in.
Developing Economies Bracing for Industry 4.0: The Onset of New Beginnings
As the industry 4.0 is making inroads at a steadfast rate, value chains and business ecosystems across the globe are getting redefined. Similar is the case of emerging countries wherein the industrial spaces are already spectating a considerable impact of the fourth industrial revolution. One of the key areas that will benefit from the growing penetration of 'industry 4.0' is industrial robotics, marking the emergence of new opportunities for key participants of the industrial robot controllers market through 2029.
Rise of Collaborative Robots to Pave New Avenues
The adoption of collaborative robots, or cobots, is slated to grow at an exponential rate in the coming decade, typifying a significant increase in the demand for robot controllers. Growing emphasis on shortening of product cycles and reducing the costs incurred has put the onus on industrial operators to opt for collaborative robots, on account of their unmatched precision and consistency.
The uptake of cobots by small and medium-sized enterprises (SMEs) would scale new heights in 2019 and beyond. SMEs prefer incremental addition of collaborative robots over big-sized industrial robots for process automation, which is likely to add a new set of certainties to the near-term outlook of industrial robot controllers market. In addition, adoption of cobots by some major OEMs is also likely to rev up in the coming years, for the fact that collaborative robots can now be availed from well-known industrial robot vendors. Such particulars are likely to work in favor of the vendors active in industrial robot controllers market during the assessment timeline.
Six axis to be in high demand
Preference for single axis sluggish
Use for articulated robots high
Adoption for collaborative robots grows
How Growth will Unfold
Companies active in the industrial robot controllers landscape are zooming in their focus on product innovations & developments, given that continuous product diversification will pin the relevance amid the intensifying competition. As investments in industrial robots by different end users largely differ in terms of desired results, manufacturers will need to keep a close eye on evolving end user specifications and changing market dynamics.
For instance- in 2018, Energid Technologies has announced the official launch of Actin® 5, which is the newest update to its software development kit (SDK). The Actin toolkit has been in the spotlight for being the first 'real-time' adaptive motion control software that allows the robotic system developers to center on robot's task handling capabilities in particular without necessarily focusing on the joint movements. Key market players are also focusing on direct sales channels to boost their customer outreach, which would further solidify their market standing through 2029.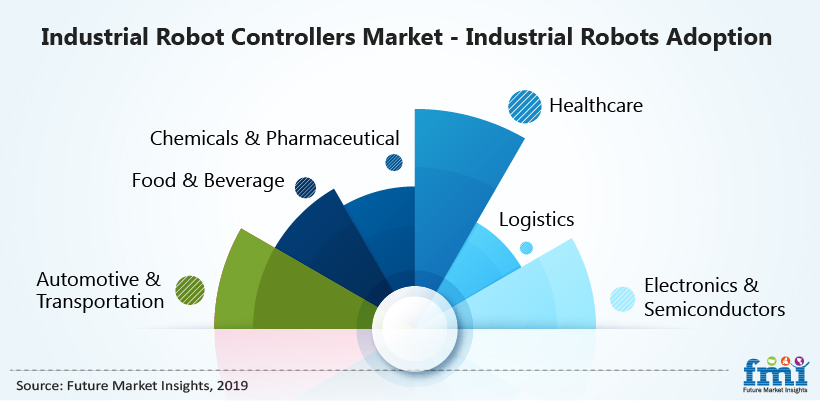 * This data is only a representation. Actual data may vary and will be available in report.
Click Here To Know How The Growth Will Unfold
Custom Market Research Services
FMI offers custom market research services that help clients to get information on their business scenario required where syndicated solutions are not enough.
Overview
Industrial Robot Controller Market Analysis 2019-2029
A recent market study published by FMI on the industrial robot controller market includes global industry analysis 2014-2018 & forecast 2019-2029, and it offers a comprehensive assessment of the most market dynamics. After conducting a thorough research on the historic as well as current growth parameters of the industrial robot controller market, growth prospects of the market are obtained with maximum precision.
Industrial Robot Controllers Market Taxonomy
The global industrial robot controller market is segmented in detail to cover every aspect of the market and present a complete market intelligence approach in front of the reader.
By Axis Type
Single Axis
Four Axis
Six Axis
Other Axis
By Robot Type
SCARA Robot
Delta Robot
Cartesian/Gantry Robot
Articulated Robot
Collaborative Robot
Dual Arm Robot
By Region
Americas
EMEA
South Asia & Pacific
East Asia
How the research was conducted?
Primary Research
Primary research interview with Key Opinion Leaders and other participants were conducted for data collection and validation of the below information:
Average Selling Price (US$) and Market Growth
Key Developments
Key Trends and Opportunities
Region wise Dynamics
Market Share analysis
Competition & Key Winning Strategies
Secondary Research
Industrial Robot Controller Manufacturers
Key participants across the value chain
Annual Reports/SEC filings/Investor Presentations/Earning Call Transcript
Industry Journals
Primary Interview Splits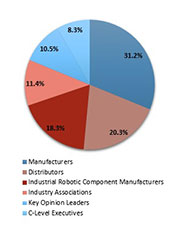 To Learn More About our Comprehensive Perspective on Industrial Robot Controllers Market,
Get in touch
COVID -19 : Impact Analysis
Request the coronavirus impact analysis across industries and markets
Request Covid -19 Impact
CASE STUDIES
See how our work makes an impact.
At FMI, we design strategies that are adaptive, impactful, and implementable.