Industrial Valves Market - Key Research Findings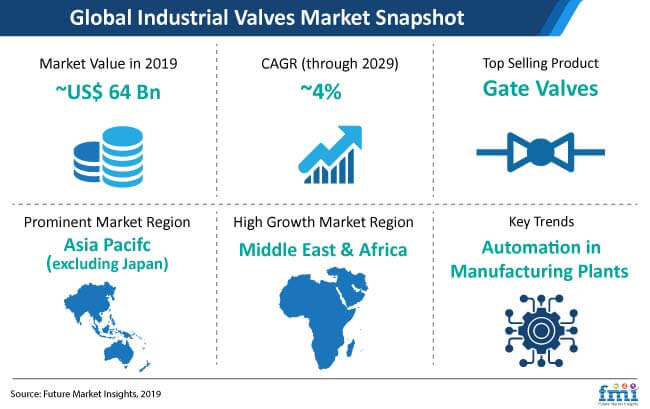 The global industrial valves market size in 2018 was ~US$ 61 Bn.
The industrial valves market is expected to grow at a CAGR of ~4% during the forecast period of 2019-2029.
Besides adoption for automatic functions of valves, the increasing demand for manual structures has been recently driving the sales of industrial valves.
Collectively, Asia Pacific Excl. Japan and North America are likely to account for ~70% of the revenue shares in industrial valves industry by the end of 2029.

North America, attributing to the strong presence of the oil & gas industry, will continue to be a prominent regional market for industrial valves manufacturers.

The oil & gas industry is estimated to remain the prominent end-use industry for industrial valves market players.

The oil & gas industry has witnessed significant growth over the recent past, and the revival of the oil & gas sector has been particularly noteworthy.
Noteworthy application potential of industrial valves has been identified in the water & wastewater treatment.
Key Factors Shaping the Industrial Valves Market
Increasing Water Exploration Activities
Governments of developing economies in Middle East & Africa and Asia Pacific, particularly in countries such as the UAE, South Africa, and Morocco, are aiming on improving water facilities in rural and urban areas.
Also, new water sources exploration activities are expected to increase the sales of valves with efficiency and superior capacity for agricultural and domestic applications. Desalinization projects are also estimated to account for the increasing demand for valves, as most part of the world still lacks the basic facility of running water. An estimated 60% of the world is still without running water.
In the ASEAN region, there is an increase in sanitation and water supply projects by governments, which is likely to increase the sales of valves for domestic and agricultural applications.
Introduction of New Production Plants in Chemical Industry Boosting the Sales of Industrial Valves
Introduction of several chemical plants for the manufacturing of crude oil bi-products across the Latin American region is expected to boost the manufacturing sector in Argentina, Brazil, Peru, etc. Installation of manufacturing plants is expected to create scope for installation of high pressure pipelines and valves for the transmission of chemicals, steam, etc.
In the United States, the chemical industry is one of the significant industries. The country serves to both domestic as well as global markets. The chemical industry generally includes basic chemicals, specialty chemicals, etc. and requires a large number of industrial valves. Development in the chemical industry is expected to boost the market growth across North America and worldwide.
Increasing Demand from the Mining Industry
The mining industry requires high quality industrial valves for both surface and underground mining. It also requires valves in mine site fire protection system and at pump stations. After the recovery of the global economy, the mining industry is projected to witness positive growth outlook.
Cost reduction is important for mining to stay profitable. Workers feel uncomfortable when they work in deep mine coals due to the presence of harmful gases and chances of failure of conventional equipment, owing to the abnormal pressure and temperature. Therefore, the demand for specialized equipment and parts, such as highly featured industrial valves, is increasing at an accelerated rate.
South African platinum mines are a good example of changing mining practices across the world. These mines are anticipated to create opportunities for high performance industrial valves and assemblies over the slated time period.
Rising Number of Contracts and New Orders
By the end of 2018, oil prices have gained its momentum to reach more than US$65 per barrel. This has created opportunities for manufacturers and end users of several industrial products. The rise in oil prices has generated a linear trend towards new orders and contracts irrespective of end-use industries. Key end-use industries that are targeted are oil and gas, chemical and petrochemical, and power generation industries. Asia Pacific is the major region that is driving new orders and contracts related to valves.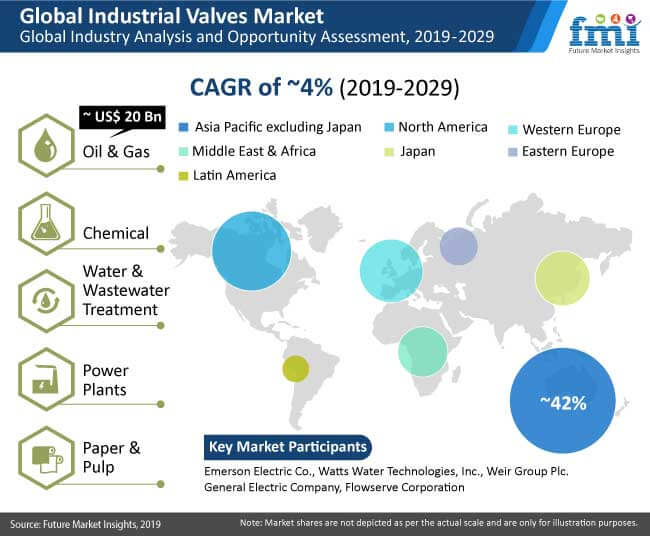 Industrial Valves Market Structure Analysis
The global industrial valves market represents a fairly consolidated competition landscape, where a majority of key players maintain their strategic focus on the development of solid distribution partnerships and joint ventures, targeting a firmer global footprint.
The industrial valves market has been relatively moderate in size, which remains a key factor for its dynamic competitive nature.
Prominent manufacturers of industrial valves are currently prioritizing R&D and new product launches to resonate with the growing consumption of eco-friendly coatings in North America, Europe, and APEJ.
Portfolio extension is also identified to remain one of the key developmental strategies adopted by manufacturers of industrial valves.
For a strong foothold in target markets, industrial valve manufacturers are anticipated to continue to rely on inorganic strategies, such as mergers and acquisitions.
Profound understanding of the market trends and preferential shifts of end-use segments across several regions are likely to create a bottleneck for prominent players, looking forward to untapped opportunities in the industrial valves market.
Industrial Valves – Pushing Boundaries to Catch up New Technologies
Considering the emergence of high performance equipment and ongoing transition toward renewable energy power generation such as solar panels, wind turbine energy and hydroenergy, Future Market Insights, in its new offering, analyzes the latest trends that are likely to redefine the future prospects of industrial valves market. It also discusses various aspects and nuances of the market along with key growth strategies adopted by stakeholders to fit in the current economic climate and be future ready.
The manufacturing industry is undergoing dramatic changes, with acceleration of technological innovation and significant restructuring of end-use sectors. The industry operators are continuously seeking flexible, easily deployable solutions, to reduce manpower and bring the entire process in seamless integration with modern automation technologies. The valve industry in general does not evolve as fast as other technology-driven industrial fields, and developments are made through minor alterations.
In today's race to achieve superiority in terms of process efficiency, most common valves have been relying on older engineering models, and are still struggling with the use of new resources. However, with the increasing need for incredible accuracy and functionality, the industrial valves are gradually advancing, strongly backed by technological advancements.
Industrial Valves Market – Growth 1.0 Led by Water Exploration and Power Generation Projects
Components such as industrial valves – most commonly used to control the flow of gas or liquid in a contained system – are becoming increasingly important, as the demand is witnessing parallel growth with the technology surrounding them. Robust developments in the water industry along with multiple power generation projects on the horizon are signaling future opportunities for industrial valves sales.
Rising water exploration activities and desalination projects catering to basic requirements of running water have also been significantly contributing to the sales of industrial valves. Nonetheless, the valve industry has witnessed a tide of fluctuations on the account of turbulent investment scenario in oil & gas industry, which has subsequently plummeted drilling and exploration activities.
Despite the need of a universal reference to the accuracy of industrial components and accepted margin of error in practice, the valve manufacturing industry lacks proper standardization and certification for ensuring authenticity and defining the parameters for product capabilities. The introduction of technology and immediate supply chain has also been slow to penetrate in the market space.
As industries such as chemical, metalworking, and water treatment, have an increasing demand for innovative industrial valves that meet their requirements, manufacturers will need to take into consideration the critical problems and redefine their strategies to ensure maximum asset utilization and explore new technologies.
'Energy' Holds Ample Opportunities in Evolving Markets
With modern engineering reaching new heights, high-quality valves are of utmost importance to provide the necessary accuracy. Increasing demand for power in developing countries in Asia Pacific, driven by rapid economic and population growth along with accelerating urbanization, has led to development of new Greenfield thermal plants, providing potential growth prospects of the industrial valves market.
Additionally, manufacturers are tapping into opportunities in aftermarket valve replacement for aging thermal plants in the region. The energy sector of North America continues to expand in scale and ambition, with new plans for combined cycle gas turbine plants demanding specialized valves, which in turn, provides an added advantage for manufacturers to gain distinct competitive advantage.
Focus Zooming in on 'Fine-tuning the Existing Portfolio'
As these products have no expiry dates and could be easily utilized, the development process remained traditional and considerable amount of industrial valves continue to lie in warehouses across the globe. However, considering the evolving changes in end-use industries with rapid technological advancements, manufacturers are forced to catch up with the new trends as a necessity, rather than an initiative.
While expanding product portfolio remained an important growth strategy, manufacturers had been facing challenges in meeting compatibility parameters based on demand from different end-use industries. To that end, new strategies are aimed at reducing new product development cycles and directed towards creating best fit portfolio with respect to changing market behavior.
Industrial valve manufactures have long been focused on low-cost manufacturing destinations, considering huge pricing benefits from outsourcing. However, late delivery and poor quality of products became serious concerns to both manufacturers and end users. While a handful of well-established players are redefining their investment strategies to quality for products and processes, a large of small players continue to follow their core competencies.
Further, taking the pressing requirements of end users into consideration, key market players are seeking new technologies, such as 3D printing and other additive manufacturing technologies, to optimize the production process and enable real-time monitoring of valve performance.
Industrial Valves Market – Reinterpreting the Future
Due to constant exposure to extreme temperature conditions and frequent contact and reaction with fluids, corrosion remained a root cause of depleting valve performance and failures. Therefore, manufacturers are placing their focus on developing 'smart valves' that not only increase the reliability of the control systems but also allow remote monitoring.
With rapid advancements in technologies and capabilities of automated control systems, industrial valve manufacturers are currently prioritizing R&D activities for product differentiation. In addition, considering the preferential shifts in end-use industries, market players are planning to employ and dedicate a team of skilled engineers to find immediate solutions for 'custom-made' requirements and replacement of valves.
As technology advances rapidly across industrial sectors, a few key players are launching mobile apps for optimized valve maintenance, in addition to product innovation and new launches. Strategic acquisitions and collaborations, in addition to long-term supply agreements with oil field and mining companies, will remain a key focus area of the market players.
Further, these players are tapping into opportunities in ongoing projects of natural gas exploration and transportation pipelines in the U.S., coupled with upcoming mining projects in fast-developing markets of China, India, Brazil, and South Africa.
Key Segment
By Valve Type
Gate
Globe
Ball

Trunnion
Floating
Threaded Series

Butterfly
Plug

Lined
Lubricated
Non-Lubricated

Check

Dual Plate
Piston Lift
Spring Loaded Disk
Swing Check
Tilting Check
Y Pattern
T Pattern

Safety Relief

Spring Loaded
Pilot Operated

Other Customized
By Valve Material
Cast Steel
Carbon Steel
Stainless Steel
Bronze
Other Alloys
By End-use Industry
Oil & Gas
Chemical
Water & Wastewater Treatment
Power Plants
Paper & Pulp
Others
By Function
By Region
North America
Latin America
Eastern Europe
Western Europe
APEJ
Middle East and Africa
Japan
Need specific information?
Talk Show:
The Rise of Intelligent Packaging
Personalized, Connected and Sustainable
November 18, 2021
11:00-11:45 AM PST (USA & Canada)
This is a LIVE session