Infection Prevention Market by Product (Sterilization Equipment, Disinfectors, Consumables, Protective Apparel & Textiles, Infectious Waste Disposal), End User (Hospitals & Clinics, Pharmaceutical Companies, Clinical Laboratories & Life Sciences Industries) & Region - Forecast to 2021 - 2031
Infection Prevention Market - Analysis, Outlook, Growth, Trends, Forecasts
September 2021

REP-GB-13950

250 pages
Infection Prevention Market Snapshot
[250 Pages] Infection Prevention Market is projected to witness positive growth, with the global revenue totaling US$ 37.4 Bn by 2021, according to Future Market Insights (FMI). Demand in the Infection Prevention Market is projected to rise at a CAGR of 4.2% during 2021 - 2031.
Rising cases of COVID-19, especially in emerging economies such as India, are expected to improve sales at an accelerated pace. As per FMI, the Infection Prevention Market is set to expand by 1.5x, surpassing US$ 56.4 Bn by 2031-end.
Key Points Covered in Infection Prevention Market Study
Infection Prevention Market estimates and forecast 2016-2031
Key drivers and restraints impacting the Market growth
Segment-wise, Country-wise, and Region-wise Analysis
Competition Mapping and Benchmarking
Infection Control Market Share Analysis
Key Product Innovations and Regulatory Climate
COVID-19 Impact on Infection Prevention Market and How to Navigate
Recommendation on Key Winning Strategies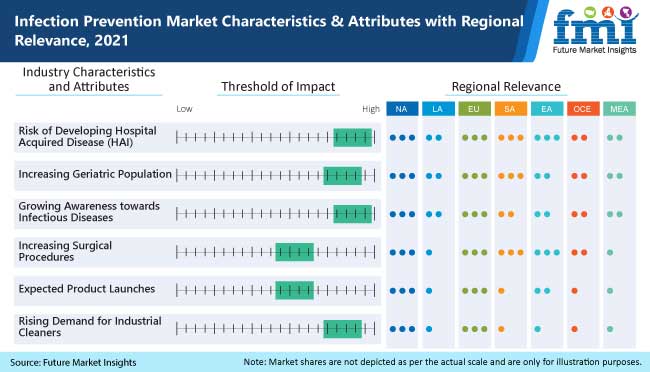 2016-2020 Infection Prevention Demand Outlook Compared to 2021-2031 Forecast
According to Future Market Insights (FMI), sales of Infection Prevention Market grew at a CAGR of 3.2% between 2016 and 2020. Impressive growth was registered during the FQ-20 due to the unprecedented outbreak of COVID-19.
As consumers are increasingly becoming conscious about their hygiene and personal health, greater demand for infection prevention products is registered. Sales prospects are expected to grow further as demand for advanced healthcare for geriatric population continues increasing.
Availability of a wide range of products based on heat sensitivity, type of chemical used as agents, type of medical instrument or material used for autoclaving, and sterilization methods such as radiation or liquid sterilization and the use of containers or wraps for treatment of infection are expected to create opportunities for the growth of the infection prevention market,
Based on aforementioned factors, Future Market Insights (FMI) has predicted the global Infection Prevention Market to grow at a CAGR of 4.2% over the forecast period 2021 -2031. Some of the leading companies who are actively participating in acquisitions, new product developments, and exclusive marketing agreements in order to expand their market presence will contribute significantly towards growth registered by the Infection Control Market.
How is the Adoption of Infection Prevention Products Within Hospitals Aiding Market Growth?
Rising cases of infectious diseases especially the ones associated with hospitals, diagnostic labs or any other health care facilities have been of major concern.
These include cases like surgical site infections, urinary tract infections, and pneumonia which night result in mortality in some cases. Infections in a hospital setting or hospital-acquired infection can spread through contamination of surface, materials, equipment, devices, linen, or even air droplets by direct or indirect contacts.
Acknowledging the growing burden of infectious diseases, government and private healthcare organizations are encouraging the adoption of infection control products across the globe.
According to the Centers for Disease Control and Prevention (CDC) report in 2015, 3% of the patients who were hospitalized had one or more hospital-acquired infections (HAI). Nearly 687,000 people were estimated to have acquired HAIs in acute care hospitals in U.S. Of those 72,000 patients having HAIs died during their hospitalization.
Increasing awareness about cleaning and disinfecting the environment, rising standards for effective cleaning, and the recent outbreak of coronavirus (COVID-19) are the factors providing lucrative growth opportunities for the Infection Prevention Market.
What are the Key Opportunities for Infection Control Market Players?
With increasing cases of infection worldwide, demand for solutions to address the cause of infection and provide the measures for reducing the risk of transmission is improving. Growing demand from healthcare sector for products such as sterilization equipment, disinfectors or consumables is expected to create remunerative revenues for key players.
Also, with surging demand for gloves, steriliums, disposables due to rise in number of surgical procedures is expected to provide opportunities for growth in Infection Prevention Market in the near future.
What are the Factors Restraining Infection Prevention Market Growth?
Long-term use of infection prevention products such as disinfectants and chemical agents across healthcare organizations may lead to unavoidable issues. These include deterioration of inanimate objects when in direct touch with a high concentration of chemicals due to its toxic nature.
Chronic exposure, sometimes, may lead to chronic diseases and health issues such as cancer, respiratory irritation, headaches, mutagenic changes, and breath shortening. These factors are likely to impede the Infection control Market growth.
International and government organizations have imposed stringent laws to avoid the adverse effects caused by over-exposure to these products. Organizations such as Occupational Safety and Health Administration (OSHA) and Food and Drug Administration (FDA) have implemented stringent regulations to monitor the proper disposal of waste generated by disinfectants production.
Additional forms and testing parameters have also been included to prove the sterility of medical devices, disinfectants, and sterilizing equipment. Health and environmental hazards associated with these chemicals will also pose a challenge for Infection Prevention Market players.
What is the Impact of the COVID-19 on Global Infection Prevention Market?
The COVID-19 pandemic had a positive impact on the infection prevention market. The rising number of COVID-19 infected cases across the world led to an increase in demand for infection prevention products such as sanitizers and surgical masks, not only in the healthcare sector but other sectors as well.
With the sudden outbreak of coronavirus, demand for infection control products witnessed a sudden spike. The outbreak resulted in a higher focus on research and development activities in the field of life science and the pharmaceutical sector. This rise in overall research activities resulted in demand for a higher supply of infection control products to keep the products, research equipment, and overall research environment safe and free from contamination.
Considering the mutant variants of COVID-19 and continuous efforts being undertaken by private and public organizations to curb the spread of the disease, demand for infection control products will continue rising over the coming years.
Infection Prevention Market - Country-wise Insights
Will the U.S. Remain a Key Infection Prevention Market?
As per FMI, North America is expected to dominate the global infection prevention market. With the U.S. contributing over 95% of the market share in 2021, the Infection Control Market is anticipated to exhibit healthy growth, surpassing US$ 17.11 Bn during the forecast period.
Soaring demand for industrial cleaners and disinfectants owing to higher awareness among healthcare service providers will improve the demand across the country. Increased spending on the healthcare infrastructure in the U.S. is expected to support the growth of infection prevention market.
Why is Germany Considered a Lucrative Infection Control Market Across Europe?
Germany and the U.K., collectively, are expected to account for over 40% of the Europe market in 2021. The increasing need to maintain and follow sanitary practices at a personal level and in healthcare facilities is driving the adoption of infection preventive products.
Implementation of infection prevention and control programs at the national and acute health care facilities across the country will provide ample growth opportunities for Infection Control market players.
How Big is the Opportunity in China?
The East Asia infection prevention market will exhibit healthy growth at 5.5% CAGR during the forecast period, with China vanguarding the sales in this region. In 2021, China is expected to account for nearly 47% sales in the East Asia Infection Control Market in terms of revenue.
With government constantly tracking population growth and newly diagnosed cases, demand for infection prevention products is expected to surge. Also, increasing the adoption of these products to combat any potential virus attack will improve the Infection Prevention market growth.
Additionally, key players in this region are focusing on product launches and are adopting inorganic growth strategies such as collaborations with local players to expand their service offerings, which is likely to augment Infection Control market growth in China.
What is scope of Infection Prevention Market in India?
India is expected to contribute over 50% of revenue in South Asia's infection control market over the forecast period. Due to the increase in overall healthcare expenditure, increased access to the healthcare system, improved medical care facilities and healthcare services, infection prevention market is expected to bolster.
Infection Control Market - Category-wise Insights
Why is Demand for Disinfectors Increasing in Infection Prevention Market?
In terms of product type, the Infection Control Market is segmented into sterilization equipment, disinfectors, and consumables. As per Future Market Insights, the disinfectors segment is expected to lead the Infection Prevention Market growth.
It is estimated to gain nearly 30% of the total Infection Control market revenue share in the forecast period. Major contributing factors to this includes high utilization in the healthcare sectors to sanitize line, surface, instruments, and devices.
Why are Hospitals and Clinics Primary End-Users for Infection Prevention Market?
The hospitals and clinics segment is expected to be the most lucrative one as compared to other segments in terms of Infection Control Market share. The segment is poised to expand at a CAGR of over 3.4% during the forecast period.
A growing geriatric population, increasing hospitalization due to COIVD-19, and rising surgical procedures across the globe are the factors boosting the segment growth, driving sales of the infection control market.
Competitive Landscape
Manufacturers operating in infection prevention market are primarily aiming to carry out strategic expansion through merger and acquisitions, collaborations and product launches to consolidate growth in a competitive Infection Control Market.
For instance, in Feb 2019, Cantel Medical Corp acquired an Italian based company, Omnia S.p.A.to expand its portfolio with surgical consumable solutions.
In Dec 2020, Getinge AB launched Stainless Steel DPTE® Beta Containers which are designed to prevent spread of infections by efficient loading and unloading into sterile zones.
In April 2021, Pal International in partnership with Caswells Group focused on increasing its sales in the U.K.. for hygiene workwear.
Infection Prevention Market - Scope of the Report
Attribute

Details

Forecast Period

2021-2031

Historical Data Available for

2016-2020

Infection Prevention Market Analysis

USD Million for Value.

Key Countries Covered

US, Canada, Germany, U.K., France, Italy, Spain, Russia, China, Japan, South Korea, India, Thailand, Malaysia, Indonesia, Australia, New Zealand, GCC Countries, Turkey, South Africa

Infection Prevention Market - Key Segments Covered

Product, End User and Region

Infection Control Market - Key Companies Profiled

Cantel Medical
Getinge AB
ASP (Advanced sterilization Products)
Sotera Health
3M
Ecolab
Halyard Worldwide, Inc. (Halyard health)
Belimed, Inc.
Pal International
Reckitt Benckiser Group PLC.
Metrex Research, LLC.
Terumo Corporation
Ahlstrom Munksjo
Ansell Ltd.

Report Coverage

Infection Prevention Market Forecast, Competition Intelligence, DROT Analysis, Market Dynamics and Challenges, Strategic Growth Initiatives

Customization & Pricing

Available upon Request
World's Most Profilic Intelligence Engine
Get Access To The World's Largest Market Research Database.
Sign Up Now
Infection Prevention Market by Category
By Product:
Sterilization Equipment

Low Temperature Equipment

Ozone Sterilizers
Hydrogen Peroxide Sterilizers
Formaldehyde Sterilizers
Ethylene Oxide Sterilizers
Other Low-Temperature

Heat Sterilization Equipment

Moist Heat Sterilizers
Dry Heat Sterilizers

Radiation Sterilization Equipment
Liquid Sterilization Equipment

Disinfectors

Washer Disinfectors
Endoscope Repressors
Flusher Disinfectors
Surface Disinfectants
Hand Sanitizers

Consumables

Sterilization Supplies

Sterile Containers
Sterilization Wrap
Sterilization Indicators

Protective Apparel & Textiles

Surgical Gloves
Surgical Drapes
Surgical Gowns
Surgical Masks

Infectious Waste Disposal
By End User:
Hospitals & Clinics
Pharmaceutical Companies
Clinical Laboratories
Medical Device Companies
Life Sciences Industries
Academic and Research Institutes
By Region:
North America
Latin America
Europe
South Asia
East Asia
Oceania
Middle East & Africa (MEA)
Need specific information?
Our Clients