About the Report
The cleaning & disinfection industry is undergoing significant transformation. The advent of innovative cleaning tools and processes is expected to fundamentally change how business owners manage their operations. From innovation of green cleaning to marketing new equipment across social media channels, companies within the disinfection equipment market are adopting a slew of novel strategies to keep pace with evolving consumer requirements. Their efforts are paying off, especially as sales are forecast to showcase a double-digit rise over the forthcoming decade.
In a new report, ESOMAR-certified market research and consulting firm Future Market Insights (FMI) has offered refined projections for the disinfection equipment market. Key factors enabling growth across 20+ countries and potential risks for stakeholders are discussed in detail. Besides this, the report includes a section, exclusively dedicated to studying the implications of COVID-19 outbreak.
Historical and Future Outlook
The World Health Organization (WHO) had published two alcohol-based formulations for use in healthcare settings for outbreak-associated infections. According to a study conducted by the National Center for Biotechnology Information (NCBI), Ebola virus, Zika virus, the Middle East respiratory syndrome virus (MERS-COV), among others can be efficiently inactivated by both formulations of the WHO. These reports had supported sales growth of disinfection equipment through for nearly two decades. 2003 also saw the entry of several leading disinfectant and disinfectant equipment manufacturers into Asian markets. For instance, Biocide introduced VIROFREE surface cleaner in Asia as fears of severe acute respiratory syndrome –SARS outbreak gripped the region, giving tailwinds to the demand for disinfection measures.
Irrespective of the ongoing pandemic crisis, spending on disinfectant sprays, UV disinfections, and other methods has surged, thanks to improving awareness pertaining to the indispensability of maintaining proper hygiene and sanitation. According to the Wall Street Journal, Procter & Gamble Co. reported highest global sales in the last 15 years as consumers around the world willingly spent to keep their homes and offices clean amid COVID-19 outbreak. In fact, it was one of the few companies to launch disinfectant spray called Microban. With the demand for disinfection equipment unlikely to slow down even as the ongoing pandemic passes, their sales are expected to soar in the coming years.
The Influence of Regulatory Bodies
The United States Environmental Protection Agency (EPA), has taken action to ensure that Americans are able to properly disinfect their public places. EPA's new guidance has requested to add electrostatic spraying directions for newly registered disinfectant products. Steps taken by international organizations are positively affecting sales prospects for disinfection equipment manufacturers.
International organizations such as Center for Disease Control and Prevention (CDC) have time and again published guidelines on disinfecting public places. The use of disinfectant and electrostatic sprayers are necessary for adhering to these guidelines. With disinfection touted as a key soldier in fight against viruses, sales of both disinfectants and disinfection equipment surged amid pandemic crisis of 2003.
Besides disinfection citing health concerns, this equipment has diverse applications, ranging from landscape irrigation to car washing. Recently, the U.S. EPA has approved ultraviolet disinfection for small and medium sized public water systems in response to the increasing demand. Additionally, the organization is considering the inclusion of UV treatment technologies such as pulsed UV, UV oxidation, and others as "emerging technologies".
These steps undertaken by leading international organizations are underpinning growth opportunities for the market. With focus on disinfection rising, more studies are expected to be conducted in the coming years, compelling more such guidelines are initiatives by international bodies.
Why Innovation is Key to Succeed in Disinfection Equipment Market?
A slew of innovations occurred in last decade, bolstering sales opportunities for disinfection equipment producers. Previously unheard product categories such as foam soaps, touch less restrooms, and microfibers has popped in facilities across industries, household, and commercial sectors. During 1990's the U.S. Occupational Safety and Health Administration proposed stringent ergonomics standards for American workplaces and several leading manufacturers were wary that their tools and equipment might not adhere to the new standards.
This led to a slew of innovations including lightweight mops, backpack vacuums, and ergonomic buckets. More recently, the COVID-19 outbreak led to launch of refrigerator-like disinfection equipment that uses ultraviolet light and electrostatic discharge to ensure that protective gears have no contaminants left. For instance, a Mumbai-based organization called Inphlox Water Systems developed a refrigerator-like device earlier this year to disinfect protective gear such as coveralls and face masks for reuse by healthcare workers.
Also, in response to the ongoing crisis various companies pushing their research and development capabilities to lend support to fight against the novel coronavirus. For example, 3M received the U.S. EPA approval for 3M™ TB Quat Disinfectant Ready-To-Use Cleaner, which is available in a spray bottle for improved usability and efficiency.
Innovations therefore have a crucial role to play is aiding sales growth of disinfection equipment. With an increasing number of companies repurposing their product lines so that their portfolio does not loose relevance amid dynamic environments, the market is expected to gain immense impetus.
Country-wise Insights
U.S. Disinfection Equipment Market
North America is one of the leading markets for disinfection equipment in terms of sales. Growth in the region is primarily spearheaded by the U.S. Favorable initiatives and presence of some of the leading companies will continue supporting expansion in the country. Also, better spending capacity of consumers have to the aid of disinfection equipment producers in the U.S. FMI has forecast the U.S. to account for lion's share in North America, a trend that is expected to continue through the report's assessment period.
FMI has projected North America to remain dominant through the course of the forecast period. One of the key factors supporting expansion is the region's high healthcare spending. According to preliminary forecasts by CMS' Office of the Actuary, the overall healthcare spending in the United States alone is likely to increase at 5.4% between 2019 and 2028, outpacing the country's GDP by 4.3%.
Favorable healthcare policies, coupled with high per capita healthcare spending, has created a conducive environment for the adoption of respiratory inhaler devices in the U.S. Also the presence of leading players such as Merck & Co. is supporting growth in the U.S. Strategies undertaken by these companies include product launches and expansion plans, which will continue aiding overall expansion in the U.S.
The country follows strict standard of disinfection and hygiene, monitored by the U.S. Occupational Safety and Health Administration (OSHA). Stringent regulations by OSHA have compelled industries to adhere to certain strict safety and hygiene standard, which has created conducive environment for the growth of the market.
The high prevalence of hospital acquired infections (HAIs) too is affecting growth in the U.S. According to the U.S. Department of Health and Human Services, at any given point in time, at least one out of 25 hospitalized patients in the country are affected by hospital acquired infection. This demand for disinfection is inevitably high in the region, creating a conducive environment for the expansion of disinfection equipment sales.
Growing Disinfection Equipment Sales in U.K.
Disinfection equipment sales in the U.K. will keep rising at a steady pace for the assessment period, starting from 2020 and 2030. Sales of disinfectant equipment and cleaners have surged significantly during the ongoing pandemic crisis and this trend is likely to continue through the course of the report's forecast period. While the fight with COVID-19 is continuing, the spread of new mutating strain of coronavirus has caused infection rate in the U.K. to rise.
Hospitals across the country, already stretched with expanding pool of patients, are now witnessing a meteoric rise in cases across general wards and ICUs. With government confirming the rate of infection to increase faster than comprehended focus on precautionary measures is expected to skyrocket. Disinfection, regarded among the first line of protection against the virus, will register demand uptick, causing sales of disinfection equipment to skyrocket.
As per the Government data, over 54,000 people have tested positive in the U.K. for COVID-19. A tally from the Johns Hopkins University's has counted 2.1 million confirmed cases of COVID-19 in the U.K., making it one of the hardest hit countries in the Europe. With the tally for new strain rising the demand for disinfection equipment is likely to surge in the U.K.
Innovation-oriented German Disinfection Equipment Market
According to FMI, Germany accounts for the lion's share of disinfection equipment market in Europe. With projections for double-digit growth, Germany will continue offering lucrative growth opportunities over the forecast period. Besides this, presence of multinational companies such as Beiersdorf has been bolstering disinfectant equipment sales in the country. In a press release, released earlier this year Beiersdorf announced that it supplies over 500 tons of disinfectant across Europe.
Companies operating in Germany have been proactively focusing on innovation. For instance, MetraLabs GmbH, Germany has developed an autonomous disinfection robot, which incorporated UV-C detection lamps to eliminate up to 99.99% of viruses. This robot is called STERYBOT. Innovations undertaken are bolstering the market for disinfection equipment in Germany.
Several other experiments are underway and the country is expected to witness successful launch of advanced disinfection equipment in the coming years. While the COVID-19 outbreak might have bumped up sales, the trend is unlikely to subside in the coming years. Interest in novel solutions for disinfection will seal Germany's position as a lucrative pocket.
Will China's Local Brands Hold Sway?
China has been increasingly using novel technologies in its fight against COVID. For instance, several Chinese firms have launched spraying disinfectants, contact less deliveries, and other technologies to eliminate the risk of cross-infection. Shanghai, China-based Keenon Robotics Company has designed and executed a disinfection droid that costs at least US$ 40,000 and is nearly 1.4 meter tall, which uses a combination of disinfection sprays and UV light to detect and disinfect viruses such as MERS and SARS.
Several firms across China have joined the bandwagon to innovate ways of disinfection, shielding their country against potential strains of COVID. Meanwhile, advanced technologies are used to accelerate the pace of innovation. In the country's battle against the novel coronavirus, several technologies have stood out by responding to the crisis in a creative and prompt manner. China will therefore continue being one of the highly lucrative markets for disinfection equipment in East Asia.
The Discerning Consumers in South Korea
The demand for disinfection equipment is forecast to accelerate at an impressive pace in South Korea. FMI identifies the country as one of the most lucrative pockets for sales with demand projected to rise consistently even after the pandemic passes. There is ample scope for innovations in the country, especially as surging new COVID-19 cases raise concern.
Recently, LG has launched its disinfection robot that comes with UV lamps on both sides. The UV lamps on the robot have shown 99.9% effectiveness in killing bacteria staphylococcus aureus and bacteria coliform from within radius of a meter by the Korea Conformity Laboratories. LG is likely to deploy these robots across schools, hospitals, and hotels.
South Korea has been registering rising cases of COVID-19. As is known, disinfection sprays and equipment are considered basic necessity in killing germs or viruses, which is a chief factor driving their sales in South Korea. The demand for advanced disinfection technologies is likely to surge across hospitals, schools, and commercial spaces, creating lucrative prospects for growth in the coming years.
Category-wise Insights
Why UV Disinfection has been Touted as the Future?
Disinfection sprayers, electrostatic sprayers, and UV disinfections are commonly used disinfection equipment. While omnipresence of disinfection sprayers will continue even after COVID-19 passes, UV disinfection is expected to account for the lion's share. Growth registered in this category will continue through the forecast period, supported by a slew of launches.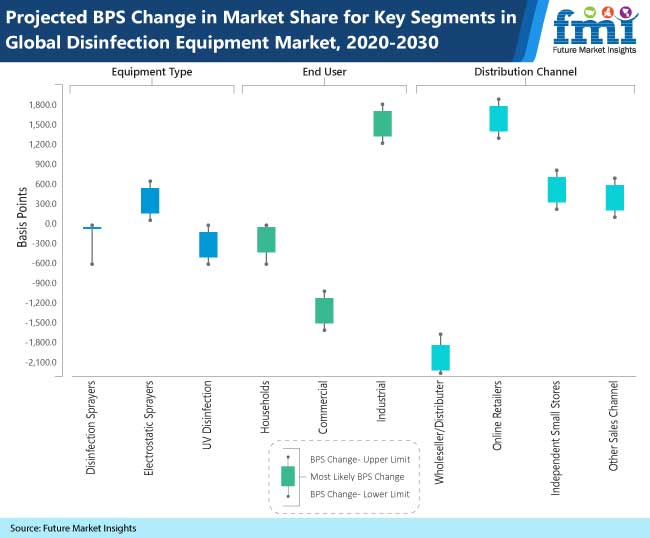 An increasing number of tech giants are introducing autonomous robots fitted with UV light for effective disinfection. This equipment is being rolled out across commercial, industrial, and household sectors. UB disinfection technology is used in innovative ways to ascertain a safer and free from virus environment.
For instance, Godrej has recently launched UV case to disinfect masks and smartphones. Besides this, the companies claim that the UV case can sanitize cash, jewelry, as well as PPE Kits. Increasing instances of launches are strengthening foothold of UV disinfection. FMI has forecast the segment to continue rising at an accelerated pace through the forecast period.
Where is Disinfection Equipment Demand Concentrated?
The commercial sector is currently the leading end user of disinfection equipment. Shops, hotels, cafes, supermarkets, offices, and other commercial spaces were potentially the worst hit during the pandemic crisis. Loss of business during prolonged lockdowns caused many businesses to shut down their operations. While several countries have already lifted lockdown, footfall across commercial places and hubs has declined considerably as consumers gradually shift to online platforms to avoid physical contact.
Evidently, business owners are leaving no stone unturned to ensure proper sanitization and protected environment. They are almost mandatorily spending in disinfection sprayers, electrostatic sprayers, and UV disinfections to ensure they take proper care for safety of their staffs and customers. However, in the coming years the demand in the industrial segment is expected to rise at a higher pace.
Implementation of stringent regulations for worker's safety has fueled sales prospects for disinfection equipment in the category. FMI has forecast, industrial segment to account for more than half of the global market by the end of 2030.
What % of Sales do Wholesalers & Distributors Account for?
While wholesalers and distributors might boast lucrativeness currently, online retailers are likely to account for the maximum sales disinfection equipment in the coming years. Even as brick and mortar stores have opened following extended period of lockdown, an increasing number of consumers are expected to shop online because of the convenience of the later. An increasing number of manufacturers are therefore focusing on the expansion of their online presence. Even their marketing strategies are a clear indication of preference for consolidating opportunities across online platforms.
To carve out niche amid increasing competition and capitalize on opportunities online, some of the companies are introducing innovative social media campaigns. For instance, RB's disinfectant brand Lizol had launched a nationwide awareness campaign in India, it called #DisinfectToProtect. The campaign focused on educating people about the importance of keeping surface clean. Driven by these factors, the online sales channel segment is forecast to rise at 17.3% CAGR between 2020 and 2030.
Competitive Landscape
Companies operating in the disinfection equipment market are expected to focus on launches and innovation to gain competitive advantage. There is immense focus on UV disinfection, for instance, Borosil entered the disinfectant space with the launch of a UV disinfection unit, called Suraksha that uses in-built ultraviolet C-light to eliminate germs.
GermFalcon also is using a UV-C light system that is exclusively designed for airplanes and can clean nearly 30 rows of an aircraft in less than 3 minutes. Besides this, FMCG major has announced launching its Protect range of surface disinfectant sprays, which is likely to strengthen its portfolio into the swiftly expanding segment of safety and hygiene amid COVID-19.
Consumer durables firm Voltas also joined the bandwagon with the launch of a new line of UV-based disinfectants that cater to both long-term and immediate need for safety in shared spaces.
Some of the leading companies operating in the market are:
Trojan Technologies
Belimed AG
Getinge AB
Advanced Sterilization Products Services Inc
Xylem
Sotera Health
Shinva Medical Instrument
STERIS Corporation
Matachana
3M Healthcare
Heraeus
BD
Cardinal Health Inc.
*The list is not exhaustive, and only for representational purposes. Full competitive intelligence with SWOT analysis available in the report.
Scope of the Report
Attribute

Details

Forecast Period

2020-2030

Historical Data Available for

2016-2020

Market Analysis

USD Million for value

Key Regions Covered

North America, Latin America, Europe, East Asia, South Asia, Oceania Middle East & Africa

Key Countries Covered

US, Canada, Germany, U.K., France, Italy, Spain, Poland, Russia, China, Japan, South Korea, India, Thailand, Malaysia, Vietnam, Indonesia, Australia, New Zealand, GCC Countries, Turkey, Northern Africa, South Africa

Key Segments Covered

Equipment Type, End Use, Distribution Channel, and Region

Key Companies Profiled

Trojan Technologies
Belimed AG
Getinge AB
Advanced Sterilization Products Services Inc
Xylem
Sotera Health
Shinva Medical Instrument
STERIS Corporation
Matachana
3M Healthcare
Heraeus
BD
Cardinal Health Inc.

Report Coverage

Market Forecast, brand share analysis, competition intelligence, DROT analysis, Market Dynamics and Challenges, Strategic Growth Initiatives

Customization & Pricing
Key Questions Answered in the Report
Q1. Which is the most lucrative market for disinfection equipment?
While US currently exhibits maximum demand for disinfection equipment, growth is expected to be recorded at high pace in China and India, catapulting the region to the forefront of the global market by the end of 2030.
Q2. Which type of disinfection equipment is most preferred?
UV disinfection is currently witnessing high demand due to its versatility. Studies showcasing the effectiveness of UV disinfection in eliminating germs and contaminants from smartphones, masks, cash, PPE kits, even shared spaces are fuelling demand for this category of equipment.
Q3. Which is the more preferred sales channel for disinfection equipment?
Online sales channel will account for a significant percentage of shares as people have become habituated to online shopping now. This will cause an increasing number of companies to focus on expanding their online presence.
Q4. Which are some of the leading companies offering disinfection equipment?
Some of the leading companies offering disinfection equipment are Trojan Technologies, Belimed AG, Getinge AB, Advanced Sterilization Products Services Inc, Xylem, Sotera Health, Shinva Medical Instrument, STERIS Corporation, Matachana, 3M Healthcare, Heraeus, BD, Cardinal Health Inc. among others
Q5. Which sector exhibits higher demand for disinfection equipment?
While the demand from commercial sector is forecast to remain high through the coming decade, industries are expected to account for majority sales of disinfection equipment in the coming years.
Key Segments
Equipment Type
Disinfection Sprayers
Electrostatic Sprayers
UV Disinfection
End Use
Household
Commercial
Industrial
Distribution Channel
Wholesalers/ Distributors
Online Retailers
Independent Small Stores
Other Sales Channels
Region
North America
Latin America
Europe
East Asia
South Asia
Middle East and Africa (MEA)
Oceania
Need specific information?