Ink Tank Printer Market
Market Insights on Ink Tank Printer covering sales outlook, demand forecast & up-to-date key trends
Ink Tank Printer Market: Global Industry Analysis 2013 - 2017 and Opportunity Assessment; 2018 - 2028
Market Overview
Since the advent of ink-based printing systems in late 1970s, the usage of these systems in desired applications has augmented by a considerable magnitude as compared to its counterparts. This can be attributed to the fact that the operating characteristics and range of printing substrates of ink-based printers are better than its counterparts for black and white, monochromatic as well as varied color printing. Initially, ink jet type printers were used which comprised of an ink cartridge and a printhead responsible for imparting required color tones to the resultant print.
However, in the long run, due to high replacement rate and the associated cost of ink cartridges, this type of printing proves to be expensive for printing in selected as well as bulk quantities. To address this issue, the concept of Ink Tank Printers was introduced by EPSON in 2011. These printers helped in achieving an economical process of printing by creating higher generation rate for print copies while consuming lesser amount of ink.
The Global Ink Tank Printers market is expected to gain traction in its usage due to low procurement and operation costs, long product shelf-life and varied range of applications with respect to printing types. Increasing product awareness amongst end users, preference for low cost printing and high print yield have been identified as primary factors responsible for market growth. The market is being governed primarily by a set of tier-1 manufacturers who rule on global as well as on local / regional levels.
Increasing preference of Ink Tank Printers over Ink Jet Printers
High print yield, enriched resolution, eradication of ink cartridges -- which otherwise have to replaced completely in Ink Tank Printers -- have been the key benefits resulting in growing preference for Ink Tank Printers by the end users over conventional ink jet printers.
Ink Tank Printers have indeed proved to be an economical printing option for commercial printing agencies for carrying out bulk print quantities. In the fiscal year 2016-17, it was recorded by major OEMs that the unit sales of Ink Tank Printers leapfrogged the unit sales of Ink Jet Printers, contributing over 40% on an average to the overall sales.
Valued added features and services being imparted by OEMs to gain competitive advantage
Since the launch of Ink Tank Printers, major OEMs have underwent a lot of technological up gradations to enable convergence of Ink Tank Printers with a plethora of electronic and communication devices, such as personal computers, laptops, tablets , DSLR cameras and smart phones.
Connectivity types ranging from USB 2.0, 3.0 to WiFi, WiFi-direct and mobile application key enabled printing facilities are being provided in the current set of Ink Tank Printers. The facilitation of Cloud based connectivity has also been offered by the OEMs in recent times. Additional features such as copying and scanning have been embedded in the printers. Apart from printing on paper substrate, the provision of direct printing on CD/ DVD and Blu-Ray discs by the printer manufacturers.
To gain competitive advantage, OEMs are providing possible services and product training facilities to consumers via several initiatives. For instance, in addition to prefilled ink tanks, separate units are being provided by OEMs to address any gaps or additional requirements by end users as well as to promote indigenous ink brands. Product training and aftersales service facilities are being provided by OEMs through their direct sales channel as well as appointed franchisees / distributors in the target regions. These activities, in turn, are consolidating companies' business footprint and is enhancing their brand image as well consumer base.
Regional Market Outlook
The global Ink Tank Printer market is segmented into the following regions -- North America, Latin America, Western Europe, Eastern Europe, South East Asia-Pacific, China, Japan, India and the Middle East and Africa. India and China have been dominant in the Global Ink Tank Printer market mainly due to increased acceptance by end-users on individual as well as commercial level.
In North America, the USA is a prominent market due to the high product penetration rate. Western and Eastern Europe are also expected to provide sound growth opportunities due to rising awareness about Ink Tank Printers. Latin America is also projected to grow with considerably high CAGR due to rising healthcare expenditure to increase patient compliance. Growth in the Middle East and African region is expected to be considerably less as compared to the other regions.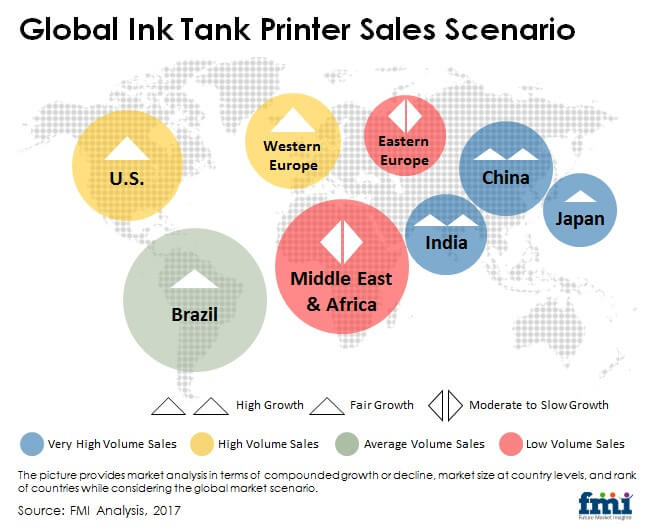 Download Report Brochure
Talk to Analyst
Find your sweet spots for generating winning opportunities in this market.
Talk to Analyst
Global Ink Tank Printer Market: Key Players
The key players ruling the global Ink Tank Printers market are EPSON, Hewlett Packard, Canon, Brother Industries Ltd., Mimaki Engineering Co., Ltd., Konicka Minolta, Ricoh Company Ltd., etc. in the global and regional specific markets.
Opportunities for Market Participants
Increasing opportunities in the print industry due to the growth in advertising & publication, media, academics, packaging, labeling, etc. are expected to create demand for print equipment manufacturers in the forthcoming years.
With the market being less concentrated, opportunities for market entrants are projected to be on the optimistic side with focus on regional/ local markets by market participants. The value chain is also anticipated to expand due to an influx of product suppliers and retailers catering to high sales volume demand from the consumers earning attractive trade margins.
Become a MarketNgage Insider
A unified Market Research Subscription Platform, built for today's disparate research needs.
Brief Approach to Research
FMI will follow a modelling-based approach and triangulation methodology to estimate data covered in this report. A detailed market understanding and assessment of the nature, product type and end uses of the product segments covered in the study is followed by a demand-side analysis to estimate the sales of target product segments, which is then cross-referenced with a supply-side assessment of value generated over a pre-defined period.
The statistics and data is collected at a regional level and consolidated and synthesized at a global level to estimate the overall market sizes. The market size determination and insights would be based on Historic Sales of Ink Based Printers through respective sales channels of direct sales vs. retail/ distributor sales and sales by end user base. Product import and export statistics by each geographical region would be also referred to identify sales intensity and related growth in the designated regional markets.
Key Data Points Covered in the Report
Some of the key data points covered in our report include:
An overview of the Ink Tank Printers market, including background and evolution
Macroeconomic factors affecting the Ink Tank Printers market and its potential
Market dynamics, such as drivers, challenges and trends
Technology Roadmap involved from inception period to present date
Detailed value chain analysis of the Ink tank printer market
Cost structure of the products and segments covered in the global Ink Tank Printer market
In-depth pricing analysis, by key product segments, regions and by major Ink Tank Printer market participants
Analysis of supply and demand, such as top producing and consuming geographies, imports/exports and overall trade scenario in the global Ink Tank Printer market
Analysis of the global Ink Tank Printer market structure, including a tier-wise categorization of key Ink Tank Printer market participants
Competitive landscape of the market, including detailed profiles of top players in the Ink Tank Printer market
The research report presents a comprehensive assessment of the market and contains thoughtful insights, facts, historical data, and statistically supported and industry-validated market data. It also contains projections using a suitable set of assumptions and methodologies. The research report provides analysis and information according to market segments such as geographies, application, and industry.
The report covers exhaust analysis on
Market Segments
Market Dynamics
Market Size
Supply & Demand
Current Trends/Issues/Challenges
Competition & Companies involved
Technology
Value Chain
Regional analysis includes
North America (U.S., Canada)
Latin America (Mexico. Brazil)
Western Europe (Germany, Italy, France, U.K, Spain)
Eastern Europe (Poland, Russia)
Asia Pacific (China, India, ASEAN, Australia & New Zealand)
Japan
Middle East and Africa (GCC Countries, S. Africa, Northern Africa)
The report is a compilation of first-hand information, qualitative and quantitative assessment by industry analysts, inputs from industry experts and industry participants across the value chain. The report provides in-depth analysis of parent market trends, macro-economic indicators and governing factors along with market attractiveness as per segments. The report also maps the qualitative impact of various market factors on market segments and geographies.
Product Definition and Segmentation
An Ink Tank Printer generally consists of an array of storage tanks labelled with specific color shades where the desired colored ink is filled and refilled after subsequent uses. The device enables continuous ink supply system (CISS) to provide ink with greater ink feed rate to the printhead, resulting in seamless operation ideal for bulk printing quantities. The Ink Tank Printers market can be segmented on the basis of the following criteria:
By Application-
Business/ Office Printing
General Printing
Photo Printing
By Configuration-
By Printing Capacity
General (Upto 8,000 Color prints & 5,000 B&W prints)
High (Upto 14,000 Color prints & 6,500 B&W prints)
Table of Content
NA
List of Tables
NA
Talk to Analyst
Find your sweet spots for generating winning opportunities in this market.
Talk to Analyst
List of Charts
NA