Global Krill Oil Market to Rise at an Impressive Double-digit CAGR
The global krill oil market is projected to reach US$ 2,309.3 Mn by the end of 2029. The market was valued at US$ 674.3 Mn in 2019. If these figures hold true, the market will exhibit a CAGR of over 13% between 2019 and 2029. Regionally, North America is expected dominate the global krill oil market.
During the forecast period, Asia Pacific is expected to emerge as a lucrative market for krill oil. In terms of product, the market can be classified into liquid, capsules and soft gels. Of these, liquid krill oil witnesses high demand because of its increasing application in infant nutrition and pet food. Liquid krill oil is a liposomal product, which is why its application is poised to surge in the coming years.
Key Factors Driving the Market
Increasing Applications across Diverse Sectors Boost Growth
The krill oil market is gearing for double-digit growth in the coming years. To a large extent growth witnessed in the market is attributable to the rising applications of krill oil across diverse industries. According to the report, the demand for krill oil is expected to surge in pharmaceuticals and functional food and beverages segments.
The rising demand for sports supplements, coupled with the rising awareness about gastrointestinal health, will boost the krill oil market. In addition to this, the market is expected to gain from the increasing pet ownership and the rising purchasing power of pet owners that make them more willing to spend on pet food contain krill oil.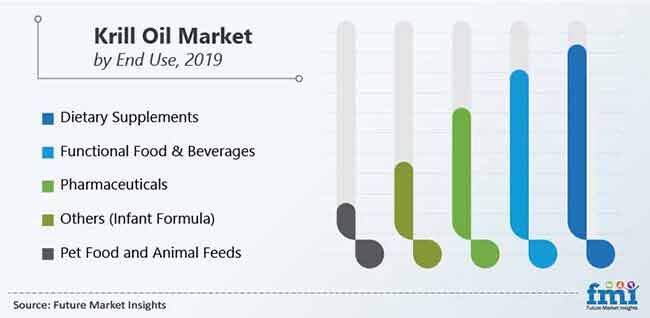 North America Emerges as a Lucrative Market for Krill Oil
North America will remain a lucrative market or krill oil through the forecast period. Besides North America, Asia Pacific, Europe, Latin America and the Middle East and Africa are the key regional markets. The krill oil market will gain pace in response to the rising consumer inclination towards health and fitness.
The same reason will drive the market in Mexico, Canada, and the U.S. These nations exhibit a high demand for functional food and beverages, which invariable creates a conducive environment to the growth of the krill oil market. In Asia Pacific, China, India, South Korea, Australia, and Singapore are a few of the lucrative markets for krill oil.
Rising Awareness among Consumers about Health Benefits of Krill Oil will Stoke Growth Opportunities
The rising awareness among consumers about the health benefits of krill oil will fuel its demand. In addition to this, the market will benefit from their increasing disposable incomes and consequent willingness to spend on products containing krill oil. In addition to this, the rising use of krill oil in pharmaceutical industry is expected to bode well for the overall market.
FREQUENTLY ASKED QUESTIONS ABOUT KRILL OIL MARKET
What drives the krill oil market?
The increasing geriatric population, particularly in developed countries is driving the global krill oil market. In addition to this, the market is forecast to benefit considerably from the increasing health awareness among consumers.
Which factors put krill oil market players at risk?
Concerns hovering over krill habitat on account of recent changes in zooplankton distributional limits, coupled with rising water temperature are key factors putting krill oil businesses at risk.
Which region will lead the global sales of krill oil?
The sale of krill oil is considerably in developed countries such as France, Japan, UK, and Germany. In addition to these, the market is expected to gain pace as the demand for nutrient rich food and beverages rises in India, China, and the U.S.
Which product segment offers most lucrative growth opportunities?
Soft gels are currently in high demand on account of their smooth texture and taste masking properties.
Which segment based on application will record the highest growth in the krill oil market?
Currently, krill oil application is considerably in dietary supplements segment. In addition to this, its rising use in animal feed and pharmaceutical industries is expected to stoke growth in the market
Market Segmentation
By Form
Liquid
Capsules
Soft gels
By End-Use
Dietary Supplements
Functional Food & Beverages
Pharmaceuticals
Pet Food and Animal Feeds
Others (Infant Formula)
Region
North America
Latin America
Europe
Asia Pacific
Middle East & Africa
Need specific information?