Labeling Equipment Market Snapshot
The labeling equipment market revenue totaled US$ 3.4 Bn in 2020, according to Future Market Insights. The overall labeling equipment market is expected to reach US$ 4.9 Bn by 2031, growing at a CAGR of 4.8% for 2021-2031. As per the report, the top 5 companies in the market will hold 15-18% of the value share in 2021.
The report also forecasts the demand to increase at year-on-year (YoY) rate of 4.4% in 2021 to total 444 thousand units.
Key Points Covered in the Labeling Equipment Market Report
Market Estimates and Forecast 2014-2029
Key Drivers and Restraints Impacting Market Growth
Segment-wise, Country-wise, and Region-wise Analysis
Competition Mapping and Benchmarking
Market Share Analysis
Key Product Innovations and Regulatory Climate
COVID-19 Impact on Labeling Equipment Market and How to Navigate
Recommendation on Key Winning Strategies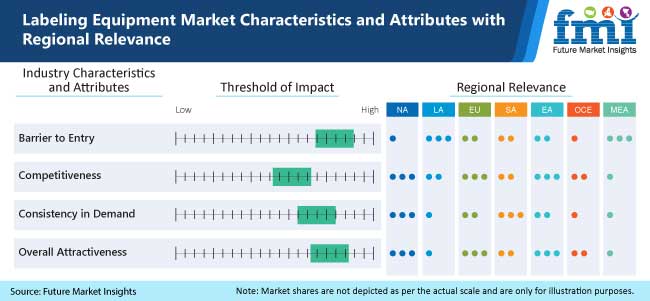 2014-2020 Labeling Equipment Market Outlook Compared to 2021-2031 Forecast
The labeling equipment market is projected to accelerate with a CAGR of 4.8% from 2021-2031, as compared to 2.8% in 2014-2020. The growth of labeling equipment sales is characterized by digitization, changing dynamics in the labeling industry, and the evolution of e-commerce in present times.
The global healthcare and pharmaceuticals sector is growing rapidly. The outbreak of COVID-19 has resulted in a spike in consumption of pharmaceutical products, giving a boost to the labeling equipment market.
User-convenience and safety play an important role in shaping the market. High-quality printing, long-lasting inks and a wide display of labels are factors that are influencing demand for pharmaceutical labels.
How will Automation Reshape the Sales Prospects of Labeling Equipment?
Robotic integration and total customization are a few of the features that are expected to shape the market for labeling equipment. Transfer lines, machine learning, and artificial intelligence are expected to carry out disruptive changes in the market. The introduction of new technologies and scientific breakthroughs play an important role in reshaping market developments.
Advanced motion control, modular software design, and touch-sensitive built-in hardware are also being considered. Digital counter inputs, embedded USB programming, and HMI connectivity are rapidly influencing product design and capabilities.
Why are Productivity Standards in Labeling Equipment Necessary for Market Growth?
Pressure-sensitive labeling machines contain adhesives like wet glue or hot melt glue and are gaining traction in the market. It not only helps to save time in the application of adhesives, but also reduces maintenance cost and improves application speed.
High performance and productivity equipment are designed with plug-in expansions, better flexibility, and application over numerous materials. These features not only help manufacturers create better products, but also help them with mass customized label orders.
What is the Impact of the COVID-19 Crisis?
COVID-19 has profoundly affected the food and pharmaceutical markets with variations in consumer consumption patterns, lockdown restrictions and altered laws in these sectors. The U.S. Food and Drug Administration (FDA) has formulated flexible laws in the country to avoid supply chain shortages.
Manufacturers can use existing labels for food products without minor changes due to health hazards. This will help equipment manufacturers to maintain production costs of the same. Pandemic situations have disrupted the flow of workforce and logistic supplies due to lockdown situations.
Imports and exports were negatively affected in 2020 due to gaps in the transport chain across the globe. However, a resurgence is expected in 2021-2022 which will mitigate losses incurred in 2020. The labeling equipment market is expected to improve with a YOY growth of ~4.5% to 4.6% during the years 2021 and 2022.
Country-Wise Insights
Why is Germany a Competitive Market for Labeling Equipment in Europe?
Europe approximately holds ~28% of the total value market share for labeling equipment in the global market in 2021. Germany is an automation-centric and highly progressive nation. The country's machine and equipment (M&E) industry is one of the most lucrative and second-largest industries in the country. Technological development and high levels of exports are key factors supporting growth in the country.
According to the insights provided by Germany Trade & Invest, US$ 6.9 Bn has been spent on research and development for machines and equipment from 2015 to 2017. Machine and equipment holds the lead in terms of innovation in Germany. Germany provides advanced technology development with state-of-art facilities, and is expected to remain a key player in the market.
How is the U.S. Market for Labeling Equipment Faring?
Equipment manufacturing and exports is one of the largest sectors in the U.S. According to the International Trade Administration, equipment export value in the country was US$ 141 Bn in 2018. Canada, Mexico, and the European Union are top three importers of U.S.-based machinery and equipment.
The country provides high-end, sophisticated technology with superior service to maximize productivity. Hence, the U.S. is expected to play a major role in shaping the labeling equipment market.
Is India a good Investment Market for Labeling Equipment Manufacturers?
Many American and Japanese companies are setting up their manufacturing units in India. A recent example for the same could be Apple, an American technology giant and also the largest company in the world in terms of market capitalization, who has shifted its manufacturing unit from China to India.
This is driven by the availability of skilled laborers at lower costs, technological development, a favourable business environment, and flexible trade policies. India holds 7.8% of the global value share in labeling equipment in 2021.
India has excelled in equipment manufacturing and exports in recent years and is expected to attract colossal investment opportunities during the forecast period. The market for labeling equipment is projected to be high in the country and is expected to accelerate with a CAGR of ~8.8% during the forecast period.
What is China's Contribution to the Labeling Equipment Market?
China is one of the leading exporters of machinery and equipment. Chinese small and medium enterprises (SMEs) are responsible for the development of the equipment market in the country. Lower production and selling costs, highly favourable manufacturing environment, and availability of inexpensive and skilled laborers are responsible for shaping market growth.
The Jiangsu and Shandong regions in China are responsible for most machine and equipment production in the country. China holds a large portion of the market and is responsible to shape the global labeling equipment market on the basis of pricing and costs.
Category-wise Insights
What are the Prospects of Labeling Equipment in the Healthcare and Pharmaceutical Sector?
The healthcare and pharmaceutical end-use vertical for labeling equipment is expected to reflect a CAGR of ~8.5% during the forecast period. The rapidly growing demand from the sector is attributed to the sudden outbreak of COVID-19.
Relaxed labeling laws in many countries and increased demand for pharmaceutical products are the main causes of growth in the industry.
Which Product Type Holds Maximum Value Share in the Global Market?
Top and bottom labeling equipment are expected to excel in the market in terms of value share throughout the assessment period. The segment is expected to hold a share of 26.7% of the total market in 2021.
Top and bottom labeling equipment is primarily used in food and beverage labeling applications and is proven to be economical when compared to a wide variety of applications.
Why are RFID Labeling Solutions Gaining Traction?
Radio-frequency identification (RFID) labeling solutions are expected to project a CAGR of ~5.5% during the forecast period. Intensive use of the RFID labeling was observed across the globe to ensure consumer safety, record keeping, uniformity and systematic usage of products. This is expected to push the market for labeling equipment from 2021 to 2031.
Competitive Landscape
Companies operating in the labeling equipment market are indulging in product development, market expansion, and mergers and acquisitions to improve their value share in the market.
In May 2019, SATO launched its new sales branch in Johor, Malaysia. The company increased their business by penetration of their products in untapped markets.
On July 30, 2019, the Sidel Group expanded its footprint in India to cater to the needs of the Asia Pacific market.
In July 2021, Cosmo Films Ltd. launched BOPP based direct thermal printable top coated film for thermal printing applications with proprietary coatings.
Report Scope
Attribute

Details

Forecast Period

2021-2029

Historical Data Available for

2014-2020

Market Analysis

US$ Million for Value and Thousand Units for Volume

Key Regions Covered

North America, Latin America, Europe, East Asia, South Asia, Oceania, and the Middle East & Africa

Key Countries Covered

US, Canada, Brazil, Mexico, Argentina, Germany, Italy, France, U.K., Spain, BENELUX, Russia, Nordic, Poland, India, Thailand, Indonesia, Malaysia, China, Japan, South Korea, Australia, New Zealand, GCC Countries, Turkey, Northern Africa, Israel, South Africa.

Key Segments Covered

Product Type, Technology, Labeling Equipment, Labeling Type, End Use Industry, and Region

Key Companies Profiled

Krones AG
Label-Aire, Inc.
Sidel Group
Nita Labeling Equipment
FUJI Seal International Inc.
Sato Holdings Corporation
Pack Leader Machinery Inc.
Accutek Packaging Equipment Co. Inc.
Pro Mach, Inc.
HERMA Labeling Machines
Sacmi Imola S.C
Langguth
Accraply Inc.
Multi Pack Machinery Company
World Pack Automation Systems Private Limited
Evolabel AB
Avery Dennison Corporation
Markem-Imaje Corporation

Report Coverage

Market Forecast, Company Share Analysis, Competition Intelligence, DROT Analysis, Market Dynamics and Challenges, and Strategic Growth Initiatives

Customization & Pricing

Available upon Request
Key Questions Answered in the Report
How much is the labeling equipment market worth?

The labeling equipment market is estimated to surpass US$ 3.4 Bn by 2021.

What is the share of the top players in the labeling equipment market in 2021?

Krones AG, Sidel Group, Pro Mach, Inc., Sato Holdings Corporation, and Herma GmbH cumulatively account for 14 to 18% of the value share.

Which are the top 5 countries driving demand for labeling equipment?

The U.S., China, India, Germany, and the U.K. reflect consistently high demand for labeling equipment.

Which countries are key producers of labelling equipment?

China, the U.S., Germany, India and France are the leading manufacturers of labeling equipment.

What was the global labeling market growth between 2020 and 2021?

The labeling equipment market rose by ~4.5% from 2020 to 2021.

At what rate did the labeling equipment market grow in the last 5 years?

Between 2016 and 2020 the market rose at a 2.8% CAGR.

What is the North America labeling equipment market outlook?

The North America labeling equipment market is projected to grow at a 3% CAGR through 2031.

At what rate will the sales of labeling equipment rise in Europe?

The sales of labeling equipment in Europe are set to rise at a CAGR of 2.9% through the assessment period.

What are the key factors driving demand for labeling equipment?

Advancements in automation technologies, safety standards in packaging materials, and requirements for information dissemination are key factors supporting labeling equipment sales.

What are the key statistics of the South Korea and Japan labeling equipment market?

The labeling equipment markets of South Korea and Japan account for ~15% and ~7% in East Asia respectively.
Labeling Equipment Market by Category
By Product Type:
Bottom Labeling machine
Top & Bottom Labeling Equipment
Wrap Labeling Equipment
Front & Back Labeling Equipment
Full Body Sleeve Labeling Equipment
By Technology:
Automatic
Semi-Automatic
Manual
By Labeling Equipment:
Primary Applicators
Print & Apply
RFID Labeling Solution
By Labeling Type:
Adhesive Based Labeling
Non-Adhesive Based Labeling
By End Use Industry:
Food & Beverages
Healthcare& Pharmaceuticals
Cosmetics & Personal Care
Electricals & Electronics
E-Commerce
Automotive
Homecare
Others
By Region:
North America
Latin America
Europe
East Asia
South Asia
Middle East and Africa
Oceania
Need specific information?