Licorice Candy Market Outlook & Key Findings
Future Market Insights (FMI) projects the global licorice candies market to surpass US$ 250 Mn by 2020 end
While traditional licorice lovers are likely to exhibit demand for red and black varieties, newer users desire innovations in flavors, size, and texture
Clean label licorice candies are likely to sweep the market. Citing this, FMI projects the licorice candy market to rise at 5.7% CAGR between 2020 and 2030
Better acceptance to holistic benefits of licorice candies from medical community and its prescription will give considerable impetus
FMI expects entry of established and large F&B companies in the market over the span for next three years
Focus on Preventive Healthcare Gives Tailwinds to Licorice Candies' Popularity as Mainstay Sweet for Snacking
For years licorice candies have remained a mainstay sweet for snacking especially in the West. Licorice is a sweet root often used as sweetener in beverages and candies. Its demand around the world is backed by a history of perceived medicinal benefits.
Licorice has more than 300 compounds, some of which boast antimicrobial and antiviral properties. Several clinical studies investigating the potential health benefits of licorice have had positive results.
For instance, licorice extracts are found to be helpful in treating conditions such as eczema, tooth decay, and sore throat. Licorice roots also have proven beneficial in soothing gastrointestinal problems and cleaning respiratory systems.
Rising focus on preventive healthcare has rendered conscientious consumers more conscious about the food they eat. With the demand for clean label and nutritional food rising, FMI foresees a positive growth trajectory for the licorice candy market in the coming years.
Soaring Demand for Better-for-You Snacks Encourages Modern Twist on Traditional Red and Black Licorice
From modern twist on traditional red and black licorice to all natural and organic, the market today has more varieties of licorice candies than ever before. To an extent, this has been possible because of rising demand for snacks with lesser sugar and calories.
It is difficult to compete with the taste of sugar, but this hasn't stopped companies from looking for alternatives with fewer calories. The soaring demand for reducing sugar from consumers interested in a healthier lifestyle has spurred tectonic shifts in licorice candy market.
With scales tipping in favor of clean label and non-GMO certified ingredients, licorice manufacturers are focusing on "better-for-you" categories. They are also developing candies keeping in mind dietary restrictions as well as desire for bold flavors among consumers.
Focus on Premiumization of Licorice to Push Growth
Licorice falls under the category of chewy candy, a sector primarily defined by the tastes of younger consumers. According to experts, this demography thrives on novelty.
Besides taste, younger consumers seek better texture, a multitude of flavors, and eye appeal. Among adults however licorice candies' perceived health benefits are more appealing.
Manufacturers are therefore eyeing to leverage premium offerings to woo their younger consumers. Besides tinkering with ingredients, there is ample focus on packaging as companies seek to position their products as deluxe items.
Licorice is traditionally not positioned as a premium confection. Despite this, several companies are creating marketing strategies including promotions across social media platforms to change consumer perceptions.
Many companies are representing premium categories with their all natural product portfolio. For instance, Gimbal with All Natural Licorice Scottie Dogs made from pure anise and licorice rooms is representing the premium market.
These efforts by market players in terms of redesigning their brand architecture and promotion strategies aimed will stoke growth witnessed in the market.
From Variety in Flavor to Unique Textures – Leading Brands Focus on Innovations to Stay at the Top of Game
While leading brands stick to red and black licorice as their gold standard of varieties, nearly all had to branch out to deliver bold flavors and blends. This, coupled with the rising demand for clean ingredient profiles and bite-size pieces are driving innovations in the traditional licorice candy segment.
The Hershey Co. for instance offers a unique texture of licorice candies that tends to last longer than other sweets. Most brands consider multigenerational aspect of licorice a chief growth driver.
Besides capitalizing on legacy of licorice candies, manufacturers are adding a variety of new flavors. Most consumers identify licorice by its two traditional varieties – black and red. While red and black categories will continue accounting for majority of sales, there is ample focus on innovations as well.
In 2018, Darrell Lea developed mixed fruit variety, featuring bite sized licorice candies of mango, strawberry, and apple flavors. There is also demand for bold flavors, contrary to the traditionally milder taste of licorice.
Evolving consumer taste for instance encouraged Hershey to introduce Twizzlers, which our sour mini twists in March 2018. The company also introduced sweet and sour filled bites and twists in citrus punch and cherry kick flavors.
A year prior to this, Darrell Lea launched sugar-free varieties of quintessential black and red licorice to help consumers reduce sugar intake. While the product launches may have hit a little slack due to the ongoing crisis caused by the COVID-19 outbreak, innovations are likely to remain a chief factor driving the market in the forthcoming years.
Fluctuating Input Costs, Inconsistent Universal Guidelines and Slow Approval Processes: Key Challenges for Market
Supplier-specific input costs have been increasing and have shown no signs of abating this year. Rising costs of raw materials, especially natural ingredients, have made a dent in the profit margins of many small-scale suppliers.
The situation is more precarious for companies who are sourcing for China as supply chain inconsistence continues, resultantly challenges have taken away the sheen from getting raw materials from the country.
Raw material costs for suppliers continues to surge. Fluctuating input costs will impact the profitability of suppliers and influence them to innovate and adapt to the new order. The impact will be more severe in the small-scale supplier segment.
Lack of regulations could lead to misuse of claims indicating health benefits. In Japan, for instance, functional food refers to processed foods containing ingredients that aid specific bodily functions. On the other hand, in the U.S. functional foods can contain ingredients that are products of biotechnology.
While North America Continues to Dominate, Licorice Candy Brands Expected to find Lucrative Market in East Asia
North America's fondness for licorice shows no signs of slowing. According to FMI, North America will account for the leading share in the global licorice candies market through the course of the report's forecast period.
The rising demand for unique and borderline foods will remain chief growth drivers for the licorice candies market in Europe, besides North America. Sweden for instance is a lucrative pocket for sales of salty licorice in Europe.
Licorice candies are gradually gaining popularity in Asia too. Overall, the demand for clean label ingredients in confectionery items has surged in the region. Australia in particular exhibits high demand for licorice candies.
Future Market Insights foresees ample growth opportunities for the market in East Asia. The emplacement of the region in product life cycle (PLC) chart is indicative of incremental growth opportunities it is expected to offer in the coming years.
Hotels and restaurants often serve complimentary licorice candies to their guests. With hospitality sector booming in the region, FMI expects demand from East Asia to rise at an impressive pace.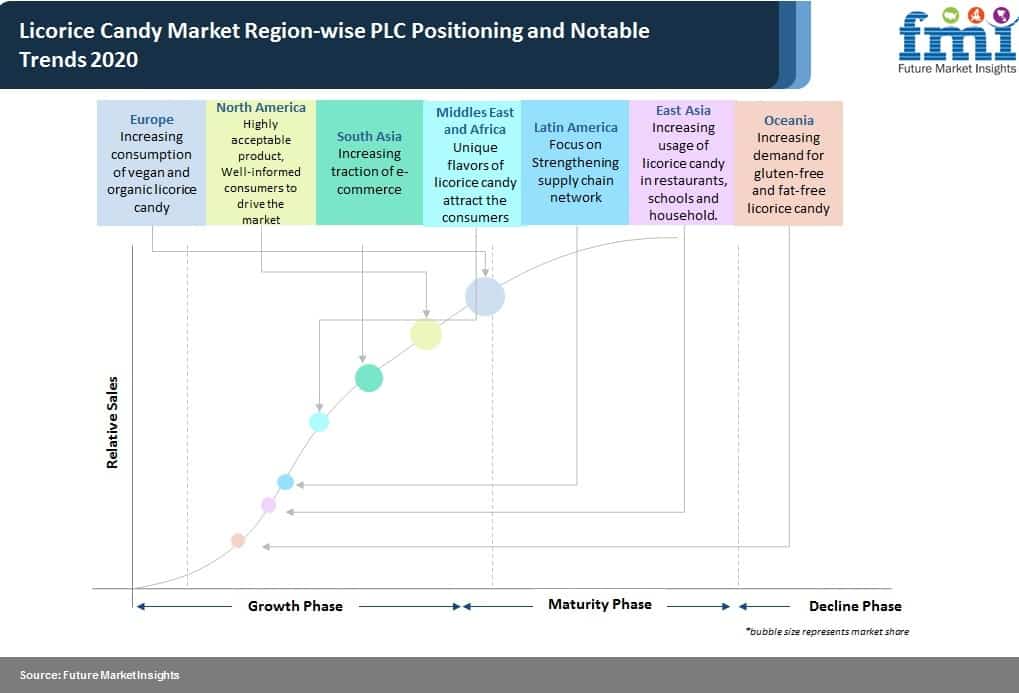 Top 10 Licorice Candy Brands
Panda
Gustaf
Allsorts
Darrel Lea
Twizzlers
Wiley Wallaby
Bricktown Confectionary
RJ's
Red Vines
Scottie Dogs
Leading Suppliers in Licorice Candy Market
The licorice candy market offers favorable opportunities for the entry of new players both at a local level and regional level. Also, the key players are showing keen interest in licorice candy as it has wide application in food industry. Some of the key players in the licorice candy market are:
Americas
The Old Time Candy Company
Gimbal's Fine Candy
Kenny's Candy Company, Inc.
Red Vines
Kookaburra Liquorice
AirHeads
Candy Crate Inc.
American Licorice Company
The Hershey Company
Saint Louis, Missouri.
Kenny's Candy Company, Inc.
Asia Pacific
Darrell Lea
RJ's Licorice Limited
*The aforementioned mentioned list are not exhaustive, and only for representational purposes. Further, Full competitive intelligence with SWOT analysis available in the report.
Licorice Candy: Sweet Future Ahead
Long term estimations suggest that licorice candy market is likely to register a year-on-year growth of above 5% between 2020 and 2030. Study by FMI suggest that the demand for candies isn't likely to decelerate anytime soon: in fact, the current scenario of pandemic has already reaffirmed the case for confectionery foods.
Though an increasing number of consumers are pursuing a healthy lifestyle, it won't douse their need for seeking indulgence. However they are more likely to incline towards clean label ingredients.
Future Market Insights forecasts the licorice candy market to hit US$ 485. 06 Mn by the end of 2030. Sales of sugar-free and healthier candies are likely to surge in response to greater awareness among consumers and understanding of certifications.
Consumers nowadays feel better to eat something with health benefits. Licorice also has antimicrobial and antiviral properties, which are expected to aid in the expansion of the licorice candy market in the near future.
Market Segmentation
The global licorice candy market is segmented in detail to cover every aspect of the market and present complete market intelligence to readers.
By Product Type
Original Black Licorice
Fruit Flavored Candy
Apple
Anise
Grape
Cinnamon
Grape
Strawberry
Others
By Application
Restaurants and Hotels
Schools and Institutions
Recreational and Sports Centers
Household Consumption
Others
Packaging
Sales Channel
Direct Sales
Indirect Sales
Modern Trade
Convenience Store
Departmental Store
Online Retailers
Traditional Grocery Store
Other Channels
Region
North America
Latin America
Europe
East Asia
South Asia
Oceania
MEA
Need specific information?