Lithium and Lithium Ion Battery Electrolytes Market - Key Research Findings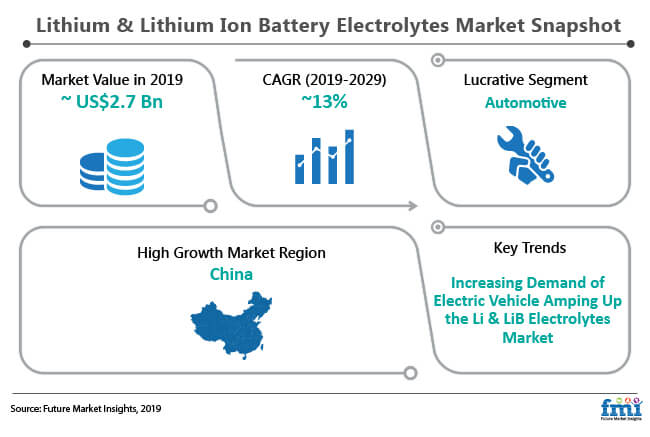 In 2019, the global lithium and lithium ion battery electrolytes market is set to touch a staggering value of ~US$ 2.7 Bn.
The lithium and lithium ion battery electrolytes market is anticipated to grow at a CAGR of ~13% during the period, 2019-2029.
The snowballing requirement for electrolytes in the functioning of electric vehicles and multiple consumer electronics is expected to drive the growth of lithium and lithium ion battery electrolytes market.
In the lithium and lithium ion battery electrolytes market, China holds ~50% of the overall market value share.

China, due to consistent development and exploration in automotive and consumer electronics, is at the epicentre of the lithium and lithium ion battery electrolytes market growth.

Lithium-based electrolytes are expected to witness relatively high sales, accounting for ~80% share in the lithium and lithium ion battery electrolytes market.

Lithium batteries use electrolytes in consumer electronics such as laptops, PDAs, cameras, and others. Lithium-based electrolyte is a preferred option for multiple end users, hence, electrolyte manufacturers are focusing on increasing its production.
Factors Shaping the Lithium and Lithium Ion Battery Electrolytes Market
Significant Growth of Electric Vehicles as Consumers Want to "Go Green"
Electric vehicles are believed to be a major step towards fighting environmental problems created by the gasoline-dependent automotive sector. Though the concept of alternatives for gasoline automotive such as electric vehicle, in the Europe region, is at an infancy stage, activities have surfaced, especially in the Russian as well as Polish economies, which are expected to propel the growth of the market.
However, countries such as Japan, China, and South Korea have optimally oppressed the lithium and lithium ion battery electrolyte market over the recent years. The increase in demand for electric vehicles has been one of the most enticing factors to drive the electrolytes market growth over recent years, and the trend is expected to continue in the years ahead.
Multiple countries are following suit in the transformation from gasoline operatives to electric vehicles, which is expected to bolster the lithium and lithium ion battery electrolytes market growth.
Flourishing Demand for E-bikes and Electric Vehicles in Asia Pacific
Automotive manufacturers are largely focused on the production of vehicles, which utilize plug-in hybrid electric vehicles, which is leading to enhanced growth of the lithium and lithium ion battery electrolytes market. The lithium and lithium ion battery electrolytes market is primarily driven by the consumer automotive sector, which is the largest revenue contributer.
The demand is spurred by both OE (Original Equipment) and aftermarket, which drive sales in new as well as replacement market segments. With improvements taking place in the global economy, vehicle sales have been on a constant rise, which is a highly positive sign for the electrolytes market.
Government Incentives for the Promotion of Electric Vehicles
Increased industrialization has resulted in negative impact on the environment, which has forced governments to take up initiatives for the promotion of electric vehicles. The United States of America, France, the United Kingdom, China, Norway, Japan, and the Netherlands are the global frontrunners in the adoption of electric vehicles.
Multiple initiatives have resulted in the general population shifting towards greener alternatives for transportation. Governments introducing subsidised products and production schemes, favours the lithium and lithium ion battery electrolytes market growth.
Lithium and Lithium Ion Battery Electrolytes Market Structure Analysis
The lithium and lithium ion battery electrolytes market is a highly consolidated market with a few players holding prominent revenue share. Many players are focusing on acquisitions, product developments, and distribution partnerships targeting a global footprint.
The global market for lithium and lithium ion battery electrolytes is expected to be very competitive in nature as new players are emerging every few years.
Leading manufacturers of lithium and lithium ion battery electrolytes are favouring research and development as well as capacity expansion to resonate with the increasing end-use activities.
Product exploration as well as improvements along with application expansion are identified to remain key strategies for development adopted by major manufacturers.
Organic strategies such as mergers, acquisitions, and collaborations are reliable inorganic strategies to build a stronger foothold in the market.
Understanding the changing market trends of end-use segments across various regions is expected to benefit prominent players.
Organic Solvent based Liquid Electrolytes - High Conductivity, yet High Flammability
Liquid electrolytes in lithium-ion batteries fill as well as soak the voids between the electrodes, providing maximum contact between the electrodes and the electrolyte. In addition, availability of large number of free ions results in enhanced conductivity. For broadened electrochemical window, Li-ion battery electrolytes incorporate organic solvents - Ethyl carbonate, propylene carbonate, and dimethyl carbonate - enriched with a lithium salt - LiPF6, LiBF4, or LiClO4.
Suitable proportions of the solvents improve the electrochemical stability of electrolytes with high Li+ ion conductivities of about 10 mS/cm, required for high-performance Li-ion batteries.
However, liquid electrolytes for conventional Li-ion batteries are flammable, toxic and corrosive. Studies suggest that small electrolyte discharge at room leads to the formation of potentially toxic environment. Liquid electrolytes are volatile at high temperatures due to thermal dissociation of LiPF6, while rapid charging and discharging of li-ion batteries or damages due to vehicular collisions.
Under extreme conditions, the batteries ignite the chemicals which causes thermal runaway. As such, the pressure inside the batteries increases, ending in explosions in the liquid electrolyte. In addition, liquid-based electrolytes pose the challenges of electrochemical instabilities, and low ion selectivity.
Addressing the Safety Issue with Solid Electrolytes
Solid electrolytes deliver higher security, and thermal stability following the formation of a physical barrier layer between the positive and negative electrodes, thereby avoiding thermal runaway under extreme conditions. In addition, solid electrolytes allow to use lithium metal anode by suppressing the formation of Li dendrite.
Solid electrolytes eliminate the membrane needed in liquid electrolytes, enabling closer interaction between the electrodes without touching for better compactness, and high energy density. In addition, solid electrolytes improves the strength of Li-ion batteries, dismissing the need for protective coating or casing.
The combined effect of polymer and inorganic fillers enhance room temperature conductivity and mechanical strength of polymer-based solid electrolytes. Sulfide-based solid electrolytes proffer good contacting, reducing grain-boundary, and interfacial resistance.
Sulfide particles, owing to good mechanical ductility, change their shape to adjust with the cathode particles to improve the contact between electrodes and sulfide electrolytes. On the contrary, solid electrolytes lag behind their liquid counterparts in terms of conductivity due to lesser free ions in the liquid.
Intensifying Trend of Hybrid and Electric Vehicles Pushes the Asian Market
Citing environmental preservation, governments in countries – China, India, and Japan – are directing automobile manufacturers to replace the traditional fleets with electric and hybrid vehicles. The Indian administration is launching numerous schemes in a bid to increase the count of EVs on the Indian roads by next year – boosting the demand for lithium and lithium ion battery electrolyte.
Policy makers in Japan are exempting EVs from acquisition tax and tonnage tax. To improve the adoption of EVs, the government is offering incentives to the purchasers, including reduced tax rates, and subsidized purchases. China, under the 5-year plan project, has planned to completely electrify automobiles within the next few years, an attention-grabbing factor for lithium and lithium ion battery electrolyte manufacturers.
Stakeholders Turning to Solid Electrolytes for Efficient Operation of Li-ion Batteries
Liquid electrolytes pose the threat of inflammability due to leakages, and abuse conditions. Recent aircraft explosion cases are further confining their operation to ground vehicles. Market players are producing sulfide based lithium and lithium ion battery electrolytes in light of high thermal stability.
The fact that solid electrolytes eliminate the need for protective casing reduces operational costs regarding li-ion batteries. As such, manufacturers are increasing the production of solid- and gel-based lithium and lithium ion battery electrolytes to facilitate diverse sectors.
Continuous usage of electronic gadgets, such as smartphones, increases the temperature of the devices, keeping consumers at risk due to inflammation. Manufacturers of consumer electronics, driven by the challenge, are substituting liquid electrolytes with the solid versions.
How Growth Will Unfold
The dire need to protect the environment from the wrathful eye of pollution is propelling the demand for electric automobiles across the globe. The automotive space is undergoing complete electrification of their offerings to achieve sustainability in tandem with consumers' trend of 'Go Green'. As such, lightweight Li-ion batteries are set to disrupt the transportation sector, increasing the demand for lithium and lithium ion battery electrolytes.
Governments are urging automobile makers to focus on the production of EVs, and are planning to achieve complete electrification in the upcoming years. The bottleneck of inflammability with the liquid electrolytes will influence manufacturers to develop solid state lithium and lithium ion battery electrolytes for electronic gadgets.
Key Segment
Form
Product
Lithium-Based
Sulfide-Based
Polymer-Based
Oxide-Based
Others
End Use
Automotive
Consumer Electronics
Power & Energy
General Industrial
Region
China
Japan
South Korea
U.S.
Rest of the World
Need specific information?