Pusher & Snow Plows and Booms to Share Equal Divide in Market Value
Around one-third of the revenue of the loader bucket attachments market would come from booms and pushers & snow plows, collectively. Among them, pushers & snow plows will click US$ 600 Mn value earlier as compared to pedestal boom systems.
Moreover, both these attachments would flare almost equal divide in the loader bucket attachments market towards the end of the projection period. Going forward, manufacturers are also placing their bets on ground engaging tools, owing to their greater productivity attribute, despite having a shorter service life.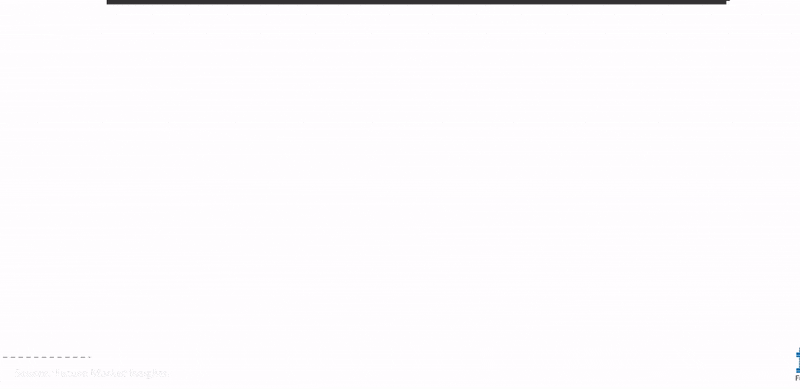 Market in Europe to Cross US$ 1 Bn in 2022
Complemented by a well-established industry of bulk material handling equipment, Europe would continue to offer value-capture prospects for manufacturers. Moreover, the loader bucket attachments market in this developed region will represent a multibillion-dollar market by 2022 end.
Incumbents are also channelizing their product distribution to Asia and Latin America, where swift growth of industry-adjacent sectors are reflecting noteworthy investment opportunities. Swelling construction expenditure in these developing regions are further influencing market players to re-evaluate their approaches.
Targeting Waste Management for Outsized Returns
Waste management applications such as collecting waste from construction sites, industrial sites, and municipal waste yards accent for bulk material handling systems, including backhoe loaders and wheel loaders, which are further used at landfill sites. Increasing consumer knowledge as well as strong government support are spurring various awareness programs and schemes regarding proper waste management. As these trends sweep the globe, loader bucket attachments market players must craft winning tactics in order to ensure sizable returns.
How Growth will Unfold
Governments in various countries are increasingly spending on the renovation of existing civil facilities as well as upcoming infrastructure projects. In addition to this, the global mining sector is undergoing rapid recovery from an economic slowdown over the past few years. These factors will have a measurable impact on the growth of loader bucket attachments market. However, manufacturers are facing the conundrums of high costs as well as stringent regulatory environment, which is further adding to the capital expenditures of stakeholder.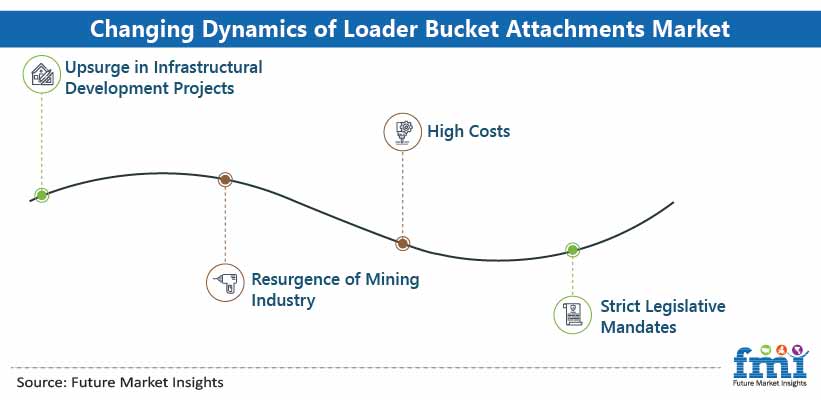 FREQUENTLY ASKED QUESTIONS ABOUT LOADER BUCKET ATTACHMENTS MARKET
How will the loader bucket attachments market fare in the future?
Loader bucket attachments are key functional components of bulk-material handling equipment, such as loader buckets, and have no replacements on a broader perspective. Thus, it can be said that the loader bucket attachments market is an ever-growing one.
Do high initial investment and operational costs affect the adoption rate of loader bucket attachments?
Yes, loader bucket attachments require heavy investment, and also need regular servicing, owing to the mandates for maintenance of such equipment by government authorities to ensure workplace safety. However, the order inflow of loader bucket attachments is expected to continue to grow moderately during the projected period.
Which application area holds potential growth opportunities for market players?
Many regional governments and municipal corporations are taking initiatives to curb the waste produced by promoting proper decomposition or handling. This is expected to be a more opportunistic sector for players in the loader bucket attachments market.
What is the degree of competition in the loader bucket attachments market?
There are number of global and regional players in the loader bucket attachments market, and manufacturers such as Caterpillar, AB Volvo, Komatsu Ltd., JCB, Doosan Corporation, Deere & Company, and CNH Industrial are estimated to hold over half of the global market share. Moreover, domestic players are facing immense competition from globally established players as well as from counterfeit product suppliers.
What would be the effect of rental services in the loader bucket attachments market?
The average life cycle of a loader bucket attachment varies from three to five years, depending upon the component and the amount of wear and tear it is subjected to. Thus, in the aftermarket, rental service providers of loader bucket and similar bulk material handling solution providers are expected to gain significant revenue share.
Which region will lead in terms of global sales of loader bucket attachments?
In terms of volume share, Europe is estimated to lead the loader bucket attachments market followed by the Americas, attributable to the established manufacturing sector and high per-capita consumption in these regions. However, among countries, China, Indonesia, and Turkey are identified as the emerging countries in the loader bucket attachments market.
World's Most Profilic Intelligence Engine
Get Access To The World's Largest Market Research Database. Ngage with a revolutionary intelligence engine that scale and pricing that flexes as per your needs
Sign Up Now
LOADER BUCKET ATTACHMENTS MARKET TAXONOMY
The global loader bucket attachments market is segmented by attachment type and region.
Attachment Type
Attach Adapters & Couplers
Blades
Booms
Forks
Grapples
Ground Engaging Tools
Mounting Brackets
Pushers & Snowplows
Rakes
Sweepers
Thumbs
Region
North America
Latin America
Europe
South Asia
East Asia
Oceania
MEA (Middle East & Africa)
Need specific information?