Loader Bucket Market By Bucket (General Purpose Buckets, Light Material Buckets, Heavy Duty Buckets, Multi-purpose Buckets), Loader (Excavators, Wheeled Backhoes, Wheeled Loaders, Skid Steer Loaders), Application (Rock, Woodchip, Coal), Fit Type (First Fit, Re-Fit), End Use (Construction, Mining) & Region - Forecast to 2019 - 2029
Loader Bucket Market - Analysis, Outlook, Growth, Trends, Forecasts
November 2019

REP-GB-10682

415 pages
KEY GROWTH INFLUENCERS - LOADER BUCKET MARKET
Recycling & Waste Management Initiatives Drive Market Growth
Growing environmental concerns are driving consumer inclination towards waste recycling and management. Recycling and waste management initiatives are playing a key role in tackling environmental challenges. Material handling equipment plays an important role in landfilling and other related activities. Success in waste management is expected through the combined efforts of both, public and private industries.
Every year, over 2.1 Bn tonnes of municipal waste is generated and needs to be recycled, of which, 468 Mn tonnes is generated in East Asia and the Pacific region. Hence, material handling equipment are gaining traction on a large scale, especially in privately-operated sectors and at composting sites; thereby, augmenting the demand for material handling components such as loader buckets.
Recovering Mining Industry to Bolster Sales
The mining industry, like construction and oil & gas, has seen significant downfall during the first half of the decade. Geo-political factors, trade wars, and unstable governments have affected the industry in various countries. Growth of the mining industry is an important economic driver in countries like Chile, Venezuela, Peru, etc.
Recent trends have suggested resurgence of the mining industry in major countries and a 53% rise in mining activities is expected in the next decade. This growth will create increased demand for material handling equipment, in turn, driving the demand for accessories such as loader buckets.
Increasing Infrastructural Projects to Create Lucrative Opportunities
The construction sector is one of the major giants playing an important role in any country's economic development. Rapidly increasing infrastructural development activities are creating demand for construction equipment to increase efficiency and productivity.
Three of the five countries in Asia Pacific (China, India, and Japan) are cited as countries with greatest infrastructure needs (39% of the global infrastructure investment needs). This in turn, is fueling sales of heavy-duty off road vehicles for moving debris and other construction aggregate materials as well as transportation of raw ore and aggregate from one place to another efficiently.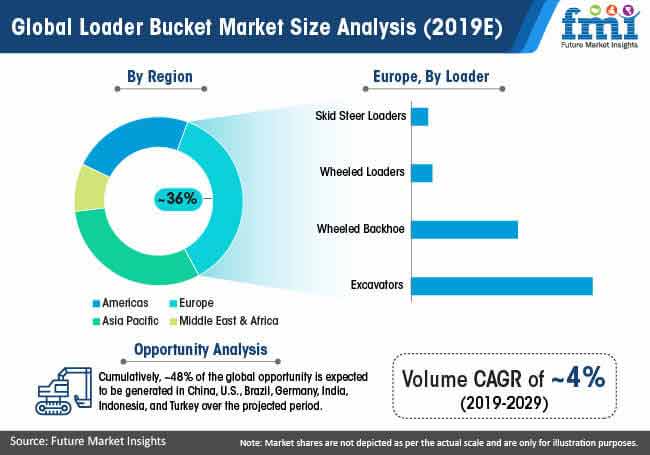 LOADER BUCKET MARKET: STRUCTURE ANALYSIS
The global loader bucket market landscape is fairly consolidated by multi-billion dollar players.
Primary trends identified among loader bucket manufacturers are focus on aftersales services, low lifecycle cost-oriented product offerings, and expansion of footprint in developing countries.

In 2018, Wacker Neuson Group opened a new production plant and R&D centre for loader buckets at Pinghu, near Shanghai. The company has been distributing construction equipment in China for the past 2 decades and has established a robust sales and service network over these decades.

Major players in the loader bucket market are Komatsu Ltd., Liebherr, Volvo AB, Caterpillar Inc., Doosan Corporation, Deere & Company, J C Bamford Excavators Ltd., Wacker Neuson Group, and Takeuchi Mfg. Co, Ltd., ESCO Group LLC, Kenco Corporation, and VTN Europe S.p.A, among others
Demand Upswing in Construction Sector
With upsurge in infrastructural and construction projects, material handling equipment, including loader buckets, are garnering significant traction for carrying construction aggregates as well as transport them to desired places efficiently. Construction sector is portraying a vital role in contributing to economic development of a majority of countries. Prominent construction companies registered collective revenue of ~US$ 1.4 Tn last year, majority of which are situated in China and Europe.
FMI finds that sales of construction equipment recorded ~1 Mn units globally in previous year, and is progressing at a dexterous pace. Whilst the worldwide construction industry is projected to surpass US$24 Tn by 2021 end, with China, India, Russia, and Turkey exhibiting double-digit growth. Such promising prospects in construction demesne accents worthwhile sales of loader buckets in the near future.
Europe Preeminent, APAC Catches Up
Europe remains at driver's seat in global loader bucket market, outreaching US$ 1.7 Bn by the end of forecast period. The shift from landfills to waste to energy plants represents noteworthy transmutation in waste management. The APAC (Asia Pacific) loader bucket market is expected to showcase fastest growth, majorly attributed to surging infrastructure activities in China, and India.
Under its ongoing five-year plan, China is heavily investing in infrastructure projects, such as housing developments and renovation. India, under its "100 Smart Cities Mission", is undergoing massive infrastructure upgradation.
Manufactures Bank on Industrial Automation for Optimized Workplaces
With industrial automation continues to take industry by storm, manufacturers of loader buckets are walking an extra mile to minimize on-site mishaps. They are focusing on development of automatic loader buckets. Volvo Construction Equipment is planning to develop remote-controlled wheel loaders based on Sweden's 5G network for industrial purpose in Eskilstuna. The new-age wheel loaders are pre-programmed for their deployment without compromising the flexibility factor.
How Growth will Unfold
As heavy material handling must comply to the safety and reliability parameters, excavators are gathering traction at a rapid pace. Excavators continue to remain at forefront with almost half a share of loader bucket market throughout the projected period.
On the other side, more affordable variants such as compact construction equipment, including skid steer loaders, wheeled loaders, and mini excavators, are emerging as a game-changer in loader bucket market as they find application in small commercial and residential locations. Adoption rate of skid steer loaders (SSL) and wheeled loaders is faster versus their counterparts.
World's Most Profilic Intelligence Engine
Get Access To The World's Largest Market Research Database.
Sign Up Now
LOADER BUCKET MARKET TAXONOMY
The global loader bucket market is segmented into capacity, bucket type, loader type, application, fit type, end use, and region.
Capacity
Below 1 yd3
Between 1 yd3 to 5 yd3
Above 5 yd3
Bucket
General Purpose Buckets
Light Material Buckets
Heavy Duty Buckets
Multi-purpose Buckets
Loader
Excavators
Wheeled Backhoes
Wheeled Loaders
Skid Steer Loaders
Others
Application
Rock
Woodchip
Coal
Sand & Gravel
Waste Handling
High Dump
Fit Type
End Use
Construction
Mining
Waste Management & Recycling
Region
North America
Latin America
Europe
East Asia
South Asia
Oceania
Middle East & Africa
Need specific information?
Our Clients