Low Density Polyethylene Market (LDPE) - Key Research Findings
The global low density polyethylene (LDPE) market was valued at ~US$ 36 Bn in 2019.
LDPE market value is anticipated to grow at a CAGR of ~5% during the forecast period of 2019-2029.
APEJ is projected to be a high-potential regional market for manufacturers of low density polyethylene through

The market in Asia Pacific excluding Japan (APEJ) is predicted to be highly profitable for low density polyethylene manufacturers, owing to the increasing demand for low density polyethylene (LDPE) in end-use applications, such as films, sheets, and coatings for various industries.
Some examples include edible products and frozen foods, liquid packaging, agriculture, power cables, etc. LDPE is one of the major materials used in packaging.
The global packaging industry is expected to account for ~US$ 950 Bn by the end of 2020. This growth in the packaging industry is fueling the growth of the overall low density polyethylene (LDPE) market.
Moreover, as the population of the APEJ region is increasing rapidly, the region is expected to create higher demand for packaged foods which, in turn, will drive the growth of the LDPE market of the APEJ region.

The film & sheets segment of the low density polyethylene market is expected to remain the most preferred application type segment in the LDPE market.
The tubular technology segment is expected to have a high growth rate as compared to the autoclave technology segment.
Key Factors Shaping the Low Density Polyethylene (LDPE) Market
Urbanization and Expansion of Construction Industry
Currently, 55% of the world population lived in urban areas. This share is projected to expand to 66% by the year 2050 as per United Nations DESA. Urbanization is increasing rapidly all over the world, which is subsequently expected to fuel the demand for low density polyethylene in the near future. Owing to growing urbanization, the construction industry is expected to augment.
Moreover, low density polyethylene has several applications in the construction industry, both direct and indirect, which will substantially influence its demand. The global construction industry value is expected to increase to around US$ 15 Tn by 2025. This is expected to create significant growth potential in terms of consumption of low density polyethylene, worldwide, during the forecast period.
Improved LDPE Manufacturing Technologies
Prominent manufacturers of low density polyethylene are focusing on improvements in manufacturing technology of LDPE. Technological advancements in quality of product grades, lower production costs, and environmental impact of the product are driving the global players to optimize their production processes. Due to product optimization, newer grades of LDPE are coming into picture, which are not only cost effective but also easy to process.
For instance, the pyrotechnical safety system, proprietarily designed by Versalis, the chemical company of Eni S.p.A., reduces the probability of aerial explosion in case of ethylene decomposition.
Clean Tubular Reactor (CTR) Technology developed by SABIC offers options to produce extrusion coating grade LDPE, which is more suitable to autoclave reactors, which have higher installation as well as production costs.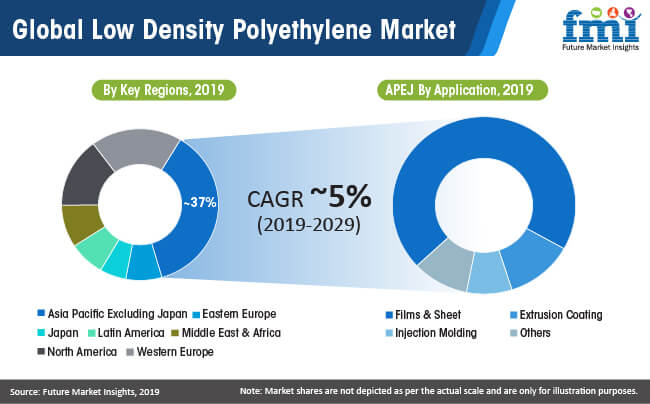 Low Density Polyethylene Market Structure Analysis
The global low density polyethylene market is a highly consolidated market.
Manufacturers operating in the low density polyethylene market are focusing on expansion of business through mergers, acquisitions, and joint ventures.
Key market players also focus on strategies, such as adoption of new technologies to develop innovative products, and further enlargement of distribution channels, which will help increase sales of low density polyethylene.

In 2018, LyondellBasell Industries N.V acquired A. Schulman, Inc in order to develop Advanced Polymer Solutions (APS) such as engineered plastics, polypropylene compounds, masterbatches, colours and powders, engineered composites, and advanced polymers, which include Catalloy and polybutene-1.
In May 2015, Formosa Plastics Corp USA has adopted process technologies that is set to be used in polyethylene (PE) and polypropylene (PP) new plants in US.
Key Segment
By Technology
By Application
Film & Sheets
Extrusion Coating
Injection Moulding
Others
By Region
North America
Latin America
Western Europe
Eastern Europe
APEJ
Japan
Middle East and Africa (MEA)
Need specific information?