Milk Tank Cooling System Market By Application (Milk Farm, Milk Processing Plants), Capacity (Less than 1000 Lt, 1000 - 5000 Lt, 5000 - 10000 Lt, More than 10000 Lt) & Region – Forecast 2019 - 2029
Milk Tank Cooling System Market - Analysis, Outlook, Growth, Trends, Forecasts
January 2020

REP-GB-8018

245 pages
1000 - 5000 Lt Tanks to Stay in Demand
Milk cooling tanks of 1000 - 5000 Lt are witnessing high demand as compared to other capacity ranges, and will continue to account for 1/3rd of the revenue share. As the global dairy industry is split into commercial and private enterprises that range in size, milk tank cooling system market players are focusing on increasing production of milk cooling tanks of less than 1000 Lt to capitalize on small farms.
Given consideration to growing reliance of large-scale commercial dairy farms on highly efficient cooling of milk in tanks integrated with modern technologies, manufacturers are investing in product innovation.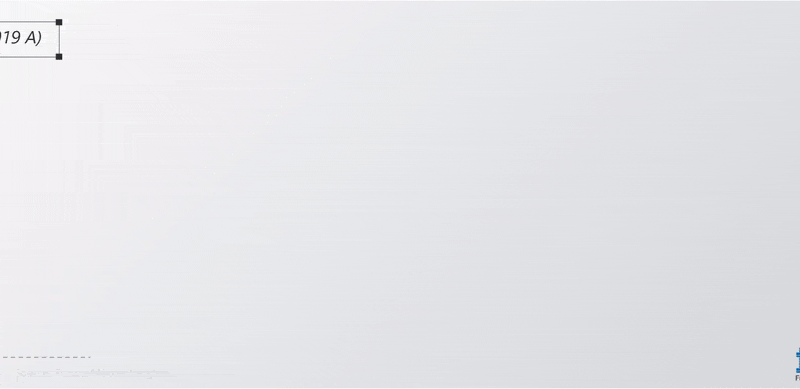 Milk Tank Cooling System Market South Asia to Lead the Second Wave of Growth
In the first wave, Europe remains in the vanguard with 37% revenue share, owing to strong presence of milk tank cooling system market players and growing government investments in dairy industry to reconcile the needs for farmers and consumers demand for high-quality yet affordable products.
However, high growth opportunities are expected in South Asia with emergence of developing countries, especially India, as the world's leading milk producer. Favorable milk collection schemes in the region, allowing regular flow of cash and income from both urban and rural areas, along with relatively low operating and labors costs are attracting key players to establish their manufacturing plants in South Asia.
Synergy of Modern Technologies and Low GWP Refrigerants - Key Growth Influencer
Strong global focus on sustainability and energy-efficiency is resulting in tectonic shifts across industries. With numerous regulations in place requiring the phase down of HFC refrigerants, key players in the milk tank cooling system market are gradually shifting towards low GWP (global warming potential) refrigerants.
These manufacturers are further leveraging modern technologies to provide energy efficient, sustainable, and smart components of milk tank cooling systems that not only meet labor shortage challenges but also bring milk cooling costs down. Emergence of smart sensors to monitor the milk cooling system and provide real-time information about the status of the tank to farmers will remain instrumental to milk tank cooling system market growth.
How Growth will Unfold
In current scenario, demand for milk tank cooling system is gaining a boost from exponential rise in production of milk - to sustain needs of growing populace - which requires to be cooled before and after processing to prevent from contamination. Adoption of these systems in milk farms or raw milk collection points will continue to grow on a significant pace, contributing around 87% of the total market share.
Increasing scope of application in milk transportation, as collection points are often located in remote areas, is working in favor of market players. However, adoption in milk processing plants will remain relatively low, thereby resulting in declining milk tank cooling system market share.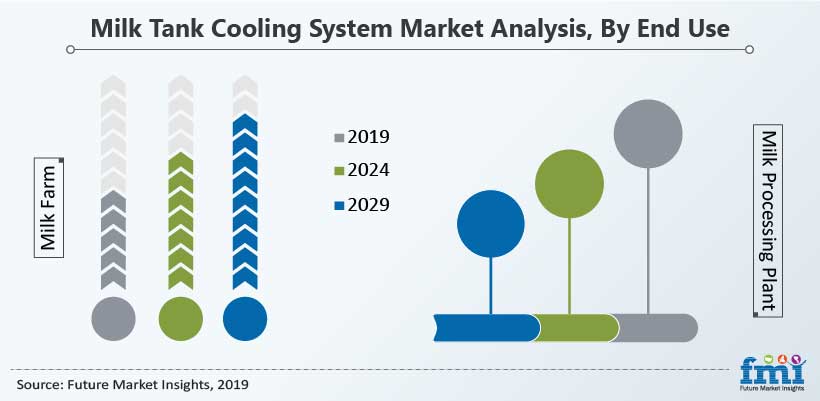 Frequently Asked Questions About Milk Tank Cooling System Market
What is the global milk tank cooling system market value?
The global market for milk tank cooling systems was worth US$ 583 Bn in 2018. Increasing exports and inter-country transfer of milk coupled with variation in temperature conditions in different countries are catering to the growth of the milk tank cooling systems market.
Which type of cooling tank is poised to gain significance in the market?
In terms of capacity, 1000-5000 Lt tank is considered the most suitable and reliable type of milk tank cooling systems. Closed tanks are gaining huge prominence in the milk tank cooling systems market, as they help maintain milk quality and temperature.
Which key industry is accelerating the demand for milk tank cooling systems?
Milk farm industry currently holds a major revenue share of around 86% and this trend will continue over the forecast period. Milk farm application is witnessing exponential growth as compared to the milk processing plant industry. This growth is highly driven by the development of the downstream dairy market.
Which region is expected to lead global sales of milk tank cooling systems?
Europe remains at the forefront of the global milk tank cooling systems, with sales projected to grow at a moderate CAGR during the predefined timeframe. On the other hand, the sales of milk tank cooling systems in South Asia are most likely to witness above-average growth through 2029.
World's Most Profilic Intelligence Engine
Get Access To The World's Largest Market Research Database.
Sign Up Now
Milk Tank Cooling System Market Taxonomy
The global Milk Tank Cooling System market is segmented in detail to cover every aspect of the market and present complete market intelligence to the reader.
Application
Milk Farm
Milk Processing Plants
Configuration
Capacity
Less than 1000 Lt
1000 - 5000 Lt
5000 - 10000 Lt
More than 10000 Lt
Region
North America
Latin America
Europe
South Asia
East Asia
Oceania
Middle East & Africa
Need specific information?
Our Clients