KEY GROWTH INFLUENCERS - MOTORCYCLE SUSPENSION SYSTEM MARKET
Higher Fuel Efficiency of Motorcycles
Owing to their higher fuel efficiency than four-wheelers and increasing prices of gasoline, sales of motorcycles and scooters are increasing at a considerable pace. Majority of the population prefers motorcycles over cars owing to ease of travel in growing traffic congestion. Also, these can be operated at a significantly lower budget. This is the key factor accelerating the growth of the conventional motorcycles and scooters segment.
High cost of natural gas and gasoline is pushing consumers to opt for two wheelers instead of four wheelers. Moreover, ten years back, there was only one motorcycle for every 10 cars on the road. This number has grown to nearly three motorcycles for every ten cars. This, in turn, may positively impact the global motorcycle suspension system market during the forecast period.
Poor Road Infrastructure Driving Aftermarket
The operational lives of any automotive suspension systems depend on the driving or operating condition of vehicles. In good road conditions, suspension systems exhibit an operational lifespan of four to seven years. However, regular periodic maintenance is required such as replacement of oil and rubber seal changes. On the other hand, due to bad road conditions, the total operational life of shock absorbers drops and periodic maintenance is required, which, in turn, supports the aftermarket segment in the global market.
As per report by World Economic Forum, road conditions in South Asian, African and Latin American countries is poor; therefore, in these nations, the opportunities for the aftermarket segment are projected to be medium to high in the global motorcycle suspension system market.
Rising Popularity of Cocooning Trend
According to the Motorcycle Development Program Participants Association (MDPPA), the sales of motorcycles are estimated to witness high growth in the coming years owing to rising popularity of the cocooning trend. Activities, such as working, relaxing, and entertaining, are being preferred over outdoor activities by most people. This trend is being observed particularly in the millennials. The largest segment considered in the cocooning trend is online shopping, as it is gaining traction, particularly among youngsters.
To deliver products to customers efficiently, delivery service operators are opting for motorcycles and scooters instead of four wheelers owing to certain benefits of motorcycles over automobiles. This, in turn, is estimated to propel the demand for motorcycles as a means of affordable and faster mode of delivery transport.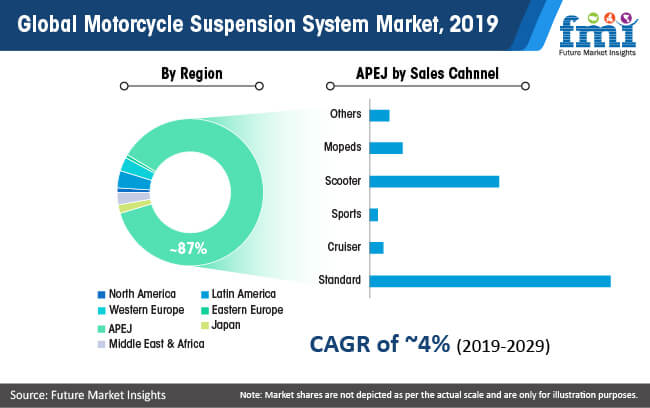 MOTORCYCLE SUSPENSION SYSTEM MARKET STRUCTURE ANALYSIS
The global motorcycle suspension system market is a fairly consolidated market, where majority of the key players are strategically focused on establishing new sales facilities in Europe and Asia with the aim of expanding their businesses.
Manufacturers are expanding their product portfolio to cater to all types of vehicles to enhance their presence in the competitive automotive industry.
Many market players are utilizing high tension raw materials to manufacture motorcycle shock absorbers with an aim to improve ride quality and fuel economy.
Motorcycle Suspension System Market: Segmentation
The global motorcycle suspension system market is segmented in detail to cover every aspect of the market and present complete market intelligence to the reader.
Product
Front Suspension
Rear Suspension

Dual Shocks
Mono Shocks
Others
Sales Channel
Technology
Passive
Active/Semi-active
Motorcycle
Standard
Cruiser
Sports
Scooter
Mopeds
Others
Region
North America
Latin America
Western Europe
Eastern Europe
Asia Pacific Excl. Japan
Japan
Middle East & Africa
Need specific information?