An Incisive, In-depth Analysis on the Neuroendocrine Carcinoma Market
This study offers a comprehensive, 360 degree analysis on the Neuroendocrine Carcinoma market, bringing to fore insights that can help stakeholders identify the opportunities as well as challenges. It tracks the global Neuroendocrine Carcinoma market across key regions, and offers in-depth commentary and accurate quantitative insights. The study also includes incisive competitive landscape analysis, and provides key recommendations to market players on winning imperatives and successful strategies.
Rapid pace of cancer research and continuous product approvals for neuroendocrine tumours is expected to drive the growth of global neuroendocrine carcinoma market
The global neuroendocrine carcinoma market is anticipated to witness healthy growth throughout the period of forecast. The emergence of cancer led to an increase in the research activities for cancer which resulted in the development of carious therapeutic solutions with a view to treat cancer. This market report deals with various treatment types used in curing cancer and has been witnessing a positive growth path since past several years. The global neuroendocrine carcinoma market is projected to grow at a robust CAGR of 7.7% during the assessment period to reflect a 2x increase in revenue growth from 2017 till 2027. By the end of the assessment year (2027), the global neuroendocrine carcinoma market is estimated to reach a value of about US$ 2.5 Bn from an estimation of US$ 1.5 Bn in 2017. The global market has gained high steam since 2012 and developments in this market have been significantly improved ever since.
Opportunities grow strong for somatostatin analogs
The somatostatin analogs segment by treatment type is expected to witness high traction in the coming years. The use of somatostatin analogs in treating neuroendocrine cancer has experienced a significant growth with respect to market share since the 2012-2016 period. In 2017, this segment reflected an estimation of US$ 728.3 which is higher than any other segment or sub segment in the treatment type category. This trend is likely to continue over the coming years, thus making somatostatin analogs segment to reflect a high market share and valuation by 2027 end. This segment is likely to dominate the global market with a high estimation of around US$ 1.5 Bn by the end of the assessment period.
Both tyrosine kinase inhibitor and mTOR inhibitor to potentially contribute to the growth of targeted therapy
The targeted therapy segment is also expected to show high potential owing to high adoption. This segment is the second largest in terms of value and is projected to be the fastest growing segment to register a higher CAGR of 8.0% throughout the period of assessment 2017-2027. The targeted therapy segment is further segmented by tyrosine kinase inhibitor and mTOR inhibitor. The tyrosine kinase inhibitor sub segment is estimated to reflect a higher market share than the latter and is likely to lead the market highly contributing to the growth of the targeted therapy segment. On the other hand, the mTOR inhibitor sub segment is expected to gain higher pace in the coming years. During the 2017-2027 timeline this sub segment is projected to reach a high 8.5% CAGR to further push the growth of the targeted therapy segment in the years to come.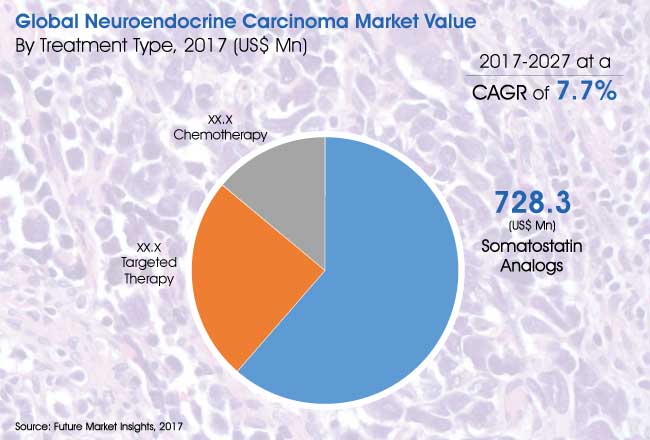 Chemotherapy to show a robust growth rate yet enjoys little market share
Chemotherapy segment, another treatment type dealing with neuroendocrine carcinoma, is expected to grow at robust growth rate throughout the period of assessment. This segment however, reflects less market value and is estimated to reach a valuation of about US$ 344 Mn by the end of the forecasted year growing at a noteworthy CAGR of 7.6%. The growth of the chemotherapy segment is significantly pushed by antimetabolites, alkylating agents and natural products sub segments. Of these, antimetabolites sub segment is expected to be highly lucrative and is the largest segment with respect to market value. The natural products sub segment is poised to grow at a comparatively higher CAGR of 7.8% throughout the period of forecast, 2017-2027.
Future Market Insights has revealed various facts on the neuroendocrine carcinoma market in its recently published research report titled "Neuroendocrine Carcinoma Market: Global Industry Analysis (2012-2016) and Opportunity Assessment (2017-2027)". This research study is filled with incisive market insights and essential acumen and reflects various factors that have contributed to the growth of the global market. Along with the past market scenario, a glimpse of the future of the neuroendocrine carcinoma market is also portrayed. The forecast analysis is for five years, from 2017 to 2022. This can assist the reader in slating important strategies based on present market conditions to achieve expansion in the coming future.
A 3600 view of the entire market
Research study on neuroendocrine carcinoma market puts forth a global 3600 perspective. Main geographies across the entire globe are assessed and the trends, developments, opportunities, drivers and challenges in each region and sub region that have an influence over the growth of the market in the respective region are studied to get a clear picture of the global endocrine carcinoma market. Revenue pockets can be derived with such kind of intense market intelligence which is unbiased in nature and purely market centric thus portraying a global perspective in front of the reader.
Unparalleled research methodology for a unique research study
Future Market Insights follows a one of a kind research methodology to glean vital and relevant market insights. This research process ensures delivery of statistical data without errors, thus maximizing the accuracy of the research report. Secondary research in combination with primary research gives a clear market understanding based on which key players, market observers and opinion leaders are interviewed to check the reliability of the data and to add other facets of the market. The uniqueness of this research process is the revalidation and re-evaluation of the data that takes place at each step during each interview and is continued till the conclusion of the market research. Based on these vital acumen, key analysis can be drawn and recommendations from domain experts are included in this intelligence report. The multiple cross checking of the data ensures a highly accurate market scenario which can be directly used by the reader to chalk informed decisions.
Market Segmentation
The global research report on neuroendocrine carcinoma market includes an in-depth analysis on each segment of the entire market. The market segmentation covers disease indication type, end user, treatment type and region.
By Disease Indication Type

By Treatment Type

By End User

By Region

Gastric Neuroendocrine Tumours

Lung Neuroendocrine Tumours

Pancreatic Neuroendocrine Tumours

Appendiceal Neuroendocrine Tumors

Somatostatin Analogs

Targeted Therapy

Tyrosine Kinase Inhibitors

mTOR Inhibitors

Chemotherapy

Antimetabolites

Alkylating Agents

Natural Products

Hospital

Clinics

Oncology Centres

Ambulatory Surgery Centres

North America

Western Europe

Eastern Europe

Asia Pacific excluding Japan (APEJ)

Japan

Latin America

Middle East & Africa (MEA)
The research report on global neuroendocrine carcinoma market covers analysis on key companies dealing with neuroendocrine carcinoma. Various aspects such as SWOT analysis, key developments, innovations, product portfolio, financials and company overview are included in this section of the report. The reader can gain intelligence on the major players that have a good hold in the market, based on which new strategies can be devised to gain an edge on the competition. The weighted market analysis on global neuroendocrine carcinoma market delivers value to the reader by providing drinkable insights, ready to use statistical analysis and recommendations without biasness in order to plan future expansion strategies and also to gain stability in the changing dynamics of the global market.
Neuroendocrine Carcinoma Market Reports - Table of Contents
Harish Tiwari
Global Head - Business Development
CASE STUDIES
See how our work makes an impact.
At FMI, we design strategies that are adaptive, impactful, and implementable.