Oligonucleotide API Market Outlook & Key Findings
Oligonucleotide API market is expected to reach ~US$ 3 Bn in 2020
Antisense oligonucleotide (ASO) therapeutics to be a key growth driver
North America holds more than 2/5th of revenue share and is projected to register a CAGR of 9% through 2030
Demand for personalized medicines will influence manufacturer's strategies
Antisense Oligonucleotides API: The Torchbearer
Oligonucleotides' production has been all about isolating API through lyophilization to have a solid product. Aqueous formulation is formed thereafter on its dissolution.
However, in the present-day context, API production does not necessarily involve isolating solid API prior to formulation of drug products. The EPOC (European Pharma Oligonucleotide Consortium) has collaborated with several pharma companies with the objective of sharing CMC (chemistry, manufacturing, and control) strategies for enabling harmonization of commercialization and development of oligonucleotide.
The "antisense" class of oligonucleotides has gained momentum. They got approved for commercial use in the year 2016. They include Spinraza, Tegsedi, and Waylivra.
The advantage of these solution APIs (as compared to powder APIs) is that they excessively focus on microbial control. Moreover, due to elimination of compounding and dissolution steps, greater efficiency is ensured.
This is evident from the fact that "antisense" oligonucleotides APIs account for close to 75% of market share and are expected to witness a CAGR of 10% between 2020 and 2030 as per FMI. The antisense oligonucleotides API targets COPD (Chronic Obstructive Pulmonary Disease) and asthma.
Oligonucleotide API Manufacturers in Expansion Mode
The oligonucleotide API market players are into the "expansion" mode to extend the line of treatment to the other chronic diseases apart from respiratory disorders. This expansion has been, and is likely to drive the market in the forecast period as well.
For instance –
In Jan 2020, STA Pharmaceutical Co., Ltd., - a subsidiary to WuXi AppTec, announced opening of its huge oligonucleotide API manufacturing facility in Changzhou (China) to set up a one-stop platform for supporting oligonucleotide APIs production from start to finish, i.e. from preclinical to commercial.
In 2019, Akcea Therapeutics sought the permission to conditionally market Waylivra (volanesorsen sodium) from the European Commissions. Waylivra is an adjunct for patients with familial chylomicronaemia syndrome and high risk of pancreatitis.
In Apr 2019, CDMO Ajinomoto Bio-Pharma opened up a 21,500 sq. ft. plant in Japan for addressing the growing demand for oligonucleotide.
In Jul 2017, Nitto Denko Avecia, a leading manufacturer of oligonucleotide APIs, announced opening of a novel oligonucleotide API manufacturing facility at Milford, MA.
In Nov 2017, GE Healthcare Life Sciences entered into a strategic partnership with Guangzhou RiboBio Co., Ltd. At the 5th CNAF (Canton Nucleic Acids Forum), so as to jointly come up with Asia's biggest oligonucleotide manufacturing facility and drug development in China.
Oligonucleotide API Market Trends
The growing incidences of cancer (as per the International Agency for Research on Cancer, the year 2018 alone witnessed 17 Mn new cases of cancer), the demand for new diagnostics is likely to witness and upswing. Oligonucleotide APIs make way for an entirely novel class of nucleic acid probes called "aptamers", which are proving to be much better than monoclonal antibodies.
Besides, neurodegenerative disorders are asking for personalized medicines. This trend is also expected to influence the oligonucleotide API market in the forecast period.
The geriatric population is at a greater risk of degenerated nerves. One of the commonly occurring neurodegenerative disorders is "Alzheimer's disease". Conventional medicines have their limitations on this part. So, extensive research is being conducted regarding usage of oligonucleotide APIs herein.
For instance – LMTX, an anti-tau compound, is reported of having potential to enhance cognitive abilities of the ones affected with Alzheimer's. The molecule was administered on mice, wherein it produced tau protein that worked as an inhibitor to tau protein aggregation, which ultimately delayed Alzheimer's disease's progression in mice. Insights like these are bound to compel healthcare professionals to try oligonucleotide APIs for the other chronic ailments as well.
Covid-19 Impact on Oligonucleotide Market
The outbreak of Covid-19 has temporarily stalled the oligonucleotide API market as the production has slowed down owing to partial/total lockdown worldwide. However, the market is expected to bounce back after subsequent two quarters. By then, players are likely to invest more in oligonucleotide APIs to look for long-term solution to pandemics like these.
Oligonucleotide API market: Regional Analysis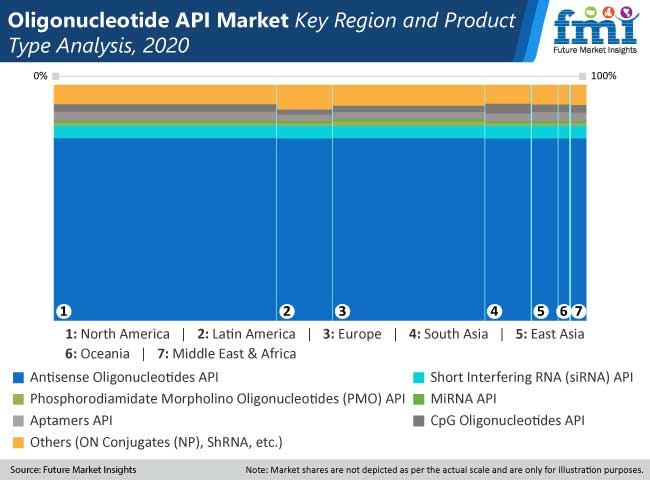 As per the US FDA's Center for Drug Evaluation and Research, close to 28% of manufacturing facilities pertaining to APIs for the US market are US-based. 13% are China-based and the rest 59% are based in the other parts of the world.
As such, it could be inferred that North America holds the largest share of oligonucleotide API market. The other attributes include strong foothold on the part of drug discovery, diagnostic screening, oncology, protemics, and genomics.
Europe comes in second with extensive research being carried out with regards to use of oligonucleotide APIs in treating diseases related to ageing, as Europe is home to majority of geriatric population. Asian countries like China and Japan are the promising markets owing to huge investments in life science-related programs.
Antisense oligonucleotide APIs are sought-after, followed by SiRNA (Short Interfering RNA). Aptamers are expected to catch up in the forecast period after treatment of neurological disorders being tried by oligonucleotide APIs.
Oligonucleotide API: Key Players
The top 5 players in oligonucleotide API market include Sarepta Therapeutics, Akcea Therapeutics, Jazz Pharmaceuticals, Inc., Biogen, and Dynavax Technologies. The players are focusing on enhancing their regional and global presence in the enterprise solutions through inorganic growth strategies. At the same time, new product launches have been on the anvil.
For instance –
Biogen, Inc., in May 2019, put forth interim results of phase I/II study with respect to tofersen for treating ALS (amyotrophic lateral sclerosis). Tofersen is an antisense oligonucleotide (ASO).
Dynavax, in the year 2017, launched Heplisav-B at the commercial level. It is a 1-month, 2-dose adult Hepatitis B vaccine.
In 2017, GE's Dharmacon business partnered with CordenPharma International for creating end-to-end oligonucleotide APIs-based drugs.
Oligonucleotide API market: The Way Forward
The research report on "Oligonucleotide API" by FMI states that the market would be witnessing traction in the forecast period (2020-2030) owing to usage of oligonucleotide APIs being tried for treating neurological as well as cardiovascular ailments.
Though Covid-19 has negatively impacted the production for the time being, the market will pick up pace in the upcoming months. The market players will have to invest more on strategic mergers, acquisitions, and joint ventures to come up with innovative products to cater to wider geographies and also have a competitive edge over their counterparts.
The research report on Oligonucleotide API market provides a recommendation, overview of market, and estimation of market growth over the next decade. Increasing research on gene therapy and favorable reimbursement scenario are responsible for growth of the market at an impressive rate, with North America and Europe holding substantial share of the global Oligonucleotide API market.
Strategic mergers and new product launches by key market players are expected to drive the Oligonucleotide API market growth. Organizations with innovative work capabilities and technological ability will be in place to sustain a position in Oligonucleotide API market.
Oligonucleotide API Market: Segmentation
API Type
Antisense Oligonucleotides API
Short Interfering RNA (siRNA) API
Phosphorodiamidate Morpholino Oligonucleotides (PMO) API
MiRNA API
Aptamers API
CpG Oligonucleotides API
Others (ON Conjugates (NP), ShRNA, etc.)
Marketing Status
Marketed
Clinical Trials (Clinical Phases)
End User
Contract Manufacturing Organizations (CMOs)
Pharmaceutical Companies
Biopharmaceutical Companies
Contract Development & Manufacturing Organizations (CDMOs)
Region
North America
Latin America
Europe
East Asia
South Asia
Oceania
MEA
Need specific information?
Talk Show:
The Rise of Intelligent Packaging
Personalized, Connected and Sustainable
November 18, 2021
11:00-11:45 AM PST (USA & Canada)
This is a LIVE session