Ophthalmic Diagnostic Equipment Market By Product Type (Fundus Cameras, Retinal Ultrasound Imaging Systems, Refractors, Slit Lamps, Perimeters, Ophthalmoscopes), End User (Hospitals, Clinics, Ambulatory Surgical Centers) & Region - Forecast to 2020-2030
Ophthalmic Diagnostic Equipment Market - Analysis, Outlook, Growth, Trends, Forecasts
June 2020

REP-GB-771

200 pages
Introduction
Ophthalmic devices are medical devices used to identify ocular defects or deficiencies and treat eye disorders. As a result of the constant advancements in ophthalmic technology for effective treatment of eye diseases and restoration of vision, increasing number of people are opting for ophthalmic surgeries for rectifying eye-related disorders. As per the World Health Organization (WHO) 2010 estimates, there were 285 Mn visually impaired people across the globe in 2010, which included 39 Mn blind people, of whom around 80% were above the age of 50 years. Ophthalmology is the branch of medical science that deals with the anatomy, physiology and disease of the eye. There are various diagnostic equipment that are used to diagnose a wide range of ophthalmic conditions and provide vision solution. These equipment are simple to use for healthcare professionals.
Market Value and Forecast
The global ophthalmic devices market was valued at US$ 10,400 Mn in 2014. In 2014, the ophthalmic diagnostic equipment segment was valued at US$ 2,080 Mn, accounting for 20% of the global ophthalmic devices market. Revenue contribution by the ophthalmic diagnostic equipment segment to the global ophthalmic devices market is expected to increase to US$ 3,656.0 Mn by the end of 2025, expanding at a CAGR of 5.4% in terms of value during 2015–2025. Increasing prevalence of eye-related disorders, such as refractive errors, glaucoma and diabetic retinopathy, is expected to positively affect growth of the ophthalmic diagnostic equipment market across the globe in the coming years.
Market Dynamics
Currently, the ophthalmic diagnostic equipment market is driven by various factors, including aging population, technological advancements in the healthcare industry around the globe, rising incidences and prevalence of eye conditions and diseases, higher adoption of retinal implants, technological advancements in handheld devices for detecting glaucoma and macular degeneration, speedy market approvals of these devices, higher awareness about the same through education and increasing research and development activities. However, rising healthcare cost containment pressure and tax reforms, coupled with increased regulatory compliance norms, are major factors that are hampering the market growth currently.
Market Segmentation by Product
Based on the product type, the market has been segmented into nine segments, namely ophthalmoscope, slit lamps, fundus camera, perimeter, retinal ultrasound imaging system, tonometer, refractor, optical coherence tomography and corneal topography system.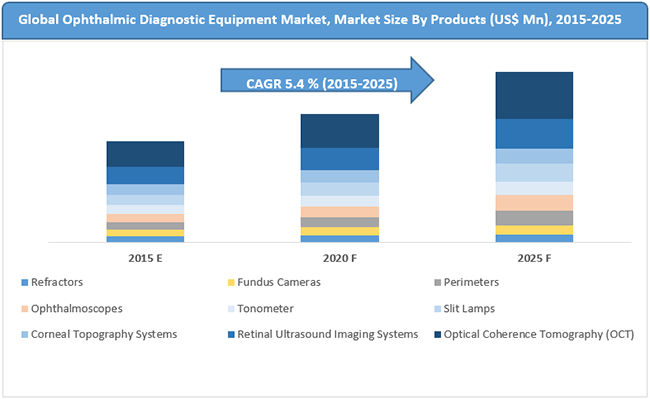 Market Segmentation by Regions
The global ophthalmic diagnostic equipment market has been segmented into seven major regions namely North America, Latin America, Eastern Europe, Western Europe, Asia Pacific Excluding Japan (APEJ), Japan and the Middle East & Africa. In terms of value, North America is estimated to dominate the market with 31.0% share of the overall ophthalmic diagnostic equipment market by 2015 end. Latin America and APEJ are estimated to be the fastest growing markets among the emerging regions, while market in Western Europe is expected to expand at a healthy CAGR during the forecast period.
Key players
Key market players covered in this report are TOPCON CORPORATION, Carl Zeiss Vision International GmbH, Ellex, Quantel Medical Inc, NIDEK CO., LTD, HAAG-STREIT GROUP, Halma plc, Coburn Technologies Inc. and Kowa Company Ltd. Major players in the ophthalmic diagnostic equipment market focus on enhancing their global and regional presence through strategic acquisitions and mergers, and operational expansion.
World's Most Profilic Intelligence Engine
Get Access To The World's Largest Market Research Database.
Sign Up Now
Key Segment
By Product Type
Fundus Cameras
Retinal Ultrasound Imaging Systems
Refractors
Slit Lamps
Perimeters
Ophthalmoscopes
Tonometer
Optical Coherence Tomography (OCT)
Corneal Topography Systems
By End User
Hospitals
Clinics
Ambulatory Surgical Centers
By Region
North America
Latin America
Europe
East Asia
South Asia
Oceania
Middle East and Africa
Need specific information?
Our Clients