About the Report
Ophthalmic eye drops are used to deliver medications locally in the ocular cavities to treat ocular conditions or regain normal eye function. The most common and easiest route of ocular drug administration, representing the treatment of choice, is topical instillation of eye drops. The prevalence and incidence and eye infections is expected to rise globally. Emergence of new pathogens, increasing number of post-operative eye infections and poor eye hygiene are likely to boost the global ophthalmic eye drops market.
In its new study, ESOMAR-certified market research and consulting firm Future Market Insights (FMI) offers insights about key factors driving the demand for ophthalmic eye drops. The report tracks the global sales of ophthalmic eye drops in 20+ high-growth markets, along with analyzing the impact COVID-19 has had on the pharmaceutical industry in general, and ophthalmic eye drops in particular.
How does Historic and Future Outlook for Ophthalmic Eye Drops Market Compare?
One of the significant types of eye infection is post-operative ocular infection. This risk of infection is associated with various ocular surgical conditions which demand eye surgeries. Rising number of ocular surgical conditions has increased the demand for post-operative ocular anti-infective therapies. Ocular surgical conditions such as cataracts, glaucoma, age-related macular degeneration (AMD) and diabetic retinopathy are growing due to aging population and sedentary lifestyle habits. This is creating a huge opportunity for the ophthalmic eye drops market.
For instance, cataracts affect more than 24.4 million Americans aged 40 and older. By age 75, approximately half of all Americans have cataracts. Also, diabetic retinopathy affects nearly 7.7 million Americans aged 40 and older.
Similarly, in the United States, there were 48,229 corneal transplants performed in 2013. Since 1961, more than 1,000,000 men, women and children ranging in age from nine days to 100+ years, have had their sight restored through a corneal transplant.
According to FMI's analysis, ophthalmic eye drops sales have grown from US$ 12.02 Bn in 2015 to US$14.17BMn in 2019.
The outbreak of COVID19 has disturbed many industries with lockdowns imposed after the outbreak. Industries and economies were affected by the mass spread of the infection, resulting in recession due to the closing down of the offices, factories and markets. As a result, the demand and supply of ophthalmic eye drops was halted, leading to a great loss to the growth of the ophthalmic eye drops market.
The global focus of research and development (R&D) shifted onto the development of the COVID-19 vaccine. As a result, the majority of the research funds and investments were channeled towards COVID-19 vaccine development. However, the ophthalmic eye drops demand is expected to grow from the current dip in the growth trend, with the reopening of the economies and markets.
FMI expects global ophthalmic eye drops demand to grow at 4.1% CAGR through 2030.
How will Initiatives in Creating Awareness Influence Ophthalmic Eye Drops Demand?
The World Health Organization (WHO) and international associations in the field of eye health are actively addressing the care for eye health and accelerating the awareness, diagnosis and treatment of several eye conditions, including eye infections.
For instance, VISION 2020 is a global initiative created by the International Agency for the Prevention of Blindness (IAPB) and the World Health Organization (WHO) in 1999 aimed at eliminating preventable or avoidable eye diseases by the year 2020. In order to reach this goal, VISION 2020 acts to facilitate the development and implementation of sustainable national eye-care programs based on three foundations: human resource development, cost-effective disease control, and infrastructure and technology, and principles of primary health care delivery.
The final objective of VISION 2020 is to integrate a sustainable, comprehensive, high-quality, and equitable eye care system into national health-care systems. In addition, in countries like India, surgeries of cataracts are mostly offered for free via various government programs in the country to the section that falls short of financial aid.
How will Technological Advancements Affect Ophthalmic Eye Drops Sales?
Eye infections can be caused by several pathogens, including bacteria, amoeba, viruses, and fungi. Bacterial and viral conjunctivitis are highly contagious and may result from a number of common agents, including adenovirus, rubella, herpes, staphylococcus aureus, measles, and streptococcus pneumoniae, among others.
Currently ~60% of patients in the U.S. are prescribed antibiotic eye drops, even though antibiotics are rarely necessary to treat common eye infections. Leading diagnostic industry players are focusing on development and commercialization of rapid point-of-care diagnostic technologies for eye infections. The rapid method is expected to boost the accurate use of anti-infective therapeutics.
For instance, AdenoPlus is a point?of?care diagnostic, a single use test for adenoviral conjunctivitis. The adenovirus serotypes contain a protein called hexon that is detected by AdenoPlus. The test takes around 10 minutes to return a result.
AdenoPlus test is a diagnostic device for acute conjunctivitis and an in vitro diagnostic medical device for which the manufacturer (Rapid Pathogen Screening) received a CE mark in June 2011. The current UK distributor is Nicox Pharma SNC. It is cheaper than the current gold standard PCR test, although PCR is not commonly used because the results are not available in time to guide first?line management.
How is Lack of Awareness Affecting Growth?
The blindness rates in wealthy countries are commonly below 0.5 percent, sometimes much lower. The rate of blindness in many poor countries exceeds 1–2 percent. Reduced acuity that can seriously impair personal functioning, including employment, is at least 6 times more common than blindness. As a result, roughly 30 million people, mostly in the poorer countries of the world, are (to a large degree unnecessarily) blind, and 200 million more are unable to participate fully in the workforce.
Cataracts account for 20 million blind people worldwide, but disproportionately, over 50% of blindness in developing countries. According to the WHO, in 2019, at least 2.2 billion people have vision impairment or blindness, of which over 1 billion cases could have been prevented or have yet to be addressed. Lack of awareness about disease diagnosis and treatment is likely to hamper the market growth.
Country-wise Insights
How Big is the Opportunity in the US?
In the U.S., the healthcare system is well known for its expenditure and advanced infrastructure. The care regime of the care centers and hospitals are covered by regulations and insurance policies. Government and regulatory bodies of the U.S. are adopting various cost-effective plans to reduce their healthcare burden.
Furthermore, due to the higher prevalence of bacterial and viral diseases, the demand for ophthalmic eye drops is increasing. Adenoviral conjunctivitis results in a large number of physician office visits in the United States and places a great financial burden on health care. It is recorded that the incidence of adenovirus infection is as high as 20 million cases per year in the United States. Nearly a million eye infections that require a trip to the doctor or hospital happen each year, many of them related to contact lens use.
The Centers for Disease Control and Prevention (CDC) reported that more than 2.8 million antibiotic-resistant infections occur in the U.S. each year. The government is putting in place prevention and infection control efforts in the U.S. to reduce the number of infections and deaths caused by antibiotic-resistant germs, but the number of people facing antibiotic resistance is still too high.
How is the Ophthalmic Eye Drops Market of Germany Flourishing?
The German healthcare system is a universal, multi-payer system that is largely funded by the government. It is one of the most successful healthcare systems in the world. It is not surprising that Germany has the highest level of spending in Europe. Furthermore, the presence of several key players, rising prevalence of eye infections, rising technological advancements, and growing R&D in the country creates a huge opportunity for the ophthalmic eye drops market to grow. The Germany ophthalmic eye drops market is expected to reach 982.6 Mn by the end of 2030.
What are the Factors Driving the India Ophthalmic Eye Drops Market?
Increasing investments in the healthcare sector in emerging countries, especially India, is anticipated to boost the demand for ocular infection therapeutics. Increasing promotional and awareness activities and improving healthcare access is expected to provide significant opportunities in the emerging regions for the ophthalmic eye drops market.
Category-wise Insights
Why do Dilation Eye Drops Dominate the Ophthalmic Eye Drops Market?
The demand for dilation eye drops is rising worldwide. Dilation eye drops are used on the majority of patients daily during surgical procedures and diagnostic examinations. They are extremely important in order to get an accurate view of the fundus and retina. Indeed, failure to perform in-depth diagnosis of the eye could cause significant harm to the patient such as failure to diagnose or delay in diagnosis, as well as surgical difficulties due to poor visibility. The dilation eye drops segment is likely to grow with a CAGR of 5.3%.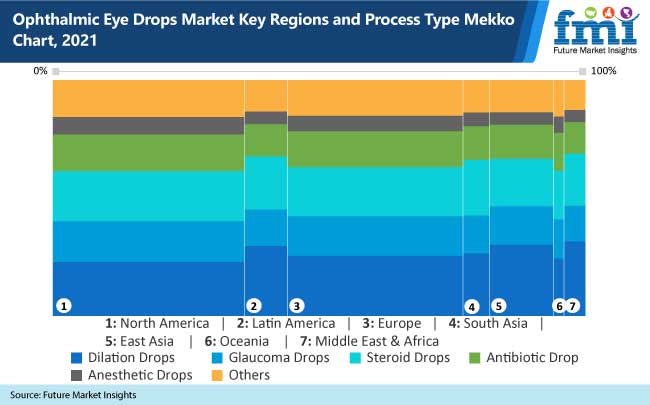 What is the Share of with Preservative in Drug Formulation?
With preservative segment dominated the ophthalmic eye drops market in revenue terms in 2020 and is projected to reach a market share of 89.2% by 2030 in the forecast period.
Why are Dry Eyes Considered Leading Indication Segment?
The rising prevalence of dry eyes condition makes it the dominant indication segment. Some experts estimated that dry eye affects millions of adults in the United States. The risk of developing dry eye increases with advancing age. Women have a higher prevalence of dry eye compared with men. Currently between 16 million and 49 million Americans have dry eyes. This is between 5-15% of the population.
Which Container Type to lead the Ophthalmic Eye Drops Market?
The adoption of multiple dose container is likely to grow, making it the leading and revenue generating container segment in the market. It is anticipated to grow at a CAGR of 3.8% during the forecast period.
What is the Revenue Share of Institutional Sales?
Institutional sales will continue to grow and dominate the ophthalmic eye drops market during the forecast period. According to FMI, the segment is expected to hold around 60.4% of the market share, in terms of distribution channel, by the end of 2030. Institutional sales hold dominance in terms of revenue owing to the higher flow of patients in hospitals, ophthalmic clinics, community clinics, and others.
Competitive Landscape
Strengthening partnerships with major distributors and long-term contracts with end users of ophthalmic eye drops are key strategies adopted by market players. A number of global players have entered into agreements and collaborations to strengthen their sales footprint, increase profitability and sustain market share as they face stiff competition from other major competitors.
Manufacturers are focusing on the development of customized products for end-use industries. They also have entered into long-term agreements with direct end-users.
Some of the leading companies operating in the ophthalmic eye drops market are:
Novartis AG
Bausch & Lomb
Akorn, Inc.
Biomedica
AdvaCare Pharma
C2 PHARMA
Kraeber GmbH
Iskon Remedies
HANSHIN GROUP
Berry Global Inc.
Nolato AB
Bormioli Pharma
WG Pro-Manufacturing Inc.
Gerresheimer AG
Adelphi Healthcare Packaging
Aptar Group Inc.
Amcor Plc.
*The list is not exhaustive, and only for representational purposes. Full competitive intelligence with SWOT analysis available in the report.
Scope of the Report
Attribute

Details

Forecast Period

2020-2030

Historical Data Available for

2015-2019

Market Analysis

USD Million for Value and Mn Units for Volume

Key Regions Covered

North America, Latin America, Europe, East Asia, South Asia, Oceania Middle East & Africa

Key Countries Covered

US, Canada, Germany, U.K., France, Italy, Spain, Russia, China, Japan, South Korea, India, Thailand, Malaysia, Indonesia, Australia, New Zealand, GCC Countries, and South Africa

Key Segments Covered

Drug Class, Indication, Drug Formulation, Container Type, Distribution Channel, and Region

Key Companies Profiled

Novartis AG,
Bausch & Lomb
Akorn, Inc.
Biomedica
AdvaCare Pharma
C2 PHARMA
Kraeber GmbH
Iskon Remedies
HANSHIN GROUP
Berry Global Inc.
Nolato AB
Bormioli Pharma
WG Pro-Manufacturing Inc.
Gerresheimer AG
Adelphi Healthcare Packaging
Aptar Group Inc.
Amcor Plc.

Report Coverage

Market Forecast, Competition Intelligence, DROT Analysis, Market Dynamics and Challenges, Strategic Growth Initiatives

Customization & Pricing
Key Questions Answered in the Report
Which is the most lucrative market for ophthalmic eye drops?

The U.S. currently leads the global market for ophthalmic eye drops. Sales in the U.S. will be around 29% of total global demand throughout the forecast period.

Which are the top-selling ophthalmic eye drops?

Dilation eye drops are dominating the drug class segment in the ophthalmic eye drops market as compared to other products owing to their high demand.

Which are some of the leading companies offering ophthalmic eye drops?

Some of the leading companies offering ophthalmic eye drops are Novartis AG, Bausch & Lomb, Akorn, Inc., Biomedica, AdvaCare Pharma, C2 PHARMA, Kraeber GmbH, Iskon Remedies, HANSHIN GROUP, Berry Global Inc., Nolato AB, Bormioli Pharma, WG Pro-Manufacturing Inc., Gerresheimer AG, Adelphi Healthcare Packaging, Aptar Group Inc., Acor Plc., and others.

Which distribution channel is driving revenue of ophthalmic eye drops?

Institutional sales is leading the distribution channel segment of the ophthalmic eye drops demand.
Ophthalmic Eye Drops Market by Category
Drug Class
Anesthetic Drops
Dilation Drops
Glaucoma Drops
Steroid Drops
Antibiotic Drops
Others (Antihistamine, Lubricants Tear Drops)
Indication
Dry Eye
Eye Allergy
Glaucoma
Eye Infection
Retinal Disorders

Macular Degeneration
Diabetic Retinopathy
Others

Uveitis
Others
Drug Formulation
With Preservative
Preservative Free
Container Type
Single Dose Container
Multiple-Dose Container
Distribution Channel
Institutional Sales

Hospitals
Community Clinics
Ophthalmic Clinics
Public Health Agencies
Veterinary Hospitals & Clinics

Retail Sales

Retail Pharmacies
Drug Stores
Region
North America
Latin America
Europe
East Asia
South Asia
Oceania
Middle East and Africa (MEA)
Need specific information?
Talk Show:
The Rise of Intelligent Packaging
Personalized, Connected and Sustainable
November 18, 2021
11:00-11:45 AM PST (USA & Canada)
This is a LIVE session