REPORT SCOPE
Base year considered - 2020
Actual estimates/Historical data - 2015 – 2020
Forecast period - 2020 – 2030
Forecast units - Value (USD) Bn
Segments covered - Origin, Form and Region
Regions covered - North America, Latin America, Europe, East Asia, South Asia, Oceania and MEA
Key Players - Cargill, Sweeteners plus, Fooding Group, Zibo Shuohui Chemical Co Ltd, Splenda, now Real Food, Truvia, Stevi0cal, and Sweet sante
Report coverage - Revenue forecast, company share, competitive landscape, growth factors, and trends
KEY RESEARCH FINDINGS
Polyols are gaining popularity as sugar replacer and are used in wide range of sugar-free diets
Polyols when used in sugar free diet also help in maintaining a good oral health
Polyol sweetener is used in foods such as cookies, marshmallows and custards. Unlike sugar, polyol sweeteners do not give the baked product a brown surface
The use of crystalline polyols such as maltitol, isomalt, and lactitol is far simpler in contrast to the liquid type
Growing preference for artificial sweeteners over sugar due to rising prevalence of health issues such as diabetes, PCOD / PCOS, and increasing focus on weight control creates growth opportunities
Industries such as pharmaceuticals, food & beverages, bakery & confectionery are expected to exhibit rising demand for polyol sweetener
KEY FACTORS SHAPING GROWTH
Polyol Sweeteners to Become Highly Popular as Sugar Replacer
Polyols are used as sugar replacers in a wide range of sugar free diets, which is a chief driver enabling growth in the global market. Because polyols are a group of reduced calorie sweeteners they are increasingly used in candies, chewing gums, ice creams and baked goods. Rising application of polyols will result in higher market growth.
Awareness Regarding Health Benefits they Offer will Push Demand for Polyols
Polyols are a group of low digestible carbohydrates. While they have a structure similar to sugar, they come with unique functional benefits. It is of particular importance that polyols do not promote tooth decay. Besides the sweet taste and various functional properties, polyols also offer a range of health benefits. For example they do not cause increase in blood sugar levels.
As a result of the rising demand for healthier food and sugar free diet, polyol sweeteners are likely to be in high demand in the coming years.
STRUCTURE ANALYSIS
Key participants in the market are Cargill, Archer Daniels Midland Company, E.I. Du Point De Nemours and Company, Batory Foods, Roquette Frères S.A., Ingredion Incorporated, Tereos Starch & Sweeteners, and Südzucker AG. Consumers have been more concerned with the food they consume, owing to the recent coronavirus outbreak. Their desire to eat and live healthily would improve sales in the overall industry.
Demand for Polyol Sweeteners in Powder Form to Remain High
Sweeteners are used as primary bodying agent in syrups, pills, and elixirs. They act as good plasticizers and humectants; this makes them useful in ointments, emulsion ointments and gelatine capsules that are not soluble in fats.
The excellent capacity for spreading makes them useful in creams, ointments and pastes. Polyol sweeteners are a substitute for sucrose syrup use of polyol sweeteners in counter-medicinal products greatly decreases the risk of dental decay.
Similarly, based on form the global polyol sweeteners market can be segmented into liquid and powder. Of these, the demand for polyol sweeteners in liquid form is expected to remain high through the forecast period. It is also expected to remain dominant in the market.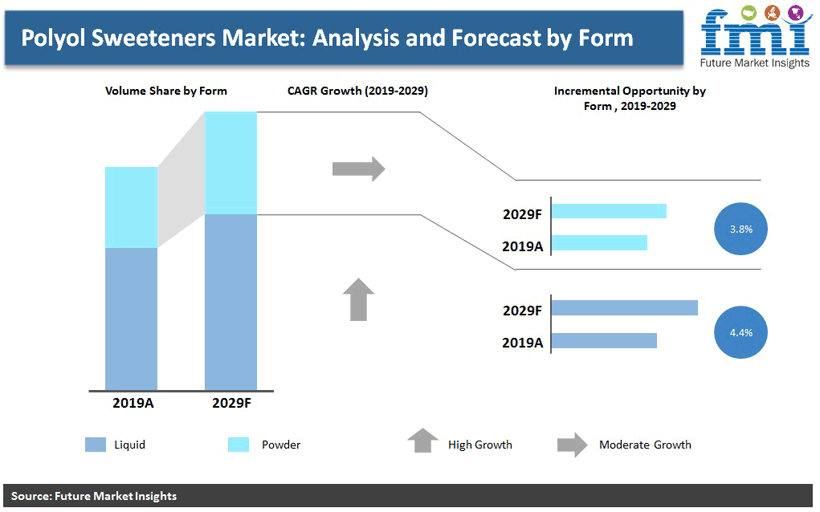 Asia-Pacific to Dominate the Polyol Sweeteners Market
Asia Pacific is forecast to emerge as a highly lucrative market for polyol. The rising demand from countries such as China, Japan, India, Australia and the Rest of Asia Pacific is likely to enable growth in the market.
It is also expected to exhibit a higher rate of growth compared to other regions. The increase in health problems caused by consumption of sugar-based products and the rise in purchasing power besides increasing applications such as oral care and pharmaceuticals will support expansion of the market in Asia Pacific.
In North America the market will gain from the prevalence of high degree of health awareness. The higher incidence of diabetes would also encourage industries to use polyol sweeteners. As per Future Market Insights, North America currently holds dominance in the global market.
Rising Demand for Packaged Food is Driving Market Growth
The demand for polyol sweeteners is expected to rise as consumers become more conscious about their health and wellness. Therefore polyols with approximately half the calories provided can be used in the same volume as sugar. They are considered customer friendly because they do not cause the blood glucose levels to rise unexpectedly and are therefore a blessing for diabetic patients.
Polyols also do not encourage tooth decay because since they are not readily converted into acids by bacteria in the mouth, which is why the FDA has accepted a safety argument that foods sweetened with Polyols 'do not encourage tooth decay .''
Compared with other chemical sweeteners they were considered to be poor in carcinogenicity and diabetes. As a result of aforementioned factors, the demand for polyol sweeteners is expected to rise in the processed food market. Due to changing lifestyle, the demand for processed food will rise, invariably causing sales uptick for polyol sweeteners.
How Growth will Unfold
The global demand for polyol sweeteners is driven primarily by increasing use of sugar substitutes in food processing, increasing inclination toward healthier diets, natural food & low-calorie consumption, and increasing use of natural ingredients in nutraceuticals, pharmaceuticals, and cosmeceuticals.
In addition, the rising trend in health & wellness, health literacy, evolving lifestyle and the increasing prevalence of various diseases provide significant opportunities in this market.
As a result of better awareness, consumers are more likely to spend on food that offers better health benefits without compromising on the taste. For instance, North America witnesses a high prevalence of diabetes and obesity.
As a result of this, consumers in this region are more likely to spend on healthier ingredients. This makes North America a lucrative market for polyol sweeteners.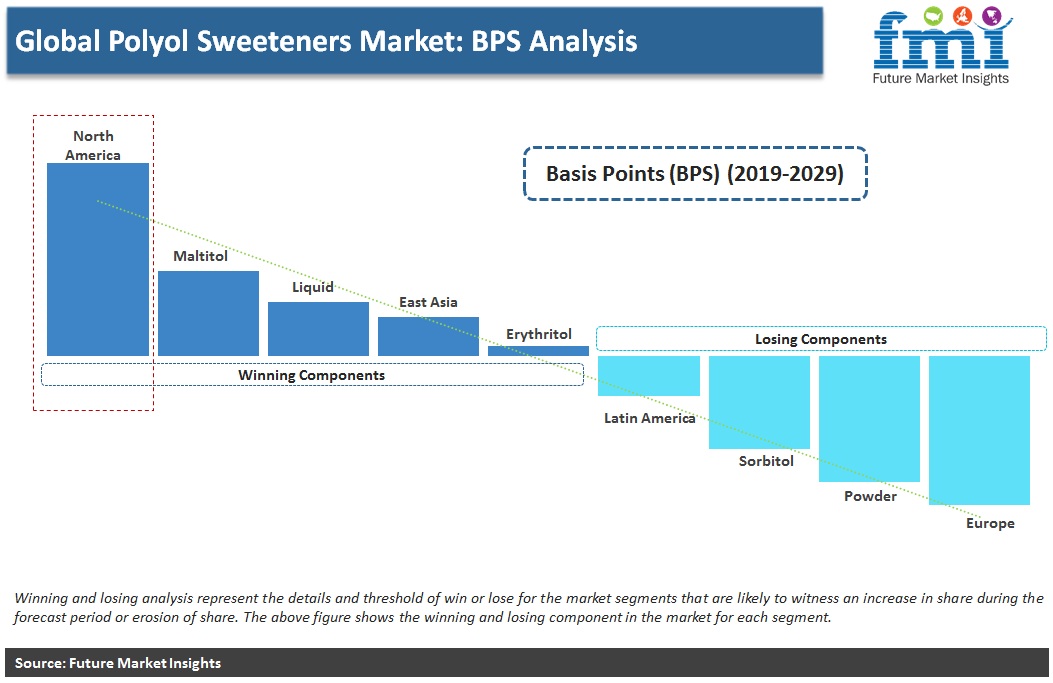 World's Most Profilic Intelligence Engine
Get Access To The World's Largest Market Research Database. Ngage with a revolutionary intelligence engine that scale and pricing that flexes as per your needs
Sign Up Now
POLYOL SWEETENERS MARKET TAXONOMY
The global Polyol Sweeteners market is segmented in detail to cover every aspect of the market and present complete market intelligence to readers.
Type
Sorbitol
Erythritol
Maltitol
Isomalt
Xylitol
Form
Powder/Crystal
Liquid/Syrup
Application
Bakery & Confectionery
Beverages
Dairy
Oral Care
Pharmaceuticals
Others
Region
North America
Latin America
Europe
East Asia
South Asia
Oceania
MEA
Need specific information?