Poultry Keeping Machinery Market - Key Research Findings
The market value of global poultry keeping machinery was valued at ~US$ 4.5 Bn in 2018.
During the forecast period of 2019-2029, the market for poultry keeping machinery is anticipated to grow at a CAGR of ~3%.
The broiler harvesting and slaughtering segment of poultry keeping machinery is expected to remain as the most preferred product in the poultry keeping machinery

The growth of this particular segment can be primarily attributed to its quickest and simplest functioning leading to minimized discomfort during the slaughtering process.

The APEJ region is anticipated to hold more than one-third of the revenue share in the poultry keeping machinery market by the end of 2029.

The APEJ region is anticipated to continue to be an opportunistic market for broiler harvesting and slaughtering machinery manufacturers and distributors, owing to increasing production and demand for poultry products and chicken.
Other segment, which includes vaccination, flooring, scales, nest, cages, etc., is also anticipated to grow in the market for poultry keeping machinery.
Key Factors Shaping the Poultry Keeping Machinery Market
Advanced Technologies Emerging as Product Differentiators among Manufacturers

Due to the growing integration of automation in farm and agriculture equipment, the demand for cost-effective and advanced products is increasing, which is creating pressure on the manufacturers to offer technologically-advanced and unique product offerings. Noteworthy investments in research and development to introduce unique patented technologies by manufacturers of these equipment can be seen, and help them differentiate their products in the market.

Manufacturers of poultry keeping machinery are also focusing more on increasing their yield. This ensures that key food items such as chicken, eggs, etc., can be offered at a competitive price margin.

Growing Popularity of Battery Cages for Poultry Keeping

Minimizing the need for labor and space, battery cages are designed to help reduce costs. This is achieved by utilizing the mesh as the floor of the cage, which lets the feces drop down, limiting the need for the cleanup of each cage.

This has led to the main advantage, i.e., amplified cleanliness and hygiene resulting in much lesser incidences of diseases, which spread through droppings. Due to the small size group, this also results in low incidences of social friction, which simultaneously lead to ease of management. Reduced litter problems and better working conditions with much lower cost of production are some of the leading drivers for the usage of battery cages.

Meat Consumption is on the Rise Despite Growth of Veganism

With the rise in demand for animal protein, poultry meat has established itself as a price efficient and more affordable source of protein. Therefore, the intake and consumption of poultry meat is likely to remain a step ahead of its substitutes such as beef and pork. Due to its cost-effectiveness and high content of protein, poultry meat will enjoy steady demand in the market, which will propel the market growth for poultry keeping machinery in the near future.

Stringent Regulations and High Standards Imposed on Manufacturers

With increasing public focus on animal welfare, business operators in the poultry sector need to ensure quality of life of poultry birds, so as to keep them away from diseases such as Avian Influenza (AI). Varied regulations across different geographies govern housing, management conditions, and transport and slaughter practices, creating pressure on poultry equipment manufactures to supply products which comply with the norms.

This acts as a restraining factor for the growth of poultry keeping machinery market, since manufacturers need to quickly adopt to such changes and develop new products, which may incur relatively higher costs.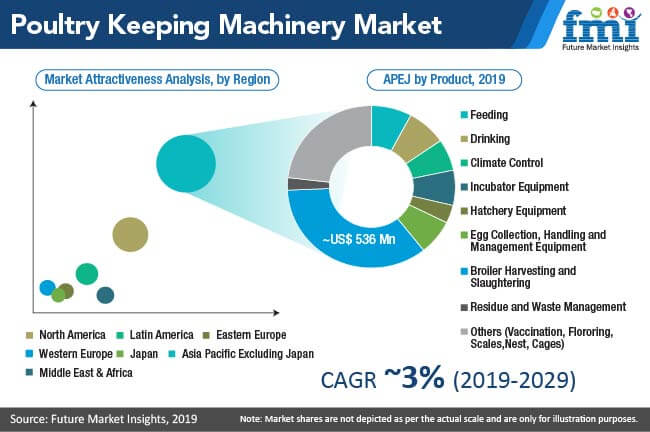 Poultry Keeping Machinery Market Structure Analysis
The poultry keeping machinery market is a moderately competitive market globally.
Strategies followed by key players in the poultry keeping machinery market are expansion of business through acquisitions and mergers, recognitions, product launches, collaborations, and alliances. Key market players focus on strategies such as product expansion and innovation through new dealership networks and collaborations.
Noteworthy investments in research and development for novel and sturdy products are anticipated to boost the growth prospects of the poultry keeping machinery market.

Major key players in the poultry keeping machinery market are Valco Companies, Inc., Jansen Poultry Equipment, Vencomatic Group, Big Dutchman International GmbH, TEXHA PA LLC, Petersime NV, Hartmann Lebensmitteltechnik Anlagenbau GmbH, HAMex-GmbH,
Poultry Keeping Machinery Market: Segmentation
Product Type
Feeding
Drinking
Climate Control
Incubator Equipment
Hatchery Equipment
Egg Collection, Handling, and Management Equipment
Broiler Harvesting and Slaughtering
Residue and Waste Management
Others (Vaccination, Flooring, Scales, Nest, Cages)
Region
North America
Latin America
Europe
South Asia
East Asia
Oceania
Middle East and Africa
Need specific information?