Poultry Feed Market By Livestock (Layers, Broilers, Turkeys), Nature (Conventional, Organic), Feed Type (Corn, Wheat, Barley), Form (Granules, Pellets, Powder) & Region - Forecast to 2020 - 2030
Poultry Feed Market - Analysis, Outlook, Growth, Trends, Forecasts
June 2020

REP-GB-716

250 pages
Poultry Feed Market Outlook & Key Findings
Future Market Insights (FMI) forecasts the poultry feed market to surpass US$183.62 Bn in 2020
Elevated levels of poultry feed and nutrition will be required in high potential countries of Asia, particularly to meet the burgeoning demand for poultry products among consumers
According to FMI, East and South Asia will collectively exhibit 1.5 times higher rate of growth than rest of the world
Implementing latest technologies such as Nutrigenomics to help animals reach their genetic potential is one of the key strategies adopted by market players
From Just About Diet to Nutrition – Global Poultry Feed Market is Witnessing Tectonic Shift
Farm owners are no longer swayed by flashy endorsements, instead they are looking for quality feed. This change in behavior has spurred transformation in poultry farming. Consequently, more focus and resources are placed on improving overall health of birds.
As farmers move away from diet based feed to better nutrition, they will enjoy higher farm profitability and improved output. According to FMI, the poultry feed market is positioned to exhibit sustainable growth over the course of the forecast period.
"There is a paradigm shift in various countries towards monogastric production, with poultry and pigs accounting for the dominant percentage. This has led to the elevated demand for poultry feed to support the growing population," said a lead analyst at FMI.
On the flip side, the booming poultry production will pose feed demand that will far exceed its supply. Regional differences are not to be overlooked either. Dependence on feed imports may increase, stoking costs of poultry feed. This in turn will make poultry farming way costlier.
Diversifying sources of poultry feed ingredients could be the key to reduce the demand burden on specific segments. FMI aims at evaluating prospects across various segments within the feed market to help companies cope with the rising demand.
Poultry Farmers Shift Towards Soybeans Meals to Enhance Nutritive Value of Feed Ingredients, yet Corns to Remain Dominant
In a move to enhance nutritional value of feed ingredients, poultry farmers are shifting towards soybeans, albeit gradually. Soybean meal has high protein content and excellent amino acid profile that is comparable to corns, despite which the latter remains dominant among feed types.
Traditionally, the industry has been reliant on cereal grains as the key source of energy in protein diets. FMI in its study broadly classifies feed type into corn, wheat, barley, soybeans, and others.
Of these, corn constitutes more than 30% of feed ingredients used in poultry farming.
Poultry farming is undergoing transformation, which is one of the key underlying factors urging farmers to focus on improving productivity and yield. Invariably they are more inclined towards examining the feed efficiency (FE).
Scales are thus tipping in favor of feed ingredients with higher nutritive value, which will again transform demand witnessed in the poultry industry.
Broilers to Continue Exhibiting Higher Consumption of Poultry Feed
According to FMI, the broilers segment constitutes more than half of the overall market and will remain dominant through the forecast period.
Feed intake pattern varies from one livestock to another. For instance, meat-type chickens or 'broilers' are often considered the most efficient terrestrial animals. They exhibit higher feed conversion ratio (FCR) therefore needing more protein and energy than layers.
There are several companies supplying commercial feed suitable for broilers. Many of them have launched poultry nutrition products, particularly aimed at improving nutrient digestibility and feed conversion ratio in birds.
Innovations in poultry feed witnessed in the last few years are helping the market transform and grow.
Poultry Farmers to Invest in Feed Additives to Boost Productivity and Yield
Poultry farmers are currently focusing on ensuring better nutrition to poultry birds such as broilers, duck, turkey, and layer. To boost production and ensure better quality they are increasingly incorporating feed additives.
Modern players in poultry farming are looking for economical and more efficient methods of producing high quality and safe chicken, eggs, and poultry products. Paradigm shift in their focus entails greater scope for the use of feed additives to achieve growth targets.
Incorporating feed additives in poultry diets can improve laying capacity, growth, prevent diseases and boost FCR in birds. These additives are often considered a rich source of antimicrobials, antioxidants, vitamins, and emulsifiers.
Using feed additives will not only boost poultry production but make them healthier and more nutritive for human consumption. With some of the leading companies introducing feed additives, the poultry feed market will witness greater opportunities for growth in the coming years.
For instance in 2017, BIOMIN introduced innovative feed additive Digestarom DC that mainly helps in improving feed conversion ratio and enhances feed efficiency.
Digital Transformation to Help Poultry Feed Companies Streamline Supply Chain
The poultry feed market is highly fragmented and defined by the presence of several small and mid-sized farms besides larger entrepreneurs. Because poultry farming is transforming, these companies are bringing changes to their policies.
They are exclusively focusing on building segmentation, targeting and positioning (STP) strategies to suit specific requirements of farmers located across the world. Through this they intend to customize solutions and products best suited farmers with a region.
For instance, feed formulated for an American mid-size farmer may vary from mass produced feed primarily in demand across India and China. Differences in consumption pattern across these countries also determine feed grade required in poultry farms.
Many companies are also adopting digital technologies to streamline the poultry feed supply chain. In old days, data collected from farms was evaluated manually, which was an expensive and time-consuming process. Modern technology has enabled companies to collect video and audio files from farm to more efficiently monitor flock health and determine their feed efficiency.
Spurred by these developments, the poultry feed market will rise at above 5.9% CAGR between 2020 and 2030, finds FMI.
Poultry Feed Market Continues to Reel under Disease Outbreaks and Unprecedented Price Hikes
Poultry disease outbreaks such as avian influenza or avian flu, Colibacillosis, and Mycoplasmosis, are posing considerable threat to the feed industry. Unbridled spread of these diseases has negative impact on poultry production, subsequently hampering the poultry feed market.
In 2016, poultry disease outbreaks killed more than 4, 00,000 chickens and turkeys in U.S. It did not stay contained to poultry, but infected over 180 people who came in contact with the disease carrying chicken with salmonella.
While producers continue reeling under the threat of impending outbreaks, rising cost of production has elevated their woes. In the last few years corn and soybean meal prices have witnessed a threefold increase.
With corn and soybean typically accounting for 90% of the poultry feeding, hike in their prices are compelling farmers to look for alternative sources.
High Potential Countries to Remain Dominant Backed by Abundance of Agricultural Land and Low Cost Labor
FMI identifies Asia Pacific as the most lucrative market for poultry feed. The region also boasts the presence of the top 10 feed producing countries, including India, China, and Japan. Asia Pacific also has the largest livestock population in the world which is the key reason behind its booming poultry industry.
Backed by the presence of several feed producing countries, companies operating in Asia Pacific have inherent competitive advantage. Abundant availability of agricultural land and low cost labor enable them have an upper hand in the market. FMI forecasts South and East Asia to account for over 40% of the global poultry feed market over the forecast period.
Meanwhile, the market is expected to witness steady growth in North America and Europe. The rising demand for white meat will boost prospects for poultry feed producers in these regions.
Rising health consciousness among consumers has resulted in higher demand for protein in Latin America. These factors add up to lucrative prospects for the expansion of the poultry feed market in the region. The poultry market in Africa is among the most promising ones. Governments in this region are already looking ahead at boosting exports.
Overall consumption pattern of poultry feed is likely to remain unchanged across the world. It is also interesting to note that pricing of poultry feed obtained from conventional and organic sources is quite similar across the world.
The chart below depicts marginal differences in pricing of poultry feed among key regions. It also shows similarly in variance of pricing between conventional and organic poultry feed across the global market.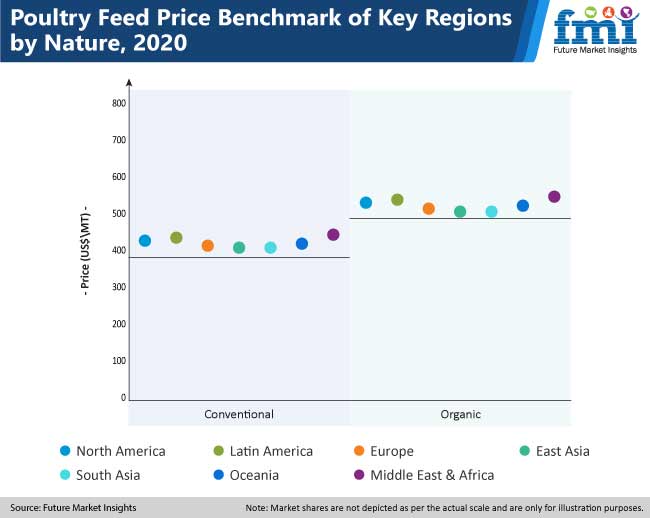 Leading suppliers in Poultry Feed Market
Poultry farming is a lucrative business and offers higher scope for profit maximization. This lures several new entrants, which is likely to render the market highly competitive in the near future.
As commercial poultry cycles shorten, the need for more sophisticated feeding program and feed specification is higher than ever. Leading companies are therefore conducting year round researches in nutrition and feed technology to ensure their feed ingredients are optimized for poultry performance.
FMI profiles some of the leading players in the poultry feed market across the world. These are:
Americas
Alltech Inc.
The Archer Daniels Midland Company
Cargill, Incorporated
Novus International, Inc.
Europe
Associated British Foods plc
BASF SE
Evonik Industries AG
Chr Hansen Holding A/S
Nutreco N.V.
Koninklijke DSM N.V.
Asia Pacific
Charoen Pokphand Foods PCL
Weston Animal Nutrition
East Hope Group Company Limited
Japfa Comfeed India Private Limited
Henraajh Feeds India Pvt. Ltd.
*The list is not exhaustive, and only for representational purposes. Full competitive intelligence with SWOT analysis available in the report
Poultry Feed Market: The Way Forward
Poultry are considered a primary source of protein as it has been fulfilling protein needs of consumers from the household sector since centuries. They are also considered dual purpose breed, helping economies enjoy increased turnover.
Poultry farming offers employment to people in rural areas, helping to improve the GDP of a country. It is therefore of utmost importance for these countries to supervise the quality of feed ingredients being provided to poultry farmers.
With governments and related agencies making remarkable efforts in reducing possible outbreaks in future, substantial increase in the demand for feed is likely. The poultry business is growing, with chicken production yet to surpass demand witnessed across several nations.
However, there remains threat from inadequate feed management, trade hindrances, and poor quality sanitation. Besides this, unprecedented disease outbreak could put poultry businesses at risk.
Efficient management strategies, awareness campaigns, improved quality control measures and better quarantine checks are therefore imperative to ensure smoothly running poultry businesses hence steady expansion of the poultry feed market.
World's Most Profilic Intelligence Engine
Get Access To The World's Largest Market Research Database.
Sign Up Now
Market Segmentation
The global poultry feed market is segmented in detail to cover every aspect of the market and present complete market intelligence to readers.
Livestock
Layers
Broilers
Turkeys
Duck
Nature
Feed Type
Corn
Wheat
Barley
Soybean
Others (Sunflower seed, oats, sorghum)
Form
Region
North America
Latin America
Europe
East Asia
South Asia
Oceania
MEA
Key Questions Answered in the Report
What is the size of the poultry feed market?
The poultry feed market has been estimated to surpass a value of US$ 174.5 million in 2020, with steady growth between 2020 and 2030.
Which are the largest markets for poultry feed?
Asia Pacific has been identified as a highly profitable market for poultry feed. Major feed production and export rates from China, Japan, and India contribute to growth prospects.
Which are the top companies in poultry feed market?
Alltech International, Henraajh Feeds India Pvt. Ltd., The Archer Daniels Midland Co., Japfa Comfeed India Private Limited, Cargill Inc., East Hope Group Company Limited, Novus International Inc., Weston Animal Nutrition, Associated British Foods plc, and Charoen Pokphand Foods PCL are among the leading market players in the global poultry feed market.
What are some changes in application of poultry feed?
Poultry feed manufacturers are pushing to increase the nutritive profile of feed ingredients , which has resulted in a transition from corn towards soybean.
In what types are poultry feed available?
Manufacturers produce poultry feed in four types – corn, wheat, barley, and soybeans. Corn variants account for higher demand.
What is the outlook of the Asia Pacific poultry feed market?
The presence of major poultry feed producers in APAC, coupled with low labor costs, and abundance of agriculture land allow market players to gain traction in the near future.
What are the key challenges to poultry feed market players?
With the strong increase in poultry consumption, the industry has been pushed to produce more meat at a faster rate. Meeting the growing demand and reducing health risks while minimizing the use of antibiotics in feeds remains a challenge.
Need specific information?
Our Clients