Key Research Findings
The precast concrete market will continue to generate revenues at a healthy 5.3% CAGR during the forecast period.
Expanding housing market is promoting modular precast concrete as a part of sustainable construction practice.
Booming digital economies in Asia Pacific (East Asia, South Asia, and Oceania) are investing in developing modern infrastructure which employs precast concrete. These economies collectively account for 65% share of the total market value.
With major application in industrial sheds, and manufacturing units, structural building components built from precast concrete hold a over 44% share of the total market value.
Investments by developing countries in building roadways and railways to enhance connectivity make transportation precast concrete products a high growth category. The transportation segment will witness an impressive 7% CAGR during the forecast period.
Infrastructure will be the highest growing end-use segment with a strong 6.2% CAGR from 2020 to 2030.
Booming Digital Economies Bolster Market Growth
Countries such as India, and Indonesia are witnessing exponential growth. Successful digital start-ups are central to growth of these economies. This has also increased the disposable income of consumers, meaning an increase in demand for modern products from new cities and states. Hence, to cater to this surge in demand, governments of these countries are investing in road infrastructure, railways and other modes of transport.
Since precast concrete has solid applications in construction of transportation infrastructure, manufacturers find remunerative opportunities in booming digital economies. Similar investments in developing modern commercial complexes drive the demand for architectural and structural precast concrete components in these economies. This can also be attributed to the rising demand for affordable housing by growing middle class population and proliferation of advanced construction techniques.
COVID-19 Cripples Healthy Growth
The pandemic has disrupted supply chains across industries. Precast concrete manufacturers are also facing headwinds. The shortage of raw materials, workforce, and logistics continues to hamper market growth. Key players that reply on import and export for business operations are forced to rely on their cash reserves. As construction activities come to a standstill in most countries, there is a steep decline in demand for precast concrete products. To stop the rampant spread of novel coronavirus, many countries have imposed trade restrictions. This has posed an adverse effect on the value chain of precast concrete manufacturers.
High impact of the virus in key countries such as China, the US, and India forces market players to scout for sustainable opportunities elsewhere. In such a scenario, many are mapping new trade routes that avoid high impact regions. The growth of the precast concrete market in Q1 and Q2 of financial year 2020 is expected to continue at a sluggish rate. Construction workers have stopped reporting to existing construction sites as a result of social distancing norms.
Contractors and subcontractors are also facing a shortage of labor which further pushes the deadlines of projects. Government aid in terms of tax exemptions, financial aid, and deadline penalties is expected. However, the recovery rate from financial losses is entirely dependent on the success of countries in containing COVID-19 spread and developing vaccines for the same. Initial stage trials have begun in the US, and India. Manufacturers are closely tracking the developments in high growth regions to leverage first-mover advantage once trade restrictions are lifted.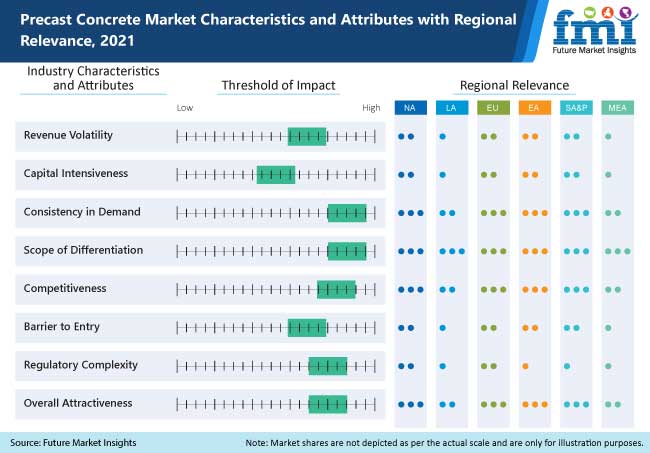 Precast Concrete Market Structure Analysis
The market is highly fragmented, with manufacturers focusing on developing cost-efficient and high-performance products.
Enhancing the structural integrity of precast concrete products by leveraging advanced materials and industrial automation is a popular competitive strategy.
Report Scope
Base Year - 2019
Historical Period - 2015-2019
Forecast Period - 2020-2030
Segments Covered - Product, End-use
Regions Covered - North America, Latin America, Europe, South Asia & Oceania, East Asia, and Middle East & Africa
Key Companies - Boral Limited, Lafarge, Gulf Precast Concrete Co. LLC, Olson Precast Company, CEMEX S.A.B. de C.V., Forterra, Tindall Corporation, Spancrete, and ELO Beton.
Growth Drivers -

Development of affordable residential projects.
Increasing need for transportation connectivity.
Cost efficiency, and superior quality of precast concrete.
Precast Concrete Market: Segmentation
Product
Structural Building Components
Architectural Building Components
Transportation Products
Water & Waste Handling Products
Others
End Use
Residential
Non-residential
Infrastructure
Region
North America
Latin America
Europe
East Asia
South Asia
Oceania
MEA
Need specific information?
Talk Show:
The Rise of Intelligent Packaging
Personalized, Connected and Sustainable
November 18, 2021
11:00-11:45 AM PST (USA & Canada)
This is a LIVE session