Probiotic Ingredients Market - Key Research Findings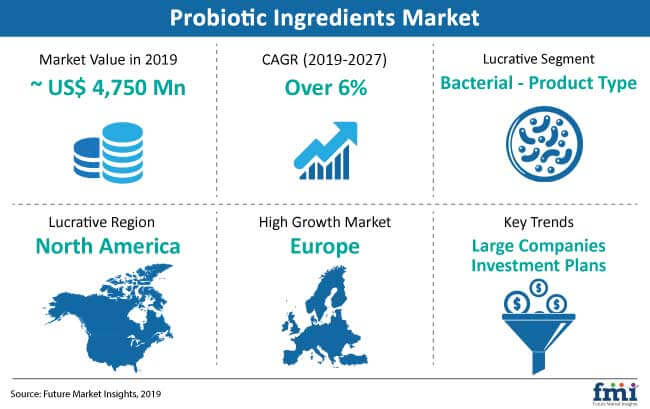 The global probiotic ingredients market size estimated in 2019 - nearly US$ 4,500
The probiotic ingredients market will observe just-above 6% CAGR over 2019-2027
According to the data published by International Probiotics Association-

Fortified Foods market is worth US$ 166.6 Bn.
Data from the 2012 National Health Interview Survey (NHIS) stated that 1.6% of U.S. adults (3.9 million) had used prebiotics or probiotics in 30 days.

North America and Europe will remain prominent regional markets for probiotic ingredients.

This growth is attributed to the increased demand for specific probiotic supplements, such as supplements for vaginal health, for pregnancy, and others. In the U.S., more than 31.4% of the female population suffers from bacterial vaginosis.

Asia Pacific holds high growth potential for the probiotic ingredients market.

With companies currently focusing on opening new innovation and development centres in the Asia Pacific region, it is anticipated that the probiotic industry in this region will grow significantly.

The dietary supplement segment is one of the fastest growing segments amongst end use in the probiotic ingredients market.

With instances of coronary diseases, degenerative diseases, diabetes, chronic obesity, cancers, and gastrointestinal disorders on the rise, growing number of consumers are looking up to companies manufacturing dietary supplements with prebiotic ingredients, due to which, dietary supplement is one of the fastest growing segments in the global probiotic ingredients market.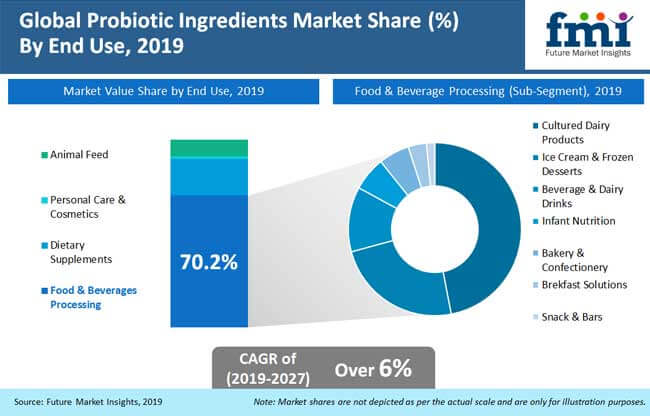 Top 3 Factors Shaping the Probiotic Ingredients Market
Scientific Advancements Broadening the Use of Probiotic Ingredients:

Lately, in the field of nutritional wellbeing, escalated research of gut flora has been of vital significance of overall health. Research on probiotic ingredients and gut flora has enhanced due to advancements in technologies, which can decide and analyse the human micro biome.

Research studies in the field of probiotic ingredients additionally demonstrate the capability of wellbeing adequacy of probiotics for metabolic and psychological conditions, alongside the impacts on gastrointestinal tract and the immune system. Because of these propelled outcomes, the development of probiotics in new indication areas is expanding, which is expected to contribute to progress in the long term, as the market becomes more extensive and more prominent.

Increasing Cases of Vaginal and Urinary Tract Infection:

According to NHS, urinary tract and vaginal infections are the second-most common infections occurring in the body, and account for approximately 8.1 Mn visits to doctors per year. Urinary tract and vaginal infections are among the most common bacterial infections, which further lead to neurological bladder infection and several other medical conditions. In several countries, conservative societies prevent females from discussing such an infection, and obtaining the required medication is also difficult.

Probiotic ingredients based supplements is a modern-day solution to such a critical issues encountered by females. Furthermore, probiotic ingredient manufacturers and marketers are also responding to these needs, and have introduced several probiotic supplements targeting females. On the backdrop of these developments, the global market for probiotic ingredients is expected to be bolstered over the forecast period.

Demand for Probiotics, as an Aftercare after Antibiotics:

Antibiotics are the best creations and have saved lives of millions of individuals all around the globe by protecting them from lethal pathogens affecting and weakening human health. These have to be taken on prescription, and significant as they cure diseases within the least conceivable time. But the side effects of medicines are well-known and clear. Thus, doctors and researchers warn customers about their outcomes. These changes include dangerous diarrhea, modified intestinal micro flora, and the spreading of antibiotic resistant bacteria.

The follow-up of anti-infection agents utilizing a probiotic diet has picked up significance throughout the years because of rising awareness among consumers. Consumption of probiotic diet after antibiotic treatment results in the expansion of helpful microbes, which are probably going to reinforce immunity, and are liable to protect the body from any further illnesses, during the recovery stage.
Probiotic Ingredients Market Structure Analysis
The global probiotic ingredients market is primarily characterized by the presence of a large number of local and regional players. Local players account a fair share of 24-26%. North America and Europe are the two central target regions due to the increasing number of health-conscious consumers and increasing demand for healthy food products in the market.

Multinational players produce bacterial strains, process them, and channelize them to the market through their established distribution channels. The market share accounted by multinational players is somewhat low, only around 20-22%. All industry stakeholders, particularly in high potential market but embryonic markets are likely to collaborate or are in symbiotic relationships.
Probiotic Ingredients – Steering the Gut Health Space
Food & beverage products fortified with gut health ingredients have gained significant consumer appeal, and probiotics lead the way. Recent studies allude growing platforms of health, beyond digestive health, wherein probiotics will gain popular demand, such as GI disorder management, and improving immune system.
Tailwinds of Opportunities in Developed Markets
Opportunities abound in developed markets, as probiotics spread to newer health categories, achieving newer claims. North America accounts for 50% probiotic ingredients sold, led by robust consumer demand for products with targeted action and exemplary health outcomes. On the other hand, Europe accounts for over one-third market shares – sales remain complemented by review of probiotic ingredients' digestive health claims by the EFSA and other regulatory bodies in the region.
The Broader Outlook
Developments in probiotic ingredients have come a long way, extending beyond their traditional use for improving the digestive health, to skin and oral health. The application scope of probiotics has grown to include management of inflammatory bowel disease and irritable bowel syndrome. Evolution in the formulation of probiotic ingredients point at incorporation of Halal and Kosher-certified products.
How Growth will Unfold
The F&B processing sector remains leading consumer of probiotic ingredients, and the gains from dietary supplements will remain significant. Livestock nutrition is emerging as another lucrative area for manufacturers, who are now rolling out new products targeting personal care and cosmetics industry, although gains are marginal at present
PROBIOTIC INGREDIENTS MARKET TAXONOMY
The global probiotic ingredients market is segmented in detail to cover every aspect of the market and present complete market intelligence to the reader.
By Product Type
Bacterial

Lactobacillus
Enterococcus
Bifidobacterium
Streptococcus
Others

Yeast

Saccharomyces Cerevisiae
Saccharomyces Boulardii
By End Use
Food & Beverages Processing

Bakery & Confectionery
Breakfast Solutions
Cultured Dairy Products
Ice Cream & Frozen Desserts
Snacks & Bars
Infant Nutrition
Beverages & Dairy Drinks

Dietary Supplements

Immune Health
Gut & Digestive Health
Women's Health

Personal Care & Cosmetics
By End Product Form
Powder
Suspension
Granule
Capsule
Stick Pack
Tablet/Chewable
Gel
Region
North America
Latin America
Europe
Japan
APEJ
Oceania
Middle East & Africa
Need specific information?