Probiotic Yogurt Market - Key Research Findings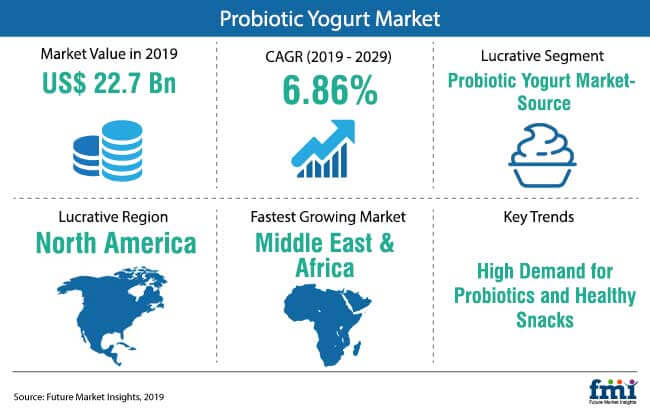 Global probiotic yogurt market size in 2018 – Nearly US$ 20 Bn

The probiotic yogurt market will observe just-under 7% CAGR over 2019-2029.

According to the National Institute of Diabetes and Digestive and Kidney Diseases (NIDDK), in the US, around 60-70 million people are affected by digestive diseases.

The prevalence of digestive health problems is increasing at a high rate due to changing lifestyles, poor eating habits, and hectic schedules.

Increase in the occurrence of digestive health problems is thus anticipated to increase the demand for probiotic yogurt as it helps improve and increase the gut microbial flora, which furthers improves digestive health.

North America and Europe will remain the largest regional markets for probiotic yogurt.

Growing health-awareness and increasing population with digestive health problems create significant demand for probiotic yogurt.

Asia Pacific has high growth potential for the probiotic yogurt market.

Increase in the prevalence of chronic constipation and consumer preference for convenience and healthy products is estimated to boost the demand for probiotic yogurt.

The large youth population and the changes in lifestyle are anticipated to serve as drivers for the increase in demand for probiotic yogurt.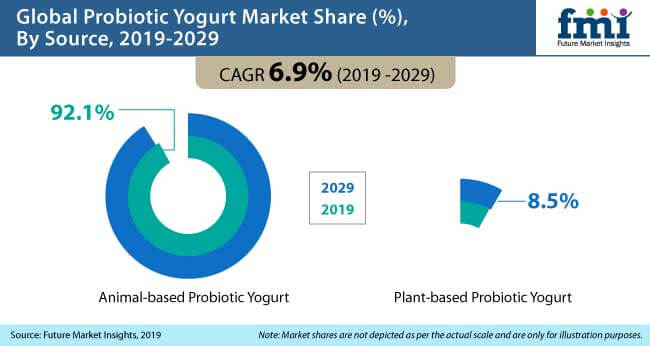 Top 3 Factors Shaping the Probiotic Yogurt Market
The Demand for Probiotics and Preference for Convenience to Uplift Probiotic Yogurt Sales

The increase in health-awareness and busier lifestyle have increased the inclination of consumers towards the use of easy-to-eat products that satisfy hunger, as well as provide health-benefits. Probiotic yogurt serves as a suitable option as it provides several health-benefits and is available in many flavors that would satisfy the requirements of the consumers. Consumer preference for probiotics is thus expected to boost the sales of probiotic yogurt.

The Rise in Vegetarianism to Drive Plant-Based Probiotic Yogurt Sales

There are more than 400 million vegetarians and vegans across the world, and the largest percentage of them is estimated to live in India. The number of vegans is increasing at a high rate in the US and Europe. According to a study by Vegetarian Times, "Vegetarianism in America", 7.3 million people, or 3.2% of the US adults consume a vegetarian-based diet, and around 1 million of those are vegans.

With increasing awareness about the presence of some hormones and chemicals in animal-based foods and rise in animal concerns, consumer inclination towards the consumption of plant-based products is increasing. Thus, the increase in vegetarianism is anticipated to serve as a driver for plant-based probiotic yogurt.

Multiple Health Benefits of Probiotic Yogurt Attract Health-conscious Consumers

Probiotic yogurt contains billions of live bacteria that help improve the microflora of the gut, and thus, support healthy digestion. Some scientific studies have shown that probiotic yogurt offers several advantages which are associated with improved metabolic profiles. Probiotic yogurt increases bone density, reduces the possibility of type-2 diabetes, improves immune response, reduces bad cholesterol, helps to maintain blood pressure, and provides several other benefits.

Consumers prefer healthy products without any compromise on the flavor. Thus, probiotic yogurt is an excellent option as it provides health benefits and is available in a variety of flavors. The various health-benefits of probiotic yogurt are anticipated to increase its demand during the forecast period.
Probiotic Yogurt Market Structure Analysis
A majority of the leading market players are concentrated in North America and Europe. However, companies are investing more efforts in entering untapped regions, with an intent to gain the cost benefit and leverage the high potential of such markets to expand the customer base.
Key players in the probiotic yogurt market are concentrating on the development of plant-based probiotic yogurt to increase their customer base. Companies are also trying to develop innovative fruit blend flavors, and are offering "limited edition" probiotic yogurt flavors to attract consumers.
Probiotic Yogurt – Where Taste Meets Health
Increasing number of consumers willing to pay premium prices for healthy and functional foods continues to drive consumption of probiotic yogurt. Consumers are becoming aware of the strong relationship between gut health and overall health, which is a key factor encouraging them to indulge in different types of probiotic yogurt.
Pervasive trend of food fortification continues as a broad factor setting the buoyant tone of probiotic yogurt market. Future Market Insights' new report offers a detailed evaluation and assessment on the revenue-making opportunities for the probiotic yogurt market players through 2029.
Market Set to Grow 1.9x From 2019 to 2029
Probiotic yogurts are set to fly off the market shelves, given that consumer food trends continue to drive sales of healthy & nutritious food products. Furthermore, growing trend of personalized nutrition is also a key factor fostering adoption of fortified foods, thereby boosting growth of probiotic yogurt market.
Consumers are increasingly focusing on incorporation of three major products into their dietary regimen, including probiotics, fiber, and whole grains, to nourish correlative digestive health. This, in turn, is estimated to create new growth opportunities for the leading manufacturers vis-à-vis successful expansion of probiotic yogurt assortments.
While North America Continues to Lead, MEA to See Exponential Growth
North America is estimated to continue as the leading market for probiotic yogurt during the forecast period. Largest consumption of probiotic yogurt in the US, followed by Canada, are one among the key aspects fuelling the regional market growth. However, Middle East and Africa is likely to emerge as a high growth market and a force to be reckoned with, given that consumers in this region are turning to healthy and fortified food products.
The Broader Perspective
The food and beverage landscape is undergoing a sea change as consumers are looking for products with health benefits for personal well-being. Probiotic yogurt consumption is estimated to ride along this 'health halo' and sales of probiotic food products, such as milks and yogurts, are outweighing that of probiotic supplements.
This, in turn, is projected to offer enormous growth opportunities for market players to reap substantial profits. Effective marketing remains a key growth determinant of the probiotic yogurt market, given that consumers tend to spend more on brands they establish a connection with.
How Growth will Unfold
Hypermarkets/supermarkets are estimated to steer sales of probiotic yogurt, given that they offer the convenience to choose from multiple product varieties sold at reasonable prices. Convenience stores, specialty stores, and online retailers are likely to follow suit and emerge as lucrative sales channels for probiotic yogurt brands in terms of gaining maximum ROI.
PROBIOTIC YOGURT MARKET TAXONOMY
The global probiotic yogurt market is segmented in detail to cover each and every facet of the market and to provide a complete market intelligence approach to the reader.
By Product Type
Drinkable Probiotic Yogurt
Spoonable Probiotic Yogurt
By Source
Animal-based
Plant-Based
Soy Milk
Almond Milk
Coconut Milk
Others
By Nature
By Flavour
Regular/ Unflavoured
Flavoured
Vanilla
Strawberry
Blueberry
Peach
Others
By Fat Content
Regular/Whole Milk
Low Fat
Fat-Free
By Sales Channel
Hypermarkets/Supermarkets
Convenience Stores
Specialty Stores
Online Retailers
Wholesalers
Grocery Stores
Other Retail Formats
Region
North America
Latin America
Europe
South Asia
East Asia
Oceania
Middle East & Africa
Need specific information?