About the Report
Probiotic yogurt is one of the best sources of friendly bacteria such as Bifidobacterium and lactic acid bacteria. Probiotic yogurt is witnessing surging uptake in the global market due to its benefits to all age brackets, from children to adults. Rising digestive health issues due to poor eating habits are further fueling the probiotic yogurt market. Besides this, manufacturers are producing probiotic yogurt from various sources to acknowledge demand from the vegan population in the global market.
In its new study, ESOMAR-certified market research and consulting firm Future Market Insights (FMI) offers insights about key factors driving demand for taurine. The report tracks the global sales of taurine in 20+ high-growth markets, along with analyzing the impact COVID-19 has had on the food and beverage industry in general, and taurine in particular.
What is the Future Outlook for Probiotic Yogurt Market in Comparison to Historical Pattern?
Dannon first introduced flavored probiotic yogurt in 1947, which received a great response from the American population. With the increasing popularity and demand for probiotic yogurt, a large number of manufacturers followed Dannon to commercially produce probiotic yogurt.
The Food and Drugs Administration (FDA) drafted guidelines for firms that are manufacturing, marketing, or distributing products containing colony forming units (CFU) such as probiotic yogurt. According to FDA, a product such as probiotic yogurt and other dietary supplements containing live organisms or colony forming units (CFU), and should contain the labeled amount of live microbial ingredients so that it would not affect the shelf-life of probiotic yogurt.
According to FMI's analysis, probiotic yogurt's sales have grown at 5.1% CAGR between 2016 and 2020.
Consumers are now inclined towards novel and exotic flavors of probiotic yogurt such as blueberry, mint coriander, banana chocolate, and cumin spice. Manufacturers of probiotic yogurt are anticipated to showcase nutrient profile to gain traction of the consumers and thus establishing more transparency in the supply chain of probiotic yogurt. In the forecast period, the consumer will make more wise decisions with fact-based information on probiotic yogurt.
Adapting to the progressing wave of veganism, the global market will witness increased probiotic yogurt made from plant-based sources or dairy alternatives. Dynamic preferences of vegan and the flexitarian population are remarkably influencing the probiotic yogurt market. Manufacturers of probiotic yogurt such as Chobani and Califia Farms have successfully launched dairy-free probiotic yogurt in the market and is received well by the consumers. FMI expects the global probiotic yogurt market to grow at 6.3% CAGR through 2031.
How is Rising Health Consciousness Effecting Probiotic Yogurt Market?
As a result of rising health consciousness due to sedentary lifestyle, consumers are wisely opting for food products with a healthier metabolic profile. Scientific studies have indicated that probiotic yogurt provides various health benefits and is directly associated prevent osteoporosis, reduces the risk of colorectal cancer, lowers bad cholesterol and blood pressure, supports weight loss, and boosts the immune system.
Probiotic yogurt is an excellent source of essential nutrients such as potassium, calcium, zinc, magnesium, vitamin B12, and vitamin B2. Owing to these numerous health benefits of probiotic yogurt is expected to attract health-conscious consumers.
How is Confidence on Clean-label Products Enabling Probiotic Yogurt Sales?
Consumers are looking for probiotic yogurt with clean label to ascertain the quality of the product and production process. For achieving this aim, manufacturers of probiotic yogurt are providing more product insights to gain the confidence of the consumer base.
Labels claiming authenticity of the ingredients, production process, and overall product for instance halal, kosher, non-GMO, and others are considered a sign of authenticity of claims on the overall quality of the probiotic yogurt. These clean labels and claims help the manufacturers enhance product image and consumer engagement.
For instance, GanedenBC30 in addition to the Non-GMO certification, has also been certified gluten free, halal, kosher, and allergen free. It also has received Generally Recognized as Safe status from the U.S. FDA. Several other companies have joined this bandwagon to gain traction from health conscious consumers.
Why is R&D Important in Probiotic Yogurt?
With the rapidly changing market, manufacturers of probiotic yogurt have to continuously upgrade the production process and the overall quality of product. For increasing market penetration and consumer engagement, manufacturers are assessing market for developing preferred flavor and packaging of probiotic yogurt in any particular region. This has caused focus on research and development to increase.
For instance, Danone is investing heavily in finding novel strains of bacteria to be introduced in the probiotic yogurt for enhance nutritional profile of the product. Manufacturers are also experimenting with launching novel flavors to assess the response of the test market so that the production can be scaled up accordingly.
Country-wise Insights
What Novel Labelling requirements are implemented in Spain for probiotic yogurt?
Spain is expected to offer considerable growth opportunities for probiotic yogurt. As the growing market needs to be regulated thoroughly, Instrument for Pre-Accession Assistance (IPA) (Europe) has established certain guidelines for the manufacturers using probiotics in the products such as probiotic yogurt. The Spanish government agency, Spanish Agency for Food Safety and Nutrition has thus accepted labeling of food and food supplements for specifying the content of probiotics. Implementation of stringent regulations has been creating growth prospects for probiotic yogurt sales in the country.
What are the Opportunity for Probiotic Yogurt in U.S. Market?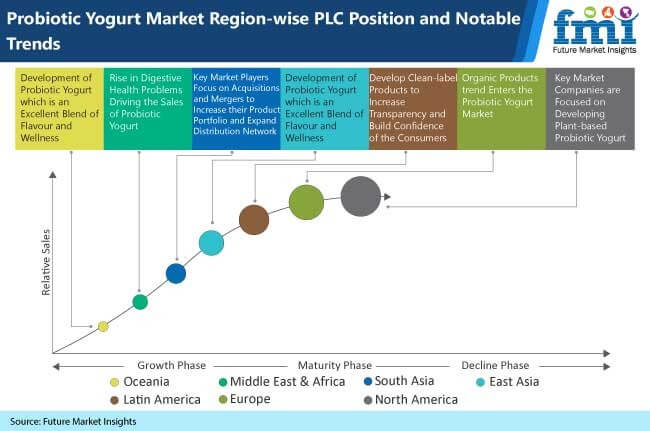 The U.S. holds a prominent share of the global probiotic yogurt market and thus is the focal point for many manufacturers. As the United States is a fairly mature market for probiotic yogurt with an established consumer base, manufacturers have the opportunity to study a large population with introducing variation in flavors and packaging.
Response from this market helps manufacturers to replicate or further improvise probiotic yogurt to be launched in developing markets like countries in the Middle East. According to guidelines established by the U.S. government, probiotic yogurt must contain at least two strains of bacteria, for instance, Streptococcus thermophilus, and Lactobacillus bulgaricus. Manufacturers are further studying the benefits and effects of more strains of bacteria.
What is the Driving Force of Probiotic Yogurt in India?
Yogurt or Dahi has been prominent in the India market for a long time due to its health benefits. As the fad of probiotic yogurt keeps rising in the Indian market, FSSAI (Food Safety and Standards Authority of India) has rolled out set standards to follow for the manufacturers.
Key players in India for instance, Nestle, Amul, Mother Dairy have successfully introduced probiotic yogurt in their product portfolio as they find rising potential in the domestic market. On the other hand, European manufacturer MO's Superfood has shown their interest in the Indian and Asian market for probiotic yogurt, Kefir.
Why is China Considered a Lucrative Market for Probiotic Yogurt Sales?
The probiotics market in China is growing from strength to strength. According to International Probiotics Association (IPA), the industry trade body, China currently accounts for nearly half of probiotics sales across Asia Pacific. Studies also reveal that the country will continue tracking higher than average growth rate, presenting conducive environment for probiotic yogurt sales.
China's position as a lucrative pocket has been attracting attention from some of the global leaders. For instance, Ganeden, a renowned probiotic firm in China was acquired by Kerry in 2017. While dairy continues to reign the probiotic landscape, concerns pertaining to increasing prevalence of obesity are gradually causing paradigm shift in favor of non-dairy products.
A report by the National Health Commission of China revealed that more than 50% of adults are classified as overweight. With the government in China unveiling various plans to curb the rate of obesity, the sales of probiotics yogurt is expected to rise.
How is U.K. Responding to Plant-based Probiotic Yogurt?
The U.K. is recognized as the prime location of the rising vegan population, which is said to have quadrupled from the year 2014 to 2019, and is further expected to rise, as per The Vegan Society. With this drastically changing consumer behavior, probiotic yogurt manufacturers of the region have promptly adapted to this change. Manufacturers have started developing multiple dairy alternate sources for addressing this demand from the population, for instance, plant-based sources or synthetic processes.
Category Wise
Which is More Preferred Probiotic Yogurt Type?
Spoonable yogurt continues to account for the leading market share due to the sheer preference of consumers for the taste, texture, and mouthfeel of spoonable yogurt is encouraging growth at above 7% in the category, finds FMI. With this category witnessing increasing launches, that too in innovative flavors, the demand for spoonable yogurt is expected to remain high through the forecast period.
Which Probiotic Yogurt is More Preferred Based on Fat Content?
Regular or whole milk probiotic yogurt continues to lead the market. While focus on health is increasing, causing high demand for low-fat and fat-free yogurts, growth exhibited by the whole milk segment will remain high through the forecast period. FMI has forecast, the category to exhibit nearly 6% Y-o-Y growth in 2021.
What is the expected impact of plant-based probiotic yogurt on the market?
The increasing product offering of plant-based probiotic yogurt in the global market is owing to growing consumer inclination towards dairy alternate sources due to the climate crisis. According to some medical studies, the development of chronic diseases is linked to the consumption of animal-based products. Rising speculation of the presence of antibiotics and hormones on dairy products is another factor driving consumers towards plant-based probiotic yogurt. Owing to these factors, plant-based sources are making a great impact on probiotic yogurt in the global market.
Some of the leading market players are launching plant-based probiotic yogurt. For example, Chobani launched a new plant-based yogurt in 2019. Epigamia also announced the launch of India's first plant-based yogurt in June 2020.
How Probiotic Yogurt Market is taking its Shape in Organic Segment?
Consumers are ready to pay a premium price for probiotic yogurt made from authentic organic ingredients. Many manufacturers are focusing on developing organic probiotic yogurt in a variety of flavors to gain the traction of the consumers. The changing consumer perception is driving the demand for organic probiotic yogurt. According to FMI, the organic segment will showcase nearly 8% Y-o-Y growth in 2021.
How are Novel Flavors of Probiotic Yogurt Pushing Sales?
The presence of an increasing number of manufacturers of probiotic yogurt has resulted in the launch of a wide variety of options for the consumers to choose from. To gain competitive advantage, these manufacturers are introducing exotic flavors of probiotic yogurt in the global market. As consumers are inclined towards healthy food products that are nutritious as well as gives exotic and novel taste, the probiotic yogurt market is expected to witness with the introduction of novel flavors. According to FMI, flavored yogurt is expected to account for lion's share of probiotics yogurt sold.
Which Sales Channel is More Preferred in the Probiotic Yogurt Market?
Currently, hypermarket/supermarkets hold a prominent market share in the global market, however, online retailers are also expected to witness rapid growth in the global market. This is owing to the factor that consumers have easy access to a large number of brands and manufacturers of probiotic yogurt, thus can easily compare and select their desired products.
Besides this, manufacturers also prefer online sales channel as it reduces the gap between them and the global consumer base. Online Sales channel also helps in optimizing supply chain thus reducing expenses incurred by manufacturers.
Competitive Landscape
Manufacturers of probiotic yogurt are focusing on increasing the product portfolio to address a large population. For this, they are developing multiple flavors with exotic fruits.
For instance, Danone has recently launched children's yogurt with probiotics. This is a new low fat yogurt that the company claims will support immune system in children.
Manufacturers such as Groupe Lactalis S.A. and Danone Ltd. are improving market presence and product portfolio by partnering with key pioneers of the market. For instance, Groupe Lactalis S.A. acquired The Icelandic Milk & Skyr Corporation Company in 2018, and Danone Ltd. acquired WhiteWave Foods in 2019 to accelerate the growth of the company and to become a global leader that offers products according to consumer trends.
Some of the leading companies operating in the market are:
Danone S.A.
General Mills, Inc.
Nestlé S.A.
Fonterra Co-operative Group Limited
Groupe Lactalis S.A.
Mother Dairy Fruit & Vegetable Pvt Ltd.
Meiji Holdings Company, Ltd.
Chobani LLC
FAGE International S.A.
Good Karma Foods, Inc.
Inner Mongolia Yili Industrial Group Co., Ltd.
Sovos Brands Intermediate, Inc.
The Coconut Collaborative
Yofix Probiotics Ltd.
GT's Living Foods LLC
COYO Pty Ltd.
Ehrmann AG
Forager Project, LLC
Lancashire Farm Dairies
Olympic Dairy Products Ltd
*The list is not exhaustive, and only for representational purposes. Full competitive intelligence with SWOT analysis available in the report.
Scope of the Report
Attribute

Details

Forecast Period

2021-2031

Historical Data Available for

2016-2020

Market Analysis

USD Million for value and MT for Volume

Key Regions Covered

North America, Latin America, Europe, East Asia, South Asia, Oceania Middle East & Africa

Key Countries Covered

US, Canada, Brazil, Mexico, Chile, Peru, Argentina, Rest of Latin America, Germany, France, Italy, U.K., Spain, BENELUX, Nordic, Poland, Russia, Rest of Europe, China, Japan, South Korea, India, Malaysia, Singapore, Indonesia, Thailand, Rest of South Asia, Australia, New Zealand, GCC Countries, South Africa, Turkey, North Africa, Central Africa, Rest of MEA

Key Segments Covered

End Use Application

Key Companies Profiled

Danone S.A.
General Mills, Inc.
Nestlé S.A.
Fonterra Co-operative Group Limited
Groupe Lactalis S.A.
Chobani LLC
FAGE International S.A.
Good Karma Foods, Inc.
The Coconut Collaborative
Mother Dairy Fruit & Vegetable Pvt Ltd.
Inner Mongolia Yili Industrial Group Co., Ltd.
Meiji Holdings Company, Ltd.
Ehrmann AG
Yofix Probiotics Ltd.
GT's Living Foods LLC
Sovos Brands Intermediate, Inc.
Forager Project, LLC
Lancashire Farm Dairies
Olympic Dairy Products Ltd
COYO Pty Ltd.

Report Coverage

Market Forecast, brand share analysis, competition intelligence, DROT analysis, Market Dynamics and Challenges, Strategic Growth Initiatives

Customization & Pricing

Available upon Request
Key Questions Answered in the Report
Q1. Which is the most lucrative market for probiotic yogurt?
The U.S. has emerged as one of the leading markets for probiotic yogurt. Higher prevalence of obesity and incidence of chronic ailments have caused consumers to increasingly focus on health, creating sales opportunities in the U.S. probiotic yogurt market.
Q2. Which is the top-selling type of probiotic yogurt?
Spoonable probiotic yogurt is expected to be the preferred product type in the global probiotic yogurt market with the market share of more than three quarter.
Q3. Why is preferred source of probiotic yogurt?
Plant-based yogurt will continue reigning the market. Demand in this category is poised to surge due to rising prevalence of lactose intolerance besides increasing number of vegan and flexitarian population.
Q4. Which are some of the leading companies offering probiotic yogurt?
Some of the leading companies offering probiotic yogurt are Danone S.A., General Mills, Inc., Nestlé S.A., Fonterra Co-operative Group Limited, Groupe Lactalis S.A., Chobani LLC, FAGE International S.A., Mother Dairy Fruit & Vegetable Pvt Ltd., among others.
Q5. Which is more preferred channel for probiotic yogurt sales?
While hypermarkets/ supermarkets continue leading the probiotics yogurt market in terms of sales channel, sales via online channels too are expected to increase in the coming years. Rising number of online retailers will enable growth in sales via online channels.
Enquiry before Buying
Is this research conducted by Future Market Insights?
Yes, the research has been conducted by expert analysts of Future Market Insights through a combination of primary research and secondary research. To know more about how the research was conducted, you can speak to research analyst.
What research methodology is followed by FMI?
FMI follows a methodology that encompasses demand side assessment of the market, and triangulates the same through supply side analysis. This methodology is based on use of standard market structure, methods and definitions. Request detailed methodology.
Who are the respondents for primary research?
FMI speaks to stakeholders across the spectrum, including C-level executives, distributors, product manufacturers, industry experts. For a full list of primary respondents, please reach out to us.
What are the sources of secondary research?
FMI conducts extensive secondary research through proprietary databases, paid databases, and information available in the public domain. We refer to industry associations, company press releases, annual reports, investor presentations, and research papers. More information about desk research is available upon request.
Is a sample of this report available for evaluation?
Yes, you can request a sample and it will be sent to you through an email.
How can I buy this report?
FMI provides a secure online payment system to buy report seamlessly. You can buy the report securely and safely.
Key Segments
Product Type
Drinkable Probiotic Yogurt
Spoonable Probiotic Yogurt
Source
Animal-based
Plant-based

Soy Milk
Almond Milk
Coconut Milk
Others
Nature
Flavor
Regular/Unflavored
Flavored

Vanilla
Strawberry
Blueberry
Peach
Others
Fat Content
Regular/Whole Milk
Low-fat
Fat-free
Sales Channel
Hypermarkets/Supermarkets
Convenience Stores
Specialty Stores
Online Retailers
Wholesalers
Grocery Stores
Other Retail Formats
Region
North America
Latin America
Europe
East Asia
South Asia
Middle East and Africa (MEA)
Oceania
Need specific information?