Probiotic Supplements Market Outlook
The probiotic supplements market is expected to register robust growth during the forecast period. Nutritional supplements have been and are likely to continue their dominance in the probiotics dietary supplements market, on account of the rising awareness about preventive healthcare. Benefits provided by nutritional supplements that include bringing improvements in digestion and bone density of individuals are likely to uphold the popularity of probiotic supplements during the forecast period.
A significant boost to the probiotic supplements has come from the COVID-19 crisis. While the demand for other commodities witnessed a slug, probiotic supplements were and are able to garner sales from individuals, on the back of their increased reliance on additional supplements to boost their immunities. Moreover, it is found that the focus of manufacturers has been on the diversification of their product portfolios. As a result, new-age specific products are introduced in the probiotic supplements market.
For instance, in April 2019, Bicodex announced the launch of new probiotic supplements--FlorastorBaby. The product has been developed for maintaining digestive health as well as immunity health of the newborn babies. In addition to this, in August 2018, Archer Daniels Midland Company announced the acquisition of Probiotic International Limited for the expansion for animals and human beings. Besides this, in November 2017, Royal DSM announced that it has acquisition Biocare Copenhagen for the expansion of its gut health portfolio using probiotics.
Consumers are found resonating well with liquid probiotic supplements more than the dry probiotics, on account of its utilization in yogurts, probiotic juices, kefir water, and similar products. In addition, manufacturers are investing in increasing the forms of probiotic supplements. As a result, the wide availability of probiotic supplements in tablet, liquid, powder, and capsule form is also a prominent growth driver for the probiotic supplements market during the forecast period.
TOP MARKET GROWTH INFLUENCERS
Manufacturers' Focus on Product Differentiation
Intake of probiotic supplements per-capita is increasing, on the account of rising consumer tendency to spend on healthcare and pharmaceutical services and products. Consumption of probiotic supplements in BRICS countries, where these products can be obtained over-the-counter, has witnessed a substantial increase in the past decade.
In an attempt to gain distinct competitive edge, manufacturers of probiotic supplements are focusing on introducing products that appeal to women and kids in these countries. Additionally, product differentiation remains a key focus area of market players to influence their brand positioning and marketing strategies.
In kids segment, probiotic supplements in animal shapes and fruity flavours have been garnering significant traction.
Increasing Cases of Vaginal and Urinary Tract Infection in Women to Bolster Sales
Urinary tract and vaginal infections are among the most common bacterial infections affecting millions of women worldwide. Recurrent of these infections is another significant health issue which may lead to neurogenic bladder infections. In several countries, conservative societies not only prevent women from discussing such infections but also make it difficult for women to obtain required medication.
According to NHS, urinary tract and vaginal infections are the second-most common infections in women and account for approximately 8.1 Mn visits to doctors.
Probiotic supplements are deemed to be an effective solution to women's health issues. Additionally, use of probiotic supplements not only restores good bacteria in the body, but also bolsters immunity, improves fertility, prevents traveler's diarrhea, clears skin problems, and boosts digestion. In response to growing demand, specifically from women, manufactures are introducing several probiotic supplements targeting women health and well-being.
C-section Delivery Prompting Usage of Probiotic Supplements in Infants and Kids
Population and diversity of bacteria in infant's gut are similar to type of microbiota that the infant accumulates during gestation. Moreover, the first microbiota (commensal, symbiotic, and pathogenic microorganisms in a body) of infants are structured primarily by their mode of delivery. Thus, early colonization arrays of bacteria in the gut of infants born through C-section vary extensively from those in children delivered through vagina. The number of C-section deliveries is also reported to be growing every year.
In 2016, close to 20% of infants born in the U.S. were delivered by C-section (cesarean). This percentage is even higher in various countries in Europe and Asia Pacific.
To ensure stable bacterial colonization in their gut, infants delivered via C-section are recommended probiotic supplements till the age of 5 years. This, in turn, is expected to propel the demand for probiotic supplements for kids in the foreseeable future.
Rise in Aging Population to Boost Demand for Probiotic Supplements
By the end of 2016, over 550 million people were over 65 years, which translates to roughly 8% of the world's population. Over next 30 years, the number of individuals aged 60 years or above is projected to witness 3X, exceeding 1.5 Bn, which will account for 15% of the global population.
Tapping into senior segment, probiotic supplement manufacturers are focusing on introducing products containing bacterial strains that are specifically beneficial for aging demographic. As these population intent to stay physically active and mentally sharp, the demand for probiotic supplements for senior category will continue to increase in years ahead.
Stakeholders Eyeing Developing Countries for Lucrative Opportunities
North America remains a prominent market for probiotic supplements, and is estimated to account for maximum revenue share in 2019. Moreover, strong presence of market players and greater awareness regarding potential benefits of probiotic supplements among consumers in the region continue to influence the market growth.
Collectively, North America and Western are expected to account for around 70% revenue share of the global probiotic supplements market by 2019. Manufacturers are viewing developing countries in Asia Pacific from target market perspective. The probiotic supplements market in APEJ is expected to benefit from increasing disposable income, greater exposure to information through social media, and favorable government initiatives to improve preventive healthcare.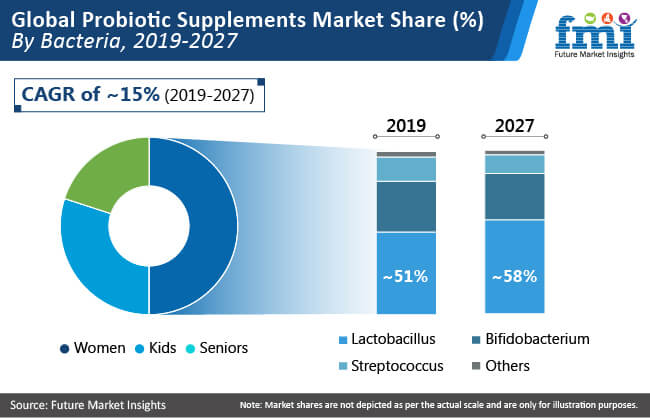 PROBIOTIC SUPPLEMENTS MARKET STRUCTURE ANALYSIS
The global probiotic supplements market shows a fair level of fragmentation, with a large number of local and regional players.
In recent years, flavoured supplements marked a prominent trend in the probiotic supplements market. Companies are launching innovative products in a variety of flavours, especially in kids and senior segments, to retain and attract new segments of customers.
As working women value convenience and showing preference for products available in small packaging formats, manufacturers are continually launching powder premixes to target this demographic.

In 2015, Renew Life Formulas, Inc. launched a probiotic drink mix 'Ultimate Flora Probiotic Fizzy Drink Mix' for adults. This probiotic drink contains no artificial ingredients and has only natural flavours of fruits and probiotic powder.

Major players in the probiotic supplements market are Church & Dwight Co. Inc., The Clorox Company, Natural Factors Inc., Dr. Willmar Schwabe Group, i-Health, Inc., Jarrow Formulas, NOVA Probiotics, Total Nutrition, Inc., Pharma Care Laboratories, BioGaia AB, and Lifeway Foods, Inc.
FREQUENTLY ASKED QUESTIONS ABOUT PROBIOTIC SUPPLEMENTS MARKET
What drives the probiotic supplements market?
Probiotics supplements market is forecast to grow at an impressive pace, primarily due to the rising popularity of probiotics yoghurts. As consumer awareness regarding health benefits of probiotic supplements grows on account of increasing research initiatives, the popularity of these products will continue to rise.
Which factors may restrict growth of the probiotic supplements market?
Stringent regulations imposed on the use of probiotics in nutricosmetics, nutraceutical, infant formula, and dairy supplements, especially in countries such as the U.S. may restrict the market growth to an extent.
Which region will lead the global sales of probiotic supplements?
North America and Europe are likely to remain most lucrative markets for probiotic supplements because of their easy available in the regions. In addition, Asia Pacific excluding Japan will represent a multi-million dollar business, as the regional market expands at a robust pace.
Which segment in terms of bacteria offers most lucrative growth opportunities in probiotic supplements market?
Probiotic supplements based on lactobacillus accounted for the half of global sales in 2018. This, coupled with a buoyant y-o-y rise of 9.5% CAGR, makes lactobacillus segment highly lucrative.
Which is the most preferred distribution channel in probiotic supplements market?
Pharmacy stores are likely to remain mainstay of probiotic supplements market. However, in the coming years ecommerce will emerge as a highly lucrative category.
Probiotic Supplements Market Report Scope
Attribute

Details

Forecast Period

2015-2018

Historical Data Available for

2019-2027

Market Analysis

US$ Mn for Value

Key Regions Covered

North America, Western Europe, Eastern Europe, Latin America, Asia Pacific Excl. Japan, Japan, and Middle East & Africa (MEA)

Key Countries Covered

U.S, Canada, Mexico, Brazil, Rest of Latin America, Argentina, Germany, United Kingdom, France, Italy, Spain, Nordic Region, Benelux, Rest of Western Europe, Russia, Poland, Rest of Eastern Europe, China, India, ASEAN, Australia, New Zealand, Rest of APEJ, Japan, GCC, North Africa, South Africa, and Rest of MEA

Key Segments Covered

Bacteria, Form, Distribution Channel, Region

Key Companies Profiled

Church & Dwight Co. Inc.
DR. WILLMAR SCHWABE GROUP
The Clorox Company
i-Health, Inc.
Jarrow Formulas
NOVA Probiotics
Natural Factors, Inc.
PharmaCare Laboratories
Total Nutrition, Inc.
BioGaia AB
Lifeway Foods, Inc.

Report Coverage

Market Overview, Key Market Trends, Key Success Factors, Demand Analysis, Market Background, COVID-19 Analysis, Segmental Analysis, Regional Profiling, Market Structure & Competition Analysis

Customization & Pricing
PROBIOTIC SUPPLEMENTS MARKET TAXONOMY
The global probiotic supplements market is segmented in detail to cover every aspect of the market and present complete market intelligence to readers.
Bacteria
Lactobacillus
Streptococcus
Bifidobacterium
Others
End Use
By Women

By Function

Immunity & Digestive health
Urogenital Health
Vaginal Health
Urinary Tract Infections
Pregnancy
Weight Management
Others

By Form

Tablet
Capsules
Liquid
Powder Premixes

By Seniors

By Formulation
Tablet
Capsules
Liquid
Powder Premixes

By Kids

By Form

Powder Premixes
Tablets
Gummies/Chewables
Lozenges
Liquid & Gels
Distribution Channel
Hypermarket/ Supermarket
Specialty Stores
e-Commerce
Pharmacy Stores
Region
North America
Latin America
Western Europe
Eastern Europe
APEJ
MEA
Japan
Need specific information?