Probiotic Supplements Market Set for Rapid Expansion
In line with heady growth of the dietary supplements market, the global market for probiotic supplements is set to grow on a pace, primarily owing to immense popularity of probiotic yogurts. As research studies continue to uncover health benefits of probiotics and consumer awareness continues to rise, these products are increasingly moving beyond dairy and featuring strongly in the nutraceuticals market. Future Market Insights, in its new study, explores a gradual shift in consumer preferences regarding the consumption of probiotics - moving away from yogurt to supplements. It is imperative to note that probiotic supplements command a market value that pales in comparison to their popular counterpart - probiotic yogurt. The probiotic supplements market is estimated to be valued at US$ 5.5 Bn in 2019, further expanding at higher pace than probiotic yogurt and other dietary supplements.
Top Market Growth Influencers
Manufacturers' Focus on Product Differentiation

Intake of probiotic supplements per-capita is increasing, on the account of rising consumer tendency to spend on healthcare and pharmaceutical services and products. Consumption of probiotic supplements in BRICS countries, where these products can be obtained over-the-counter, has witnessed a substantial increase in the past decade. In an attempt to gain distinct competitive edge, manufacturers of probiotic supplements are focusing on introducing products that appeal to women and kids in these countries. Additionally, product differentiation remains a key focus area of market players to influence their brand positioning and marketing strategies.

In kids segment, probiotic supplements in animal shapes and fruity flavours have been garnering significant traction.

Increasing Cases of Vaginal and Urinary Tract Infection in Women to Bolster Sales

Urinary tract and vaginal infections are among the most common bacterial infections affecting millions of women worldwide. Recurrent of these infections is another significant health issue which may lead to neurogenic bladder infections. In several countries, conservative societies not only prevent women from discussing such infections but also make it difficult for women to obtain required medication.

According to NHS, urinary tract and vaginal infections are the second-most common infections in women and account for approximately 8.1 Mn visits to doctors.

Probiotic supplements are deemed to be an effective solution to women's health issues. Additionally, use of probiotic supplements not only restores good bacteria in the body, but also bolsters immunity, improves fertility, prevents traveler's diarrhea, clears skin problems, and boosts digestion. In response to growing demand, specifically from women, manufactures are introducing several probiotic supplements targeting women health and well-being.

C-section Delivery Prompting Usage of Probiotic Supplements in Infants and Kids

Population and diversity of bacteria in infant's gut are similar to type of microbiota that the infant accumulates during gestation. Moreover, the first microbiota (commensal, symbiotic, and pathogenic microorganisms in a body) of infants are structured primarily by their mode of delivery. Thus, early colonization arrays of bacteria in the gut of infants born through C-section vary extensively from those in children delivered through vagina. The number of C-section deliveries is also reported to be growing every year.

In 2016, close to 20% of infants born in the U.S. were delivered by C-section (cesarean). This percentage is even higher in various countries in Europe and Asia Pacific.

To ensure stable bacterial colonization in their gut, infants delivered via C-section are recommended probiotic supplements till the age of 5 years. This, in turn, is expected to propel the demand for probiotic supplements for kids in the foreseeable future.

Rise in Aging Population to Boost Demand for Probiotic Supplements

By the end of 2016, over 550 million people were over 65 years, which translates to roughly 8% of the world's population. Over next 30 years, the number of individuals aged 60 years or above is projected to witness 3X, exceeding 1.5 Bn, which will account for 15% of the global population.

Tapping into senior segment, probiotic supplement manufacturers are focusing on introducing products containing bacterial strains that are specifically beneficial for aging demographic. As these population intent to stay physically active and mentally sharp, the demand for probiotic supplements for senior category will continue to increase in years ahead.

Stakeholders Eyeing Developing Countries for Lucrative Opportunities

North America remains a prominent market for probiotic supplements, and is estimated to account for maximum revenue share in 2019. Moreover, strong presence of market players and greater awareness regarding potential benefits of probiotic supplements among consumers in the region continue to influence the market growth.

Collectively, North America and Western are expected to account for around 70% revenue share of the global probiotic supplements market by 2019. Manufacturers are viewing developing countries in Asia Pacific from target market perspective. The probiotic supplements market in APEJ is expected to benefit from increasing disposable income, greater exposure to information through social media, and favorable government initiatives to improve preventive healthcare.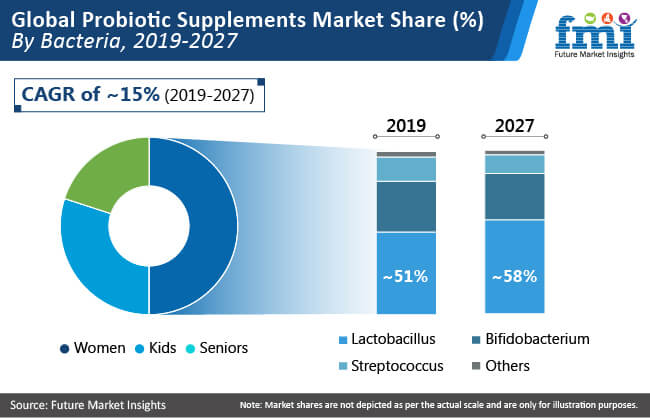 Probiotic Supplements Market Structure Analysis
The global probiotic supplements market shows a fair level of fragmentation, with a large number of local and regional players.
In recent years, flavoured supplements marked a prominent trend in the probiotic supplements market. Companies are launching innovative products in a variety of flavours, especially in kids and senior segments, to retain and attract new segments of customers.
As working women value convenience and showing preference for products available in small packaging formats, manufacturers are continually launching powder premixes to target this demographic.

In 2015, Renew Life Formulas, Inc. launched a probiotic drink mix 'Ultimate Flora Probiotic Fizzy Drink Mix' for adults. This probiotic drink contains no artificial ingredients and has only natural flavours of fruits and probiotic powder.

Major players in the probiotic supplements market are Church & Dwight Co. Inc., The Clorox Company, Natural Factors Inc., Dr. Willmar Schwabe Group, i-Health, Inc., Jarrow Formulas, NOVA Probiotics, Total Nutrition, Inc., Pharma Care Laboratories, BioGaia AB, and Lifeway Foods, Inc.
FREQUENTLY ASKED QUESTIONS ABOUT probiotic supplements market
What drives the probiotic supplements market?
Probiotics supplements market is forecast to grow at an impressive pace, primarily due to the rising popularity of probiotics yoghurts. As consumer awareness regarding health benefits of probiotic supplements grows on account of increasing research initiatives, the popularity of these products will continue to rise.
Which factors may restrict growth of the probiotic supplements market?
Stringent regulations imposed on the use of probiotics in nutricosmetics, nutraceutical, infant formula, and dairy supplements, especially in countries such as the U.S. may restrict the market growth to an extent.
Which region will lead the global sales of probiotic supplements?
North America and Europe are likely to remain most lucrative markets for probiotic supplements because of their easy available in the regions. In addition, Asia Pacific excluding Japan will represent a multi-million dollar business, as the regional market expands at a robust pace.
Which segment in terms of bacteria offers most lucrative growth opportunities in probiotic supplements market?
Probiotic supplements based on lactobacillus accounted for the half of global sales in 2018. This, coupled with a buoyant y-o-y rise of 9.5% CAGR, makes lactobacillus segment highly lucrative.
Which is the most preferred distribution channel in probiotic supplements market?
Pharmacy stores are likely to remain mainstay of probiotic supplements market. However, in the coming years ecommerce will emerge as a highly lucrative category.
Lactobacillus-based Probiotic Supplements to Drive Absolute Growth
In 2018, probiotic supplements based on lactobacillus has contributed more than half of global sales and a buoyant 9.5% y-o-y rise is expected in 2019. Lactobacillus-based probiotic supplements continue to exert stronger consumer appeal and vaginal probiotic supplements based on lactobacillus have been garnering significant traction over the years. Rise in adoption of bifidobacterium- and streptococcus-based probiotic supplements is expected in the near future.
North America in Vanguard with Nearly 50% Revenue Share
The dietary supplements industry continues to remain concentrated in North America and Europe, as probiotic supplements are easily available in pharmacy stores and modern trade channels. Accounting for around half of global revenues, market in North America will be majorly driven by strong emphasis on preventive healthcare and increasing interest in online self-education. In Asia Pacific excluding Japan (APEJ), probiotic supplements represent a multi-million-dollar business and the regional market is set to register around 13% CAGR during 2019-2027.
Solid Growth Projected Despite Inadequate Health Claim Approvals
With the nutraceutical industry selling benefits of healthier, longer life, a growing number of consumers, especially aging demographic, are turning to two subtypes of dietary supplements – protein and probiotic supplements. Convenience, transparency dosage, and attached 'zero' calorie tag further play key roles in attracting other segment of consumers - women and millennial. Over the years, chronic diseases are creating a leverage point for multi nutritional supplements, especially in the area of cardiovascular health and diabetes. Probiotic supplements are no exception. Despite the lack of approval health claims, probiotic supplements undergo numerous research and clinical studies, thereby opening new avenues for further development in areas of infant, women, and older adult health.
Lactobacillus remains highly preferred
Supplements based on bifidobacterium to sell rapidly
Women remain top consumers
Demand in kids segment grows significantly
Pharmacy stores take the lead
Sales via specialty stores picks pace
How Growth will Unfold
Strong distribution networks will be the mainstays of probiotic supplements market. Pharmacy stores would remain the leading distribution channel driving sales of probiotic supplements for women, kids, and senior consumers. However, it has been observed that online retail is emerging lucrative at a dramatic rate and thus, E-commerce will be extending offerings in this category, especially targeting women demographics. Market stakeholders should also indulge in maintaining listings across modern trade channels to solidify probiotic supplement sales in kids' section.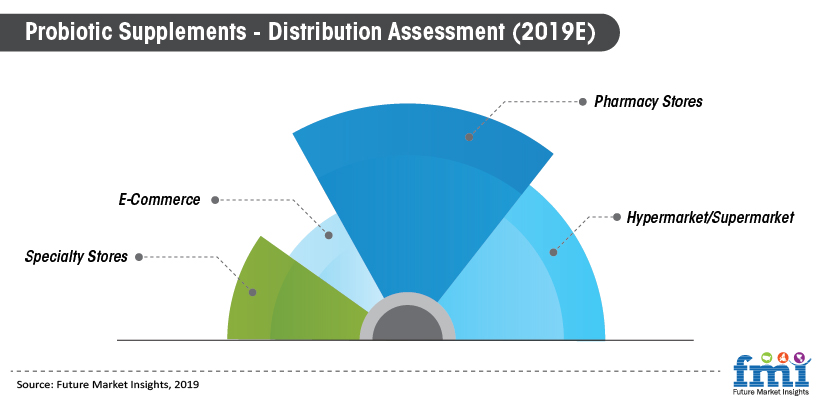 * This data is only a representation. Actual data may vary and will be available in report.
Click Here To Know How The Growth Will Unfold
Custom Market Research Services
FMI offers custom market research services that help clients to get information on their business scenario required where syndicated solutions are not enough.
Overview
Probiotic Supplements Market Analysis 2019 - 2027
A recent market study published by Future Market Insights on the probiotic supplements market offers global industry analysis for 2015-2018 & opportunity assessment for 2019-2027. The study offers a comprehensive assessment of the most important market dynamics. After conducting thorough research on the historical, as well as current growth parameters of the probiotic supplements market, the growth prospects of the market are obtained with maximum precision.
Today, consumers' awareness about the importance of a multi-nutrient diet has increased more than ever. However, changing lifestyle and busy schedules are pushing them to resort to dietary supplements as a convenient way of including multiple nutrients in their daily diets. This has provided a significant impetus to the growth of the probiotic supplements market. Leading companies in this landscape are capitalizing on the consumers' knowledge about the benefits of probiotic supplements and targeting young adults and elderly population of developed countries. Furthermore, growing concerns among new parents about their kids' health are also adding to the sales potential of probiotic supplements for children.
Probiotic Supplements Market Taxonomy
The global probiotic supplements market is segmented in detail to cover every aspect of the market and present complete market intelligence to readers.
Bacteria
Lactobacillus
Streptococcus
Bifidobacterium
Others
End Use
By Women

By Function

Immunity & Digestive health
Urogenital Health
Vaginal Health
Urinary Tract Infections
Pregnancy
Weight Management
Others

By Form

Tablet
Capsules
Liquid
Powder Premixes

By Seniors

By Formulation
Tablet
Capsules
Liquid
Powder Premixes

By Kids

By Form

Powder Premixes
Tablets
Gummies/Chewables
Lozenges
Liquid & Gels
Distribution Channel
Hypermarket/ Supermarket
Specialty Stores
e-Commerce
Pharmacy Stores
Region
North America
Latin America
Western Europe
Eastern Europe
APEJ
MEA
Japan
How the research was conducted?
Primary Research
C - Level Executives
Marketing Directors
Sales Heads
Production Managers
Distributors Heads
Sales Executives
Product Manufacturers
Distributors
Traders
Industry Experts
End Users
Current Market Dynamics and Challenges
Market Characteristics
Market Performance and Growth Quadrants
Competition Structure and Market Structure
Strategic Growth Initiatives
Near-term and Long-term Market Growth Prospects
Market Segment Splits and Authenticity
Opinions on Market Projections and Validity Of Assumptions
Secondary Research
Industry Publications

Industrial Week
Industrial Product Review
Industrial Magazine

Industry Associations

World Health Organization
American Public Health Association
Center for Disease Control and Prevention

Company Press Releases
Annual Reports and Investor Presentations
Research Papers
Government Websites and Publications
Trade Websites
Primary Interview Splits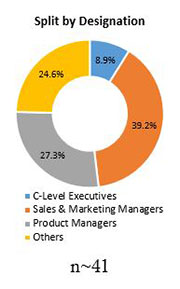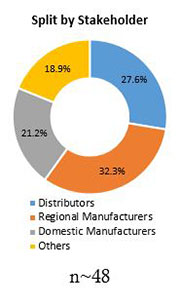 To Learn More About our Comprehensive Perspective on Probiotic Supplements Market,
Get in touch
COVID -19 : Impact Analysis
Request the coronavirus impact analysis across industries and markets
Request Covid -19 Impact
CASE STUDIES
See how our work makes an impact.
At FMI, we design strategies that are adaptive, impactful, and implementable.