Dietary Fibres: Bridging the Huge 'Fibre Gap'
The intellectual discussions about the deteriorating quality and content of human diet mostly revolve around an excessive amount of sugar and salt, and the calorie intake. Although more number of protein-rich foods continue to invade the routine dietary practices of a sizably large consumer population, a huge 'fibre gap' is still left. In recent years, with increasing awareness about the science behind fibres and their potential benefits in terms of gut health, weight management, and immunity, dietary fibres have become a prominent ingredient of a wide range of nutritional and functional food. A steady rise in the development of innovative fibre can also be attributed to the FDA's guideline released in 2018, which identified eight specific fibres that can be classified as 'dietary fibres' on the Nutritional Facts Label.
As food companies are taking functional foods and nutrition space by storm with the products' focus on dietary fibres, Future Market Insights (FMI), in its new research study, conducts a thorough analysis on their consumption scenario. Further, the study brings to fore credible insights on growth prospects of dietary fibres market that can help market stakeholders identify new opportunities.
Dietary Fibres Market - Key Research Findings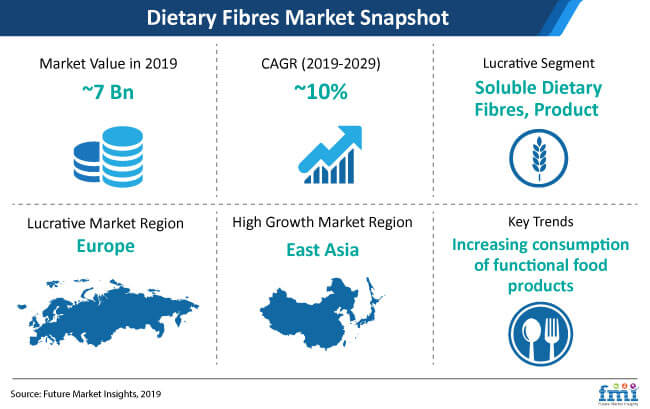 The global dietary fibres market size in 2018 was ~US$ 7 Bn.
The dietary fibres market is expected to grow at a CAGR of ~10% during the forecast period 2019-2029.
The rising demand for organic and natural food ingredients in the functional food industry from consumers is expected to propel the demand for dietary fibres in the forecast period 2019-2029.

Collectively, East Asia and Europe are expected to account for major revenue share in the dietary fibres industry, by the end of 2029.
East Asia is expected to account for the major consumption of dietary fibres in the forecast period due to the changing dietary patterns observed in the population.

The increasing applications of dietary fibres in multiple industries are generating more demand for dietary fibres.

Many cosmetic industry players are focusing on the utilization of dietary fibre in the production of cosmetics. For example, beta-glucan can be used in anti-wrinkle and anti-inflammatory cosmetics.
Increasing health-consciousness of people and their demand for health supplements is expected to increase the consumption of dietary fibres in the health supplements industry.
Key Factors Shaping the Dietary Fibres Market
Utilization of Insoluble Dietary Fibres in Food Fortification Expected to Propel Demand
Many food product manufacturing companies are now making use of the capabilities of insoluble dietary fibre for food fortification. Some properties include high digestive tolerance, fibre enrichment without sacrificing taste, color or texture, exceptional stability, consumer-friendly labeling, as well as ease of formulation in a vast range of applications. This fortification of soluble dietary fibres in food products is set to witness an upsurge in demand over the coming years.
In 2016, Ingredion Incorporated, one of the leading ingredient providers, launched VERSAFIBE, a dietary fibre series for manufacturers wanting to easily add fibre to foods such as baked goods, extruded products, and pastas with little to no impact on product flavor, color, and texture.
Consumption of Dietary Fibres as Functional Foods to Drive the Market Growth
Changing lifestyles and eating habits of consumers worldwide, due to their hectic work schedules and busy lifestyles, are having a negative impact on their health, causing various cardiovascular diseases and lifestyle diseases such as diabetes, obesity, hypertension, heart attack, stroke, aneurysm, and high blood pressure. Dietary fibres work as functional food ingredients, and help to avoid these diseases. Therefore, growing lifestyle and cardiovascular diseases are expected to uplift the demand for dietary fibres in terms of healthy functional food in the coming years.
Insoluble Dietary Fibres to Control Obesity
An increasing trend of junk food and fast food, among youngsters and children, is causing an increment in the obesity rate in many regions. According to the World Health Organization, 39% of adults aged 18 years and over, were overweight in 2016, and 13% were obese. Insoluble dietary fibres have a great property to reduce appetite and subsequently calorie intake, which can aid weight loss. This property of insoluble dietary fibres to control obesity is expected to help surpass its demand in the forecast period.
Increasing Spending on Personal Care and Nutrition
Different health issues are increasing among the current generation due to changing lifestyles and eating habits. This had made people more aware of what they eat and from where they buy it. Increasing concerns towards health are making people spend more on healthy food. This factor is also driving the growth of the dietary fibres market.
Dietary Fibres Market Structure Analysis
The global dietary fibres market represents a fairly consolidated competition landscape, where majority of key players maintain their strategic focus on the development of solid distribution partnerships and joint ventures, targeting a firmer global footprint.
The dietary fibres market has been relatively moderate in size, which remains a key factor for its dynamic competitive nature.
Leading manufacturers of dietary fibres are currently prioritizing R&D and new product launches to resonate with the booming demand for dietary fibres in East Asia, Middle East and Africa, and Latin America.
Portfolio extension is also identified to remain one of the key developmental strategies adopted by manufacturers of dietary fibres.
For a stronger foothold in target markets, dietary fibre manufacturers will continue to rely on inorganic strategies, such as mergers and acquisitions.
Deeper understanding of the market trends and preferential shifts of end-use segments across various regions are likely to create a bottleneck for prominent players, looking forward to untapped opportunities in the dietary fibres market.
Big Gains Underpinned by Changing Dietary Preferences
The food industry is currently undergoing a paradigm shift, as traditional health rules are overturned, old ingredients are reborn, new ideas are emerged, and retail channels are transformed. The growing popularity of functional food & beverage products – in consumer preference for nutritional supplements – has been weighing on a same scale as the increasing adoption of dietary fibres in a number of applications within the industry. Moreover, rising awareness regarding the long-term benefits of balanced nutrition, especially among millennial demographic, continue to complement the growth strategies of the market stakeholders.
Aligning with the trend of 'healthy snacking', dietary fibres are witnessing increasing incorporation into snack products, such as functional bars, especially for yound adults, athletes, and sportspersons. Moreover, as an expanding consumer base is showing preference for plant-based nutritional ingredients, the dietary fibres market is experiencing an improved frequency of new product launches aimed at offering appealing and nourishing foods to consumers. In addition, extensive scientific research has been delivering better understanding of health benefits of dietary fibres, stretching beyond weight management and digestive health, to increased energy and heart health.
Beyond the Affluent Consumer: Leveraging Opportunities in Developing Economies
Growth prospects of the dietary fibres market have remained influenced by various factors – ranging from a considerable shift in lifestyles to scientific research that has linked the intake of dietary fibres with the reduction in the risk of several diseases. While the demand for personalized nutrition plans and naturally healthy foods increases, stakeholders are keeping an eye on opportunities emerging in different geographies. North American and European markets continue to be at the forefront, on the account of favorable regulations that promote the use of dietary fibres as natural ingredients. Further, highly lucrative opportunities are expected in East Asia, considering an upsurge in the demand for functional foods, along with the rapidly swelling consumer base willing to pay a premium for products.
Fast-Growth Trends to Dictate Stakeholder' Winning Strategies
As the application scope increases and consumption pattern changes, a number of players in dietary fibres market are exploring new sources such as seaweed, soy hulls, corn stalks, wheat straw, and even waste portions of processed fruits and vegetables. Apart from functional food & beverage products, market stakeholders are tapping into opportunities in animal feed and pet food industries, sensing the benefits of dietary fibres in improving nutrient digestibility. The market is also spectating massive investments in R&D activities to address the rising issues of obesity, diabetes, and cardiovascular diseases. Moreover, today's consumers are increasingly becoming aware of these issues, and are thus seemingly inclining towards products with high dietary fibre content, which are marketed as being beneficial beyond meeting daily nutrient requirements.
A trend wave of veganism and vegetarianism has been working to the advantage of market players. Considering preferential shifts towards sugar substitutes and emerging trends of 'convenience' foods, stakeholders are keen in investments in bakery products, fortified foods, sports nutrition, and pharmaceuticals. However, region-specific regulations, and high turnaround time for product approvals continue to challenge the market expansion.
Soluble dietary fibres remain top-sought
Insoluble dietary fibres witnessing high demand
Cereals & grains remain highly preferred
Fruits & vegetables emerging profitable
Use in functional products grows significantly
Application in pet food to pick pace
How Growth will Unfold
With a rapid surge in the demand for dietary fibres across a multitude of end users, key market players have been on a product launching spree. For instance, in 2018, Roquette Frères S.A. launched NUTRIOSE® soluble fibre obtained from yellow peas, and Ingedion introduced a potato fibre in its portfolio. These products are designed to bring increased functionality, quality, and potential cost savings to manufacturers of bakery, savory, and meat products. As novel startups have inundated the functional food and nutrition sphere with gut-friendly and ready-to-eat snacking products with dietary fibres as primary ingredients, strategic acquisitions of most promising start-up companies will remain a key to gaining distinct competitive edge for the market stakeholders.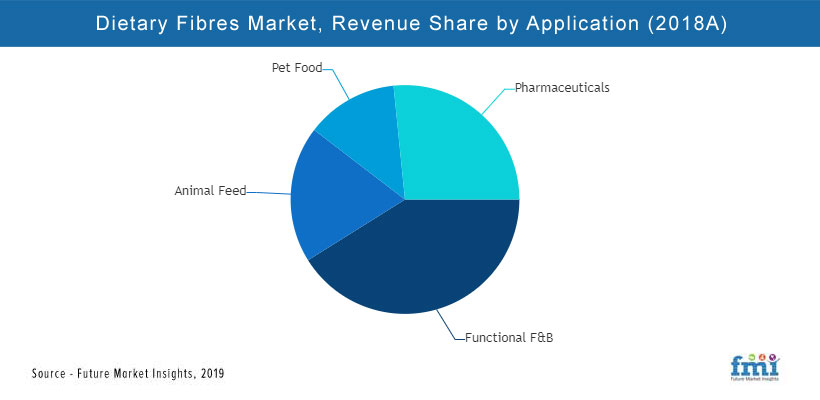 * This data is only a representation. Actual data may vary and will be available in report.
Click Here To Know How The Growth Will Unfold
Custom Market Research Services
FMI offers custom market research services that help clients to get information on their business scenario required where syndicated solutions are not enough.
Overview
Dietary Fibres Market: Global Industry Analysis 2014 - 2018 & Opportunity Assessment 2019 - 2029
A recent market study published by FMI on the dietary fibres market includes global industry analysis 2014-2018 & forecast 2019-2029, and offers a comprehensive assessment of the most important market dynamics. After conducting thorough research on the historical, as well as current growth parameters of the dietary fibres market, the growth prospects of the market are obtained with maximum precision.
Consumers' awareness about the importance of adding versatile nutrients to their daily diets, coupled with the hectic lifestyle they follow today, is contributing heavily to the growth of the dietary supplements industry. Leading players are introducing food products that meet the specific nutritional needs of consumers, and this is triggering growth of the dietary fibres market.
Stakeholders are introducing dietary fibre supplements to sync with consumer requirements for convenient ways to add more nutrients to their diets. Increasing popularity of the 'healthy snacking' trend is expected to boost adoption of dietary fibres derived from cereals & grains and fruits & vegetables. In the coming years, leading players in the dietary fibres market are expected to enter the pet food industry, as noticing the immense growth of the pet parenting trend is likely to create new and lucrative sales opportunities.
Dietary Fibres Market Taxonomy
The global dietary fibres market is segmented in detail to cover every aspect of the market and present complete market intelligence to the reader.
By Type
Soluble

Inulin
Polydextrose
Beta-Glucan

Insoluble

Cellulose
Hemicellulose
Chitosan
Chitin
Lignin
Resistant Starch
By Source
Cereals & Grains
Fruits & Vegetables
Other Crops
By Application
Functional Food & Beverages
Animal Feed
Pet Food
Pharmaceuticals
By Region
North America
Latin America
Europe
Middle East and Africa
East Asia
South Asia
Oceania
How the research was conducted?
Primary Research
C - Level Executives
Marketing Directors
Sales Heads
Production Managers
Distributors Heads
Sales Executives
Product Manufacturers
Distributors
Traders
Industry Experts
End Users
Current Market Dynamics and Challenges
Market Characteristics
Market Performance and Growth Quadrants
Competition Structure and Market Structure
Strategic Growth Initiatives
Near-term and Long-term Market Growth Prospects
Market Segment Splits and Authenticity
Opinions on Market Projections and Validity Of Assumptions
Secondary Research
Industry Publications

Industrial Week
Industrial Product Review
Industrial Magazine

Industry Associations
Company Press Releases
Annual Reports and Investor Presentations
Research Papers
Government Websites and Publications

Food and Agriculture Organization of United States (FAO)
United States Department of Agriculture (USDA)

Trade Websites
Primary Interview Splits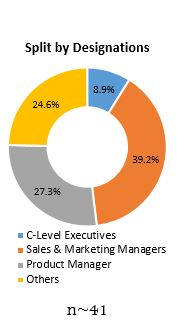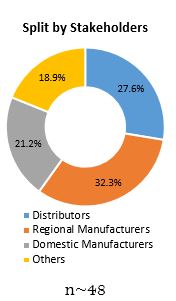 To Learn More About our Comprehensive Perspective on Dietary Fibres Market,
Get in touch
COVID -19 : Impact Analysis
Request the coronavirus impact analysis across industries and markets
Request Covid -19 Impact
CASE STUDIES
See how our work makes an impact.
At FMI, we design strategies that are adaptive, impactful, and implementable.