An Incisive, In-depth Analysis on the Safety Needle Market
This study offers a comprehensive, 360 degree analysis on the Safety Needle market, bringing to fore insights that can help stakeholders identify the opportunities as well as challenges. It tracks the global Safety Needle market across key regions, and offers in-depth commentary and accurate quantitative insights. The study also includes incisive competitive landscape analysis, and provides key recommendations to market players on winning imperatives and successful strategies.
North America is the largest market while Asia Pacific Excluding Japan is the fastest growing market in the global safety needles market
The global safety needles market is estimated to be valued at nearly US$ 4,000 Mn in 2017 and is anticipated to touch almost US$ 8,000 Mn by 2027 end, registering a CAGR of 6.9 % over the forecast period. North America is the largest regional market, which is estimated to cross US$ 1,200 Mn, or 31.1% share of the total market share in 2017 and is estimated to reach a market valuation in excess of US$ 2,500 Mn by 2027, registering a CAGR of 7.3% over the forecast period. APEJ is the fastest growing market, which is expected to grow from nearly US$ 540 Mn in 2017 to over US$ 1,100 Mn by 2027.
As the global safety needles market is replete with continuous new innovative technology and novel product launches, companies in the safety needles market across the world are actively engaged in the process of mergers and acquisitions in order to strengthen their product portfolio and cement their position in the market. Top market players are adopting the strategy of mergers and acquisitions to enhance their brand value and to develop more effective and efficient products while meeting the global standards for safety and efficiency. This will help companies increase their market share and expand their consumer base in uncharted territories.
Strategic acquisition case study – Boston Scientific and Xlumena Inc.
In 2015, Boston Scientific reached an agreement announcing the acquisition of Xlumena, a company that manufactures minimally invasive devices to carry out endoscopic ultrasound (EUS) enabled transluminal drainage of specific target areas in the gastrointestinal tract. According to the terms and conditions of the deal, besides an initial upfront payment, Boston Scientific shall also pay an additional amount to Xlumena once the FDA gives clearance to Xlumena's HOT AXIOS device. In addition, sales milestones as per volume sales achieved in 2018 are also a part of the deal. The advanced HOT AXIOS Stent and Delivery System integrates cautery in the AXIOS stent that has been approved by the FDA. This strategic acquisition will help Boston Scientific establish its stronghold in the EUS segment.
Worldwide safety legislations regarding safety needles
In the year 1991, the Blood Borne Pathogen standard was established in the U.S. 1999 was a landmark year as anti-needlestick legislation was implemented in California, U.S. In the year 2000, Federal Anti-Needlestick legislation was passed in the U.S. In 2005, order 827/2005 was set by the Ministry of Health in Spain. In 2007, the National Health Service Reference Guide was implemented in the U.K. In the same year, Sharp Injury Protection was legislated in Germany. In 2008, Sharp Injury Protection was legislated in Canada. In the year 2010, a legislation was passed in Brazil regarding needlestick injuries. In 2011, the Amendment to Medical Care Act was passed in Taiwan that takes into account needlestick injuries. The year 2013 was the deadline for Sharps Legislation implementation in the European Union. More countries are expected to follow soon and enact legislations regarding needlestick injuries and their prevention.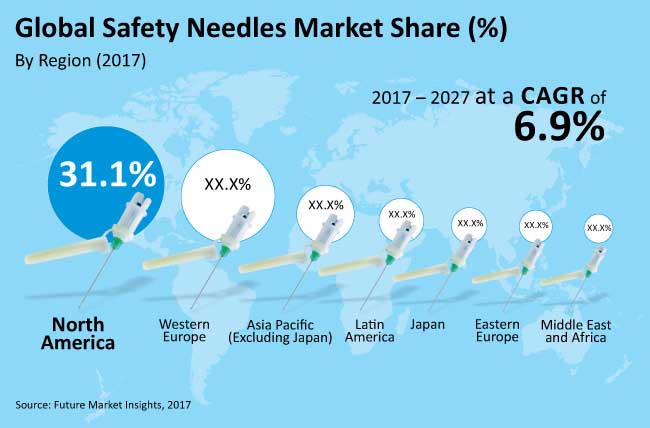 Government enforcement to use safety needles in various countries likely to give a boost to the global safety needles market
In order to avoid hospital acquired diseases such as HIV, Hepatitis C and Hepatitis B etc., governments in various countries are implementing stringent regulations as mentioned above. Needlestick injuries sustained from contaminated needles can result in infections from various harmful blood borne diseases. As per a report by the Program for Appropriate Technology in Health (PATH) published in 2005, due to the reuse of contaminated needles, 2 Mn Hepatitis C infections, 20 Mn Hepatitis B infections and 250,000 HIV infections are caused annually. Various government supported norms such as Needlestick Safety and Prevention Act, Needles Exchange Program and implementation of OSHA's blood borne pathogens standards are increasing awareness among the population about diseases caused by using contaminated needles, and this factor is likely to fuel the demand for better quality safety needles.
About the Report
The latest report by Future Market Insights titled 'Safety Needles Market: Global Industry Analysis and Opportunity Assessment, 2017–2027' is a comprehensive report that charts the course of the global safety needles market for a period of 10 years from 2017 till 2027. A valuable feature of the report is the regional price forecast of safety needles, which is broken down into different types of needles ranging from Cannula needles to Fine Aspirating needles. In one section of the report, per unit pricing of the different types of safety needles is given for the years 2017 and 2027. Another important feature of the global safety needles market report is the value chain analysis of the global safety needles market, which is presented in a detailed and elaborate form and yet is lucid and concise. The value chain covers different aspects such as the raw material supply, different safety needles manufacturers, various distribution channels and finally end users who are using these safety needles.
Besides these above mentioned valuable inputs, the global safety needles market report also contains an important section related to worldwide safety legislations related to safety needles. This section gives information about the important legislations regarding safety needles from the year 1991 as well as the latest legislations affecting the global safety needles market. Besides this, another section of this comprehensive report deals with the product comparison and challenges faced by consumers in using safety needles. Such type of information is useful for both established players in the market and for new players wishing to foray into the global safety needles market so that they can get a preview of the problems faced by end consumers in using safety needles and design innovative products that overcome such challenges. In addition, an NHS evaluation regarding safety engineered Hypodermic needles is also given and the results of the evaluation questionnaire to check device performance and user acceptability is discussed.
In addition to the above mentioned sections, there is an entire section of the report devoted to study the competition landscape of the global safety needles market. In the beginning of this section, a competition blueprint is discussed, which classifies the various players operating in the global safety needles market including emerging players, mid-level players and market leaders. Key strategies and key product offerings of these players are highlighted, giving useful information for companies who wish to operate in the global safety needles market. Besides this, global safety needles market company share analysis is also indicated in this section, which identifies the top companies commanding a leading market share in the global safety needles market. After this, each of the important players operating in the global safety needles market are discussed individually and key information regarding these selected companies is given. The information includes insights on company details, company overview, business overview, etc. Key financial information and revenue; and operating and net margins of these companies is also presented in the competition landscape. Last but not the least, a SWOT analysis of all the companies that discusses the strengths, weaknesses, opportunities and threats that the companies are facing in the global safety needles market is included. Key developments related to the companies and their strategic overview is also given, which provides information on the direction in which top companies in the global safety needles market are headed.
Another section of the report is entirely devoted to discuss the market dynamics of the global safety needles market. The market dynamics covered has important information regarding the macro economic factors encouraging the global safety needles market; demand side drivers and supply side drivers are also discussed. The restraints affecting the global safety needles market along with opportunities and important trends globally are also discussed in this report. Another valuable feature of this report is the global safety needles market analysis and forecast by product, by application, by distribution channel and by region. In these sections of the report, sensitive information regarding the basis point share analysis, Y-o-Y growth projections, market value and volume forecast and market attractiveness information is supplied.
Market Segmentation
Product Type

Application

Distribution Channel

Region

Fine Aspirating Needles

Biopsy Needles

Hypodermic Needles

Pen Needles

Suture Needles

IV Catheter Needles

Blood Collection Needles

Spinal Anesthesia and Epidural Needles

Prefilled Needles

A.V. Fistula Needles

Cannula Needles

Huber Needles

Sample Collection

Drug Delivery

Hospital Pharmacies

Private Clinics

Retail Pharmacies and Drug Stores

E-Commerce

North America

Latin America

Western Europe

Eastern Europe

Asia Pacific Excluding Japan

Middle East and Africa

Japan
Research Methodology
Future Market Insights' proven research methodology comprises –
Exhaustive primary research covering in-depth discussions with key industry stakeholders
Elaborate secondary research to study overall market size, industry growth projections and to identify top industry players, products and industry associations
Comprehensive desk research to study key market dynamics, trends and other relevant industry information
Statistical data analysis including an examination of historical trends and top countries' GDP analysis and healthcare spending analysis
COVID -19 : Impact Analysis
Request the coronavirus impact analysis across industries and markets
Request Covid -19 Impact
CASE STUDIES
See how our work makes an impact.
At FMI, we design strategies that are adaptive, impactful, and implementable.