Salesforce Service Providers Leverage Flexibility and Agility
Agility and flexibility are emerging as two of the core differentiators for today's enterprises amidst the rapidly changing business environment. Multiple studies have pointed to the fact that businesses that are agile and flexible are adept at customer relationship management. In a bid to respond to market evolutions, enterprises are moving away from '100% on-premise' concept and shifting toward three major streams-SaaS (Software as a Service), PaaS (Platform as a Service), and IaaS (Infrastructure as a Service).  
CRM tools and platforms have been adopted by enterprises of varying stature, on account of their extensive features and compatibility. These services are being positioned as a feasible solution to enterprises' ever-growing need to address all customer concerns, ranging from customer services to marketing & sales. Among the litany of CRM services, Salesforce has gained significant adoption among end-users. Service offerings for cloud, mobile, social, IoT, and artificial intelligence technologies have witnessed significant penetration over the years.
Salesforce Services Market - Key Research Findings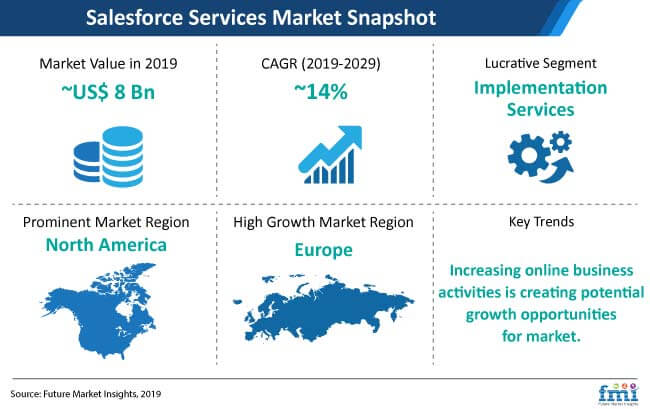 The global salesforce services market size in 2018 was approximately US$ 8 Bn.
The salesforce services market is expected to grow at a CAGR of approximately 14% during the forecast period of 2019-2029.
Increasing online business and rapid digitalization are among the key factors driving the sales of salesforce services.
North America is likely to account for half of the revenue in the salesforce services market by the end of 2029.

Western Europe and APEJ, due to the strong presence of cloud-based solutions, will continue to be among the prominent regional markets for salesforce services.

In order to offer advanced Salesforce services and solutions, providers are focusing on entering into acquisitions and partnerships agreements with other market players. This can help offer advanced services which helps their clients with up-to-date on Salesforce product developments, as well as extension possibilities in order to strengthen the client relationship and manage expectations with client to avoid disappointment.

In Feb 2017, Infosys made a strategic partnership with Salesforce to deliver analytics cloud applications to enable intelligent action & insights throughout organizations.
In August 2018, Cognizant announced the acquisition of SaaSfocus to expand salesforce cloud consulting capabilities, which is training in leveraging the salesforce platform and digital transformation.
Key Factors Shaping the Salesforce Services Market
Service Providers Focusing on Training, Hiring, and Retaining
Salesforce services providers are investing in hiring and training programs. Consultants need to know the specific issues of performing a SaaS solution, which requires a different mind-set for assumptions and deployments. The providers of managing services are more focused on offering new opportunities to consultants, which include support services, implementation, and job rotations, across various parts of consulting. Salesforce services also provide retention and motivation strategies, which include attractive benefits packages, and rewards for impactful participation to projects.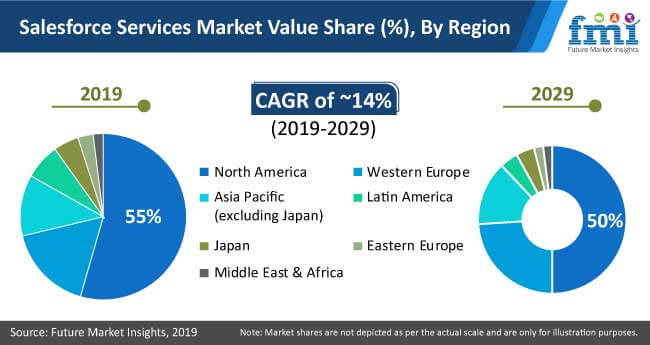 Increasing Demand for Salesforce Services Solutions:
Salesforce services have a full product portfolio besides its exclusive CRM solution. Increasing analytics & computing abilities and the growing need for competitive differentiation are driving the next phase of growth in CRM through artificial intelligence. New products, such as IoT cloud and analytics cloud, are gaining momentum and are set to achieve a sufficient scale. The company's year-on-year revenue has significantly increased due to its comprehensive product portfolios such as app cloud, services cloud, sales cloud, marketing cloud, and others. These solutions are used by consumers to improve sales productivity, increase their sales pipeline, enhance customer relationships, and monitor leads. The increasing adoption of CRM solutions through artificial intelligence is driving the growth of the salesforce services market.
Increasing Online Business and Rapid Digitalization:
Companies that are allowing digital transformation are moving to SaaS offerings on the cloud, where salesforce services are among the early players in the market. The various features offered by the sales cloud are making it more accessible for collaborative and social selling. Moreover, salesforce services help enterprises maintain their business, service the customer, close deals, and run marketing operations from anywhere through mobile devices. Increasing online business and rapid digitalization activities are building potential growth possibilities for the salesforce services market.
Lack of Skilled Workforce for providing Salesforce Services
There is a shortage of skilled workforce to plan, design, implement and manage the Salesforce services. The lack of highly skilled workforce for the advanced Salesforce services is one of the major challenge for the growth of Salesforce services market. Moreover, the adoption of powerful new technologies such as artificial intelligence and automation by Salesforce have surge the demand of large number of highly skilled consultants for providing the implementation services and other advisory services to the end users. The growing customer demand and increasing revenue base of Salesforce services have created the critical need for more salesforce trained consulting partners as a part of flourishing salesforce ecosystem.
Salesforce Services Market Structure Analysis
The global salesforce services market serves a reasonably consolidated competition landscape, where a majority of key players maintain their strategic focus on the development, joint enterprises, & partnerships, and target a stronger global footprint.
The salesforce services market is estimated to be fragmented, which remains a key factor for its dynamic competitive nature.
Leading Salesforce services vendors account for around 32%-34% of the overall market. Vendors such as Accenture, Deloitte, IBM, and Wipro are among the largest and most experienced in the industry, and have a significant regional coverage.
Salesforce Services Market: Mapping the Road Ahead
The changing face of business ecosystems has made IT a crucial aspect for sustained growth of enterprises. Massive investments in cloud services is one of the factors attesting rapid transition of businesses toward the digital. With the 'customer-first' approach as their primary cornerstone, Salesforce services help end users identify and address the loopholes in their business models, which would, in turn, help them level up their business performance.
In the last few years, rapid digitalization has transformed the dynamics of business activities and processes. Businesses are looking for effective solutions that would help them close leads faster and streamline sales-related activities. Such business requirements are foreshadowing a promising future for Salesforce services in 2019 and beyond. In addition, increasing focus of businesses on weaving improved customer experiences is also resulting in high adoption of Salesforce services, creating untapped opportunities for the Salesforce service vendors.
CRM and Artificial Intelligence: A Game-Changing Convergence
Rising need for competitive differentiation among enterprises is a key factor laying the foundation for the convergence of CRM and artificial intelligence. Salesforce Einstein, a set of top-notch platform services that brought advanced AI capabilities into the spectrum of customer relationship management, started gaining immense traction in parallel with increasing investments in advanced CRM solutions.
Majority of the large-scale enterprises operating in North America, as well as hundreds of medium- and small-sized businesses active in this region, are heavily investing in such combinations to boost their business capabilities. This, in turn, is encouraging the vendors of Salesforce services to target wider audience base across the key countries of this region, such as the US and Canada.
The Broader Perspective
Multiple small and medium enterprises continue to face umpteen challenges in terms of finding, winning, and retaining customers, primarily for the fact that these business continue to tread on an ever-growing path. When it comes to identifying leads, majority of the SME's continue to struggle in terms of reaching their target audiences and efficiently managing leads. Identifying the pool of opportunities arising in the SMEs space, Salesforce service vendors are focusing on making effective pitches and improve conversion rates. As the adoption of cloud CRM continues to see a massive scale-up among SMEs in particular Salesforce service providers will be able to explore new commercial opportunities in 2019 and beyond.
However, budgetary considerations of small and medium sized enterprises in terms of adopting new services will continue to be a longstanding challenge for the Salesforce service providers during the forecast period. In order to deal with the aforementioned, Salesforce service providers are vying to offer exclusive offers to their clientele- a key aspect that would help in enhancing the value proposition of their services over their competitors.
Implementation services sought-after
Demand for managing services passive
Sales cloud sees maximum traction
Demand for commerce cloud scale escalatinge
Retail & CPG sustains high demand
How Growth will Unfold
Salesforce service providers are focusing on bringing the best technical and strategic expertise to the table, with an objective to help the end use enterprises get maximum ROI benefits. By making use of proven methodologies and industry-best practices, Salesforce service vendors are shifting their focus toward delivering end-to-end solutions, ranging from initial strategy & design to development & testing, all while being completely transparent and expertly managed throughout the overall engagement. Salesforce service providers are also extensively focusing on catering to the client's demand for flexibility in the service delivery and predictability of pricing, which, in turn, helps in build-up of client confidence in the long run.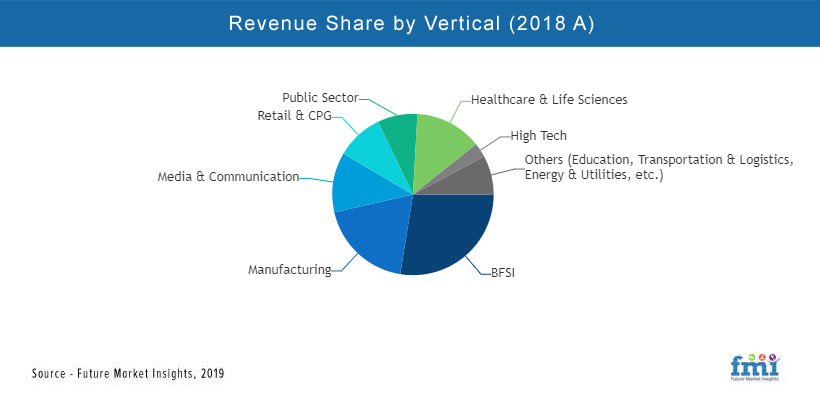 * This data is only a representation. Actual data may vary and will be available in report.
Click Here To Know How The Growth Will Unfold
Custom Market Research Services
FMI offers custom market research services that help clients to get information on their business scenario required where syndicated solutions are not enough.
Overview
Salesforce Services Market Analysis, 2019-2029
A recent market study published by FMI on the salesforce services market includes a global industry analysis 2014-2018 & opportunity assessment 2019-2029, and delivers a comprehensive assessment of the most important market dynamics. After conducting thorough research on the historic as well as current growth parameters of the salesforce services market, the growth prospects of the market are obtained with maximum precision.
Salesforce Services Market Taxonomy
The global salesforce services market is segmented in detail to cover every aspect of the market and present a complete market intelligence approach to the reader.
By Type of Services
Planning

Advisory Services
Change Management

Implementation

Integrated Services
Application Modernization & Data Migration
Custom Application Development
Testing Services

Manage

Monitoring
Upgrade
Governance
Helpdesk
Training
BPO
By Vertical
BFSI
Manufacturing
Media & Communication
Retail & CPG
Public Sector
Healthcare & Life Sciences
High Tech
Others
By Application
Sales Cloud
Service Cloud
Marketing Cloud
App Cloud
Commerce Cloud
Analytics
How the research was conducted?
Primary Research
C - Level Executives
Marketing Directors
Sales Heads
Sales Executives
Salesforce Certified Professionals
Salesforce Service Providers
IT service providers
Industry Experts
End Users
Current Market Dynamics and Challenges
Market Characteristics
Market Performance and Growth Quadrants
Competition Structure and Market Structure
Strategic Growth Initiatives
Near term and long term market growth prospects
Market Segment Splits and Authenticity
Opinions on market projections and validity of assumptions
Secondary Research
Salesforce and Service Providers Alliance Documents and Reports
Annual Reports and Investor Presentations
Research Papers
Company Press Release
Government Websites and Publications
Primary Interview Splits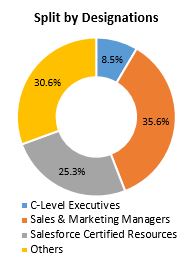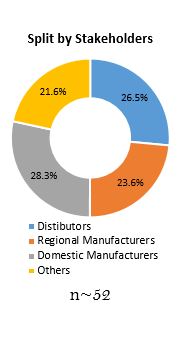 To Learn More About our Comprehensive Perspective on Salesforce Services Market,
Get in touch
COVID -19 : Impact Analysis
Request the coronavirus impact analysis across industries and markets
Request Covid -19 Impact
CASE STUDIES
See how our work makes an impact.
At FMI, we design strategies that are adaptive, impactful, and implementable.