SWG Solutions to Stay in Demand, Services Garner Traction
In the current scenario, software-as-a-service (SaaS) apps are becoming a commonplace in enterprises of all sizes and industries, and subsequently, security control is shifting towards the cloud. This, in turn, has brought significant innovations in secure web gateway solutions to control web traffic and manage bandwidth consumption, in addition to protecting users against threats online.
As compared to services, SWG solutions currently account for a relatively high revenue share (2/3) in the secure web gateway market, while the former is set to see a quantum leap in demand in the near future. As Internet access remains a necessity for today's vast majority of enterprises, market stakeholders are putting greater emphasis on their services to stay ahead of the curve.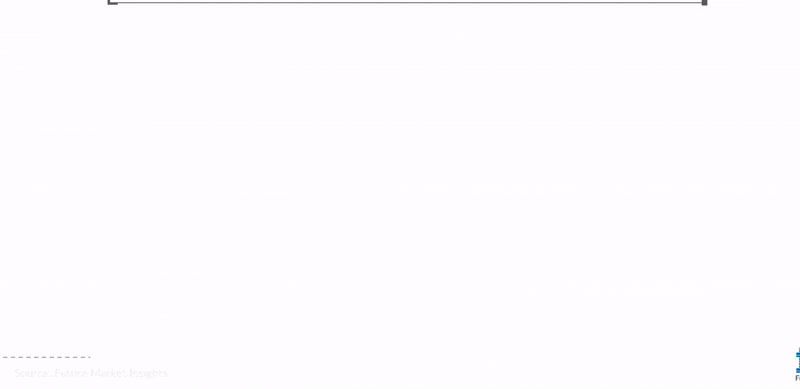 Europe Takes Center Stage, Latin America Promises New Opportunities
Growth prospects of the secure web gateway market remain high in Western Europe, while demand in Eastern Europe is set to remain strong going forward. Gains remain upheld by greater access to advanced technologies across different organizations and strong presence of market players.
Recording a CAGR of 24%, Latin America is expected to overtake the North America secure web gateway market by 2026. Due to increasing occurrence of crimes or illicit cyber incidents in the region, governments are making efforts to promote a culture and awareness of cybersecurity. The result is expected to lead to increasing demand for security web gateway solutions and services.
The Future Lies Beyond URL Filtering and Malware Defense
Strong focus on secure web gateway as security solutions and emergence of cloud-based SWG services continue to influence growth strategies. However, as the war of innovation supremacy intensifies, market vendors are focusing on moving beyond URL filtering, malware defense, and tunneling options to integrated security solutions.
These factors played a significant role in Symantec's decision to introduce a number of integrations with complementary security solutions such as Data Loss Prevention (DLP) software, Endpoint, and Messaging Security. Such strategic moves are expected to influence other players in the secure web gateway market to follow suit and invest in cloud-based SWG solutions.
How Growth will Unfold
As the digital revolution arrives in the financial sector, industry operators are gradually disrupting their own business models and reimagining themselves digitally. This, in turn, is expected to play an instrumental role in the growth of the secure web gateway market.
The BFSI sector accounts for 1/5 of the global adoption of secure web gateways, while growing application in the retail and e-Commerce industry is expected to result in increased market share. Additionally, application scope is increasing significantly in the IT and telecom sector, which is projected to surpass the adoption rate in BFSI by 2026.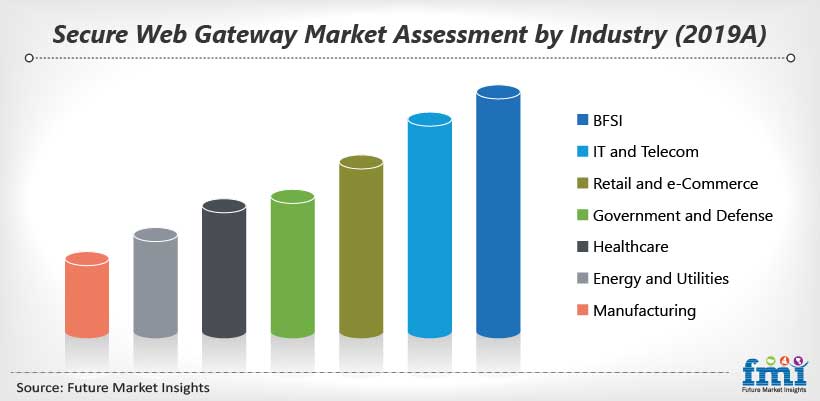 FREQUENTLY ASKED QUESTIONS ABOUT SECURE WEB GATEWAY MARKET
What are the future prospects of the global secure web gateway market?
Advancements in enterprise management systems have revolutionized several industry verticals in various developed as well as developing economies. To keep up with the growing demand for efficient secure web gateway solutions in South Asia, East Asia and MEA, several technology providers have started investing heavily in these regional markets. Established as well as growing security web gateway platform providers are striving to expand their businesses across such untapped markets to increase their global market share.
What are the major challenges faced by secure web gateway vendors in the market?
Internet-based security web gateway tools are mainly used to protect cloud-based applications. Internet usage increases the possibility of cyber-attacks, and simple manipulation of data in internal security systems is not possible. As a result, businesses are not interested in using Internet-based security solutions or disclosing Internet tools for firewall management.
Which industries will experience significant revenue growth in the next five years?
BFSI and telecommunication industries are early adopters of digitalization, where, information management tools have been the most commonly embraced platform for smart production, Internet marketing, collaboration, and customer interaction. However, the retail and e-Commerce industry is projected to offer significant growth opportunities for market players during the forecast period, owing to accelerated transformation of business processes and provision of new revenue models using digital technologies.
Which professional services are expected to offer lucrative opportunities for secure web gateway solution providers?
Network designing and integration services are likely to be the most attractive during the forecast period, especially in developing economies, as the small- and medium-sized enterprises increase their spending on customized secure web gateway solutions.
Which region is expected to be at the forefront of the global secure web gateway market?
Western Europe is currently dominating the global secure web gateway market. However, as SMEs and large enterprises in the MEA region increase the adoption of cloud-based secure web gateway solutions and services, MEA is estimated to offer the most lucrative opportunities during the forecast period.
Which companies are leading the secure web gateway market?
Key players in the global secure web gateway market include Symantec, Forcepoint, Cisco Umbrella, Zscaler, Inc., McAfee, LLC, Trend Micro Incorporated, Sophos Ltd., Barracuda Networks, Inc., and Webroot Inc.
SECURE WEB GATEWAY MARKET TAXONOMY
The global secure web gateway market is segmented in detail to cover every aspect of the market and present a complete market intelligence approach to readers.
Component
Solutions

SWG Hardware Appliances
SWG Virtual Appliances

Services

Professional Services

Security Consulting
Technical Support
Network Designing and Integration

Managed Services
Deployment
Enterprise Size
Industry
BFSI
Government and Defence
Healthcare
IT and Telecom
Retail and e-Commerce
Energy and Utilities
Manufacturing
Others
Region
North America
Latin America
Western Europe
Eastern Europe
Asia Pacific excluding Japan
Japan
Middle East & Africa
Need specific information?