Ship Repair and Maintenance Services Market Size to Double by 2030
Maintenance is imperative for motorized machinery or equipment. Efficacious planning and proper usage of equipment is critical to effective repair and maintenance. Be it small machines or large structures, effective repair and maintenance enhances service life and ensures desirable outcomes. On ships or vessels, repair and maintenance activities are quintessential in keeping machinery up-to-date and assure smooth ship repair and maintenance market operations.Following a promising growth trajectory, the global ship repair and maintenance services market will soar nearly twice over 2020-2030. Furthermore, governments across the globe are offering tax incentives to shipyards for regular ship repair and maintenance.
Ship Repair and Maintenance Services Market: Key Insights
Upswing in sea-borne trade activities and rising need for regular maintenance of vessels are critical in shaping market growth.
Bulk carrier vessels would attract significant stakeholders' investments; oil and chemical tankers to gain traction.
Hull part and dockage would remain the preferred services in the ship repair and maintenance services market.
Market players continue to target South East Asia & Pacific (SEAP) for lucrative growth prospects.
KEY FACTORS SHAPING SHIP REPAIR AND MAINTENANCE SERVICES MARKET
Rise in Seaborne Trade to Provide New Growth Avenues
Due to the comparatively lower cost of transportation and considerably higher carrying capacity, the proclivity of international trade has been towards the seaborne route. Increasing import-export activities across the globe are expected to provide development opportunities for the ship repair and maintenance services market.
Increasing Oil Ship Carriers as Storage for Crude Oil Reserves to Drive Growth
Amid the coronavirus pandemic, the demand for crude oil has considerably reduced. However, the production of crude oil has stayed the same as earlier. This scenario has created a substantial production and consumption gap in the market, subsequently slashing the prices of crude oil in the international market. In order to limit losses and increase reserve capacity, many countries are emphasizing on filling oil ship carriers in order to enhance their stockpile capacity. The current activity of increment in oil ship carriers is expected to push the growth of the ship repair and maintenance services market over the coming years.
Impact of COVID 19 Pandemic
The global economy has taken a massive hit due to the spread of the novel coronavirus across the world. According to recent findings, even in the best possible scenario, the global economy is anticipated to witness a fallout of US$ 2.3 trillion. As per the International Monetary Fund (IMF), around 170 countries are expected to witness negative per capita income growth. All this economic downfall is anticipated to curb the manufacturing and sales of ship repair and maintenance services. The downfall is anticipated for a limited period, after which, the market is expected to recover from its losses.
Introduction of Environmental-friendly Techniques Augmenting Market Growth
Over the recent years, due to global climate change, continuous efforts for sustainable development have been made by governments of respective countries. Ship repair and maintenance services companies have also made developments in their traditional methods as an effort to comply with national and international norms and regulations. To reduce the potential threat to the environment of these activities, ship repair and maintenance service techniques introduced are now environmentally-friendly. For instance, the conventional method of shot blasting is being replaced by ultra-high pressure water blasting systems.
Ship Repair and Maintenance Services Market Region Outlook
In terms of growth, the Asia Pacific ship repair and maintenance services market is anticipated to propel at a promising pace. Due to increasing exploration of natural gas reserves coupled with substantial demand of these fuels, and noteworthy growth in marine cargo and shipping in countries such as India and China, the region will account for a hefty share in the global market.
Ship Repair and Maintenance Services Market: Structure Analysis
Tier-3 players cater to 57.3% of the global ship repair and maintenance services market share, while the remaining share is being held by tier-1 and tier-2 players, with operations mainly in international markets.
Sembcorp Industries Ltd., China Shipbuilding Industry Corporation, Cochin Shipyard Limited, and Hyundai Mipo Dockyard Co., Ltd. are amongst the few prominent market participants in the global ship repair and maintenance services market.
Service providers in the market focusing on providing services to vessels in compliance with the rules, regulations, and norms that are being imposed by governmental authorities of respective nations. These providers are also looking to venture into the international market to increase their sales footprint across diverse regions.
Report Metrics

Details

Base Year

2019

Historical Period

2015-2019

Forecast Period

2020-2030

Market Value in 2019

US$ 21.7 Bn

Segments Covered

Vessel Type, Service Type, and Region

Regions Covered

North America, Latin America, Western Europe, Eastern Europe, China, India, Japan, South East Asia & Pacific, Middle East & Africa, Nigeria, Egypt, Morocco, and South Africa

Key Companies

Sembcorp Industries Ltd., Damen Shipyards Group, China Shipbuilding Industry Corporation, Cochin Shipyard Limited, Hyundai Mipo Dockyards Co. Ltd., Dae Sun Shipbuilding & Engineering Co. Ltd., Arab Shipbuilding and Repair Yard Company, Fincantieri S.p.A., United Shipbuilding Corporation, Keppel Corporation Limited, Orskov Group, Oman Drydock Company, Dundee Marine & Industrial Services Pte Ltd., HOSEI CO. LTD., and TSUNEISHI SHIPBUILDING Co. Ltd.

Growth Drivers

Upsurge in ocean-based trade activities
Stringent safety regulations and specialization
Increasing need for routine maintenance to curb expenses
Bulk Carriers and Oil & Chemical Tankers to Shape Revenue Pool
Ship repair and maintenance service providers continue to glean greater return on investment (ROI) from bulk carriers. They are witnessing demand upsurge in countries - Singapore and Bahrain - to repair offshore support bulk carriers. In similar fashion, service providers are also targeting oil & chemical tankers for worthwhile profit margins. Over the coming years, both these vessel types will register over twofold revenue growth. Further, around 6 out of 10 market players are providing repair and maintenance services either to bulk carriers or oil & chemical tankers.
Regional Analysis - Asian Markets Take Lead
Opportunities for growth and profitability continue to hover around South East Asia & Pacific (SEAP). Singapore represents the regional market, given its quality-focused and cost-efficient ship repair and maintenance services. Further, South Korea and the Philippines are creating and seeing intense competition in the SEAP ship repair and maintenance services market. Going ahead, rise in sea-borne trade activities, driven by the recent economic boost in China, is fueling trans-shipment activities. As such, the ship repair and maintenance services market in the country is witnessing staggering growth.
Sustainability-centered Repair & Maintenance Techniques - The Next Normal
Climate change has been a confounding challenge all over the world over the past few decades. Several governments are walking the extra mile for sustainable development. Ship repair and maintenance service providers are also in line with the trend; they are rethinking their conventional methods in an effort to abide by sustainable regulations. To curb the possible threats to the environment, market players are offering environmental-friendly ship repair and maintenance services. Case in point, the traditional approach of using shot blasting machines is being replaced by ultra-high pressure water blasting systems.
Bulk carriers hold leading value share
Oil and chemical tankers to witness gradual rise
High preference for hull part services
Preference for dockage services to soar
How Growth will Unfold
Hull part and dockage services, together, procure around half of overall market revenue. FMI reveals that, this figure will increase robustly over the decade ahead. Towards the end of the forecast period, both these service types would register over US$ 10 Bn revenue each. Moving on, players in the ship repair and maintenance services market are also viewing engine parts and auxiliary services to maintain their competitive edge. Nevertheless, they will reap greater returns from hull part and dockage services.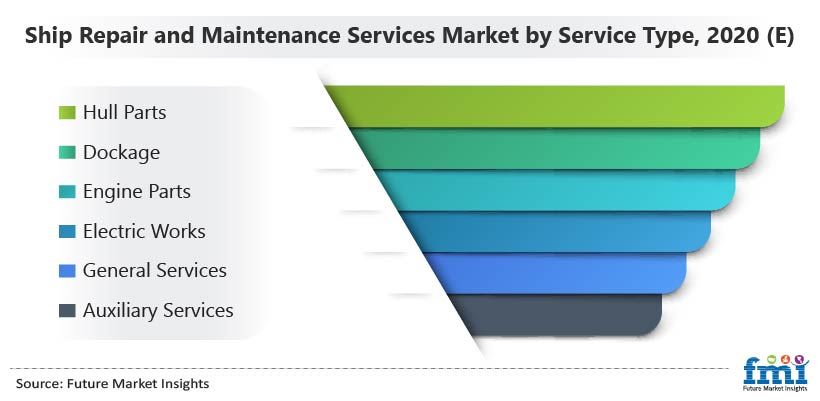 * This data is only a representation. Actual data may vary and will be available in report.
Click Here To Know How The Growth Will Unfold
Custom Market Research Services
FMI offers custom market research services that help clients to get information on their business scenario required where syndicated solutions are not enough.
Overview
A recent market study published by FMI on the ship repair and maintenance services market includes global industry analysis of 2015-2019 and opportunity assessment for 2020-2030, and delivers a comprehensive assessment of the most important market dynamics. Our analysts conduct thorough research on the historical as well as current growth parameters of the market to obtain the growth prospects with maximum precision.
Ship Repair and Maintenance Services Market Taxonomy
Vessel Type
Oil and Chemical Tankers
Bulk Carriers
General Cargo
Container Ships
Gas Carriers
Offshore Vessels
Passenger Ships and Ferries
Mega Yachts and Other Vessels
Service Type
General Services
Dockage
Hull Parts
Engine Parts
Electric Works
Auxiliary Services
Region
North America
Latin America
Western Europe
Eastern Europe
China
India
Japan
South East Asia and Pacific
Middle East and Africa
Nigeria
Egypt
Morocco
South Africa
How the research was conducted?
Primary Research
C - Level Executives
Marketing Directors
Product Managers
Engineers
Business Development Officers
Production Managers
Procurement Heads
Sales Executives
Distributors
Traders
Raw Material Suppliers
Industry Experts
End Users
Current market dynamics and challenges
Yesteryear trends
Market characteristics
Market performance and growth quadrants
Competition structure and market structure
Strategic growth initiatives
Near-term and long-term market growth prospects
Market segment splits and authenticity
Opinions on market projections and validity of assumptions
Secondary Research
Industry Publications
Industry Associations

United Nations Conference on Trade and Development
Cruise Lines International Association
IMF
World Bank

Factiva
Company Press Releases
Annual Reports and Investor Presentations
Research Papers
Government Websites and Publications
Trade Websites
Primary Interview Splits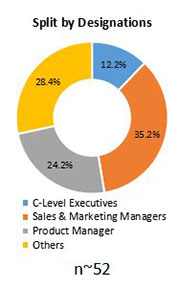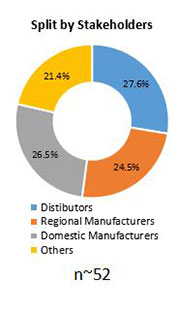 To Learn More About our Comprehensive Perspective on Ship Repair and Maintenance Services Market,
Get in touch
COVID -19 : Impact Analysis
Request the coronavirus impact analysis across industries and markets
Request Covid -19 Impact
CASE STUDIES
See how our work makes an impact.
At FMI, we design strategies that are adaptive, impactful, and implementable.