This Silastic Implant market study offers a comprehensive analysis of the business models, key strategies, and respective market shares of some of the most prominent players in this landscape. Along with an in-depth commentary on the key influencing factors, market statistics in terms of revenues, segment-wise data, region-wise data, and country-wise data are offered in the full study. This study is one of the most comprehensive documentation that captures all the facets of the evolving Silastic Implant market.
Need for Silastic Implant Surgery
Silastic implant are used in a surgery conducted to treat dysfunction of the joints and the joints gets rupture due to facture, arthritis or accidents. In silastic implants a substance made from silicone is inserted into the joint which is unmovable and its function as a spacer and makes the joint moveable. The substances used in silastic implant is made of polymeric rubber substances and is flexible like rubber. The materials used in silastic implants are silicone rubber, which is made from implants silicone gels used to fill the shell. The silicone used can be sanitary silicone, glazing silicone, neutral care silicone. The silastic implants are also performed in males and females wherein there is defect in the reproductive organs. Silastic implants are also used in knee replacement surgeries and also to replace a joint. Silastic implants are also used in breast surgery. Silastic implants are beneficial in orthopedic surgery as the joint is not moveable and it cause flexibility of the joints. The silastic implants are new types of implants becoming popular among the orthopedic surgeons.
Market Growth Analysis
Disclaimer: This data is only a representation. Actual data may vary and will be available in the report.
Need granular data and specific insights that are hard to get?
Patients with Successful Silastic Implants with Post-Traumatic Stiffness of Finger Joints
From the following year from 2013 to 2016, many patients have replaced finger joints. Of those patients who had finger replacement were reviewed on how they felt after the implant and the success rate of the implant was checked. It came to the notice that many of the patients were satisfied with the silastic implant surgeries .The joint which was not able to move had started moving and their anxiety level also reduced. The success rate also depended on the deformity they had for so many years. They could move the joint easily and did not faced difficulty in moving the joint, but regular checkups were important.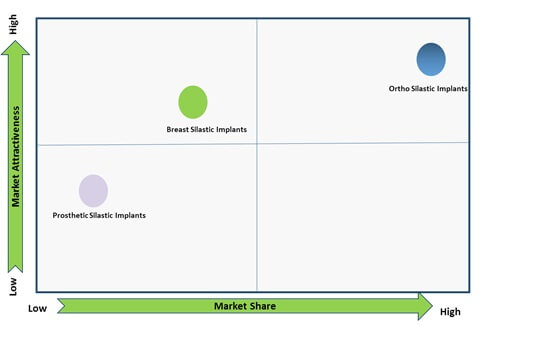 Factors Driving the Silastic Implant Market
The global market for silastic implant is driven by increasing incidences of accidental fractures, accidents, joint replacements, etc. Growing number of silastic implants procedures is another factor driving the demand for silastic implants across the globe. Availability of reimbursement policies for implants is a preliminary factor increasing penetration of these products in the matured markets. However, emerging countries do not have definite reimbursement policies for silastic implants, which restricts the market growth. Technological advancements in silastic implants is an important factor fueling the growth of the silastic implants market. For instance, new materials are used in silastic implants, which have change the diagnostic ways of silastic implant. Silastic implants play a very important role in curing the damage to the organs, if it is done at right time.
Ortho Silastic Implants Segment has Significant Market Share
Significant portion of the market has been covered by prosthetic silastic implants, ortho salistic implants, and breast silastic implants. Ortho silastic implants holds largest revenue share. This is due to higher incidence of accidents and fractures. Moreover, the awareness towards prognosis of Ortho Salistic Implants is on higher side for accidents, arthritis pains, and deformity in the joints which lead to strong positioning of these segments in overall market. Technologically advanced materials used for silastic implants of bones and joints is the main reason why ortho silastic implants have the more market share.
Silastic Implants are Mostly Conducted in Hospitals
Hospitals and diagnostics laboratory segments use a strong position in the market due to invasive nature of the silastic implants market. These end users share significant portion of revenue in the overall market. However, continuing growth of silastic implants and higher sensitivity and specificity of silastic surgeries will provide remarkable growth opportunities for the silastic market in outpatient clinics and hospitals settings. Further, the growing trend of self-diagnostic & hospitals as prognostic approach would flourish the growth of the market.
Regional Market Outlook
Geographically, the global silastic implants market is segmented into five key regions viz. North America, Latin America, Eastern Europe, Western Europe, Asia Pacific, Japan and the Middle East & Africa. North America will continue to dominate the global market due to the availability of advanced technologies and more number of laboratory developed tests. Europe is expected to hold second large market share in the global silastic implants market due to growing prevalence of chronic diseases.
Competition Outlook of Silastic Markets
| Small-Scale Manufacturers/Providers | Medium-Scale Manufacturers/Providers | Large-Scale Manufacturers/Providers |
| --- | --- | --- |
| | | |
Key Data Points Covered in the Report
Market Segmentation
Research Methodology
The market sizing of silastic implants will be done by the adoption data triangulation approach. The demand-side approach will be followed to assess the actual market size of silastic implants. Secondary research will be done at the initial phase to identify the feasibility of the target products/technology categories and its respective segments, product and service offerings, equipment installed base in end-use facilities, adoption rate and future impact of new technologies. Additionally, per capita consumption among end users will be tracked at a granular level to obtain the most accurate information. Each piece of information will be eventually analyzed during the entire research project, which help build a strong base for the primary research information.
Primary research participants include demand-side respondents such as laboratory managers, procurement managers, research supervisors at academic and research institutes, as well as key opinion leaders in addition to supply-side respondents such as equipment and reagent manufacturers, custom solution and service providers who provide valuable insights on trends, research application of products and technologies, purchasing patterns, services offered and associated pricing.
The research report presents a comprehensive assessment of the market and contains thoughtful insights, facts, historical data, and statistically supported and industry-validated market data. It also contains projections using a suitable set of assumptions and methodologies. The research report provides analysis and information according to market segments such as geographies, application, and industry.
The report is a compilation of first-hand information, qualitative and quantitative assessment by industry analysts, inputs from industry experts and industry participants across the value chain. The report provides in-depth analysis of parent market trends, macro-economic indicators and governing factors along with market attractiveness as per segments. The report also maps the qualitative impact of various market factors on market segments and geographies.
NOTE - All statements of fact, opinion, or analysis expressed in reports are those of the respective analysts. They do not necessarily reflect formal positions or views of Future Market Insights.
Unique Requirements? Customize this Report
Customize by Region, Country, Application, Product, & other segments
Integrate our Insights with your Existing Data
Determine the scope of the study to suit your requirements
Gain Insights on Key Silastic Implant Market Impacting Forces
Know the Winning Strategies of Market Leaders
Get Deep-Dive Analysis on Each Segment
Identify the Sources that will Drive Top-Line Revenue
Silastic implants Market Assessment by Implant Type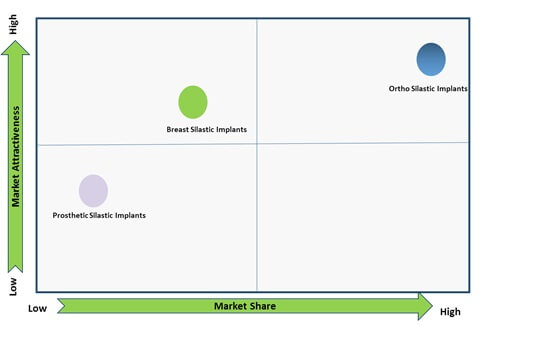 Examples of some of the players identified in the global silastic implants market are Allergan, Arion Laboratories, Cereplas, Establishments Labs, GC Aesthetic etc. Majority of silastic implants are available as laboratory-developed tests. The hospitals which provide full silastic implants are Breach Candy hospitals, Apollo Groups of Hospitals, John Hopkins Hospital. Silastic implants testing varies at the regional level owing to variations in terms of available technologies used in laboratory developed silastic implants. However, silastic implants offers a global opportunity to its manufacturers, as these are the common tests perform globally.
Small-Scale Manufacturers/Providers

Medium-Scale Manufacturers/Providers

Large-Scale Manufacturers/Providers

Allergan Inc.
Arion Laboratories
Cereplas
Establishments Labs
GC Aesthetic

Ideal Implants
Polytech Health and Aesthetics
Sientaric Inc.
Silimied
Hans Biomed

Norman Noble Inc.
Dow Consumer Solutions
MCGHAN –PER.PT
Mentor Worldwide LLC
The report covers exhaustive analysis on:
Silastic implants market by test type, end user and region
Regional level market analysis of North America, Latin America, Eastern Europe, Western Europe,Asia Pacific Excluding Japan, Japan, Middle East & Africa by test type, end user segments and country
Silastic Implants MARKET Dynamics & Opportunity Assessment
Historical Actual Market Size, 2013 - 2017
Silastic Implants Market Size & Forecast 2018 - 2028
Silastic Implants Agents Current Trends/Issues/Challenges
Competition & Companies involved
Report Highlights:
Shifting industry dynamics
In-depth market segmentation
Historical, current and projected industry size, recent industry trends
Key Competition landscape, market structure, regulatory scenario
Epidemiology outlook for diseases
Economical spending, regional healthcare outlook, consumer healthcare expenditure
Availability of testing, cost of test, specificity and sensitivity of test kits
Strategies for key players and product offerings, channel strategies, regional foot print, channel footprint
Potential and niche segments/regions exhibiting promising growth
A neutral perspective towards market performance in terms of value and volume
By Implant Type
Breast Silastic Implants
Ortho Silastic Implants
Prosthetic Silastic Implants
By End user
Hospitals
Diagnostics Laboratories
By Region
North America
Latin America
Eastern Europe
Western Europe
Asia Pacific Excluding Japan
Japan
Middle East & Africa
The report covers exhaust analysis on:
Market Segments
Market Dynamics
Market Size
Supply & Demand
Current Trends/Issues/Challenges
Competition & Companies involved
Technology
Value Chain
Regional analysis includes:
North America (U.S., Canada)
Latin America (Mexico. Brazil)
Western Europe (Germany, Italy, France, U.K, Spain)
Eastern Europe (Poland, Russia)
Asia Pacific (China, India, ASEAN, Australia & New Zealand)
Japan
Middle East and Africa (GCC Countries, S. Africa, Northern Africa)
Report Highlights:
Detailed overview of parent market
Changing market dynamics in the industry
In-depth market segmentation
Historical, current, and projected market size in terms of volume and value
Recent industry trends and developments
Competitive landscape
Strategies of key players and products offered
Potential and niche segments, geographical regions exhibiting promising growth
A neutral perspective on market performance
Must-have information for market players to sustain and enhance their market footprint
Frequently Asked Questions
---
Why choose FMI?
With a global presence and a trusted partner to several Fortune 500 firms, FMI covers 1 billion+ data points to build a diversified portfolio for market benchmarking
Market Reports researched and peer reviewed by industry experts from across the globe
We follow a multi-dimensional method of analysis monitoring a three-layer data validation process
In addition to demand-side market assessment, our data triangulation methodology involves supply-side research
Primary research includes mandatory field interviews with stakeholders involved
Customizing reports according to client specification is also our forte
What will you discover from Silastic Implant Market report?
The current and future market size, covering each aspect and nuanced trends across key national and geographic markets
An overview of the market report, providing an imperative visual of the varied market subdivisions and overall forecast statistics in terms of value and volume
Extensive database and key dynamics elevating the market with varied verticals associated
Underlying Silastic Implant Market forces that are compelling consumers or businesses to purchase the product
How novel technologies and consumer-centric innovations will create new value-adding opportunities for companies active in the Silastic Implant Market
What will be environment and regulatory impacts on the market over the next decade
Which framework has been used to develop the Silastic Implant Market report?
Investment Feasibility Matrix - It shows returns on investment, level of competition, success rate of investment, and potential risks associated with the market. The analysis shows that the competition is high in the established market, while the returns for short-term investment are also taken into consideration
Relative Maturity Mapping – The relative maturity is measured according to three growth phases (growth, maturity, decline)
Relative PLC (Product Life Cycle) – Analysis of the emergence of prominent players and competitive test prices which are driving factors behind every market. (expected market behavior, observed market behavior, expected market performance, observed market performance)
Harish Tiwari
Global Head - Business Development