Soluble Fiber Market Outlook
The soluble fiber market is anticipated to receive a higher market penetration rate with an above-average growth rate during the forecast period 2019-2026. The soluble fiber market is likely to remain influenced by factors that were at play before and during the COVID-19 crisis.
Among the other end-use industries, the bakery and confectionary industry would remain the top consumer of the soluble fiber market during the forecast period. Numerous bakers across the world have found that the addition of soluble fiber improves volume, softness, as well as resilience in bakery goods, which is a significant driver for market growth.
Yet another significant growth driver for the soluble fiber market includes the rising use of the fiber for the nutrition and health supplements industry. During the COVID-19 crisis, the shift of individuals has been on their personal wellbeing. As a result, manufacturers operating in the soluble fiber market are improving the quality of their products and making them robust to increase their use in the end-use industries. For instance, DuPont has a separate offering for soluble fibers under the nutrition and biosciences niche for enhancing the quality of baked goods.
During the COVID-19 crisis, central authorities across different regions imposed a lockdown, owing to which, fitness clubs and gyms were closed on a temporary basis. As a result, individuals were suffering from metabolic and digestive disorders, owing to the limited movement in their houses. This has increased the reliance on soluble fiber, which is found to ease digestive issues.
On the flip side, over-consumption of soluble fiber is said to cause harmful effects such as an increase in the production of hydrogen, carbon dioxide, and methane in the human body. This factor may project the product in the negative light and hinder the steady growth of the soluble fiber market during the forecast period.
Key Growth Influencers - Soluble Fiber Market
Demand for Products Promoting Health
The global soluble fiber market has been driven on a large scale by increasing demands of consumers for products that promote a healthy lifestyle. Soluble fiber consists of components such as fats, minerals, enzymes, nutritional lipids, plant and fruit extracts, prebiotics and probiotics. These components are vital for growth in humans. For instance, proteins help in gaining lean mass. Vitamins, minerals, and enzymes help in ensuring proper functioning of organs, hormones, and other such bodily activities. Prebiotics and probiotics boost the gut micro biota, which helps in better digestion and maintaining the overall health of an individual.
Companies are focusing on launching highly innovative products with added benefits such as weight loss, added extra vitamins and minerals and other strategies to attract consumers. The market is highly competitive and manufacturers are targeting new consumers with attractive promotional campaigns to gain more market share.
Rising Incidences of Acute and Chronic Diseases
Globally, there is a rise in acute and chronic diseases occurring as a result of wrong food choices and unhealthy lifestyles. Diseases such as diabetes, cardiovascular diseases, and cancer cause the most deaths at the global level. According to WHO, the percentage of deaths due to chronic diseases are 84% in Europe and Central Asia, 71% in East Asia & Pacific, 67% in Latin America & Caribbean, 65% in the Middle East & Africa, 47% in South Asia and 21% in Sub-Saharan Africa respectively.
Communicable, maternal, perinatal, and nutritional conditions are responsible for these diseases. Following a healthy lifestyle and choosing right food products may lead to prevention of such diseases, as well as help in lowering fatality rate at the global level. Soluble fibers are among the food products that may help in providing energy required fight pathogens and make the immune system strong.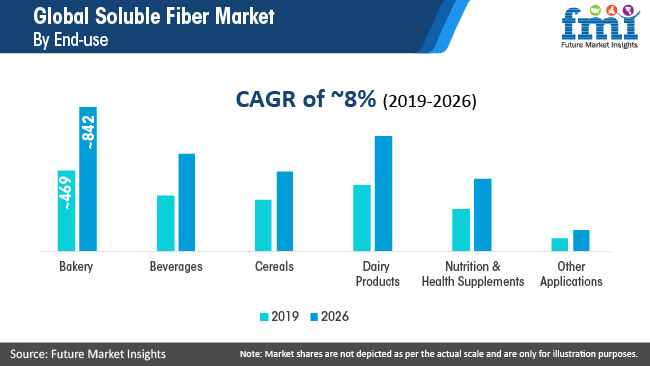 Soluble Fiber Market Structure Analysis
The global market for soluble fiber is in its competitive phase. Leading players contribute about ~45-50% of the market.
On an average, it is observed that big as well as small manufacturers are focusing on expansion through either acquisition of small firms to accelerate their business in the local market or by opening new production units in different regions. Manufacturers are also increasing their market presence by launching different products containing soluble fiber to increase product applications that is anticipated to increase their revenue. Manufacturers pay attention to the price point as well the market reach of their products during the launch of new products.
Noteworthy investments in research and development for novel and sturdy products are projected to boost the growth of the soluble fiber market.
Major players in the soluble fiber market are Cargill, Inc., Archer Daniels Midland Company, E.I DuPont De Nemours and Company, Ingredion Incorporated, Lonza Group AG, Roquette Frères SA, Tate & Lyle PLC, SunOpta, Inc., Nexira SAS, Taiyo International Inc., and others.
Soluble Fiber Market - Report Scope
Attribute

Details

Forecast Period

2012-2018

Historical Data Available for

2019-2026

Market Analysis

US$ Mn for Value

Key Regions Covered

North America, Latin America, Europe, Asia Pacific, and Middle East & Africa (MEA)

Key Countries Covered

U.S, Canada, Mexico, Brazil, Argentina, Rest of Latin America, Germany, UK, France, Spain, Italy, Rest of Europe, ASEAN, China, India, Japan, Australia, New Zealand, Rest of APEJ, GCC Countries, South Africa, Israel, and Rest of MEA

Key Segments Covered

Source, Product Type, Application, Region

Key Companies Profiled

Cargill, Incorporated
Archer Daniels Midland Company
E.I DuPont De Nemours and Company
Lonza Group AG
Roquette Frères Company
Ingredion Incorporated
Tate & Lyle PLC
SunOpta, Inc.
Nexira SAS

Report Coverage

Market Overview, Key Market Trends, Key Success Factors, Demand Analysis, Market Background, COVID-19 Analysis, Segmental Analysis, Regional Profiling, Market Structure & Competition Analysis

Customization & Pricing
Soluble Fiber Market: Segmentation
The global soluble fiber market is segmented in detail to cover every aspect of the market in the report and present complete market intelligence to the reader.
Product
Inulin
Polydextrose
Pectin and Gums
Beta-glucan
Resistant starch
Wheat Dextrin
Other Products
Source
Oats
Barley
Flax seeds
Dried Beans and Peas
Citrus Fruits
Carrot
Other Sources
Application
Bakery
Beverages
Cereals
Dairy Products
Nutrition and Health supplements
Other Applications
Region
North America
Latin America
Europe
Japan
APEJ
MEA
Need specific information?