Soluble Fiber Market By Source (Grains & Cereals, Fruit & Vegetables, Others), By Type (Pectin, Beta-glucan, Polydextrose, Inulin, Others), By Application (Animal Nutrition, Food, and Beverages, Nutraceuticals & Pharmaceuticals, Others) & Region - Forecast to 2022 – 2032
Soluble Fiber Market - Analysis, Outlook, Growth, Trends, Forecasts
January 2022

REP-GB-1991

350 pages
Market Insight For Soluble Fiber
[350 Pages Report] Soluble fiber Market size is estimated to be around USD 4.97 Bn in 2021 and is estimated to grow at over 10.24% CAGR and is expected to reach a value of USD 14 Bn for the period between 2022 and 2032.
| | |
| --- | --- |
| Attribute | Details |
| Market Size Value in 2021 | USD 4.97 Bn |
| Market Forecast Value in 2032 | USD 14 Bn |
| Global Growth Rate (2022 to 2032) | 10.24% CAGR |
| Forecast Period | 2022-2032 |
The growth in health and fitness awareness among consumers and the trend to consume a healthy diet that is good for health and prevents diseases is likely to boost the demand for soluble fiber market and products that have soluble fiber as a major component like prebiotics. Increasing cases of gastrointestinal and digestive disorders or hectic and dynamic lifestyles and consumers' changing taste and food preferences are likely to further boost the demand for prebiotics.
Inulin is the most commonly consumed prebiotic that has a market size of about USD 2.1 Bn. Inulin has various health benefits like improved digestive function, heart health, reducing weight, appetite suppression, and gut health. The property of inulin to hinder the secretion of insulin and control the blood sugar level can pose great opportunities and be revolutionary in the treatment of patients suffering from diabetes. This will increase the consumption demand for soluble fiber and show promising growth in the future.
The Rise in the Population of the Elderly and Increase Digestive Issues Will Likely Influence The Consumption Of Soluble Fiber Market Positively
People all across the world are living much longer lives. Most people today can expect to live into their sixties or beyond. Every country in the world is seeing an increase in the number of elderly people. Digestive problems, vision problems, back and neck pain, chronic obstructive pulmonary disease, diabetes, dementia, and other conditions are common in the elderly.
Older people are more likely to suffer from multiple conditions at the same time. While digestive issues are one of the most common conditions among the elderly, they affect people of all ages. Thus, an increase in stomach-related issues, as well as an increase in the geriatric population, has prompted an increase in dietary fibers in people's daily diets.
Many fast-moving consumer goods companies have included dietary fibers in their products to increase the nutritional value of their products. The health benefits gained from dietary fiber consumption are the primary drivers of this market's growth. The scarcity of high-quality fruits and vegetables to supplement daily nutritional requirements has also fueled consumer demand in this sector.
The incorporation of dietary fibers into a daily diet can effectively address health factors such as bowel health maintenance, cholesterol level management, and blood sugar regulation. Increased fitness and wellness sector awareness have boosted the sector's market growth trajectory to a new high.
Consumers are demanding dietary fibers to balance their nutritional requirements. As a result, the soluble fiber market is expected to expand in the coming years as the geriatric population continues to grow.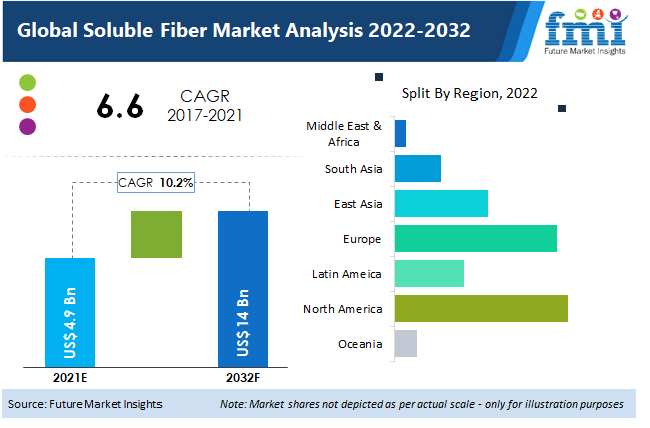 Easy Availability of Raw Material for Soluble Fiber can be a Major Factor for the Growth of this Segment
Cereals and grains are in high demand due to their vast availability and low cost. Soluble dietary fibers are primarily found in oats, bran, corn, rice, and wheat in this category. They're high in soluble and insoluble fibers including beta-glucan, cellulose, and hemicellulose, which have health benefits like lowering cholesterol and diabetes risk.
Due to their improved nutritional profile, breakfast cereals are rapidly gaining market share in the global soluble fiber industry. This is due to consumers' growing health worries about the detrimental effects of processed and fast foods, as well as over-consumption of calories in comparison to daily intake amounts.
The increased demand for functional and healthful food products among the country's older population would provide a solid foundation for the cereals and grains segment's expansion, giving a boost to the soluble fiber market.
Rising Health Consciousness and Cases of Obesity are Going to Consumers Opt For Soluble Fiber as a Functional Food that will Boost the Growth of this Market Segment
Obesity is a major public health issue in the world today, and it is linked to a variety of metabolic illnesses. A dietary regimen of fiber-rich foods, in addition to exercise and physical activity, could be a key treatment for obesity. This is why, there has been a shift away from high-calorie foods and toward fiber-rich diets, and this trend will continue to drive demand for soluble fiber globally.
Dietary fibers' ability to break down only after they reach the large intestine provides numerous benefits for the human body.
To fulfill this demand, food manufacturers are introducing functional ingredients into their goods, like soluble fiber, which provides all of the essential amino acids and nutritious components required by the human body. Diet food companies built a solid reputation around the world, and this development has influenced the growth dynamics of the soluble fiber market worldwide.
Manufacturers are entering the soluble fiber market by creating a variety of low-calorie, sugar-free, and preservative-free, ready-to-cook, and ready-to-eat foods to help the health-conscious public become healthier. There are now a variety of beverage options as well, that are high in soluble fiber for consumers who want to increase their fiber intake.
As a result, the growing problem of people becoming overweight and obese will aid the global expansion of the soluble fiber market in the coming years. As a result, the increase in the number of health-conscious consumers who are now choosing high-fiber food products that offer various nutritional benefits can be linked to the Soluble Fiber market.
An Increase in Cholesterol Levels in the Global Population Causing Cardiovascular Disease can Increase Consumption of Soluble Fiber Market Due to its Health Beneficial Properties
Cardiovascular diseases seem to be the leading cause of death worldwide, and this number is predicted to climb in the coming years. Cardiovascular disease claimed the lives of 17.5 million people in 2012, accounting for 31% of all deaths globally. By 2030, an estimated 24.6 million individuals will have died from cardiovascular disease if current trends continue.
According to a study published in the Journal of the American College of Cardiology in July 2018," India's estimated age-standardized prevalence of cardiovascular diseases in 2016 was 5,681 per 100,000. Due to rising incidences of cardiovascular disease in the APAC region, the market for soluble fiber is predicted to grow.
A high level of blood cholesterol can pose a high risk of heart attack & high blood pressure. Hence soluble fiber is becoming a popular functional food as it is known to reduce blood cholesterol very effectively.
Soluble Fiber for Pharmaceutical and Inulin in the Prebiotic Supplement can Boost the Market Segment
Soluble fibers assist colon health by stimulating lactobacillus and bifidobacteria growth in the digestive tract. Soluble dietary fibers also help in weight loss and reduce the risk of cardiovascular disease. The rise in health awareness among consumers, easy availability through supermarkets and online platforms have given a significant push to the growth of the soluble fiber market.
Prebiotics Market is estimated to be around USD 4.9 Bn in 2021 and is expected to increase with a CAGR of 10% for the period of 2022 and 2032. Inulin is a plant-based soluble fiber that has various health benefits. It is used as a major ingredient in the prebiotic supplement.
It also helps in reducing cholesterol, relieving constipation, and assisting weight loss. Since obesity and digestive problems are growing unprecedently, an increase in the demand for soluble fibers and prebiotics can give a boost to this segment.
Pectin Used in Making Jam and Jelly can Boost the Soluble Fiber Market as People are Inclining Towards Convenient Food like Jam and Jelly due to Hectic Lifestyles.
Pectin is a type of soluble fiber that is extracted from fruits that have gel formation properties. It is used in the jam and jelly preparation process. Due to change in lifestyle and changing taste & Preference, people are getting more inclined towards convenient food like jam and jelly.
Pectin is also used in the pharmaceutical industry as an active component to reduce blood cholesterol and is believed to have properties that can reduce the risk of colon cancer and prostate cancer. With the increase in health awareness, the consumption of soluble fiber is expected to rise due to its various health benefits.
Soluble fibers are also used in high-grade bakery products as it improves the texture of the baked product and add nutritional value along with it. Consumers prefer baked products with soluble fiber not only because of the health benefits but also the enhanced texture and taste of the product. This is likely to be revolutionary for the soluble fiber consumer market segment.
APAC and North American Region show Great Potential for Soluble Fiber Market because of the Consumers Opting for Functional Food that had Various Health Benefits due to Rising Awareness
The global market is divided into North America, Latin America, Europe, Asia Pacific & Japan, the Middle East, and Africa.
The insoluble dietary fiber market is likely to be dominated by North America, with Europe following closely behind. The United States leads the soluble dietary fiber market, followed by Canada. This is due to an increase in health consciousness among Americans, as well as an increase in demand for functional foods.
Europe is the second-largest region in the market share of soluble fibers. Germany has the largest market share in European countries, followed by England.
The fastest developing area is anticipated to be the Asia Pacific. In the Asia Pacific, China is predicted to be the most dominating market for soluble fiber, followed by Japan. This is due to rising consumer awareness for a healthy lifestyle as a result of various government educational campaigns that have motivated consumers to adopt healthy eating habits, which is fueling the growth of soluble fiber across the region during the forecast period.
Furthermore, an aging population is looking for healthy alternatives to prevent and control diseases, which is expected to fuel the growth of soluble fiber across the Asia Pacific region.
Scope Of Report
| | |
| --- | --- |
| Attribute | Details |
| Market Size Value in 2021 | USD 4.97 Bn |
| Market Forecast Value in 2032 | USD 14 Bn |
| Global Growth Rate (2022 to 2032) | 10.24% CAGR |
| Forecast Period | 2022-2032 |
| Historical Data Available for | 2017-2021 |
| Market Analysis | MT for Volume and USD Bn for Value |
| Key Regions Covered | Latin America, North America, Europe, Asia Pacific, and Africa |
| Key Countries Covered | Key Countries Covered India, Malaysia, Japan, Thailand, Indonesia, Singapore, China, United States, Canada, EU, Russia, GCC, and others |
| Key Market Segments | Source, Product type, applications, and region |
| Key Companies Profiled | Sunopta Inc., Huachang Pharmaceuticals, Archer Daniels Midland Company, Tate & Lyle Danisco A/S, INGREDION, NEXIRA, and others. |
| Pricing | Available upon Request |
World's Most Profilic Intelligence Engine
Get Access To The World's Largest Market Research Database.
Sign Up Now
Segmentation for Soluble Fiber Market
By Source :
Fruits and Vegetables
Cereals and Grains
Others
By Type :
Pectin
Beta-glucan
Polydextrose
Inulin
Others
By Application :
Animal Nutrition
Food and Beverages
Nutraceuticals & Pharmaceuticals
Others
By Region :
Latin America
North America,
Europe,
Asia Pacific,
Africa
The Middle East
Key Questions Answered in the Report
How much is the soluble fiber market consumer market currently worth?
Currently soluble fiber market is worth more than USD 4.97 Bn.
At what CAGR is the market expected to grow?
Soluble fiber is expected to grow at a CAGR of around 10.24% during the period 2022-2032.
How was the performance in the last five years?
In terms of revenue, the soluble fiber consumer market grew at a CAGR of around XYZ% during 2016-2020
What are the key trends boosting soluble fiber sales?
Rise in vegan trend, Change in food preference, increase in health awareness, increase in older population, increasing cases of cardiovascular disease caused by high cholesterol level and rise in consumption of prebiotics can be considered key trends boosting soluble fiber sales.
How are market players reacting to the new developments in the market?
Market players are opting for technological advancement, new product developments, and production capacity expansion.
How much share do the top 5 companies hold?
The top 5 producers of soluble fiber hold around XYZ% of the market share.
Which are the major countries driving demand for soluble fiber?
India, Malaysia, Japan, Thailand, Indonesia, USA, Canada, EU, Singapore and China are the major countries driving demand for soluble fiber.
Who are the major players in the soluble fiber market?
The major players involved in the soluble fiber market are Sunopta Inc., Huachang Pharmaceuticals, Archer Daniels Midland Company, Tate & Lyle Danisco A/S, INGREDION, and NEXIRA.
Need specific information?
Our Clients