Single layer water pods are anticipated to have a lucrative future in the global water soluble pods packaging market
Water soluble films are an eco-friendly solution and are used by packaging manufacturers to package laundry detergents, dishwash, other products such as cosmetics for spa services, shaving creams etc. These products are packaged in PVA films in the form of small packs termed as water soluble pods. This market is categorised into different product types, including single layer water pods, dual layer water pods, and multi-chamber water pods. The type of packaging is chosen on the basis of the product it is meant for.
According to this new report on the global water soluble pods packaging market, multi chamber water pods are expected to lead the market with a valuation of over US$ 400 Mn by the end of 2028. However, in terms of growth rate, single layer water pods are expected to witness higher demand in the coming years, helping this segment dominate the market with a CAGR of 17.4% during the forecast period 2018-2028.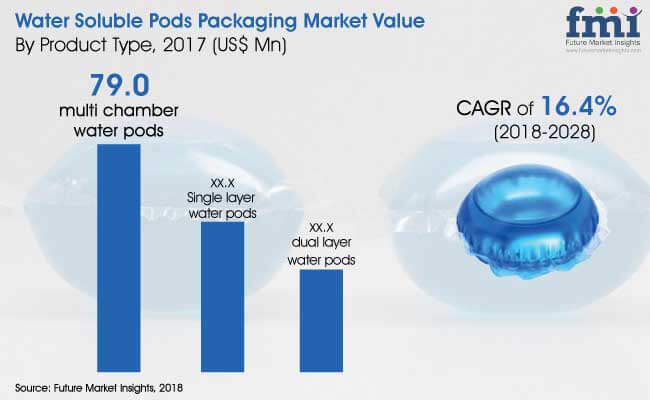 Convenience associated with water soluble pods packaging products to trigger revenue growth of the market
Competition in the packaging products market is intense. There are a number of packaging materials available in the global market. Yet, the ones that are not hazardous for the environment are very few. Therefore there is a high scope of development for companies operating in the global water soluble pods packaging market. Other than being environment friendly, these products are also convenient. Consumers often face an issue of standardizing the amounts of detergent needed for washing the product.
Either they use less amount of detergent or extra amount of detergent. However, in case of water soluble pods, there is a fixed quantity of detergent packaged in a pod so, for one wash, a single unit is sufficient. Along with this, if the powders and liquids are packaged in loose pouches or packets, there are higher chances of the spillage and dripping of the product. However, the use of water soluble pods eliminates the spilling possibilities to a great extent. Water soluble pods are easy to carry, as these require less space as compared to the other packaging formats.
These are entirely soluble in hard water and soft water, and do not leave any residues. The aforementioned factors support the growth of the water soluble pods market and also encourage consumers to incorporate these in their households.
New factors are expected to impact the manufacturing of water soluble pods products
Water soluble pods packaging products are mostly used in developed regions. A majority of the population in these regions has high disposable income. This gives them a scope to spend on additional products like water soluble pods. Due to higher demand from developed regions, the manufacturing of these products is also seen being limited to such regions only. However, this also provides a scope of growth in untapped regions for emerging market players.
New market entrants can make use of the various opportunities to grab a higher share of the market. Furthermore, some manufacturers are also seen adding higher concentration of detergent and less concentration of moisture in their products. This will help them save their products from degrading over time. Incorporation of similar strategies by other manufacturers is expected to further drive the sales of water soluble pods in some of the key economies across the globe.
Market Taxonomy
Material Type
Product Type
Single layer water pods
Dual layer water pods
Multi chamber water pods
End Use
Detergents
Hand wash
Dishwash
Others (shaving creams)
Thickness Type
Below 30 micro meter
31-60 micro meter
61 micro meter thickness
Region
North America
Latin America
Western Europe
Eastern Europe
APAC
Japan
MEA
Need specific information?