An Incisive, In-depth Analysis on the Soy Protein Isolate Market
This study offers a comprehensive, 360 degree analysis on the Soy Protein Isolate market, bringing to fore insights that can help stakeholders identify the opportunities as well as challenges. It tracks the global Soy Protein Isolate market across key regions, and offers in-depth commentary and accurate quantitative insights. The study also includes incisive competitive landscape analysis, and provides key recommendations to market players on winning imperatives and successful strategies.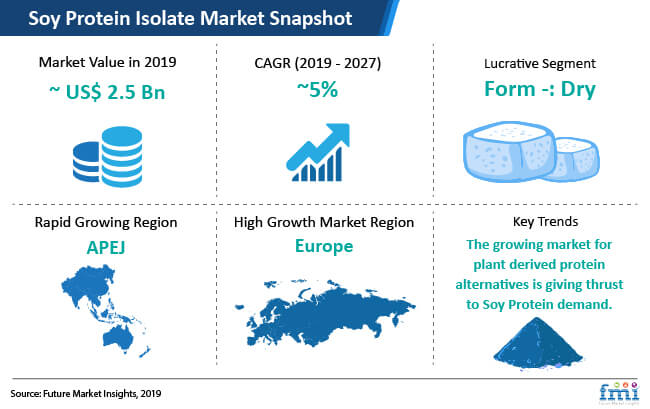 Soy Protein Isolate: Responding to Demand for Sustainable Protein Options
In the food & beverage industry, the 'high-protein' trend has moved from domain of elite athlete to mainstream, with greater awareness of science behind different types of proteins and their potential health benefits. From sport nutrition and fortified food to targeted dietary supplements and nutritional drinks, consumers are seeking functional food ingredients that supports health and wellness. As the high-protein trend shows no sign of slowing, the most recent protein-centric innovation puts plant-proteins in focus. Soy protein isolate in particular has been garnering significant traction, as issues around health and sustainability come to fore regarding the use of animal-based protein. Mounting concerns over animal welfare issues and environmental impact of animal agriculture remains instrumental to the growth of the soy protein isolate market.
Europe at Forefront, APEJ Presents Lucrative Opportunities
As vegan culture goes mainstream, especially in developed nations, demand for soy protein isolate to provide numerous health benefits such as stimulating muscle-building now spreads across a wide range of health conscious consumers. These proteins are further fining application in food, beverages, and supplements in developing countries, on account of growing awareness regarding the benefits of plant-based proteins. In addition, consumers' demand for product transparency is on significant rise, while protein-focused innovation has been infiltrating an increasingly diverse ranges of F&B categories. Manufacturers are thus hard pressed to ensure that formulations of soy protein isolate align with consumers' expectations, with its source as important as the overall quality.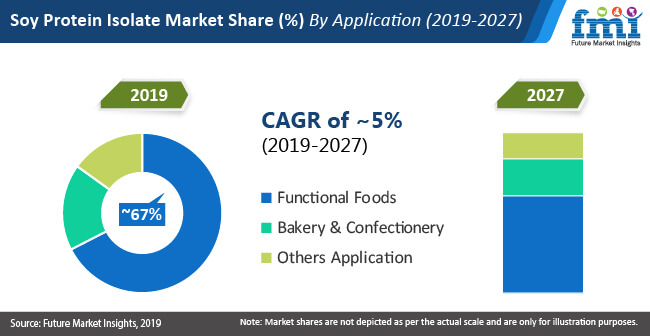 Gains Upheld by Rapid Inclination Toward Plant-based Diet
In recent years, consumers are increasingly associating 'healthy' with 'balanced nutrition', highlighting the need for manufacturers to avoid viewing at 'high-protein' in isolation. Growing consumer interest in plant-based diet as well as in ethical and environmental considerations of food and beverages remains a key growth influencer of the soy protein isolate market. As consumers continue to look for healthier and more sustainable ways to incorporate protein in their diet, the demand for plant-based proteins such as wheat protein, pea protein, and soy protein isolate. Moreover, as flexitarian diets are currently embraced by consumers and encouraged by healthcare professionals, natural food ingredients are compelling consumers to choose one brand over another. The result is further likely to lead to increased demand for soy protein isolate.
Solid Soy Protein Isolate Captures Significant Revenue Share
Solid form of soy protein isolate continues to account for relatively high share, and is expected to stay in demand against the liquid form. Demand for solid soy protein isolate is gaining a boost from its over 90% protein content, as it is isolated from other components from soybean. As today's consumers are increasingly finding value in convenient, well-balanced nutrition and looking for healthier food & beverage choices to support their active lifestyles, plant-based protein beverages and protein snacks are rapidly growing in demand. Consumption of soy protein for functional foods account for significant revenue share, while growing application in bakery & confectionery is expected to result in increased sales in near future.
Soy Protein Isolate Market Analysis 2019-2027
Future Market Insights has revealed various facts on the global soy protein isolate market in its recently published research report titled "Soy Protein Isolate Market: Global Industry Analysis (2013-2018) and Opportunity Assessment (2019-2027)". This research report is filled with incisive insights and vital acumen on various factors that have contributed to the growth of the global market for soy protein isolate. Along with the past market scenario, a glimpse of the future of the soy protein isolate market is also portrayed, which reflects value and volume projections. This can assist the reader in slating important strategies based on present market conditions to achieve expansion in the coming future.
A one of its kind Research Methodology
Future Market Insights follows a one of a kind research methodology to garner vital and relevant market insights. This research process ensures delivery of statistical data without errors, thus maximizing the accuracy of the research report. Secondary research in combination with primary research gives a clear market understanding based on which key players, market observers and opinion leaders are interviewed to check the reliability of the data and to add other facets of the market. The uniqueness of this research process is the revalidation and re-evaluation of the data that takes place at each step during each interview and is continued till the conclusion of the market research. Based on these vital acumen, key analysis can be drawn and recommendations from domain experts are included in this intelligence report. The multiple cross checking of the data ensures a highly accurate market scenario which can be directly used by the reader to chalk informed decisions.
A Holistic Research Approach Covering all Angles
Research study on soy protein isolate market puts forth a holistic 3600 perspective. Main geographies across the entire globe are assessed and the trends, opportunities, developments drivers and restraints in each region and sub region that have an impact on the growth of the market in the respective region are studied to get a clear picture of the global soy protein isolate market. Revenue pockets can be identified with such kind of intense market intelligence which is unbiased in nature and purely market centric thus portraying a global perspective in front of the reader. Additionally, this research report can assist the reader in gaining intelligence on the revenue pockets that he/she can tap to gain advantage in the future.
Market Segmentation
A weighted segmentation of the global soy protein isolate market has been carried out to gain relevant insights of the market and gauge its growth direction. The market segmented by product type, by application, by function and by region.
The research report on the global soy protein isolate market covers analysis on key companies participating in this market. Various aspects such as SWOT analysis, key developments, innovations, product portfolio, financials and company overview are included in this section of the report. The reader can gain intelligence on the major players that have a good hold in the market, based on which new strategies can be devised to gain an edge on the competition.
Highly Accurate Statistical Representation of the Global Market
The weighted market analysis on the global soy protein isolate market delivers value to the reader by providing useful insights, ready to use and highly accurate statistical analysis and recommendations without bias in order to plan future expansion strategies and also to gain stability in the changing dynamics of the global soy protein isolate market.
COVID -19 : Impact Analysis
Request the coronavirus impact analysis across industries and markets
Request Covid -19 Impact
CASE STUDIES
See how our work makes an impact.
At FMI, we design strategies that are adaptive, impactful, and implementable.