Telehealth Software Market By Component (Software, Services), Deployment (On-premises, Cloud based), End User (Healthcare Providers, Healthcare Payers & Patients) & Region - Forecast to 2020 - 2030
Telehealth Software Market - Analysis, Outlook, Growth, Trends, Forecasts
July 2020

REP-GB-7349

320 pages
Telehealth Software Market Outlook & Key Findings
Global telehealth software market expected to surge at a CAGR of 14.8% between 2020 and 2030
Healthcare IT spending is expected to increase by about 12% in 2020 as providers expand digital capabilities
The cloud-based telehealth software & services to witness growth of around 17% as healthcare providers seek effective management
Launch and use of mHealth apps and adoption of remote monitoring solutions to spike telehealth software market's growth by 4.0x its current market value during the forecast period
Need for Improved Patient Care System Necessitates Advanced Digital IT Systems and Healthcare Technologies
have emerged as a natural extension of the new generation of healthcare systems and IT solutions.
Federal mandates are encouraging healthcare organizations to adopt telehealth software and digital healthcare technologies in order to improve patient care experience with better communication. Furthermore, rapid adoption of hospital automation solutions and real-time health systems are propelling the growth of telehealth software market.
For instance, according to American Hospital Association, till 2018, 76% of hospitals in the U.S. are using telehealth technologies to offer services such as remote monitoring, wireless communications, and electronic consults.
In the recent outbreak of COVID-19 pandemic the market is projected to see a high growth rate as physicians are opting for tele-consulting to diagnose patients without unnecessary exposure.
Flexibility in Consultations Leads to Rising Investments in Cloud-based Telehealth Software
The adoption of cloud-based telehealth software is increasing in recent years due to its remarkable cost-effectiveness with scalability, effective management, and real-time maintenance.
Thus, healthcare providers are opting for cloud-based telehealth software to reduce the cost of remote care and to ensure healthcare availability and continuity with compliance and security features.
Cloud-based healthcare also ensures a wider, greater reach, making help available to the most remote parts of the word. It has played an incredible part in bridging the gap between unmet medical needs and lack of access. Telehealth consultations have led to successful disease management during epidemic such as Ebola.
The cloud-based segment is set to increase around 4.7x and expected witness a growth rate of around 17% during the forecast period of 2020-2030.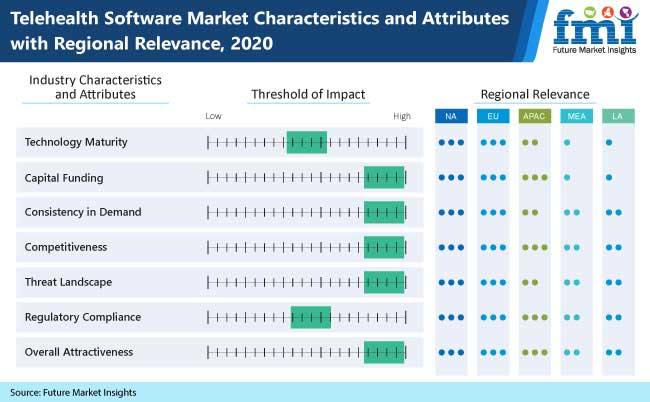 Technological innovations are creating potential opportunities for the healthcare sector. They have enabled personalized and preventive care with wearable technologies in a many ways. Even though the demand for telehealth software has increased rapidly in past few years, the maturity of this technology is still at the initial stage in various economies.
Furthermore, with the presence of various players in telehealth software market and increasing penetration of smart technologies such as artificial intelligence, machine learning, and AR/VR in the healthcare sector, the consistency in demand has been high. The Year-on-Year value addition to technologies has made the market exceptionally competitive too.
With high capital funding and investments, players are able to develop state-of-art telehealth solutions. Analysts at Future Market Insights predict that the demand for cutting edge technologies to improve lives will determine the true success of this market during the forecast years.
Also, due to consistent demand for telehealth software in healthcare sector along with the growing competitiveness, the market is expected to increase 4.0x its current market value during the forecast period.
Moreover, in terms of value, North America is leading the telehealth software market with a market share of almost 50% in 2020.
High spending on healthcare IT infrastructure, rising need for seamless communication in healthcare, and rising trend of remote health monitoring are the key factors behind the dominance of the U.S. Analysts project this trend will continue throughout forecast period.
Growing Use of Mobile Wireless Technologies or mHealth Creates New Growth Opportunities
The rising use of mobile wireless technologies and mHealth for public health is becoming an integral part of healthcare infrastructure. mHealth and digital technologies are continuously becoming an important resource for health services delivery and the adoption of these technologies is increasing due to their wide acceptance, ease of use, and broad reach.
Today, mobile wireless technologies or mHealth is playing a crucial role in driving the growth of telehealth software market by improving the coverage and quality of care and offering increased access to health information, services, and skills.
Introduction of apps to mobile platforms that help in patients monitor their health daily, keep a track of their blood sugar levels, blood pressure levels, and heart rates have helped a great deal in understanding health patterns. mHealth solutions have enabled paperless medical documentation that presents accurate data pertaining to possibility of health risks.
For instance, as per industry research, in 2019, there were more than 350,000 mhealth apps available on top app stores worldwide which is more than double apps available in 2015. As more and more apps continue to be launched through the years, telehealth market is expected to flourish to create better solutions for disease management.
Impact of COVID-19 on Telehealth Software Market
The outbreak of COVID-19 pandemic has pushed the healthcare sector to adopt leading-edge technological tools to innovate areas of public health and wellness.
The relentless surge of COVID-19 cases worldwide has demanded an urgent response to scale up scale up healthcare systems. Thus, end users are finally using the potential of digital technologies.
In such a matter, telehealth has played a commendable role in increasing potential reach of solutions to far off patients.
In order to strengthen the health responses to the pandemic, there is a tangible shift in the adoption telehealth and mHealth solutions for the enhancement to medical and emergency care.
Although the adoption of digital technologies and solutions, such as telemedicine and telehealth software has increased over the years, the scope of demand of these technologies is very high in the market because of low penetration in various emerging economies and growing healthcare emergency worldwide.
In the light of these factors, the telehealth software market is expected to witness a spike in coming three to four years. From 2014-2019, the telehealth software market registered a CAGR of around 12%, which is set to increase to 18% between 2020 and 2022 due to COVID-19 outbreak, predict analysts.
Telehealth Software Market: Regional Analysis
Asia Pacific is an up and coming market for telehealth software as region boasts rise in adoption of digital healthcare solutions and growing penetration of mobile applications. Thus, investments in IT systems of hospitals and healthcare centers to improve patient care, safety, and satisfaction will give the telehealth software market exceptionally remunerative opportunities.
Moreover, increasing healthcare spending by the governments of countries such as China, India, Indonesia, and other countries in South Asia is one of the key factors propelling the growth of telehealth software market in the region.
North America and Europe are leading the telehealth software market and collectively held around 2/3rd of the global value in 2019.
The strong demand for cloud-based solutions and increasing digitalization in the healthcare sector of countries such as the U.S., the U.K., Germany, and France are playing a crucial role in driving the adoption of telehealth software and solutions.
Telehealth Software: Competition Landscape
Continuous focus on partnerships and collaborations to introduce, develop, and integrate advanced digital capabilities and technologies such AI, IoT, and AR/VR has become a key strategy of telehealth software providers.
Focusing on facilitating remote monitoring and care has encouraged players to deliver product differentiation and expansion strategy to strengthen their market presence and offer a competitive edge.
For instance, in June 2019, American Well and Cisco Systems entered into the partnership to extend healthcare delivery from hospitals and health systems into the home. According to the partnership, both the companies are focusing on transforming the telehealth options available to elder patients by converting in-home television sets for broad based, telehealth care delivery.
Key Players in the Telehealth Software Market are:
Aerotel Medical Systems Ltd.
Koninklijke Philips N.V.
Teladoc Inc.
American Well
Chiron Health
Medtronic
Honeywell International
Tunstall Healthcare
AMD Global Telemedicine, Inc.
Cisco Systems, Inc.
Medvivo Group Ltd.
GlobalMedia Group, LLC
Smart Health Devices Adoption to Generate Potential Growth Opportunities
Over the years, it has been observed that, the adoption of mobile applications and IT systems are increasing day-by-day in hospitals and healthcare centres in order to improve patient care, safety, and satisfaction.
Currently, mobile computing solutions help deliver improved care, team collaboration, and efficiency in day-to-day operations in hospitals and health centres, and therefore, due to this, the adoption of telehealth software is expected to increase further in coming years.
Also, the increasing demand for physicians, nurses, and other hospital staff to access work-related IT applications on their personal mobile or institution-owned mobile devices is supporting the increasing adoption of telehealth software in healthcare organizations.
However, a substantial amount of customization, integration, and security improvements are required to make smartphones and mobile applications compliant and usable in a hospital environment.
World's Most Profilic Intelligence Engine
Get Access To The World's Largest Market Research Database.
Sign Up Now
Telehealth Software Market Key Segment
Component
Software

Real-time Communication Telehealth Software
Remote Patient Monitoring Telehealth Software
Store and Forward Telehealth Software

Services

Professional Services
Managed Services
Deployment
End User
Healthcare Providers
Healthcare Payers & Patients
Region
North America
Latin America
Europe
East Asia
South Asia Pacific
Middle East & Africa
Need specific information?
Our Clients