Tinnitus Management Market by Product (Devices, Drugs), Indication (Subjective Tinnitus, Objective Tinnitus), End User (Audiology Centers, ENT Clinics, Hospitals, E-Commerce) & Region - Forecast to 2021 - 2031
Tinnitus Management Market - Analysis, Outlook, Growth, Trends, Forecasts
December 2021

REP-GB-6114

301 pages
Tinnitus Management Market Snapshot
[301 Pages Report] The global tinnitus management market was valued at US$ 2.4 Bn in 2020 and is expected to reach US$ 3.2 Bn by 2031, finds Future Market Insights (FMI) in a recent market survey.
Growing cases of ear hair cell damage, earwax blockage, and rising usage of headphone for listening loud music are leading to increase in prevalence of tinnitus. Technological advancements in hearing aids and increase in research and development (R&D) activities will result in high tinnitus management market growth. According to FMI, the global tinnitus management market accounts for 24% of the US$ 9.5 Bn audiology market.
There has been significant developments in tinnitus technology and tinnitus management devices which are well accepted sound therapies that provides long-term relief. Driven by this, sales in the tinnitus management market are expected to rise at a 2.8% CAGR through 2031.
| | |
| --- | --- |
| Data Points | Market Insights |
| Tinnitus Management Market Value 2020 | USD 2.4 Bn |
| Tinnitus Management Market Estimated Value 2021 | USD 2.5 Bn |
| CAGR 2021-2031 | 2.8% |
| Key Players | The key players in tinnitus management market are Signia, Starkey Hearing Technologies, Inc., GN Hearing A/S, Widex A/S |
2021-2031 Tinnitus Management Market Outlook Compared to 2016-2020
Sales of tinnitus management drugs and devices grew at a CAGR of 2.4% between 2016 and 2020. Growing prevalence of tinnitus and increasing investment in the research & developments initiatives will continue driving the tinnitus management market.
The worldwide prevalence of hearing impairment is rising exponentially. The World Health Organization (WHO) estimates that around 466 million people globally are affected by disabling hearing loss and the number is estimated to rise considerably in the coming years.
There have been significant shift in patient preference towards innovative and advanced technologies such as mobile apps and other hearing aids accessories in the recent past.
For Instance, 2020 excerpt published in Tinnitus Today talked about Neuromod Devices Limited of Ireland and its device, which uses bimodal neuromodulation combining sound and tongue stimulation to modulate the brain for treating the tinnitus.
With the healthcare field consistently evolving due to pandemic to find newer technologies to treat the existing ailments effectively, tinnitus management market is expected to register impressive growth in the future.
In the coming years the demand for advanced tinnitus wearable sound generators and hearing aids will rise, enabling the market to register a CAGR of 2.8% through 2031.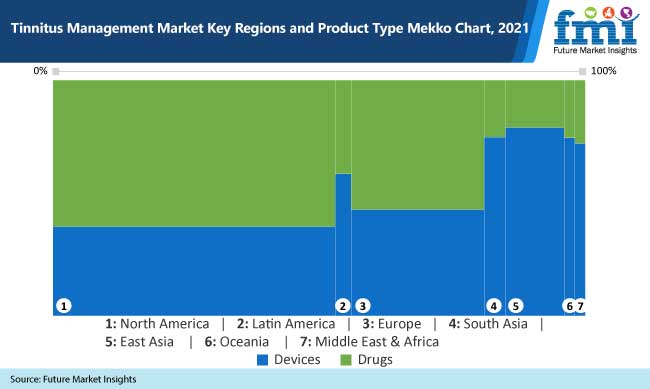 Which Factors Are Restraining the Tinnitus Management Market?
Inadequate reimbursement scenario for hearing aids is expected to hamper the growth of tinnitus management market over the forecast period. For instance, in Spain there is no public reimbursement available for hearing aids. Irish Republic has a voucher system worth half of the cost of device, however, lack of fully public funded reimbursement policies could hamper growth of the global hearing aids market.
Though, drugs are being used in the treatment of tinnitus, but there are some drugs that can cause drug induced tinnitus. These drugs include antibiotics, anti-depression and anti-anxiety drugs, anti-cancer drugs, antimalarial medications and blood pressure controlling medications to name a few. This can prove to be a major factor restraining the sales of tinnitus management drugs.
What is the Impact of the COVID-19 Crisis on the Tinnitus Management Market?
COVID-19 continues its march around the globe, disrupting nearly every dimension of life, from how people socialize to how people seek medical care and perceive the world around them.
As per a study published in the journal of Frontiers in Public Health 2020, it was revealed that 40% of people who had signs of Covid-19 informed about worsening of their tinnitus. A variety of factors increased tinnitus during the pandemic, including health-related concerns, social distancing restrictions, lifestyle changes, and mental health. This has shown a slight rise in the tinnitus management market.
The disruption of supply chain, less demand, slowdowns, staff shortages, restrictions on indoor/outdoor events and lockdown, impacted the overall market growth in all the key regions. However, the tinnitus management market is anticipated to show stable recovery and relative growth in the future.
Country-wise Insights
What Makes the U.S. Tinnitus Management Market Dominant in North America?
The U.S. is estimated to account for over 96.5% of the North America tinnitus management market in 2021. High occurrence and rise in incidence of tinnitus, rapid surge in number of geriatric population, and high per capita healthcare spending in the country are primary factors that are anticipated to drive the market in U.S. during the forecast period.
In addition, government in the country is adopting various initiatives to standardize tinnitus treatment outcomes. This will help in the growth of the U.S. tinnitus management market.
Why is the U.K. Tinnitus Management Market Considered Lucrative?
The U.K. is expected to account for 29.4% of the Europe market by 2031. Factors such as technological advancements in medical devices used in tinnitus treatment and favorable government policies to make healthcare better accessible among people are increasing the demand for tinnitus treatment in U.K.
Growing cases of tinnitus and rising awareness regarding smart tinnitus devices is surging the market in U.K. As per the British Tinnitus Association 2017, about 90% of the tinnitus patients have reported some sort of hearing loss.
What are the Factors Driving China Tinnitus management Market?
The market for tinnitus management in China is projected to grow at a 3.8% CAGR in East Asia throughout the forecast period. Rapid rise in China's geriatric population is driving the tinnitus management market.
This is because the incidence of hearing-related concerns is higher in geriatric people. This makes them likelier to use devices to support their hearing function. As per a study conducted by the Chinese Federation of People with Disabilities, around 130 million Chinese experience buzzing or ringing sounds in their ears.
Considering this, the sales of tinnitus management devices and drugs are expected to pick up in China.
How will the India Tinnitus Management Market Fare?
Demand for tinnitus management in India is expected to rise at 3.6% CAGR over the forecast period. Rise in research and development activities in India and rapid growth in medical device technology will aid overall expansion of the market. Besides this, the increasing adoption of novel medical devices for improved healthcare will drive sales of tinnitus management devices in India.
Category-wise Insights
What is Driving Tinnitus Management Devices Sales?
By product, the devices segment is anticipated to hold the maximum share of 93.8% in 2021. The demand for devices over drugs is higher owing to several advantages of devices compared to those of drugs.
The use of medical devices for treatment improves patient communication by decreasing the annoying sensation of voices and sounds caused by tinnitus. It also makes patient less aware about tinnitus. Also, drugs used in tinnitus management has many side effects and hence devices are often preferred for tinnitus treatment and management.
Will Subjective Tinnitus Account for Maximum Sales?
In terms of indication, subjective tinnitus segment in projected to account for 95.6% of the total market share in 2021. The increasing prevalence of subjective tinnitus is the primary factor leading its market share.
Objective tinnitus is much less common than subjective tinnitus, and 99% of tinnitus cases reported are of subjective tinnitus.
Which Distribution Channel is More Preferred in Tinnitus Management Market?
By distribution channel, audiology centers and ENT clinics together hold over 60% of the market in 2021 and this trend is expected to continue during the forecast period as well.
Tinnitus is a disease where one experiences ringing or other sounds in one or both of his/ her ears. While there is no cure for tinnitus, specialist such as otolaryngologist that is ENT specialist can help a patient in regaining the quality of life. Hence, the demand from ENT clinics and audiology centers are increasing.
Competitive Landscape
Companies operating in the tinnitus management market are actively seeking to strengthen their position through approval, collaborations, merge & acquisition and partnership agreements with established as well as emerging market players. For instance:
In August 2021, Hearing aid innovator Signia today announced the launch of its Augmented Xperience (AX) hearing aid platform that intelligently and automatically processes sound to better ensure that listeners always hear clearly – regardless of the listening environment.
In November 2020, Oticon announced the launch of the new, revolutionary Oticon More™ hearing aids. Oticon More is the world's first hearing aid to let you hear all you need thanks to a Deep Neural Network (DNN) which supports your brain to work in the most natural and effective way.
In January 2019, Takeda Pharmaceutical Company acquired Shire plc. With this Acquisition, Takeda strengthened its geographic presence in the U.S., which is one of the key market for biopharmaceuticals. Also, the acquisition of Shire strengthen our product offerings and provide leading position in GI, Neuroscience, rare diseases, oncology and PDT.
Scope of the Report
Attribute

Details

Forecast Period

2021-2031

Historical Data Available for

2016-2020

Market Analysis

USD Million for Value and Volume (Units).

Key Countries Covered

US, Canada, Germany, U.K., France, Italy, Spain, BENELUX, Russia, China, Japan, South Korea, India, Thailand, Malaysia, Indonesia, Australia, New Zealand, GCC Countries, Turkey, South Africa

Key Segments Covered

Product, Indication, Distribution Channel and Region

Key Companies Profiled

Pfizer Inc.
Sanofi
Teva Pharmaceutical
GlaxoSmithKline
Eli Lilly and Co.
Bayer AG
Takeda Pharmaceutical Company Ltd.
Boehringer Ingelheim
Merck & Co.
Abbivie
Starkey Laboratories, Inc.
GN Hearing A/S
Widex A/S
Oticon Inc.
Neuromod Devices Ltd.
Neuromonics, Inc.
Puretone Ltd.
Signia

Report Coverage

Market Forecast, Competition Intelligence, DROT Analysis, Market Dynamics and Challenges, Strategic Growth Initiatives

Customization & Pricing

Available upon Request
World's Most Profilic Intelligence Engine
Get Access To The World's Largest Market Research Database.
Sign Up Now
Tinnitus Management Market by Category
By Product:
Devices

Sound Masking Devices
Notched Music Devices
Hearing Aids

Drugs

Tricyclic Antidepressants
Antianxiety
Anticonvulsants
By Indication:
Subjective Tinnitus
Objective Tinnitus
By Distribution Channel:
Audiology Centers
ENT Clinics
Hospitals
E-Commerce
By Region:
North America
Latin America
Europe
East Asia
South Asia
Oceania
Middle East and Africa (MEA)
Key Questions Answered in the Report
What is tinnitus management market demand outlook?
The global market for tinnitus management is projected to grow at a CAGR of 2.8% between 2021 and 2031 owing to the rising prevalence of tinnitus and technological advancement in hearing devices.
Which is the most lucrative tinnitus management market?
North America currently holds the largest share in the tinnitus management market. It is expected to account for 52.7% of the global market share in 2021.
At what rate will the India tinnitus management market grow?
The tinnitus management in India is likely to grow at a CAGR of 3.6% during the forecast period.
What are key trends driving sales of tinnitus management devices and drugs?
Significant shift in patient preference towards innovative and advanced technologies such as mobile apps and other hearing aids accessories, increase in R&D activities for development of new products, and strategies such as mergers and acquisitions adopted by manufacturers are key trends driving sales of tinnitus management devices across the globe.
What will South Korea and Japan tinnitus management market fare?
The South Korea tinnitus management market will exhibit 3.0% CAGR between 2021 and 2031. The Japan market expected to exhibit growth at 3.4% CAGR during the forecast period.
Whicht are the top 5 countries driving demand for tinnitus management?
The U.S., U. K., China, Germany and Japan are the top 5 countries that are driving the demand for tinnitus management.
Which are leading companies in the tinnitus management market?
Leading companies in the market are Signia, Starkey Hearing Technologies, Inc., GN Hearing A/S, Widex A/S, Oticon Inc., Neuromod Devices Ltd., Neuromonics Inc., Puretone, Inc., Pfizer Inc., Sanofi and GlaxoSmithKline.
Need specific information?
Our Clients